Here's the plan I hope to share with Duterte over dinner at the Malacanang presidential palace in Manila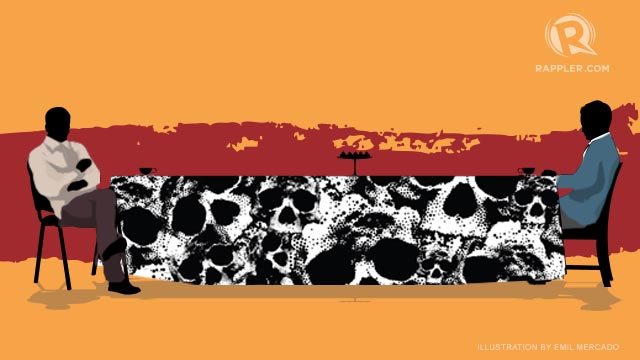 Philippine President Rodrigo "Digong" Duterte took a break last week from his abusive "war on drugs" to invite human rights advocates to dinner – which I'll accept as a personal invitation.
The invitation was vague – there's no date set – but thankfully it didn't include a threat to execute me in public like his May 2015 invitation to me to visit him in his hometown of Davao City.
It inaccurately described me and other critics of his abusive "war on drugs" as "bleeding hearts." After all, it's Filipinos – particularly the nearly 5,000 alleged drug users and drug dealers killed since he took office in June – who have been doing all the bleeding. Duterte's invitation had one condition: that I come to dinner with a plan for how to stop this slaughter. He even promised cabinet posts for takers with good ideas, though I suspect that was another of his humorous asides – like when he supposedly wisecracked about emulating Hitler in enshrining mass murder as state policy or joshed about the gang rape and murder of an Australian nun.
So, here's the plan I hope to share with Duterte over dinner at the Malacanang presidential palace in Manila.
First, stop the Philippine National Police killing spree of alleged criminal suspects. The police's own figures indicate that they have killed at least 1,790 "suspected drug personalities" between July 1 and November 3. That's more than twentyfold the 68 recorded between January 1 and June 15. Police have attributed the police killings to suspects who "resisted arrest and shot at police officers," but have not provided further evidence that the police acted in self-defense. Victims include 4-year-old Althea Barbon whom police called "collateral damage" after fatally shooting her in an operation that also killed her father.
Mounting evidence that police are committing unlawful killings of suspects – including the apparent assassination last week of a town mayor while in police custody – make nonsense of that assertion and make Duterte's intervention doubly-urgent.
Second, establish an immediate, impartial and thorough investigation of these killings. The Philippine National Police chief has rejected calls for any such investigation claiming it will hurt police morale. And Duterte frustrated efforts by Senator Leila de Lima and the Senate Committee on Justice and Human Rights, which she chaired, to effectively investigate the killings and instead subjected her to a torrent of harassment and intimidation. But the thousands of deaths demand accountability, which the Duterte government is obligated to provide.
Third, Duterte should cease his hateful rhetoric, which has been tantamount to incitement for these killings. It's true that his promises of mass extrajudicial killings were a centerpiece of his election campaign, and his campaign rally promise of mass killings of tens of thousands of "criminals" was chillingly prescient. But his exhortations of Filipinos to summarily execute suspected drug users and his questioning the humanity of drug users have apparently found a receptive audience.
The Philippine National Police say an additional 3,001 alleged drug users and drug dealers have been killed by unidentified gunmen since he took office. Victims include 5-year-old Danica May, a kindergarten pupil who died from a gunshot wound to the head after an unidentified gunman opened fire on her grandfather, an alleged drug user. Danica's killers may have been responding to Duterte's call in July for Filipinos who knew of any drug addicts to "go ahead and kill them yourself as getting their parents to do it would be too painful." It's also possible that "death squads" – similar to those that operated with impunity in Davao City while Duterte was mayor there – are involved in these killings.
Fourth, Duterte should publicly acknowledge the false premise for his "war on drugs." Duterte has sought to justify the slaughter as a justified government response to a looming national narco-state style drug emergency. But analysis of his government's statistical claims in that regard reveal that "data on the total number of drug users, the number of users needing treatment, the types of drugs being consumed and the prevalence of drug-related crime is exaggerated, flawed or non-existent." Thousands of Filipinos have died in a "war" against a non-existent crisis. Enough.
Finally, Duterte needs a good lawyer. He and some of his top government officials may be implicated in grave international crimes. The United Nations has already warned him that "incitement to violence and killing [is] a crime under international law."
The prosecutor of the International Criminal Court has served notice to Duterte that "any person in the Philippines who incites or engages in acts of mass violence including by ordering, requesting, encouraging or contributing" is potentially liable for ICC prosecution.
Duterte took office with a promise to "be sensitive to the state's obligations to promote, and protect, fulfill the human rights of our citizens." This five-point plan echoes the spirit of a pledge that Duterte has so far chosen to steamroll.
I look forward to our inihaw na panga ng tuna dinner and durian ice cream for dessert. – Rappler.com
Phelim Kine is the deputy Asia director at Human Rights Watch.