'Clearly, reviving the economy isn't as simple as loosening quarantine restrictions'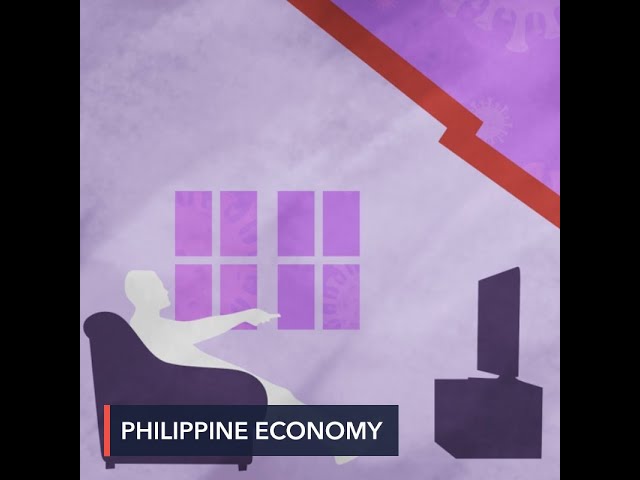 Various think tanks predict that the Philippine economy will suffer one of the worst downturns in ASEAN by yearend.
The International Monetary Fund foresees a 8.3% contraction of gross domestic product or GDP; the Asian Development Bank 7.3%; and the World Bank 6.9% (9.9% at worst). Most recently, S&P expects a 9.5% drop.
Grim though they look, these forecasts are supported by some leading indicators.
Google's mobility data, for instance, allow us to keep track of people's movements during the pandemic. While the rest of ASEAN is fast returning to pre-pandemic levels of mobility, Filipinos are still largely avoiding public places and staying at home. This, despite the loosening of quarantine restrictions in past months.
At the same time, government data show that manufacturing production, net sales, and capacity utilization are still far from returning to normal.
Until the pandemic is contained and consumer confidence is restored, no solid economic recovery can be expected to occur.
Stagnant mobility
Since the beginning of the pandemic Google has tracked people's movements through mobile phone usage (at least people who haven't turned off their phones' Location History feature).
This has since produced a valuable dataset that can, among other purposes, serve as a barometer of economic activity absent real-time economic statistics — the collection of which by governments tends to proceed at a glacial pace.
The aggregate, anonymized mobility data can be freely downloaded from Google to monitor changes in people's movements to and from residential areas, groceries and pharmacies, parks, workplaces, retail and recreation areas, and transit stations.
The graphs below show the data for the Philippines. All data are expressed as percent changes from the baseline mobility data (from January 3 to February 6, 2020).
Figure 1 shows that despite the July lifting of Metro Manila's strict lockdown (also called enhanced community quarantine or ECQ), Filipinos haven't returned all that much to public places. They've continued to hunker down in their homes.
There was, to be sure, a rise in mobility in May right before ECQ was lifted. But this was the biggest shift so far: mobility changes at public places and residential areas have essentially stagnated — as though settling at an equilibrium.
As of October 23, mobility at retail and recreation areas is still 46% lower than early this year, even as malls have opened their doors for longer hours. If you happen to visit malls lately, you'd perhaps agree that many still feel rather empty, devoid of the usual throngs of mallgoers. Restaurants, too, continue to have a hard time attracting customers.
Meanwhile, data show that mobility in residential areas is still 22% higher than early this year — even if people are freer than ever to go out of their homes. Quarantine passes are hardly ever needed now.
Clearly, reviving the economy isn't as simple as loosening quarantine restrictions.
Figure 1.
Figure 2 shows that mobility in retail and recreation areas is still depressed across many regions of the Philippines, especially in Metro Manila which accounts for nearly a third of national output.
As Cebu became a COVID-19 hotspot in June and July, mobility also went down drastically. But the decline of mobility there has abated, leaving Metro Manila behind.
Least affected of all is Mindanao. But as of October 23 mobility there is still considerably low: 35% lower than early this year.
Figure 2.
Mobility in key urban areas also continues to be dragged down by the pandemic, as shown in Figure 3. Faring worse than Metro Manila is Baguio City, which has implemented much stricter quarantine rules than many other parts of the country.
As engines of growth, our cities will have to bounce back if we are to see a robust national recovery. We still have a long way to go.
Figure 3.
Perhaps most unsettling, Figure 4 shows just how far we've been left behind by our regional neighbors.
With the exception of Myanmar (which saw a dramatic plunge in mobility starting August) and Brunei (for which no mobility data is yet available), all ASEAN countries have managed to outperform the Philippines in terms of mobility, like in retail and recreational areas, for instance.
Vietnam's performance is telling. They similarly had a nationwide lockdown in April, but that lasted for only 3 weeks. Thanks to their government's relatively prompt and efficient response toward the pandemic, the Vietnamese were able to quickly reopen large parts of their economy and avert an economic catastrophe.
As of October 23 mobility there is still 13% lower than early this year, but doubtless better than the 46% drop for the Philippines.
Figure 4.
Interestingly, Indonesia — which again has the most COVID-19 cases in the region — has also seen a lower decline in mobility, at par with other ASEAN countries.
Figure 5 shows that Filipinos are also staying in their homes more than their ASEAN counterparts — with the exception, again, of Myanmar.
Figure 5.

Something is holding back Filipinos from leaving their homes. Evidently, consumer confidence — key to our economy's revival — hasn't yet returned. (READ: We need to boost consumer confidence, yet Duterte's policies aren't helping)
Manufacturing in the doldrums
On the production side of things, there's also early data showing the anemic recovery of industries.
Figure 6 shows a steep decline in manufacturing production and net sales right upon the imposition of ECQ. As of August, these indices are still far from returning to normal levels.
The capacity utilization rate also went down, albeit much more gradually. At 65.3% in August, it has yet to climb to the usual level of 84.5%. This suggests there's still a lot of slack in manufacturing: more goods can be produced, but aren't.
Figure 6.
By all accounts, it seems as though the Philippine economy won't be bouncing back any time soon. Question is, what is the Duterte government doing about it?
Crucially, government must manage the pandemic and successfully flatten the epidemic curve. By failing to do so, government itself is holding back our economy's recovery. (READ: Kalusugan muna bago ekonomiya)
From what we're seeing, the Duterte government has all but given up on bringing down new cases to zero or near zero. They'd rather reopen huge swathes of the economy as soon as possible.
But the data is clear: such a simplistic strategy won't do the trick. – Rappler.com
The author is a PhD candidate and teaching fellow at the UP School of Economics. His views are independent of the views of his affiliations. Follow JC on Twitter (@jcpunongbayan) and Usapang Econ (usapangecon.com).