This is AI generated summarization, which may have errors. For context, always refer to the full article.
'Cayetano's dirty politics will invariably, needlessly prolong the economic recession — and, along with it, Filipinos' suffering'
Like an ailing COVID-19 patient, the 2021 budget might need a ventilator very soon.
On Tuesday, October 6, Speaker Alan Peter Cayetano and his allies in the House of Representatives hurriedly terminated debates and approved the 2021 budget bill on second reading. They also suspended the session until November 16.
Although the first move would have hastened the passage of the 2021 budget, the second move did exactly the opposite. The House will not meet its original target of passing the budget by October 14.
The reason, of course, is politics. 
Cayetano is doing his best to prevent Marinduque Representative Lord Allan Velasco from assuming the speakership role on October 14 in accordance with their "term-sharing agreement." 
By clinging to power, Cayetano and his allies are also maximizing their chances of controlling substantial sums of pork-like allocations in the 2021 budget, which will be pivotal in the run-up to the next elections.
These House squabbles will leave very little time for the Senate to scrutinize and amend the budget bill before year end. Senators are unlikely to sacrifice their time. 
Hence, Congress will almost certainly fail to pass the 2021 budget on time, and the 2020 budget — which is smaller and emphatically not designed for the pandemic — will most likely be reenacted.
That's the very last thing Filipinos need. A reenacted budget will derail our economy's recovery — fraught and uncertain as it already is.
Role of government spending
Government spending has never been more important. The nation's pandemic response next year depends on it.
Specifically, government must pour money not just into the public health response (think hospital equipment, personal protective equipment, and vaccines), but also economic aid (think transfers and subsidies for workers and businesses) as well as distance learning (think modules, tablets, and internet connection).
But all these are imperiled by Cayetano's maneuverings in the House.
Absent a proper budget next year, expect a limited expansion of our health infrastructure, more Filipinos going hungry and jobless, more businesses becoming bankrupt, and more students and teachers struggling with their online classes.
Previously, my friends and I lamented the fact that the proposed 2021 budget — as crafted and submitted by Duterte to Congress — already miserably fails to allot enough money for the government's health and economic response. 
For instance, big-ticket infrastructure projects (of all things) take up a considerable part of the budget increases. (READ: Why you should be alarmed by Duterte's 2021 budget)
But even these Build, Build, Build projects — to the extent that they generate any income or employment growth at all — are at risk because of Cayetano's taking hostage of the 2021 budget.
Even Duterte's own economic managers are growing worried about the prospect of a reenacted budget. 
We can't just reopen the economy
Government spending is all the more crucial because private sector spending has all but collapsed.
In the 2nd quarter of this year, consumption spending by private individuals and households, investment spending, as well as exports and imports all plummeted. Only government spending contributed any growth at all (Figure 1).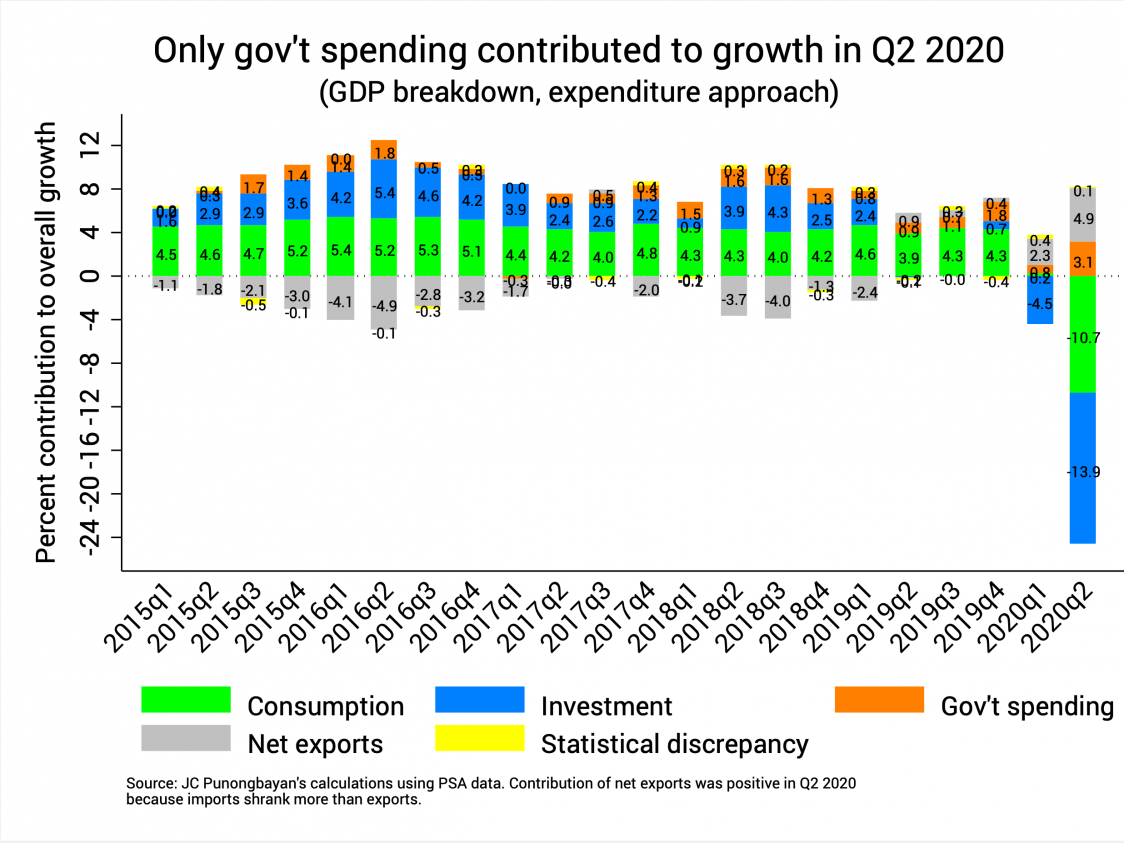 Fully reopening the economy seems to be the quick and easy solution. Indeed, quarantine restrictions are being increasingly relaxed. Reportedly, this will be the main topic of the rare full cabinet meeting happening on Monday, October 12.
But Duterte's economic managers are blindly assuming it's safe to reopen huge swathes of the economy. Thousands of new COVID-19 cases continue to be reported daily, and the reproduction number — which measures the contagiousness of the disease — still stubbornly refuses to stay well below 1.0 despite all the quarantine and other health measures in place.
The Bangko Sentral ng Pilipinas is trying to prop up the economy through its own monetary policies. But so far these seem to be ineffective. Private lending has slowed down to its slowest growth rate in 13 years. People would much rather save than splurge on new housing, car, and business loans despite lower interest rates.
Given the frailty of the private sector now, the Duterte government will have to do the heavy work and take up the cudgels for the rest of the economy. But that won't very well happen if Congress fails to pass the 2021 budget on time.
Déjà vu
The last time our budget got reenacted, our economy paid a price, too. (READ: How pro-Duterte lawmakers hurt economic growth)
Recall that during the deliberations on the 2019 budget, corruption allegations were hurled at former budget secretary (and current BSP governor) Ben Diokno. At the time, Diokno was also pushing for a new "cash-based" budget system to which lawmakers were unaccustomed.
But what really derailed the 2019 budget were the blatant budget insertions by lawmakers under the leadership of former speaker Gloria Macapagal-Arroyo. In short, it marked the return of pork-like allocations. 
This raised hackles among many senators, leading to an impasse between the House and the Senate. The 2018 budget had to be reenacted in the first few months of 2019, and it was not until April 15, 2019 that Duterte signed the 2019 budget. 
With more than a full quarter wasted, many new projects under the Build, Build, Build program got postponed in early 2019, leading to a historic drop in the growth of public construction spending — the first time that happened since 2015. Disbursements for government workers' salaries, as well as cash transfers for the poor, also got delayed.
Of course, there was no pandemic at the time, and the drop in government spending was more than offset by private consumption and investment. Even so, government failed to meet its own economic growth targets.
Today, a delayed budget endangers growth, too, but private consumption won't save the day. Filipinos are still hesitant to go out of their homes and spend as much as they used to. Consumer confidence plummeted in the 3rd quarter, according to the BSP (see Figure 2). Business confidence dropped, too.
With the 2021 budget and government spending next year hanging in the balance, Cayetano's dirty politics will invariably, needlessly prolong the economic recession — and, along with it, Filipinos' suffering.
Figure 2.
Hijacked by greed
Politics figures in every budget season. But the 2021 budget is unlike any other. So many lives and livelihoods are at stake. Millions are relying on government aid as a lifeline. We can't let politicians derail and hijack next year's budget.
Unfortunately, Cayetano is only too willing to sacrifice the government's pandemic response to push his own selfish interests. Duterte, too, is to blame for failing to resolve the speakership row quickly, knowing full well the urgency of passing the 2021 budget.
If there's a list of people we ought to blame for next year's slow economic recovery, we might have to put Cayetano and Duterte high up that list. – Rappler.com
The author is a PhD candidate and teaching fellow at the UP School of Economics. His views are independent of the views of his affiliations. Follow JC on Twitter (@jcpunongbayan) and Usapang Econ (usapangecon.com).