This is AI generated summarization, which may have errors. For context, always refer to the full article.
'What can we do to shore up consumer confidence and rescue our economy?'
Key to the Philippine economy's speedy recovery is consumer confidence.
The reason is that consumer spending has fueled the Philippine economy for the longest time.
Historically, about two-thirds of our economy, as measured by gross domestic product (GDP), was made up of private households and individuals' consumption spending — shopping, eating at restaurants, watching movies, etc.
But all that changed with the pandemic.
As Filipinos hunkered down in their homes, spending was essentially wiped out. Figure 1 shows that, rather than prop up growth, consumer spending (the green bars) dragged down growth by more than 10 percentage points in the second quarter of 2020 — a dramatic reversal of the usual trend.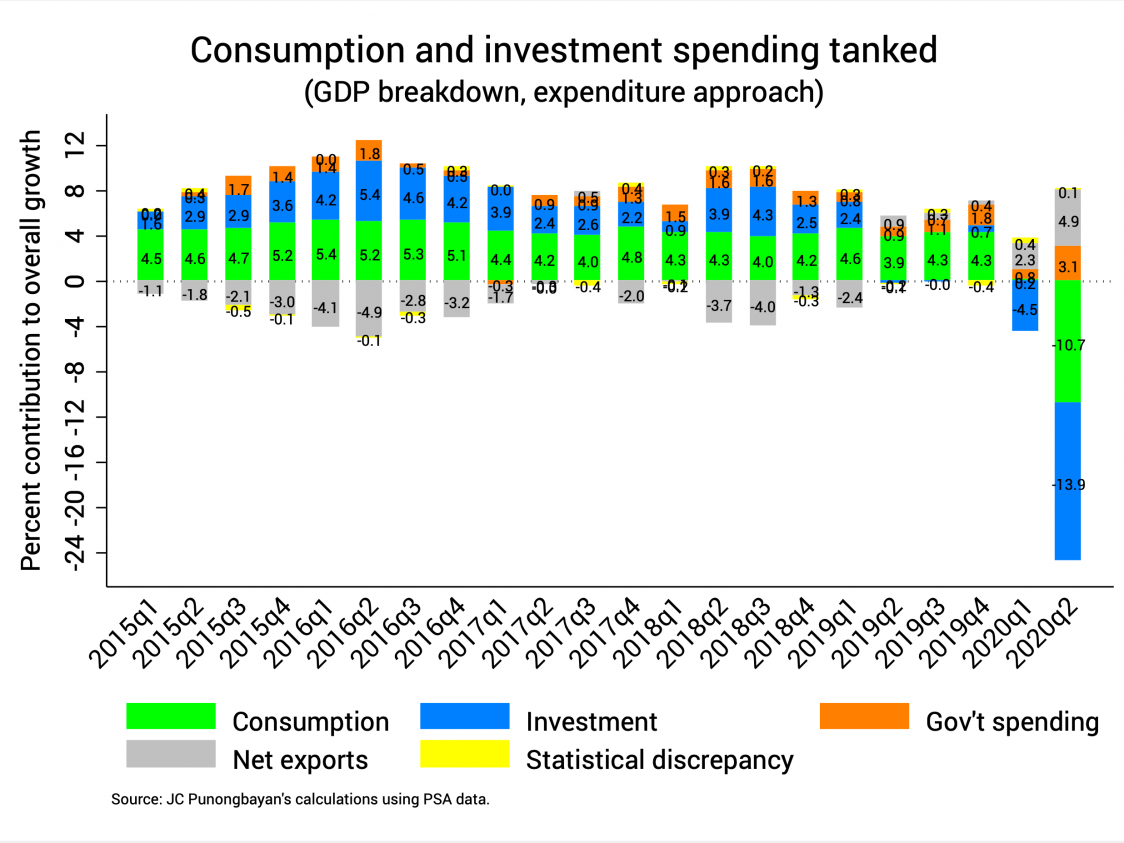 Filipinos are also reluctant to take out consumer loans, whether for houses, cars, etc. Despite much lower interest rates — a deliberate policy by the Bangko Sentral ng Pilipinas (BSP) in a bid to revitalize the economy — consumer loans alarmingly shrank in the second quarter of 2020 vis-à-vis the first quarter. That's the first quarterly shrinkage on record.
The reason is simple. People's income streams have been greatly compromised, and the last thing they want is to bury themselves in more debt by taking out new loans. They'd rather save up.
Data also show a creeping rise in the proportion of bad or non-performing loans in previous months. Consumers are finding it increasingly hard to repay their loans, and as a result banks are reportedly tightening their lending requirements. This is at odds with the BSP's goal of pumping up consumer demand for loans via lower interest rates.
Anemic consumer confidence is also evident in mobility data (Figure 2).
Even when quarantine restrictions were loosened in July, mobility levels in the Philippines are still far from returning to pre-pandemic levels. Filipinos would still rather stay at home than go out and spend as usual, presumably because they still fear the virus.
Figure 2
There's also a lot of pessimism hanging in the air. In early July, 40% or two in 5 Filipinos said they expect the economy to worsen (Figure 3). That's the highest such proportion since 2008, and the first time since 2009 that economic pessimists outnumbered economic optimists. 
At the same time, 57% or more than half of surveyed adults said "the worst is yet to come" — higher than the 47% recorded in May.
What can we do to shore up consumer confidence and rescue our economy?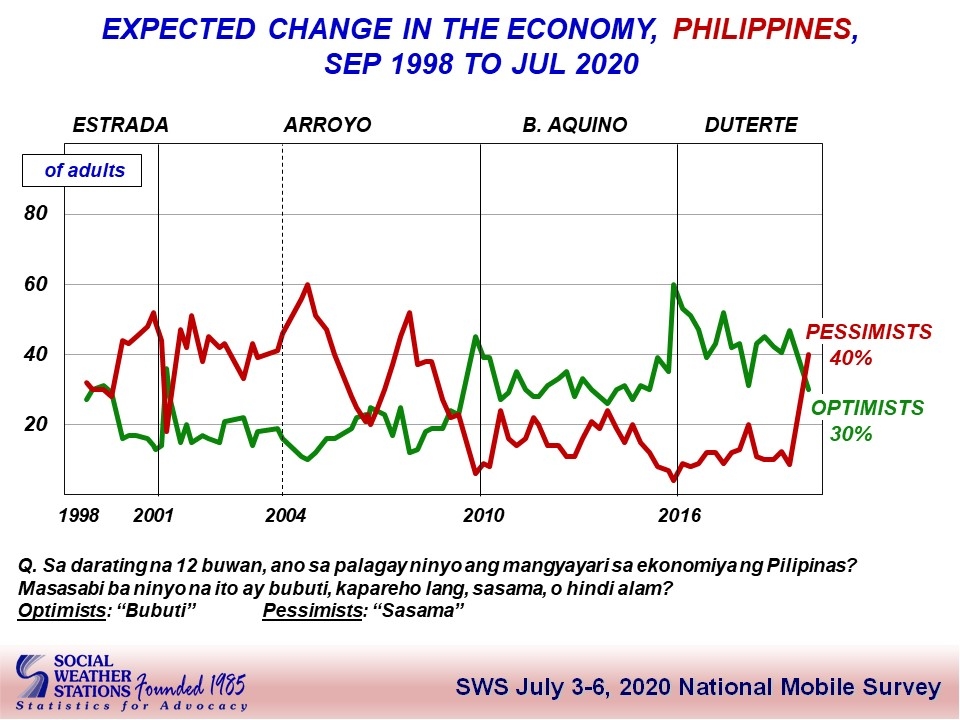 Successes, failures
If you look at the experiences of other countries, one thing stands out: quick, decisive action against COVID-19 can avert a collapse of consumer confidence.
Vietnam, for example, amazingly grew (rather than shrank) by 0.4% in the second quarter of 2020.
Although they imposed a nationwide lockdown back in April, that lasted for only 3 weeks. Thanks in large part to their government's prompt action back in January and February, the Vietnamese were able to avoid the worst of the pandemic and reopen their economy sooner than many other Asian countries.
Duterte, by stark contrast, wasted a golden opportunity early this year in which the pandemic could have been successfully contained. Now, more than half a year since the initial lockdown in mid-March, we're still seeing thousands of new cases daily.
While the Philippines' epidemic curve is still soaring, Thailand and Vietnam's are all but totally flattened (Figure 4). (READ: Had Duterte acted earlier, PH economy would be safe to open now)
Figure 4
Meanwhile, thanks to the gross negligence and ineptitude of President Donald Trump, the US also miserably failed to contain the pandemic. Nearly 200,000 Americans have died already, and the US is also in the middle of a severe recession.
Various US states did try to revive their respective economies by reopening prematurely. But a recent economic paper shows just how futile such efforts were (Figure 5). Americans didn't resume business as usual just because state governments opened up their economy.
The researchers said, "Our findings suggest that economic recovery from a pandemic ultimately requires restoring consumer confidence by addressing the root health concerns themselves…"
Figure 5. Source: Chetty et al. [2020].
Wishy-washy policies
Reopening as quickly as possible also seems to underlie the core strategy of Duterte and his cabinet.
But that policy by itself won't restore Filipino consumers' confidence. If anything, the Duterte government's policies have tended to erode rather than restore such confidence.
For instance, the Inter-Agency Task Force (IATF) has maddeningly walked back on so many of its previous inane policies, including the Balik Probinsya program, the use of motorcycle barriers, the use of rapid antibody versus swab tests, the imposition of general community quarantine on August 1, and most recently the relaxation of physical distancing rules in public utility vehicles. (READ: Urong-sulong? 9 confusing rule changes, contradictions by Duterte's coronavirus task force)
Not only were these policies bereft of proper research and study, but the wishy-washy fashion by which they were crafted and announced to the public is also utterly confusing for the population at large.
The lack of coordination between cabinet members in the IATF — and Duterte's lack of leadership — is also becoming more and more evident over time.
Filipinos are also growing increasingly mistrustful of the COVID-19 data, what with the inconsistent and misleading reporting of the Department of Health. With government itself lacking a good handle on the data, Filipinos can't be too sure where we are in the fight against COVID-19. Consumers will continue to be wary and pessimistic.
Finally, the 2021 budget proposed by Duterte and his team betrays their misguided, perverse priorities.
Amid the country's worst health and economic crisis, they're unsettlingly slashing budgets for health and economic aid. Instead, they want to pour hundreds of billions of pesos into infrastructure projects as well as the military and the police. (READ: Why you should be alarmed by Duterte's 2021 budget)
Leadership crisis
This is a health crisis first and foremost — not an economic crisis — and the Duterte government needs to treat it as such. Otherwise, the economy's recovery will doubtless take a much longer time than need be.
In principle, the President could powerfully inspire consumer confidence and buttress our flagging economy by laying down clear, sound policies guided by the right priorities.
But with leadership chronically lacking at the top levels of government, don't expect consumer confidence and our economy to bounce back any time soon. – Rappler.com
The author is a PhD candidate and teaching fellow at the UP School of Economics. His views are independent of the views of his affiliations. Follow JC on Twitter (@jcpunongbayan) and Usapang Econ (usapangecon.com).