If selected, Iloilo will be the first Philippine city to make it to the list
Gastronomy is described as the study of the relationship between food and culture, and the art and practice of preparing, cooking, and eating good food. With this in mind, Iloilo City – with the full support of the DOT – has put in a bid to be considered by the United Nations Economic, Social, and Cultural Organization (UNESCO) as a "City of Gastronomy."
The City of Gastronomy project, launched in 2004, is part of the wider UNESCO Creative Cities Network that organizes member cities into seven creative fields: Crafts and Folk Art, Design, Film, Gastronomy, Literature, Media Arts, and Music. To be approved for the Gastronomy category, cities need to meet a number of criteria that include:
Well-developed gastronomy that is characteristic of the urban center and/or region;
Vibrant gastronomy community with numerous traditional restaurants and/or chefs;
Indigenous ingredients used in traditional cooking;
Local know-how, traditional culinary practices and methods of cooking that have survived industrial/technological advancement;
Traditional food markets and traditional food industry;
Tradition of hosting gastronomic festivals, awards, contests, and other broadly-targeted means of recognition;
Respect for the environment and promotion of sustainable local products;
Nurturing of public appreciation, promotion of nutrition in educational institutions, and inclusion of biodiversity conservation programs in cooking schools' curricula.
Cities submit bids to UNESCO to be designated. Currently there are 36 Cities of Gastronomy. Eight countries have more than one. Brazil has four; China, Turkey, and Italy have three; while Colombia, Mexico, Spain, and the USA have two each. If selected, Iloilo will be the first Philippine city to make it to the list.
Here are some details on the current titleholders:
Popayán (Colombia) was the first city to be designated, back in 2005. It hosts the annual National Gastronomic Congress of Popayán.
Chengdu, capital of Sichuan province, boasts of Sichuanese cuisine, one of the most popular types of cuisine in China. It is the birthplace of numerous dishes and snacks, including mapo tofu and dandan noodles, and has a distinct and vibrant tea house culture.
Bergen in Norway is a port city with a long history in the seafood trade. Local gastronomy thrives on organic food. Bergen hosts the world's largest conference on seafood, the North Atlantic Seafood Forum Conference, and is also home to the Center of Expertise for Sustainable Seafood and the National Institute of Nutrition and Seafood Research.
Alba, in the Piedmont region of Italy, is famous for its white truffles and vineyards, and also played a key role in the creation and development of the "slow food" movement.
Macau's unique blend of Cantonese and Portuguese influence in culinary arts is exemplified in African chicken, which includes Asian ingredients and peri-peri peppers brought in from Mozambique by Portuguese explorers. It holds the Macao Food Festival.
DOT Western Visayas has long been pushing for Iloilo City to be a gastronomy hub, supporting the following: Kaon Na 'Ta Food and Travel Festival; Iloilo Dinagyang Hawkers Food Festival; Iloilo Batchoy Festival; Flavors of Western Visayas; Tabu-an Ilonggo Heritage Cooking Competition; and the annual Sabores de Visayas.
The legacy goes much earlier though: Felix Laureano, the first Filipino photographer, wrote an essay about street food in 1890's Iloilo in his album-book, Recuerdos de Filipinas. Meanwhile, one of the first cookbook writers in the country was Molo's Pura Villanueva Kalaw, the first Manila Carnival Queen (1908), feminist, and suffragist. Her Condimentos Indigenas (native recipes), according to her daughter, the late senator Maria Kalaw Katigbak, "…was not a simple cook book…. It carried her message of nationalism in the choice of food, nutrition, simplicity of diet, and thriftiness of preparation…"
To support this initiative, DOT Region VI, the Iloilo Museum of Contemporary Art (MOCA), and the NCCA developed a three-pronged program called "Timplada: The Art of Ilonggo Cuisine," focusing on Ilonggo heirloom dishes. It includes an art exhibit, an Ilonggo "food map," and a series of programs and conversations about food entitled "Merienda Talks."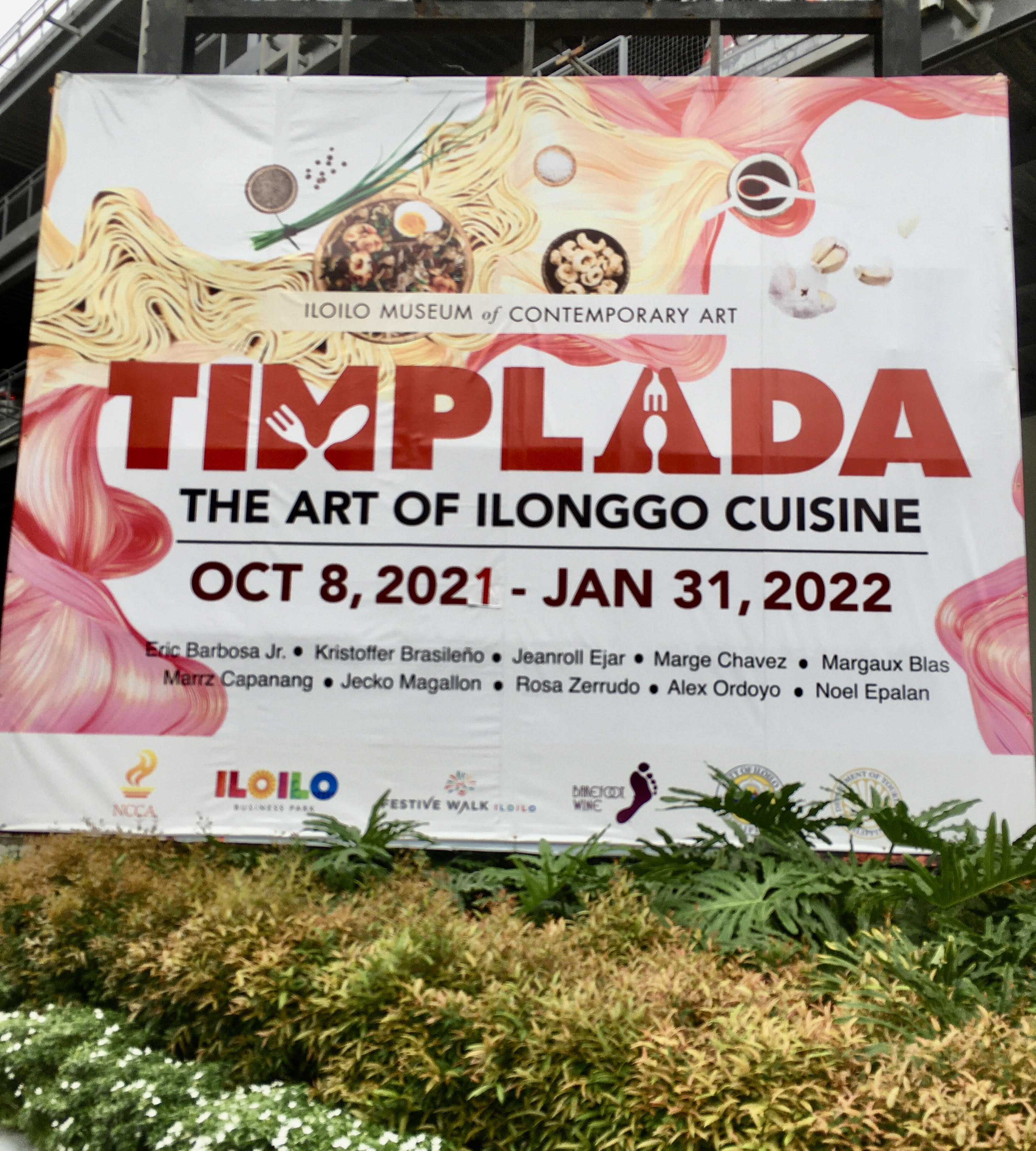 Timplada: The art exhibition
In the exhibit's introduction, curator Janine Cabato notes that "Timplada" comes from the word "timpla" – to mix. From a culinary perspective this means a mixture of ingredients following a recipe. The exhibit looks back on nostalgic food experiences, familiar tastes, and familial heirloom recipes through the creations of local artists.
A quote from the eminent Ilonggo cultural historian and foodie, the late Doreen Gamboa Fernandez of Silay City, welcomes visitors: "Food to the Filipino is HISTORY — it is also BOND, CULTURE, and IDENTITY."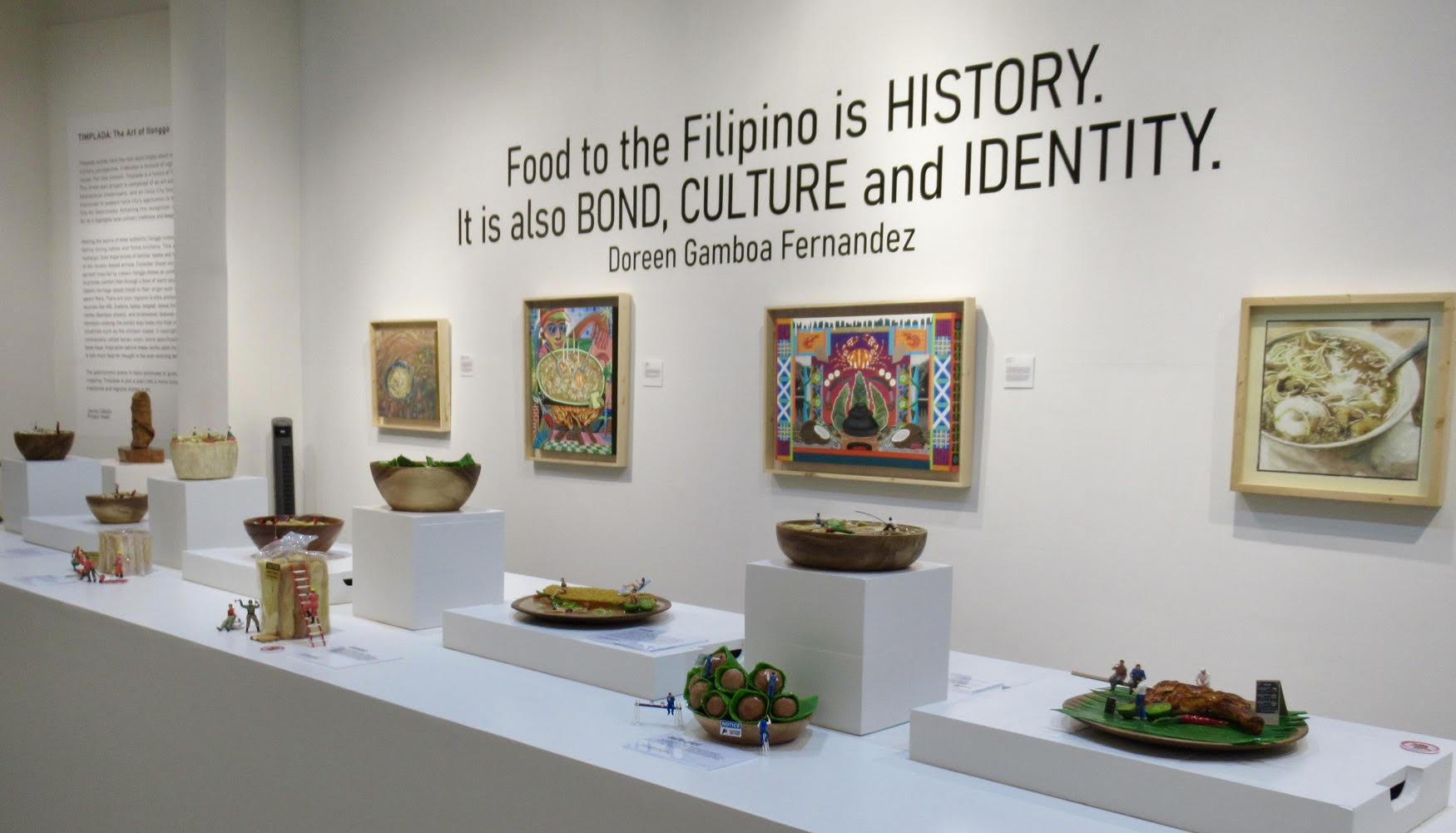 Works by 10 local artists, all food-inspired, are on display, with paintings in different media (acrylic, oils, watercolors) and styles. Jecko Magallon's Pancit Molo employes a "komiks"-like style. In Kristoffer Brasileno's work, the 1960's version of the central square of Iloilo, Plazoleta Gay, is bedecked with inasal na manok. Noel Epalan, menwhile, features a typical Filipino kitchen, as if laid out for a cooking demonstration. Margaux Blas' Tambo has a clay stove and palayok (clay pot), crowned by "tambo" or fresh bamboo shoots, framed by pasayan, kasag, igi, tugabang leaves, and gata. Marge Chavez' Nilapuhan shows the ingredients for laswa, that most simple and nutritious of soups. Her piece, with its background of slats, shows the setting is a "bangerrahan," a tidy corner found in a nipa huts, which also serves as a window sill and a drying area for plates and utensils. Marz Capanang's work Binatwanan shows a typical Ilonggo soup soured with batwan (Garcinia binucao) and accented by tanglad, which stands out among the surrounding impressionist-style whirls and splotches. Alex Ordoyo's Batchoy is rendered in watercolor, featuring the steaming noodle soup of La Paz with bits of offal, chicharon, Chinese chives, and toasted garlic.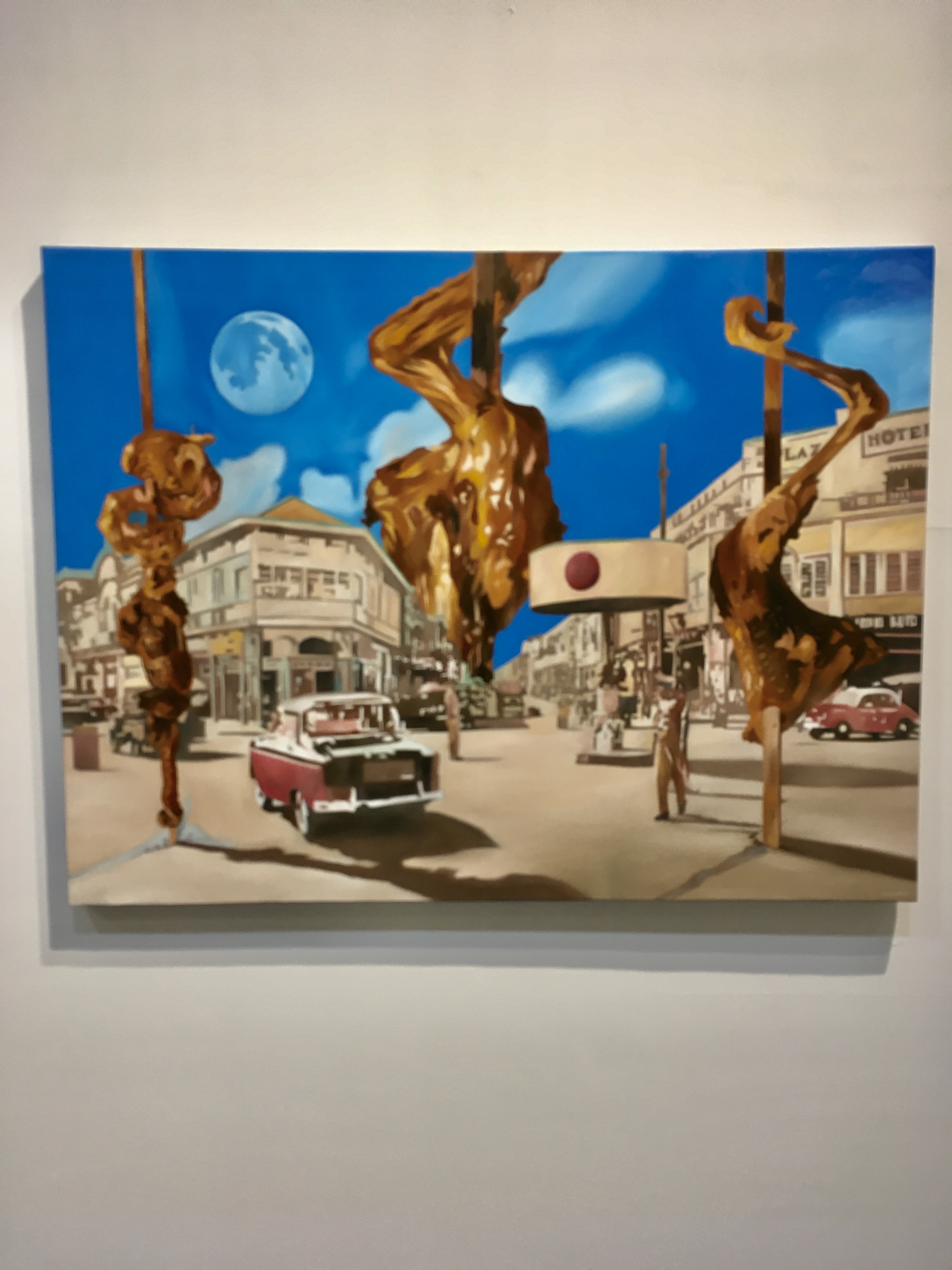 "Timplada" is not limited to paintings – there is Jeanroll Ejar's teakwood sculpture Ibus, which re-interprets his favorite glutinous rice-and-coconut milk snack, steamed and wrapped in young palm leaves. However, he has painstakingly carved in his own distinctive designs, which include native mayas (sparrows), rice stalks, and grains, and even a mat-like pattern.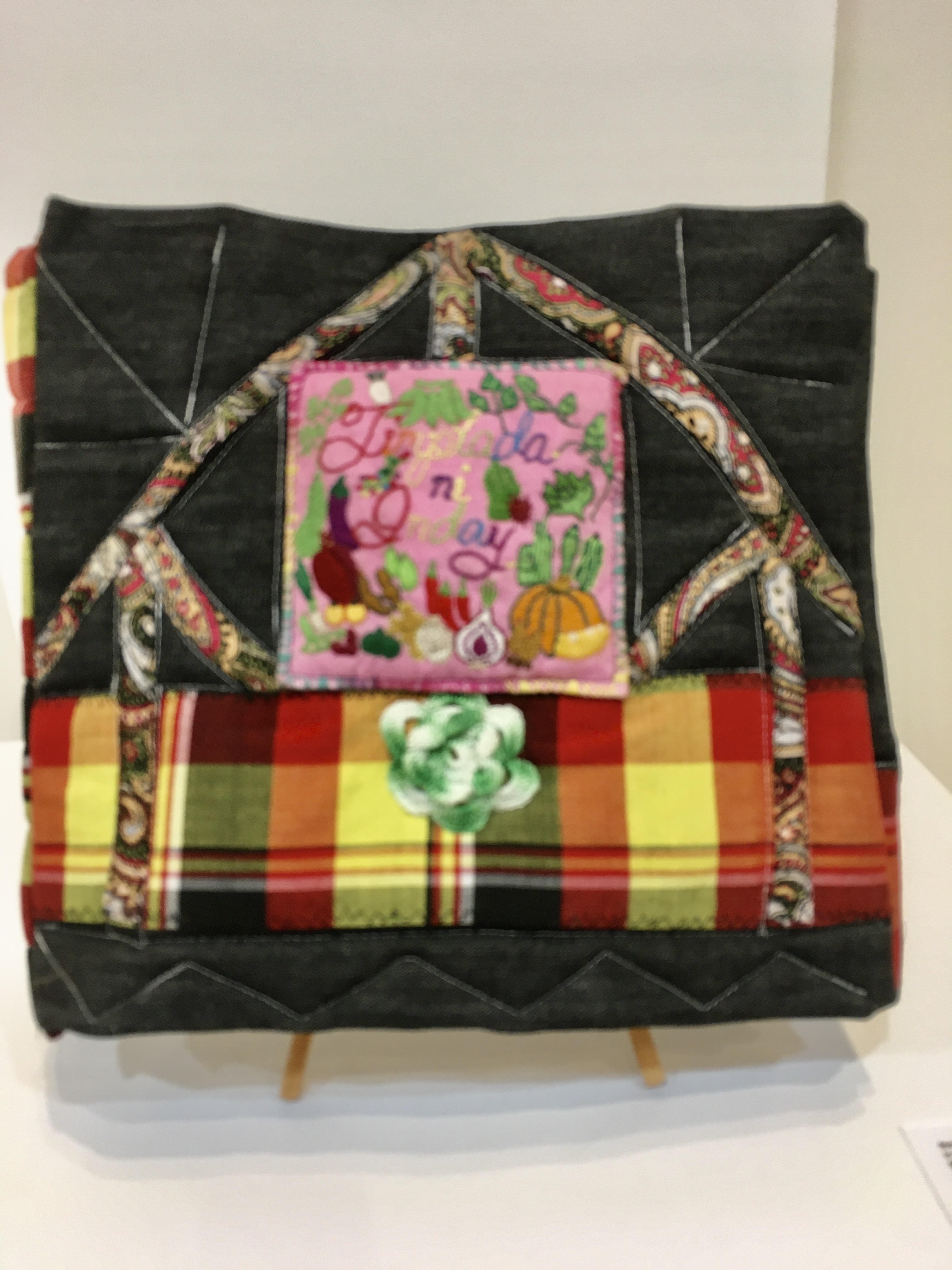 Rosa Zerrudo's work with women artists, hablon weavers, and persons deprived of liberty (PDL), resulted in Borda (Embroidered) Book: Timplada ni Inday – a creation of hablon, hand-embroidered fabric, and foam. The exhibition notes state that the textile pages contain culinary terms in Ilonggo, such as names of fish and local terms for taste. Since touching the exhibits was not allowed, I was unable to turn the "pages" of this book, which could also easily pass for a uniquely embroidered cloth bag!
Eric Barbosa's Miss Baye-Baye Universe, a short video, whimsically features the virtues of baye-baye, a popular Ilonggo snack made of grated young coconut and ground pinipig. Eric's work showcases the two main types – the white, wrapped in plastic and wax paper, and the brown (due to the brown sugar used), wrapped in banana leaf – competing in a beauty contest. Miss Baye-Baye Universe is a witty take on the "baye" word, which is the Ilonggo term for "girl."
And in the middle of the gallery, on what could be a buffet table, is a display of fairly realistic-looking, plasticized replica dishes laid out on white pedestals — pancit molo, kadios-baboy-langka, barquillos, biscocho, baye-baye, bihon, inasal, kansi, tinu-om, batchoy, and binakol. Each one is accented by minuscule figures out of a child's toy collection. This reminded me of those gaudy imitation models of roasted duck, sushi, and sundaes you see on the display windows of some restaurants. It would have been more effective if arranged on banana leaves, as if in a "boodle fight," which would also highlight the kamayan tradition.
The pieces have brief descriptions of the artistic works; some describe the artist's inspirations. More details would have been useful about the dishes featured. Lighting angles on some pieces, and additional space around the free-standing Ibus could have been provided, for better viewing of the details of the carved work. Extra treats are other food-inspired pieces from the MOCA collection, such as Orley Ipon's Lakatan, and a painting by the Negrense social realist, Nuneluncio Alvarado.
The exhibit is free to view, and runs Fridays to Sundays at the MOCA until January 31. Advance booking through the MOCA Facebook page is necessary. Only 10 people are allowed in a single visit. Hopefully with COVID-19 alert levels reduced, opening hours and days will be extended.
If you're in town, don't miss it — the future city of gastronomy beckons to foodies far and wide. A new UNESCO distinction will be an addition to that fact that an Iloilo landmark is already on the UNESCO World Heritage List – the Miag-ao Church, one of four Philippine Baroque churches so recognized. – Rappler.com