'Elections, after all, is about numbers, and if a candidate can get votes from both camps, that could be a winning formula'
I recently posted about the idea of a "political middle" on my Facebook wall. I argued that in the May 2022 elections, the (presidential) candidate perceived to be the political middle has the greatest chance of winning.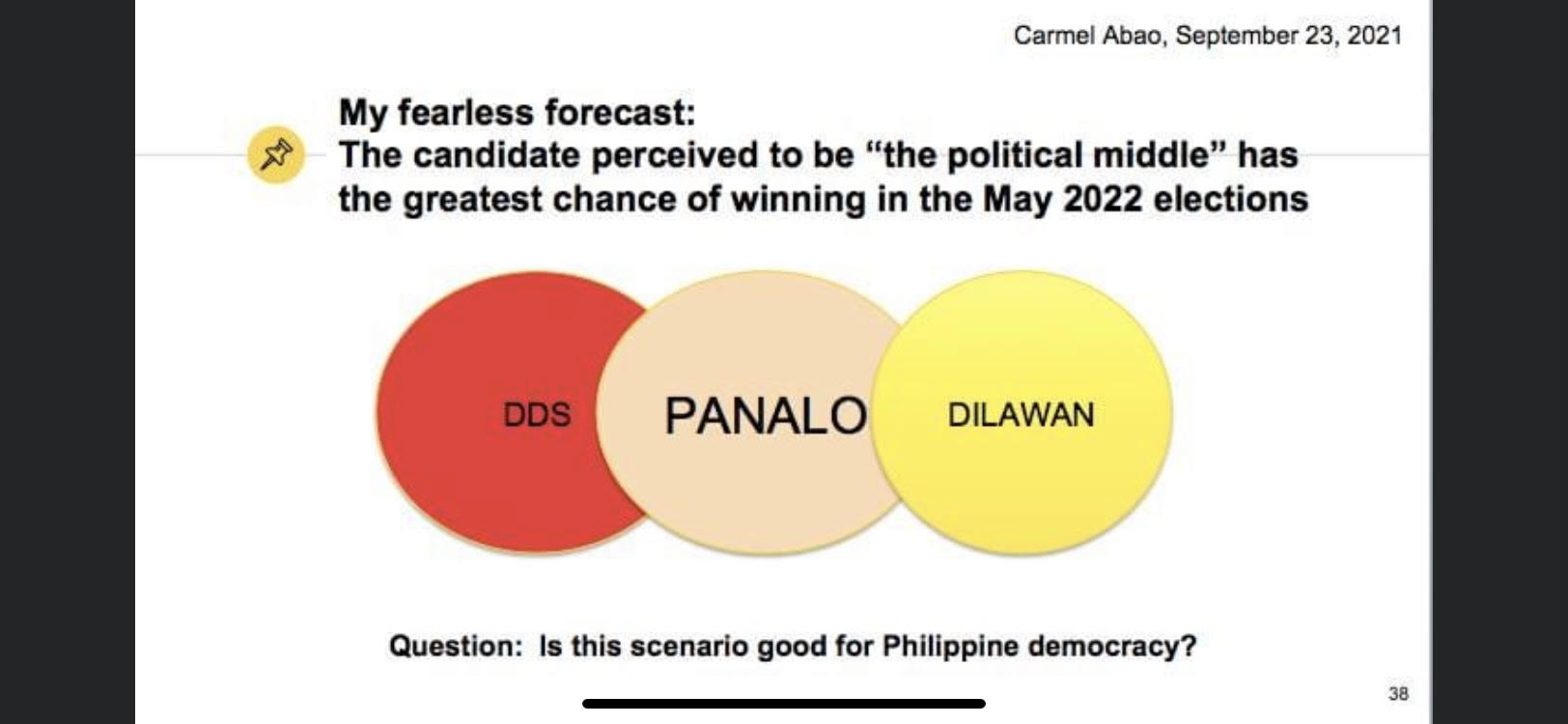 In this piece, I articulate this notion and invite readers to share their own thoughts about the matter.
Polarization as context
Ever since President Duterte came into power, Filipinos have been conscripted into two opposing camps: the Duterte Diehard Supporters (DDS) and the Dilawans. Essentially, the two camps represent those supportive and non-supportive of the Duterte administration. The replacement of the otherwise benign terms "supportive" and "non-supportive" with the acrimonious terms "DDS" and "Dilawans" was not accidental. In the 2016 elections, the terms were employed to heat up the campaign and drive voters to show not just electoral support but loyalty and loving devotion: the DDS to their Tatay Digong and the Dilawans to Mar Roxas, the chosen successor of then President PNoy, who was revered as the son of EDSA heroes Ninoy and Cory Aquino.
To defeat one another, the Duterte and Roxas camps demonized each other. In this demonization game, the Duterte camp came out successful, because the Roxas camp faced competition not just from Duterte but also from former ally Grace Poe and then Vice President Jejomar Binay. The election results of 2016 show that had Roxas (9,978,175 votes), Poe (9,100,991 votes), and Binay (5,416,140 votes) forged an alliance, their combined votes of more than 24 million would have made Duterte's 16 million a mere far second. And even if only Roxas and Poe combined forces, that alliance would still have yielded 19 million votes, 3 million more than Duterte's.
Instead of mellowing out after the campaign period, the demonization game continued. Even in the midst of a pandemic, four years into his presidency, one would still hear President Duterte lamenting and appealing to the public and polarizing the public – Huwag kayong maniwala sa mga dilawan, oposisyon (Don't believe the yellows, the opposition). The term "dilawan" has become synonymous with anyone and everyone critical of the President's governance. One is either loyal to President Duterte or a dilawan. There is supposed to be no nuancing, no middle ground, no public debate.
Political middle as electoral strategy
Given the context of intense polarization, the candidate who will capture "the political middle" is likely to get the most number of votes. Why? Because the positioning of being in the middle will allow one to generate votes from both the DDS and the Dilawan camps. Elections, after all, is about numbers, and if a candidate can get votes from both camps, that could be a winning formula. Especially for the "opposition," capturing the political middle could mean denying the Duterte camp another sure majority win.
It has also been argued that the best scenario is not to create a political middle, rather, to maintain – even intensify — the existing polarization but to make sure that this time around, the 24 million of 2016 would show up to support an anti-Duterte candidate. This argumentation is problematic because it might not be accurate to assume that the 24 million vote base of 2016 share the same anti-Duterte sentiment. The Poe and Binay campaigns after all, were anti-Roxas more than they were anti-Duterte. In other words, one must not assume that the 16 million support base of Duterte in 2016 has remained constant. That number could be much higher given his populist – polarizing – ways of mobilizing support for his governance. All surveys, in fact, point to this possibility. Duterte's numbers have never really dropped significantly since his 2016 campaign. Thus, for a presidential candidate to win against the Dutertes in May 2022, he or she must also eat into the Duterte vote base and/or create a broad alliance that will include politicians and voters formerly perceived to be supporting extreme, polarizing positions.
Political middle as public discourse
My idea of a political middle, however, is not only for electoral purposes. It is also not about "being neutral." My idea of a political middle carries with it an anti-polarization public discourse.
I think our society needs to move away from the vicious polarization that has been promoted by the Duterte administration to prop up its authoritarian agenda. Especially at this moment in time, with COVID-19 ravaging our entire country, the DDS-Dilawan divide is useless. We are all just citizens needing health care, incomes, education, housing, food; needing to feel secured and protected amid a health pandemic.
The public discourse that we need is not about which presidential bet we should be loyal to, rather, which presidential bet will deliver the requirements for our country to (i) flatten the COVID curve, (ii) recover from the social and economic devastation of the COVID pandemic, and (iii) bring back democratic space so that problem-solving especially about COVID response can be shared and negotiated across broad sections of society. This election season should be the time to make public discourse inclusive. No more DDS, no more Dilawan, no more loyalists – just citizens.
Leni Robredo: Anti-polarization candidate
The president we need in 2022 is one who will make us think of ourselves – and each other – as Filipino citizens, not as loyal subjects of any politician. Someone who will move public discourse away from toxic, polarizing frames to problem-solving modes of thinking. This is necessary, because if we fail to solve our nation's real and most pressing problems soon – and together – we might not even have a nation to speak of.
The Duterte-Marcos camps are unlikely to go to the political middle or carry any anti-polarization discourse. They will continue to exact loyalty as reasoning for support: "with them or against them." If Sara Duterte and/or Bongbong Marcos will run, they will probably be presented by their campaign teams as better versions – not opposites – of their fathers.
Leni Robredo, meanwhile, looks to be an anti-polarization candidate. Robredo has been very clear with her anti-Duterte, anti-authoritarian stand, but these stances have always be on policy. Never derogatory or polarizing. She has also never thrown mud at emerging opponents Manny Pacquiao, Panfilo Lacson, or Isko Moreno. At the same time, she has never positioned herself as the lapdog of any "yellow" party or group. In her latest interview (September 25, 2021, Radyo Katipunan), she in fact claimed that nobody has a monopoly of malasakit (compassion) for the country. It is not clear whether Robredo will run for the presidency or not. What is clear is that if she runs, she will not be polarizing, she will be middle.
Among those who have already announced and positioned themselves as "opposition," Isko Moreno clearly stands out. His messaging of "Ako/Tayo si Isko" seeks identification and support. No dapat or "should" – just "is." The message suggests a statement of fact that most Filipinos are like him – working hard for the money, to survive and lift themselves out of poverty.
The "healing president" messaging is also very powerful. It positions him as someone who will heal the wounds brought about by the Duterte administration. Some of Isko's pronouncements have obviously been leveled against the excesses and failures of the Duterte administration. Many people doubt, however, both his sincerity and capability to correct Duterte's injustices (e.g. Senator Leila de Lima's incarceration). For Isko to be credible as the political middle, his anti-authoritarian messaging must be as clear as his anti-elite positioning.
Full disclosure: Leni Robredo is my political middle. I don't subscribe to the DDS-Dilawan polarization because I think these gloss over the real, pressing problems of both authoritarianism and elitism. Leni Robredo, while associated with the Liberal Party (therefore allegedly "dilawan"), does not come across as elitist. She seems to be the "typical tita" who's all over the place, trying to get things done. No frills, no fuss, just OC (obsessive compulsive) about getting things in order.
Some have been claiming that Leni Robredo is "not presidential" and would be better suited for a DSWD secretary position. I beg to disagree. Because even if she is DSWD secretary material, it looks like that's exactly the next president that we need. Someone who will deliver the goods so that we can all survive and recover from the pandemic. Leni Robredo will not just get us out of the DDS-Dilawan polarization straitjacket, she will also be our much-needed COVID-time President. She needs to stop saying, however, that COVID response should not be political, because it is very political. COVID response has, in fact, been used as a pretext by the incumbent administration to continue institutional transgressions such as corruption, patronage-based public service delivery, and repression of critics.
Both Leni and Isko have been doing COVID response since the start of the pandemic. But there is a significant difference: the scale of their work. Isko has been doing COVID response at the level of the city while Leni has been doing it at the level of the nation. That is the COVID-time President that we need in 2022 – someone who already knows how to navigate COVID response at a larger scale. Herd immunity, healthcare system improvements, and economic recovery – these are all challenges that have to be achieved at the level of the nation. Otherwise, they cannot be achieved at all.
Yes, Leni Robredo is my political middle. But she is not my bottomline. (And to be clear: I am not part of her team – or anyone's team for that matter). My bottomline is this country's survival and welfare, given the context of Duterte's polarizing governance that has meant the loss of so many lives, and the piling up and non-resolution of social problems – COVID or no COVID. We need to recover from both economic and political recession, and I think Leni Robredo is best poised to lead us in this recovery process.
Philippine democracy is dying. Let us please use the May 2022 elections to breathe new life into it. – Rappler.com
Carmel Abao, PhD is Assistant Professor in the Department of Political Science at the Ateneo de Manila University. She works in the areas of labor migration and politics and governance.