'The threats against Masungi might be strong, but we believe that its innate importance as well as its defenders are even stronger'
Masungi's past struggles
Masungi, a national park of geological and ecological importance, is known for its beautiful landscape and healthy geotourism practices. However, it has also become known because it is constantly attacked and threatened — the threat of exploitation through land-grabbing, deforestation, and quarrying is always looming. Just September of last year, the deemed "Masungi Invasion" happened, in which more than 30 armed men from Sinagtala Security Agency stayed at Km. 48 of the Marikina-Infanta Highway. Allegedly, they planned to take tracts of land from the area and sell them. The year before that, in 2021, two park rangers from Masungi were also shot. Even before this incident, forest rangers were already intimidated because they reported illegal activities such as slash-and-burn, illegal tree cutting, and illegal private resort construction in the watershed. In 2020, 500 hectares in Masungi were fenced off by the quarry company Rapid City with the absence of a permit. Quarrying has been a constant threat to the site bleeding to the present with the Mineral Production Sharing Agreements (MPSAs) that have been given and are yet to be terminated.
Masungi vs BuCor
The Masungi Georeserve might have already been through a lot but it appears to be under attack yet again. Last February 17, Bureau of Corrections (BuCor) acting Director General Gregorio Catapang stated that Masungi will be used for its new headquarters. The day before his statement, the Masungi Georeserve Foundation said that BuCor came to Masungi for an "ocular inspection" for a "relocation site of the New Bilibid Prison." BuCor apparently acquired 270 hectares of Lot 10 in the area.
As BuCor is an agency under Department of Justice (DOJ), Justice Secretary Jesus Crispin Remulla also confirmed the plan. According to him, this transfer is included in the order to decongest New Bilibid Prison (NBP) as well as their plan to "regionalize" facilities. Remulla asserted that this would allow prisoners' families to visit more often. BuCor and DOJ defended their choice of the site, saying that this was the only land given to them in Region 4 for relocation and regionalization.
In Proclamation 1158 issued by former president Gloria Macapagal-Arroyo in 2006, the 270-hectare parcel of land was given for the new site of NBP with the recommendation of Department of Environment and Natural Resources (DENR).
Why save Masungi?
If we do consider the BuCor and DOJ's intention to expand NBP for prisoners to have more space, it sounds like a plan worth pursuing — especially given the density of Bilibid now. However, is Masungi a suitable area for a project like this?
The most practical answer is found in Masungi Georeserve Foundation's statement: the site is "mountainous and geologically unbuildable," which will make this pursuit costlier than it should be. But more than this "practicality," the Masungi Georeserve needs to be preserved, which has led to the people's call, "Save Masungi."
Masungi Georeserve is located in a rainforest in Rizal. While it is known as a geotourism area, it is first and foremost a conservation area, which in itself should be enough of a reason to leave it be. It is a spiky rock garden seemingly "sungki" or "masungki," which is where Masungi's name was derived from. These rocks protected in the georeserve are threatened limestone formations. Masungi is also home to more than 400 species of flora and fauna, some of which are endemic and/or threatened. The georeserve has also been protecting and restoring forest lands that were damaged from decades ago.
A report from the National Museum released last year strengthens the argument that the area should be preserved. The report states that Masungi is safer left untouched and away from human activity as the georeserve is sensitive to various disturbances. They said that particularly land and hydrologic disturbance in the area would have "expensive consequences." This should be kept in mind especially because Masungi is a karstic region, which pertains to a landscape shaped by water on carbonate bedrock. In the georeserve's case, this is limestone. Karstic regions are "massively impacted by whatever occurs in its surroundings." In an interview, Ann Dumaliang from the Masungi Georeserve Foundation even emphasized that Lot 10 specifically is the spine of the watershed divide.
Masungi is also part of the Sierra Madre mountain range which is known to protect Luzon from the strongest typhoons. With the climate change bringing harsher and harsher typhoons, compromising Masungi would mean compromising the safety of those protected by it such as Marikina, Pasig, and Cainta.
The importance of conservation
The Masungi Georeserve is an award-winning geotourism site that stands tall and strong despite constant threats and attacks. Despite challenges, it has been successful at restoring and preserving the karstic landscape, its forests, and the biodiversity it houses. It is known for being an important symbol of environmental conservation.
In the environmental movement, what Masungi Georeserve does is of utmost importance. Conservation of the environment is imperative in a world that prioritizes rapid urbanization and overdevelopment. Conservation is not only important because nature protects people. Masungi's conservation is also important because it serves as a recreational area that is one with nature. In highly urbanized areas such as Metro Manila, it very difficult to find green spaces to go to and visit. Parks are both scarce and overcrowded. Must we choose to make green spaces even scarcer?
While the idea of conservation may sound antithetical to development, these two actually go hand in hand. Masungi itself shows that. Masungi has technically been developed into a park, but in a way that is complimentary and non-damaging to its environment. And this development of geotourism has helped them conserve and restore the area.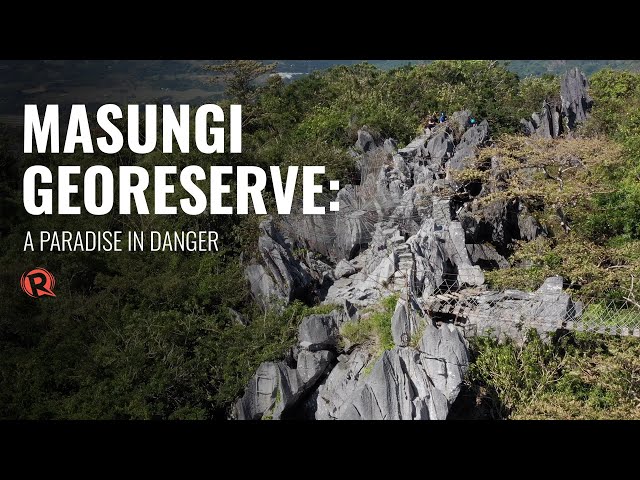 ***
With this, we stand with the call to save Masungi. It is not only a symbol of conservation, it is an indispensible area of biodiversity, a vital geological heritage, and a place that marries development and conservation. The threats against Masungi might be strong, but we believe that its innate importance as well as its defenders are even stronger. Save Masungi! – Rappler.com