The late firebrand leftist cultivated close ties with a slew of anti-US regimes over his 14 years in power, trading weapons and oil to form an alternative bloc against the capitalist "empire"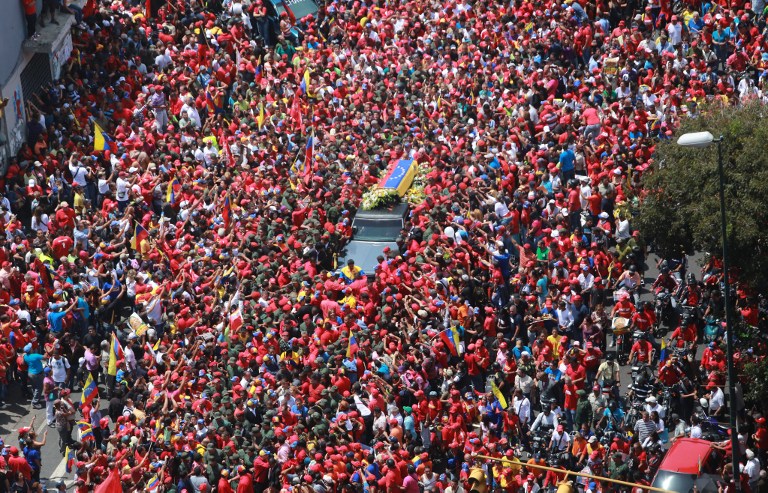 CARACAS, Venezuela – The gaggle of world leaders paying their last respects to Venezuelan President Hugo Chavez on Friday features a Who's Who list of US foes: Cuba's communist leader, Iran's nuclear provocateur and "Europe's last dictator."
The late firebrand leftist cultivated close ties with a slew of anti-US regimes over his 14 years in power, trading weapons and oil to form an alternative bloc against the capitalist "empire."
His political heir, Nicolas Maduro, was instrumental in building those bonds when he served as foreign minister, and analysts expect him to keep them strong, especially with Cuba.
"This relation will deepen. It's no secret that he was an extremely important man for the Castro brothers. They were always in favor of Maduro succeeding Chavez," Carlos Romero, political science professor at Simon Bolivar University, told AFP.
"He's Cuba's man in Venezuela," Romero said.
The state funeral will effectively be Maduro's baptism as interim leader on the world stage, greeting dozens of presidents and prime ministers while he eyes elections expected to be called within 30 days.
Most Latin American presidents were traveling to bid farewell to Chavez, who was a leading figure in the region, forging a leftist front with like-minded leaders in Bolivia, Ecuador and Nicaragua.
Many of them began arriving late Thursday to see Chavez lying in state in a Caracas military academy after dying Tuesday at age 58, including Brazilian President Dilma Rousseff.
But many European leaders were absent, sending lower-level delegations. And US President Barack Obama will be represented by the US charge d'affaires and two Democratic party politicians.
Chavez' closest ally, Cuban President Raul Castro, arrived late Thursday, wearing a black suit to get an early glimpse of the man who kept his country's anemic economy alive with cheap crude deliveries.
"The Venezuelan people will know how to defend his achievements, and as ever, we will be at their side," Castro, whose bond with Chavez angered the Venezuelan opposition, said before arriving.
Iranian President Mahmoud Ahmadinejad, in a tense standoff with Washington over his country's disputed nuclear program, mourned his friend this week as a "martyr" and a "wise and revolutionary leader."
Chavez visited Iran 13 times while Ahmadinejad reciprocated with six visits to Venezuela. The two nations signed billions of dollars in investment agreements in recent years to build cement factories, satellites and bicycles in Venezuela.
Venezuela also enjoyed close ties with Belarussian President Alexander Lukashenko, who was once dubbed "Europe's last dictator" by the US. The two nations traded weapons and oil and Venezuela's elite troops trained in the former Soviet state.
Until his death, Chavez defied world outrage at the conflict in Syria and continued to support embattled President Bashar al-Assad, who took to the airwaves Wednesday to lament "a great loss for me personally and the Syrian people." But with his nation at war, Assad was not making the trip.
Despite his raucous ties with the United States, the two nations have taken tentative steps to heal relations. The two sides have run their respective embassies without ambassadors.
But Maduro has ramped up the anti-US rhetoric, expelling two US military attaches he accused of conspiring to destabilize Venezuela before announcing Chavez's death on Tuesday.
"It was a big mistake," said analyst Romero. "It's not the tone Washington has. Washington seeks more stable relations. It was a moment of rage at a time that he realized President Chavez had few hours left."
David Smilde, senior fellow at the Washington Office on Latin America, a policy group, said Maduro is considered a negotiator and more pragmatic than Chavez was, though he is also an "anti-imperialist."
"I don't think there's going to be any radical changes, especially in key relationships with Cuba and other places," Smilde told AFP.
"Chavez had emphasized having an independent foreign policy, and I think he ended up associating himself with anybody who was part of what you could call the dissenters of the West," he said.
"He sought to do something different, for better or for worse." – Rappler.com