'These platforms are not merely mirroring humanity; they're making all of us our worst selves,' Rappler CEO Maria Ressa says at the first global Ministerial Summit for Information and Democracy held on the sidelines of the UN General Assembly
Rappler CEO and president Maria Ressa appealed to world leaders to "act now" against disinformation, a weapon populist regimes have been using to erode democracies.
The veteran Filipino journalist made the appeal during the first global Ministerial Summit for Information and Democracy held on the sidelines of the 76th United Nations General Assembly in New York on Friday, September 24.
Virtually addressing the summit from Manila, Ressa said populist digital authoritarians have used the infodemic – a portmanteau of "information" and "epidemic" – to perpetuate their power.
"All around the world, these populist digital authoritarians are using the scorched earth policy to get elected. Then they use the formal powers of their post, the tools of democracy, to cave institutions in from within. It's time to end the whack-a-mole approach on the technology platforms to fix what they've broken," Ressa said.
"Please, we need you to act now," she added.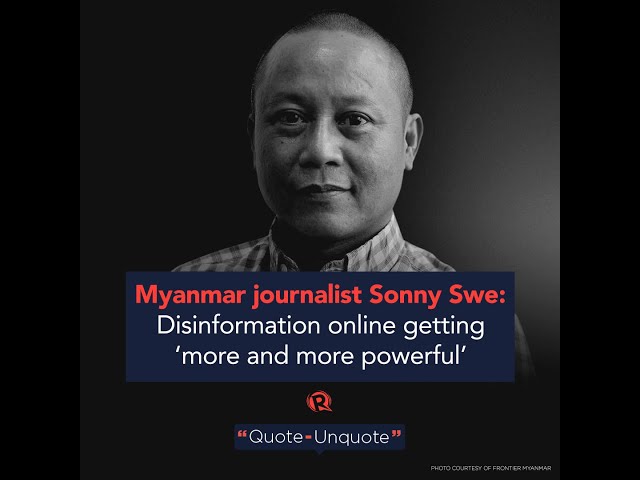 Ressa has endured constant political harassment and arrests under Philippine President Rodrigo Duterte's government, and has posted bail 10 times to remain free. 
Rappler itself is facing multiple government-backed cases, with Ressa arrested twice. She was convicted of cyber libel under a law that was not yet enforced when Rappler published the article in 2012. The verdict is under appeal.
In April, Ressa received the prestigious UNESCO/Guillermo Cano World Press Freedom Prize for championing press freedom in the face of great danger.
Ressa believes social media platforms like Facebook should be held more accountable for the proliferation of lies online, which have caused divisiveness and cultivated the worst of human behavior across the world.
"They are, by design, dividing us and radicalizing us. This isn't a free speech issue. It is not the fault of the users. These platforms are not merely mirroring humanity; they're making all of us our worst selves, creating emergent behavior that's destroying our world," she said.
"It's not a coincidence that divisive leaders are the ones who do the best on social media," Ressa added.
Disinformation 'aggravating' pandemic
Diplomats at the summit also said the coronavirus pandemic has raised the stakes for governments and tech platforms to battle disinformation online.
Australian Foreign Minister Marise Payne said there should be a balance between combatting the infodemic and ensuring people still have their right to free speech.
"So in countering the infodemic, our focus as democracies should be on countering the divisiveness and disorder it seeks to ferment. We need to bolster the spirit of operation and understanding in the international community, to limit the spread of false and harmful information, including social media channels," said Payne.
Latvian Foreign Minister Edgars Rinkēvičs said disinformation is only "aggravating" the spread of the COVID-19, all thanks to rumors and conspiracies aimed to discredit lifesaving vaccines and other health policies. 
"I think that considerable part of activities take place on social media and pandemics showed that online platforms need to take additional measures to combat misinformation while protecting and strengthening freedom of expression and data privacy online," said Rinkēvičs.
Rinkēvičs also said governments must promote social media literacy in society, beginning in elementary schools and amping up information drives across all communication channels.
In March, the UNGA unanimously approved a Latvia-led resolution establishing the Global Media and Information Literacy Week, part of Latvia's push to address disinformation challenges in the UN framework. – Rappler.com
Rappler multimedia journalist Mara Cepeda is a 2021 fellow of the Reham Al-Farra Memorial Journalism Fellowship. She will be virtually covering the 76th United Nations General Assembly, foreign policy, and diplomacy during the program.