WHAT YOU NEED TO KNOW
This year's United Nations (UN) Climate Change Conference or COP27 is happening from November 6 to 18, 2022, in Sharm El-Sheikh, Egypt.
Hosted by Egypt, COP27 hopes to be the "turning point where the world came together and demonstrated the requisite political will to take on the climate challenge through concerted, collaborative and impactful action."
Ahead of the climate talks, different UN bodies released reports about the state of the Earth's climate. The UN Intergovernmental Panel on Climate Change said a 43% reduction in emissions by 2030 is needed to limit warming to 1.5ºC above pre-industrial temperatures. The World Meteorological Organization said hikes in the atmospheric concentration of all three greenhouse gases – carbon dioxide, methane, and nitrous oxide – were now all at new record levels. The UN Environment Programme, meanwhile, said "woefully inadequate" government pledges to cut greenhouse gas emissions put the planet on track for an average 2.8ºC temperature rise this century.
For the Philippines, COP27 comes on the heels of Severe Tropical Storm Paeng (Nalgae), which affected almost the entire country and left over a hundred people dead in its wake. As one of the most vulnerable countries to climate change, there is much at stake for the Philippines in COP27, especially when it comes to the issues of loss and damage, mitigation and adaptation, and climate finance.
Bookmark and refresh this page for real-time news, photos, videos, and context and analyses on COP27.
LATEST UPDATES
EXPLAINER: How far has COP27 inched beyond past climate deals?
WATCH: Countries adopt COP27 deal with 'loss and damage' fund
Countries adopt a hard-fought agreement at the COP27 climate summit on Sunday, November 20, that sets up a fund to help poor countries being battered by climate disasters – but does not boost efforts to tackle the emissions causing them.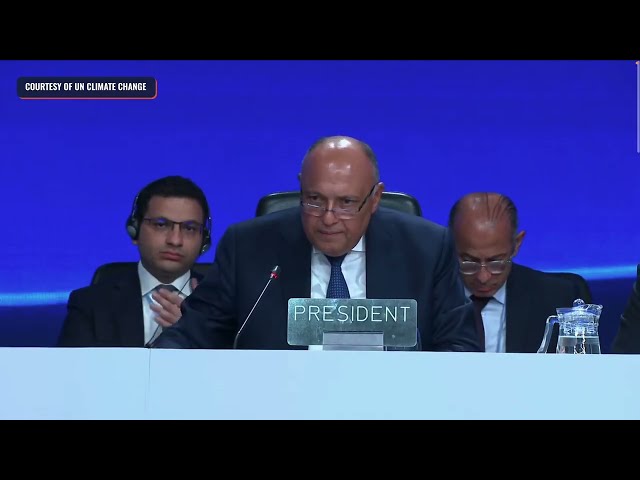 Egypt COP27 president Shoukry implores delegates to agree climate deals
Egypt's COP27 President Sameh Shoukry on Sunday, November 20, urged nations to agree the final climate deals presented at the end of the summit.
"I implore you to adopt the draft decisions that I will present to you," Shoukry told the closing plenary session.
"The world is watching, I call on us all to rise to the expectations entrusted to us by the global community, and especially by those who are most vulnerable and yet have contributed the least to climate change."
THREAD: COP27 president Sameh Shoukry at the closing plenary
New climate fund proposal targets 'particularly vulnerable' nations
A newly published COP27 draft proposal on Saturday, November 19, on funding arrangements to help poorer countries affected by climate disasters said they would help "those that are particularly vulnerable to the adverse effects of climate change."
The new clause sets out in more detail than earlier iterations of the proposal those countries which might benefit from a new fund being proposed at the climate talks in Egypt.