Today's speakers included Dentsu Aegis Network Chief Innovations Officer Dave Meeker and Publicis Groupe Senior Adviser Rishad Tobaccowala
[Editor's Note: Day 2 of DigiCon was all about humanity and technology. Below is their press release about today's highlights.]
After laying the groundwork for the week ahead on Day 1, the Internet and Mobile Marketing Association of the Philippines' (IMMAP) signature event, DigiCon OMNI, began its second day with a thought-provoking session, "Story of My Digital Life" from Dentsu Aegis Chief Innovation Officer Dave Meeker. 
Speaking from the United States to a sold-out virtual crowd, Meeker recounted how, when he was eight years old, his father had introduced him to a wondrous object known as a floppy disk. Realizing the incredible potential of that disk kicked off a love of technology that permeated every facet of Meeker's life, from music to art. While "the future is now," said Meeker, it is important not to get blinded by technology for technology's sake. "Technology is not always the right solution – it's about connecting the dots."
Speaking to his audience of digital practitioners, Meeker stressed the need to keep humanity in the equation in the face of omnichannel marketing and communications. "Human beings are like spoiled babies," he said. "We're streaming content non-stop, (it's) incredible that we can learn anything. But we need to go out and keep learning. We need to communicate and be in touch with humanity."
Meeker tied everything back to the floppy disk his father showed him as he presented the DigiCon crowd with a challenge: "As human beings, we now produce 1.4 MB of data every minute…We are changing the world, but are we changing it for the better? We need to rethink how technology impacts human nature and use it to make things better. We are human beings. Human beings invented this technology, it is up to use it to make it better." 
Over the afternoon, conference attendees split off into different talks, round table discussions, and breakout sessions on a variety of topics, ranging from the power of online communities with entrepreneurs such as Let's Eat Pare's Mark Del Rosario and Bounce Back PH's Jason Dela Rosa, and industry leaders like Ogilvy Consulting's Head of Consulting and Strategy Director Manny Gonzales and Lamudi PH CEO Kenneth Stern, who discussed doing business in the so-called "new normal."
"As someone who also teaches, I can tell you: you do not translate a three-hour lecture to digital," said Gonzales. "You need windows for mental and emotional sanity. It was a dream situation at first – working from home. But after a few weeks, a few months, it wasn't. Work is still social at some point, the processes still rely on people."
Stern agreed, stating that he actually hadn't met some of the people under him as a result of our current, socially-distant reality, which required his company to come up with creative workarounds to the situation.
"It's important to empower employees to engage in collaboration, said Stern. "Leaders play a role, they can't just hide in the office anymore. They need to be in front of the company, be vocal, be seen. The decisions leaders make determine the lives of their employees and their families. It's a much bigger perspective."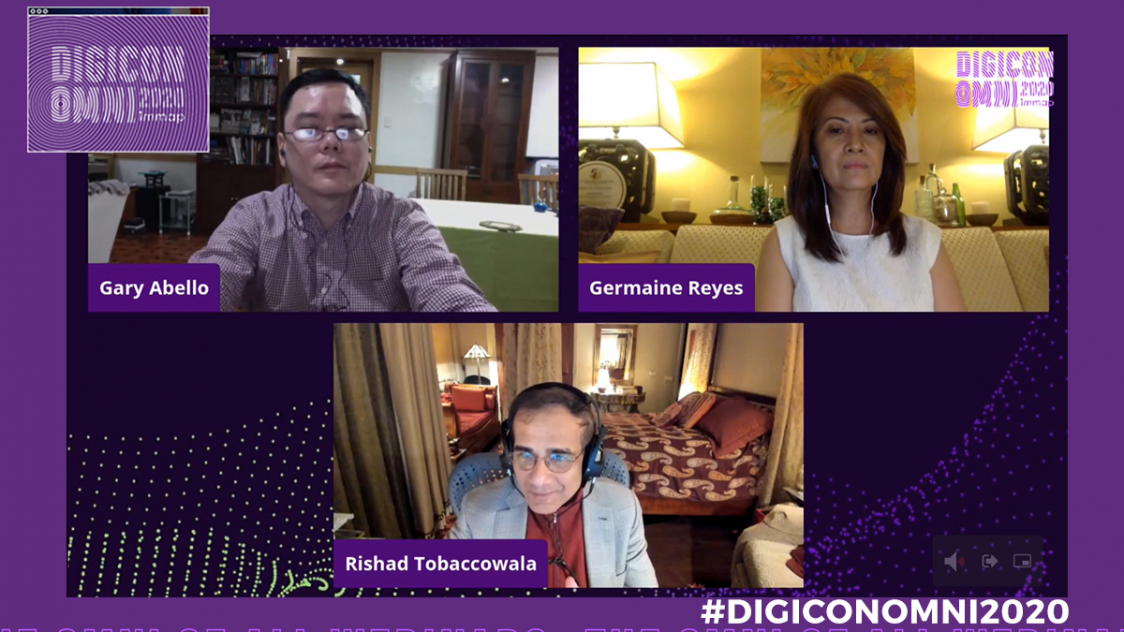 Overall, the theme of the day was the intersection of Technology and Humanity. In his talk on focusing on Customer Experience, Wunderman Thompson Head of CX Mark Miller echoed Meeker's sentiments of maintaining a human perspective, regardless of what platform they engaged one's brand on, "What people desire is a unified experience across all channels and touchpoints, grounded in moments that matter to them."
Day 2 closed with a keynote address from Publicis Groupe Senior Adviser Rishad Tobaccowala, who spoke on "Restoring the Soul of Business." Eschewing a fancy presentation deck or video package, Tobaccowala relied instead on his over four decades of professional experience and insights to deliver what was easily the best talk of the day.
Combining common sense with rational thought, Tobaccowala spoke of the pitfalls of being a "spreadsheet-based" business that focused exclusively on data, at the expense of any sort of consideration for employees or consumers. 
"Successful businesses combine the story and the spreadsheet – the math and the meaning," said Tobaccowala, highlighting the need to not sacrifice one in favor of the other, in order to maintain balance. Some companies have lost the plot. It's not about data or storytelling, it's about data-driven storytelling."
According to Tobaccowala, successful companies were the result of constant self-improvement on the parts of their leaders and, subsequently, their employees, to meet the challenges of a changing marketplace, and, with COVID-19 bringing the world to a standstill, the challenge has never been greater.
"This is an extraordinary time, and while it is challenging and difficult, think of the following three words: don't think new normal, think 'The New Strange.'  Don't think about restarting business, think about new business. Figure out how your category or marketing is going to change. Your category is not the category you think it is anymore. Your competitors are no longer the competitors they were anymore. Think of the reinvention of yourself and your business."
The marketing veteran acknowledged the inherent difficulty in such a proposition, and self-deprecatingly used himself adopting Twitter (@rishad) when it was new, at the young age of 50, as an example of how self-improvement and reinvention is an ongoing process. 
"If the future requires us to change, learn new skills, be better leaders – that can only happen if we improve," said Tobaccowala. "Change sucks. But irrelevance is worse."
DigiCon Omni 2020 will run until October 9. For updates, follow @DigiCon on Twitter. For more information on DigiCon Omni and IMMAP, visit immap.com.ph. – Rappler.com