Today's speakers included The Lean Startup's Eric Ries, The Philippine Star's Lucien Dy Tioco and Hepmil Media co-founder Karl Mak
[Editor's Note: Day 3 of DigiCon was about pivoting to survive and evolving to thrive. Below is their press release about today's highlights.]
The Internet and Mobile Marketing Association of the Philippines (IMMAP) entered the third day of its sold-out event – DigiCon OMNI 2020. Featuring a wide array of industry luminaries and experts speaking on a number of topics, the week-long online event is being held in lieu of the traditionally physical conference.
Under the theme, "Platforms and Processes", Day 3 began with an opening keynote from The Lean StartUp's Eric Ries, who addressed the audience of nearly 2,000 digital marketing practitioners on the differences between those engaging in traditional management and entrepreneurs.
"My name is Eric," said Ries, by way of breaking the ice. "I'm a big failure, and if you follow me, you can be a big failure, too!" 
Willingness to fail was the main differentiator, said Ries. Whether it was being undertaken by a multi-million dollar company, or four guys in a garage, it was that willingness to screw up and make mistakes that determined which start-ups succeeded, and which ones failed. "The way you make progress is through validated/scientific learning," he continued. "That learning is the asset that makes startups valuable – [and] that is very challenging to conventional ideas about management."
The first thing to realize, he maintained, was to realize that plans, however detailed or beautiful are malleable. "When we build startups, we set ourselves up that if there's an error in the plan, we find out too late. When we're making a plan, the problem is not the plan, it's the errors, the mistakes. A plan is a hypothesis. What are things that need to be true, in order for this plan to be a good idea? And if they're false, when would you want to find out?"
That being said, Ries reminded his audience that start-ups were, by their very definition, gambles. 
"How can a startup be worth the numbers I see on TechCrunch? What does this company have? Under the tools of conventional accounting, there is no profit! Imagine I offered you a lottery ticket. This ticket will have a 1% chance of making 100 million in the future. How much is this ticket worth today? And that is what a startup is – a probability weighted distribution outcome, and this is very challenging for people who have been trained in traditional management."
According to Reis, the single biggest barrier to a successful startup was the notion that one could apply traditional corporate ways of working to it.
"The ability to work in silos is at odds with the cross functional adaptability and agility needed in a startup. Being a startup is not about living in Silicon Valley or a garage… it simply means we are trying something new, and we don't know if it's going to work yet."
The discussion on platforms extended to the breakout sessions held over the afternoon, including one on "Pivot Stories" with Klook's Philipppine Marketing Lead Michelle Cruz, Angkas's Chief Transport Advocate George Royeca, and The Philippine Star's VP of Sales Lucien Dy Tioco. With platforms (travel, public transport, and newspapers, respectively) anchored on physical interactions that were no longer impossible, their perspectives were invaluable. 
As the three spoke on the changes their platforms had made over the last six months, the common thread seemed to be how each of them had, early on, accepted that the current state of the world wasn't going away anytime soon. With that perspective firmly in place, they set out to work around it. 
"It emboldened us," said Tioco. "Advertising stopped…our revenue went down 80%, but we were quick enough to turn around and take advantage of the digital space. We noticed how responsive people are on social media, so it became a matter of making news engaging and exciting for people to engage with. In a better of six months, we garnered a million followers on our Facebook page since lockdown began. Another one of the things we did was to deliver good and quality webinars and that, in a way, gave us a realization that we could get in the online events business."
While there was a demand for credible information in the case of the Philippine Star, Angkas faced the problem of having no demand for public transportation in a time of lockdown.
"99% of our business is gone," said Royeca, whose Angkas pivoted from transportation to delivery services. "We have 30,000 people as biker partners, so we started doing partnerships with our competitors – Grab, Lalamove. We didn't know much about deliveries, but we were honest about it to our consumers. We told them we weren't going to be taking commissions, and it worked! People actually started asking restaurants if they had any Angkas riders to handle their deliveries."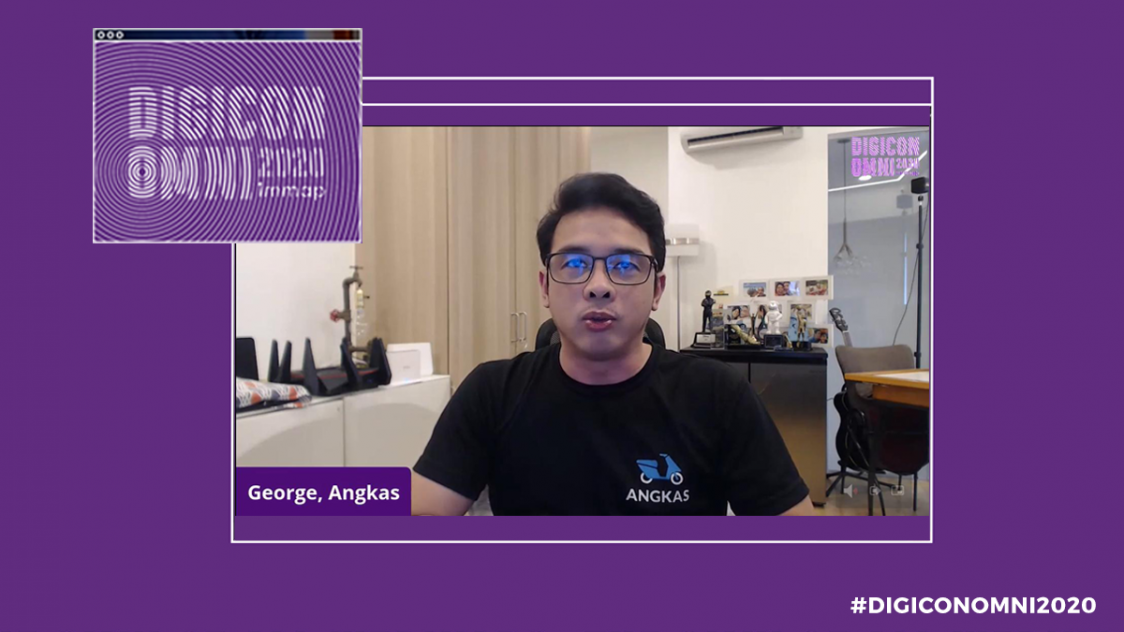 In the case of Klook, Cruz shared that the travel platform's pivot was built on, "Hinging the business on people's curiosity to see the world being always present, even if they were cooped up indoors… I think it's that sense of curiosity, it never went away. We saw people researching home-based experiences and workshops to really make the most out of their time at home. From the very beginning we tried to unlearn what we knew about travelers and the experience. It came as a surprise to us, how big home-based experiences could be."
Illustrating the changing face of media, Hepmil Media co-founder Karl Mak, who shined a light on how online celebrities and influencers are increasingly enjoying the pop culture stature formerly reserved for major actors and musicians. Walking through YouTube, Twitch, Mak revealed that the platform he found most fascinating at the moment was TikTok, for the main reason that it not only answered the question of "What should I watch today?" with its algorithm constantly enabling new creators to be discovered, but "what should I post today" with its daily hashtag-driven challenges.
"For many platforms, hashtags are not taken seriously. But what hashtags do on TikTok is push new challenges. For example, the #stayhome challenge in Singapore. This also enables creators who don't know what to create today to make something…If you're a Filipino creator making a Filipino video relevant to today's context, you could be made visible to millions of Filipinos, and even more if you're using a relevant hashtag. Not only does it give creatives an incentive to create, even if they don't have followers, it encourages them to use the app… 80% of users actually CREATE!"
Ultimately, said Mak, TikTok is rife with opportunity due to its established cycle of discovery, engagement, and creation, with the proof being in the pudding: "For a short video app, the average in-app session on TikTok is 30 minutes – just scrolling through, watching more and more content. It keeps creators super engaged, drives inertia, and brings audiences new and interesting content every day." 
Mak stressed that authenticity was crucial to developing a following, especially when creating with sponsored or branded content. He cited the example of Tyrone Tiaga, a young creator from General Santos City who joined Mak on the main "stage" to share his experiences. Just by being himself, Tiaga has amassed an incredible 3.5 million followers over the last two years, receiving 91 million likes for his content.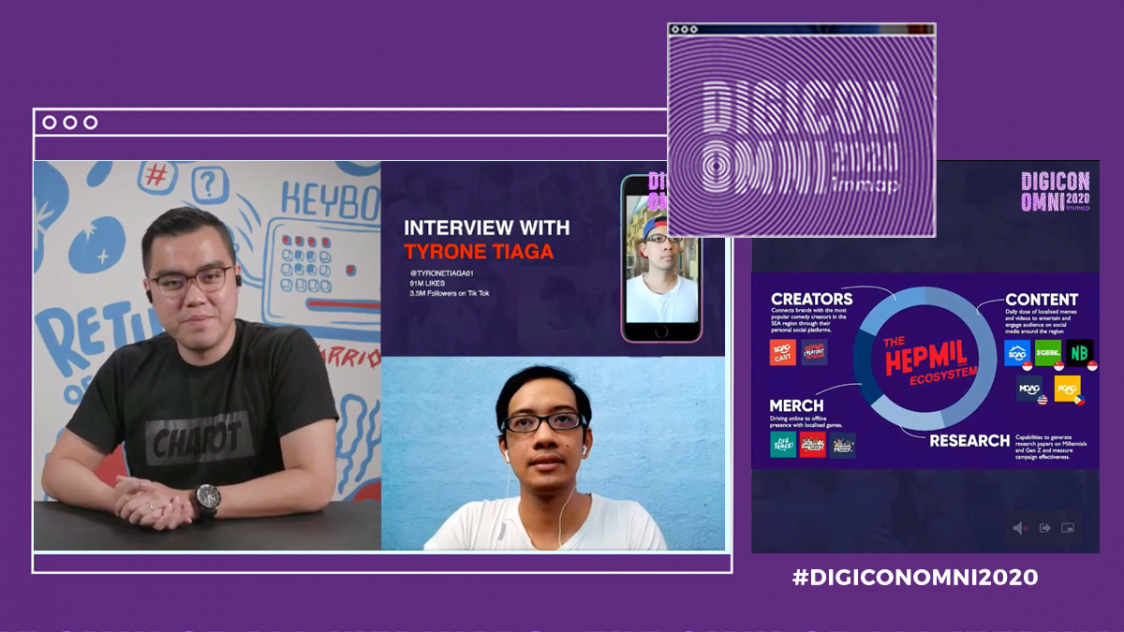 For the marketers in the audience looking to work with content creators, Mak said, "The first thing to do is watch them, because not all creators may be a good fit for your brand. Talk to them – get to know them, get to know their process." Of course, it is important to note that authenticity can't be achieved if overpowered by brand mandates. "You gotta let go, you gotta trust them – these guys know their audiences inside out and how to make them excited about their content and your brand. If you do it right, you will get that loyalty from the audience."
DigiCon OMNI 2020 will run until October 9. For updates, follow @DigiCon on Twitter. For more information on DigiCon OMNI and IMMAP, visit immap.com.ph or contact yam.nava@immap.com.ph.
– Rappler.com
DigiCon OMNI is brought to us by Eventscape Manila x Echo Channel, Smart, PMFTC, Spotify, Manulife, PayMaya, Facebook, WeTV and iflix, McDonald's, and Metrobank. Official event partners are Digimind, CDM, MullenLowe Philippines, OMG Philippines, Kickstart, Sterling Chatbot Tech Philippines Corporation, and FutureProof. And special thanks to Rappler, CNN Philippines, Manila Bulletin, The Philippine Star, and the Inquirer Group.