Shopee allows its users to give back and help out underprivileged children
At this point in our lives, the importance of online shopping is undeniable.
Whether you've been an online retail therapy expert pre-2020 or a practical family member ordering grocery essentials because of the pandemic, e-commerce apps are something you regularly open on your phone now.
Oftentimes, it's been more than that. Those loyal to Shopee know that it's more than just a digital shopping platform. It's a space where you can play games, watch livestreams, interact with other people, and even communicate on now.
When the pandemic started, it also became an avenue for donations with the first launch of Shopee Bayanihan. By making the donation process easy, many Filipinos were able to show their compassion and share their blessings.
'Shopee Bayanihan: Pamaskong Pambata'
It's with this same intention and vision that Shopee launched the 11.11 Big Charity Drive. It aims to raise awareness and donations for underprivileged children in the Southeast Asian region.
Locally, 11 foundations will be benefiting from "Shopee Bayanihan: Pamaskong Pambata": Mano Amiga Philippines; World Vision Philippines; Young Focus for Education and Development Foundation, Inc.; Fundlife International, Inc.; GMA Kapuso Foundation, Inc.; Save the Children Philippines; Ronald McDonald House Charities of the Philippines, Inc.; Project Pearls, Inc.; Project Smile Philippines; Kythe Foundation, Inc.; and PGH Medical Foundation, Inc.
You can donate until December 12.
Here's how you can do that.
Donate to the 11 foundations through the Shopee app
You can donate directly to the 11 foundations through the dedicated in-app space within Shopee. You can donate as low as P10 or as high as P2000 pesos.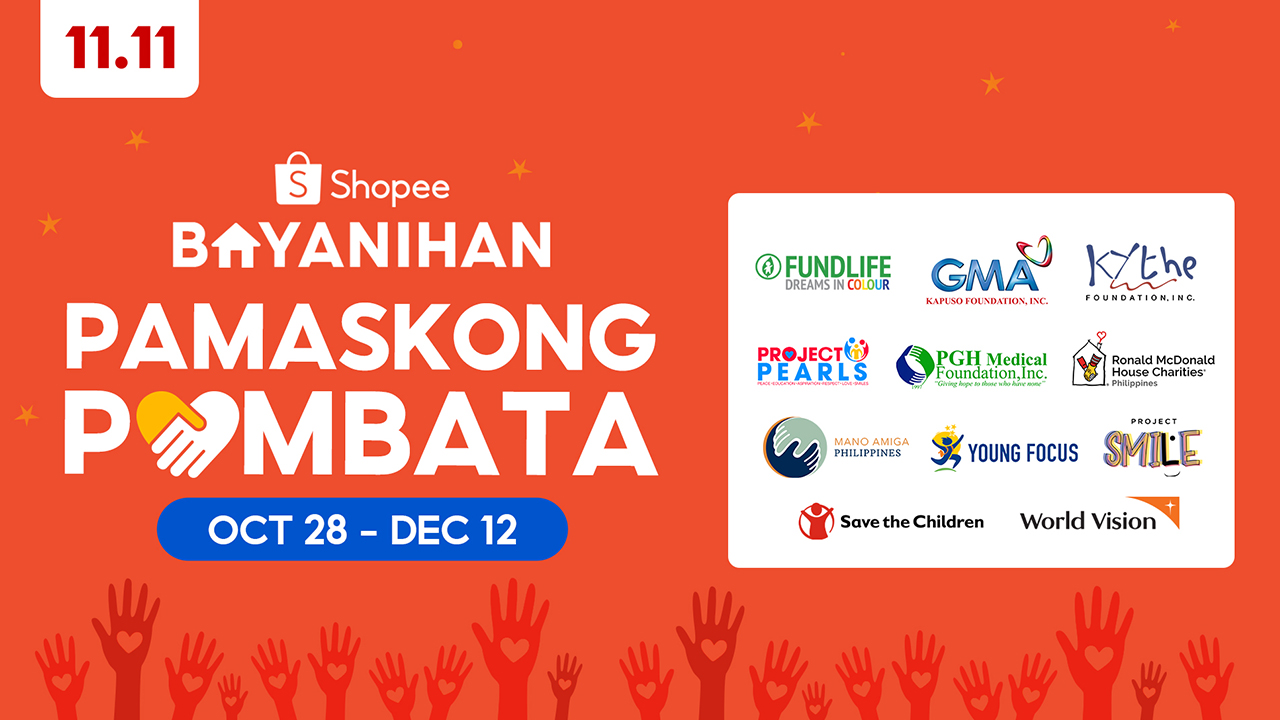 It works exactly like purchasing any other product from Shopee so you don't have to worry about a complicated process. Just choose a beneficiary, "purchase" your donation, and that's it!
Shop for a cause through special co-branded livestreams
From November 9 to December 12, there will be special Shopee Live streams co-created by Shopee and leading brands to bring users exclusive deals while giving back to those in need.
When you make a purchase, the participating brands will donate proceeds or the same product to selected foundations.
Support leading brands by purchasing charity collections and using vouchers
If you're not a livestream person, there's no need to worry. Leading partner brands will also launch exclusive charity collections and offer a wide range of vouchers for charity.
These will be available only on Shopee from November 9 to December 12.
Whether you're the type to donate directly or if it's something you've been planning on doing but always seem to forget, "Shopee Bayanihan: Pamaskong Pambata" allows you to give back as much as you want in your way.
This Christmas, let's not forget that everyone deserves to be joyful – you, me, and most especially children in need.
We all deserve simple gifts, and with "Pamaskong Pambata," Shopee reminds its shoppers that we can care for others while caring for ourselves too.
Key highlights of Shopee's 11.11 Big Christmas Sale
Shoppers can expect big deals and discounts from leading brands.
Kris Aquino as Shopee's new Brand Ambassador: Users can look forward to seeing Kris Aquino on TV commercials and Shopee Live.
11.11 Big Christmas TV Special: Viewers can win up to ₱11,000,000 worth of prizes on GMA's Wowowin on November 11, 5:00 PM.
Christmas deals and promotions: Shopee users can enjoy free shipping with ₱0 minimum spend, up to 20% coins cashback, and ₱1 deals on selected items such as mobile cases and accessories, home and kitchen items, and nail care products.
Exclusive deals from leading brands: Users can anticipate up to 70% off on leading brands such as Pampers, Nestle, Vivo, Globe, Havaianas, Unilever Beauty, Abbott, Garnier, realme, and Enfagrow.
Check out more details on "Shopee Bayanihan: Pamaskong Pambata" on https://shopee.ph/m/pamaskong-pambata. For Shopee 11.11 Big Christmas Sale, visit https://shopee.ph/11-11.
Download the Shopee app for free via the App Store or Google Play. – Rappler.com