(1ST UPDATE) Trigger warning: It's revealed in a Senate hearing that a few farmers have resorted to self-destructive behavior amid mounting losses
Trigger warning: This article contains references to suicide.
MANILA, Philippines – While onion imports driving down prices may sound like welcome news for consumers, it can be a matter of life and death for some farmers.
In a Senate committee hearing on Monday, January 16, Merlita Gallardo shared the plight of onion farmers in Bayambang, Pangasinan. Her husband, who had helped their family run the farm, had taken his own life in 2021 after an armyworm infestation had destroyed their crops and left them buried in debt reaching into the millions.
Gallardo had tried to soldier on, planting onions as she had in the past, but a series of storms in 2022 destroyed her crops.
"Nalugi din po kasi nag-ulit na naman ako. Nag-ano na naman sa 'min 'yung ulan noong nag-ulit ako, kaya maliit pa rin 'yung ibang sibuyas namin," she said during the hearing conducted by the Senate committee on agriculture, food, and agrarian reform.
(I lost money again because I had to replant. Then the rains came again after I had replanted, so our onions were still small.)
After she had replanted onions, yet another challenge came – this time, it was man-made. The imminent arrival of cheap onion imports could drive prices down just as farmers begin their harvest season.
"Ngayon pa lang po sila sana makabawi, pero dahil may importation po, wala pang 100 days ang kanilang onions, kailangan nang i-harvest, 85 to 90 days," said Elvin Laceda, national president of Young Farmers Challenge Club of the Philippines, an organization that helped onion farmers like Gallardo.
(They were on the way to recovery now, but because of importation, they had to harvest their onions before 100 days, just 85 to 90 days in.)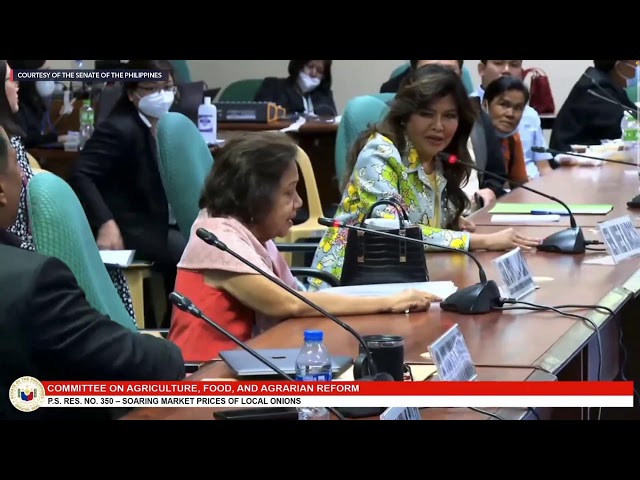 "'Yung storya ni Nanay, sana hindi na maulit sa ibang magsasaka. Limang magsasaka po ang nag-suicide po doon sa barangay nila," Laceda said.
(I hope her story is never repeated among other farmers. Five farmers in their village committed suicide.)
"I am fully aware of onion farmers' suicide not only in Pangasinan but even in Nueva Ecija, and in Pampanga, where the miserable prices of March and April barely paid for the cost of production, and yet here in Metro Manila, we haven't been able to procure onions at a reasonable rate even despite the established SRP of P150, P250, and so on," Senator Imee Marcos said during the hearing.
(Editor's Note: Psychiatrists and other mental health professionals caution against attributing suicide to any single reason or trigger. The act of suicide, they say, is always a confluence of factors, such as "the person's psychological make-up, the stressors in one's environment, and even genetic predispositions." Economic hardships, for example, "may lead to an increased risk of suicide.")
Earlier in January, the Department of Agriculture (DA) had allowed the importation of 21,060 metric tons of onions in response to prices soaring far above the world average. However, the department clarified that, based on the number of sanitary and phytosanitary import clearances (SPSIC) applied, only about 5,000 metric tons of imports will be coming in.
When asked why the DA had only permitted imports now that the harvest season was fast approaching, it said that, during dialogues held, farmers had asked not to allow imports.
"Ito 'yung first time na halos, ma'am, na hindi po talaga kami nag-issue dahil po ang comment po ng industry was meron pa pong supply.… 'Yung concern ng farmers was if nag-issue kami ng SPSIC at that time ay babahiin 'yung market," said Assistant DA Secretary James Layug.
(This was the first time that we issued almost none because of the comment from the industry that there was still supply…. The concern of the farmers was, if we issued SPSICs at that time, the market would become flooded.)
The DA also said that it ramped up anti-smuggling efforts in September and October 2022.
However, Romel Calingasan, the municipal agriculturist of San Jose, Occidental Mindoro, said that if the government did see the need to import, it should have done so earlier in 2022. This would have eased prices at the market while also avoiding a clash with the local harvest season.
"Dapat September pa lang, nag-issue na kayo ng importation permit para 'yung presyo sa merkado, nagkaroon ng kalaban 'yung local at ang imported. Pinagsamantalahan na patungan ng almost 1,000%. Tapos ngayon na mag-aani na si Juan na magsasaka, sasabayan ng importation," Calingasan said.
(You should have issued importation permits as early as September so that there would be a balance of forces between local and imported. They took advantage and tacked on almost 1,000%. And now that farmer Juan will be harvesting, [the government] also start importing.)
Senators were convinced that the DA miscalculated the timing and necessity of imports.
"Ilang buwan na din na mataas ang presyo ng sibuyas, pero nagmatigas ang DA noong Disyembre na wala daw importation na magaganap. Pero ngayon parang, joke lang, meron na pala," Senator Grace Poe said during the hearing.
(Prices for onions had been high for months, but the DA refused to import in December. But now, it's as if they are saying, no, it was a joke, importation is now allowed.)
Senator Koko Pimentel also questioned how the DA processed its data and arrived at its decisions.
"Ang DA, with a hundred years of experience, with an honest-to-goodness dialogue with stakeholders, how do you process the information that you get?" he said.
He asked the DA why the more than 10,000 metric tons of onions in cold storage was unable to meet the 2022 demand, an issue which the department said it was still investigating.
An onion shortage is not the only problem the DA faces. Recently, prices of eggs have shot up by 45%. The country is also weathering shortages in salt and sugar. In response to the issues constantly hounding the DA, Senator Poe questioned whether it was time to find a full-time agriculture secretary.
"Panahon na rin siguro talaga na magkaroon ng DA secretary na aakop sa kawalan ng action sa agricultural crisis na ito. Asukal noong una; sibuyas naman ngayon. I-hehearing ata natin lahat ng kailangan sa kusina," she said.
(It's probably time to have a DA secretary that will take over the lack of action in this agricultural crisis. Before it was sugar; now, it's onions. We'll end up having a hearing for everything in the kitchen.)
President Ferdinand Marcos Jr., who has again left the country for his eighth foreign trip in seven months, currently sits as the department's secretary. – Rappler.com
The Department of Health, through the National Center for Mental Health, has a national crisis hotline to assist people with mental health concerns. The hotline can be reached at 1553, which is a Luzon-wide, toll-free landline number, 0917-899-8727 and 0966-351-4518 for Globe and TM subscribers, and 0908-639-2672 for Smart and Sun subscribers.