Protesting jeepney operators say that what they need isn't a longer deadline, but stronger financial support from the government to consolidate and upgrade their fleets
MANILA, Philippines – Several transport groups began a weeklong strike on Monday, March 6, in protest of the government's modernization and consolidation program, which they fear would phase out operators of traditional jeepneys.
"Hanapbuhay 'yung pinaglalaban natin 'dito (We're fighting for our livelihood)," Manibela chairman Mar Valbuena said during the early morning hours, as jeepney drivers began to arrive at the University of the Philippines Diliman in Quezon City to join the protest caravan.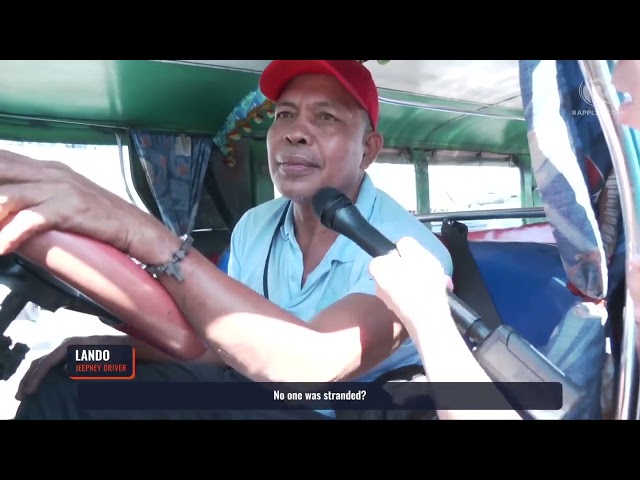 In response, the government readied 1,680 vehicles to ferry stranded passengers and deployed around 18,000 police personnel to ensure peace and order. The Land Transportation Franchising and Regulatory Board (LTFRB) also invited protesting transport groups to their office for a dialogue.
"Marami po kaming iniisip na programa para maibsan itong modernization program…ang takot ng ating mga kapatid ho na ito hong modernization program ay magtatanggal ng kanilang hanapbuhay," said LTFRB Chairman Teofilo Guadiz III in a press conference on Monday at the barricaded and police-guarded central office in Quezon City.
(We're thinking of different programs to address the fear of drivers that this modernization program will take away their livelihood.)
Guadiz also said that the term "phaseout" is a misnomer, adding that "it's not more of a phaseout, but more of an upgrading of the jeepney face."
But protesting jeepney drivers and operators disagreed.
Why are jeepney drivers on strike?
In late February, the LTFRB issued a memorandum circular requiring all individual traditional jeepneys to consolidate into either a cooperative or a corporation by June 30. This meant that individual operators would need to surrender their franchises and join a group – or else they're off the road by July.
The LTFRB has since extended that deadline to December 31 ahead of a Senate hearing about the modernization program. (READ: Senate: Transport execs 'not ready' for jeepney modernization)
Still, the jeepney operators on strike said that what they needed wasn't a longer deadline, but instead stronger financial support from the government to consolidate and upgrade their fleets.
"Binobola lang 'ho kami. Parang bata na pa-consuelo de bobo, bibigyan ka ng candy para lang tumahimik ka," said Valbuena, as the protesting groups lined up their jeepneys for a caravan drive from the LTFRB office in Quezon City to Mendiola Street near Malacañang in the city of Manila.
(They're just fooling us. They're treating us like kids being given candy to keep quiet.)
"Dapat kung mismo pong si BBM [Bongbong Marcos] ay seryoso doon sa kaniyang panawagan, maglabas siya ng executive order na sinususpende niya ang implementation ng 2017-011, ang Omnibus Franchising Guideline," said PISTON national president Mody Floranda during the transport strike.
(If President BBM is serious about his message, he should release an executive order to suspend the implementation of 2017-011, or the Omnibus Franchising Guideline.)
President Ferdinand Marcos Jr. previously said that the modernization program should be implemented "in a different way," suggesting a longer timetable and an inspection of older vehicles for road-worthiness before being phased out.
The main worry of protesting jeepney operators and drivers centers around the high cost of the consolidation and modernization program, such as when forming a cooperative. According to the Office of Transportation Cooperatives, jeepney operators must raise P300,000 in paid-up capital. Operators may have to spend between P20,000 to P30,000 each to comply with other requirements, such as clearing their income tax returns. For a cooperative of 15 operators, they may need P750,000.
Under the Omnibus Franchising Guidelines, cooperatives and corporations will also be required to eventually upgrade their fleet into modern jeepneys, which can cost up to P2.5 million per unit. The government allows cooperatives to secure loans for these vehicles through the state-owned banks, but jeepney drivers and operators – who already subsist on low wages – must then work to pay off millions in debt and interest.
Valbuena argued that having individual operators surrender their franchise and take on millions in debt puts them at risk of being phased out, especially for those who have less viable routes.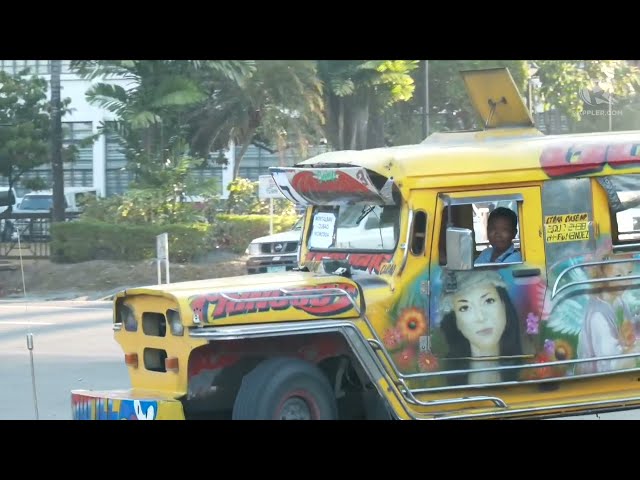 Similar sentiments were shared even by drivers and operators who continued to ply their routes during Monday's strike. Lando, a jeepney driver plying Commonwealth Avenue, told Rappler that although he did not join the strike, he still opposed the government's plan to modernize by letting drivers and operators buy new units on loan.
"Sino 'bang may gugustuhin na isang taong bibigyan mo ng utang?" he said. "Kahit sinong tanungin nilang tao, may utang o wala? Ay, napakasarap ang walang utang! E bakit kailangan nila magproduce sila ng utang? Kung gusto nila ikagaganda ng bansa natin, magproduce silang hindi utang! Para umunlad nag bansa natin."
(Who would want to take on debt? Ask anyone: do you want to be in debt or not? It feels so great not having any debts! Why do they need to produce something that puts us in debt? If they want what's best for this country, they'll produce it without any loans! That's how our country can progress.)
What is the government's response?
The LTFRB emphasized that it was willing to adjust their requirements to the needs of transport groups.
For instance, Guadiz said that the LTFRB will allow old jeepney units to still be used, so long as they are rehabilitated and made to comply with Philippine national standard of jeepneys.
Guadiz said that the rehabilitated jeepneys would cost P1.3 million, and have improvements like a higher ceiling, entry points at the back and side of the vehicle, and a more environmentally-friendly Euro 4 engine. The body of the rehabilitated jeepney can be locally-made, but its engine must be imported as there is no local manufacturing industry yet that can produce engines meeting national standards.
The LTFRB is also willing to further extend its deadlines for route rationalization and modernization, but it maintained that the consolidation requirement was non-negotiable.
Meanwhile, the first day of the transport strike was peaceful, according to Police Colonel Roman Arugay, Operations Officer of the Philippine National Police (PNP)-National Capital Region Police Office.
"No major untoward incidents were reported except for minor ones, such as PUV drivers who held demonstrations, protesters who obstructed streets, and coerced PUV drivers to join the protest. No injuries or harm occurred. No arrest has been made," said Arugay in a statement.
Ahead of the strike, the government assembled an interagency monitoring team to dispatch vehicles to assist commuters who may be stranded by the strike. The Metropolitan Manila Development Authority (MMDA) said that only 88 of the 1,680 vehicles readied were deployed to provide free rides for 3,584 passengers.
The MMDA's expanded number-coding scheme also resumed on Tuesday, March 7, as the agency monitored moderate traffic passing major roads during the suspension of the number-coding scheme on Monday.
How did the strike affect commuters so far?
Transport group Manibela claimed 80% of jeepney operators joined the protest, but this was contested by the government, based on on-the-ground monitoring. The LTFRB said during its press conference that only 5% of routes nationwide were affected, and only 10% in Metro Manila.
Rappler's own monitoring of the morning situation along Commonwealth Avenue showed nearly empty traditional jeepneys, modern jeepneys, and city buses all picking up the thin lines of commuters along the road. Lando, the jeepney driver plying a route along Commonwealth, also confirmed that there were less passengers than usual on Monday.
A conductor of a minibus along Commonwealth also told Rappler that commuters were few and far between, as minibuses waited in line for passengers at the terminal.
"Parang walang pila po ngayon boss e. Holiday po ba? (There's no commuters waiting in line. Is it a holiday?)" he said.
Most schools shifted to online learning in response to the transport strike, which could be one reason for the apparent decline in commuters on Monday.
Rappler also monitored no crowds at a Guadalupe jeepney terminal during the afternoon rush hour, although passengers of the traditional jeepneys there shared different commuting experiences
"Mahirap sumakay (It's hard to catch a ride)," said Rose, a passenger at the Guadalupe jeepney terminal. "Konti talaga. Hassle para samin na empleyado at trabahador (There really are few jeeps. It's a hassle for us employees)."
Meanwhile, Maria Perez shared that both her morning and afternoon commute was much less crowded.
"Maaga nga kaming umuwi kasi baka kako walang masakyan e. 'Yun pala maraming masasakyan," Perez said.
(We went home early because we were worried that there'd be no jeeps to ride. But apparently, there's a lot.)
When asked about her thoughts on the jeepney modernization program as a commuter, Perez echoed sentiments raised by jeepney drivers throughout the strike.
"Okay naman kaso kawawa naman 'yung mga jeep kasi. Para sakin, okay naman huwag palitan. Basta ayusin lang ng mga jeepney owners 'yung mga jeep nila," she said. "Dito tayo nakilala sa Pilipinas na 'yung jeep e tayo lang ang meron tapos biglang aalisin?"
(It's okay, but I feel bad for the jeepneys. For me, it's okay but we shouldn't change them. We should just let the jeepney owners fix their jeeps. The Philippines became recognized because only we have the jeep, and now they're going to suddenly take that away?) – Rappler.com