Here's information, based on documents obtained by Rappler, on RDC Reield Marine Services – the company in the hot seat after its tanker sank off Oriental Mindoro with over 800,000 liters of 'black oil' on February 28.
MANILA, Philippines – Here are some facts on RDC Reield Marine Services, the company that owns MT Princess Empress – the oil tanker that sank off Oriental Mindoro last February 28, with over 800,000 liters of industrial fuel oil or "black oil."
These pieces of information are mainly from documents the company submitted to the Securities and Exchange Commission (SEC) obtained by Rappler.
RDC is primarily engaged in the "business of marine services including but not limited to tank cleaning and other related services."
Its secondary purposes are to:
"engage in the business of domestic shipping and the delivery of oil and petroleum products related activities"
"engage in the business of buying, selling, marketing, supplying, distributing of goods such as oil/petroleum products, slightly used heavy equipments and machineries and other related products on wholesale/retail basis"
RDC is a 100% Filipino company owned by the Cabial family. Its office is in Mandaluyong City.
Its officers are:
Reymundo Duldulao Cabial, chief executive officer (CEO) and president
Criselda L. Cabial, chief financial officer/treasurer
Fritzie Faye L. Cabial, vice-president
Reia Faye Cabial, corporate secretary
Francis John Cabial, auditor
Reield Faye L. Cabial, director
One of the original incorporators in 2014 was Reina Loraine L. Inducil.
RDC was registered with the SEC in 2014. Its paid-up capital was P5 million raised by six stockholders, mostly by its CEO/president.
As of December 2021, the company's financial statements show:
Total revenues: P73 million
Net income before tax: P355,226
Net income: P284,181
Total assets: P81 million
Current liabilities: P1.1 million
Vessels' worth: P65.5 million
Worth of vessel under construction: P4.1 million
The company was deemed by the Maritime Industry Authority (MARINA) to be financially capable of maintaining its operations. MARINA's mandate is to ensure ships are safe for people and the environment.
The initials RDC appear to have come from the first letters of the name of its CEO/president.
So far, only Fritzie Cabial has spoken publicly on the sinking of MT Princess Empress. The statements of RDC that have been sent to the media have been attributed to her. She is identified as Fritzie Tee, vice president for administration and external affairs.
She also appeared before the Senate committee on environment, natural Resources, and climate change to testify on the incident. Tee said RDC is a "small corporation" but has its "own initiatives to help our kababayans (fellow citizens)."
She also met with local government officials of Oriental Mindoro on March 6. The meeting was held closed-door as requested by the company. Oriental Mindoro Governor Humberto Dolor told reporters that he met with representatives of RDC who apologized for the incident. The representatives told him they were not "just the children of the owner" but the actual "owners" of the company.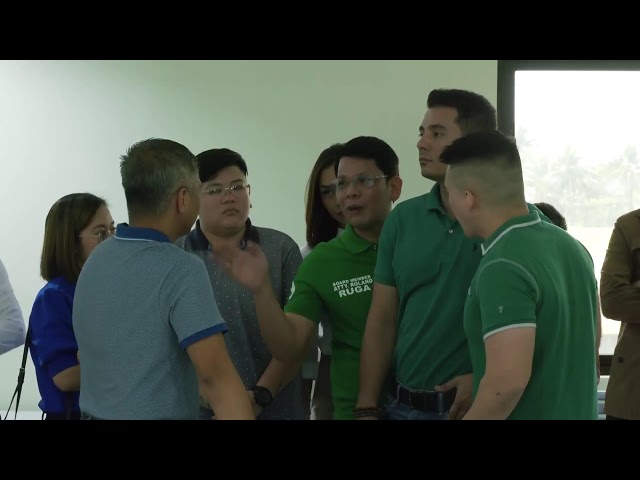 In the Senate hearing, she said RDC's amended Certificate of Public Convenience had been approved by MARINA, and that MT Princess Empress was operating with a valid permit. This, however, was belied by senators and the chief of the regulatory agency, MARINA administrator Hernani Fabia, who said that the process of approving the amended CPC and the addition of MT Princess Empress to the company's fleet – thus authorizing it to sail – was still not final.
Fritzie was a broadcast reporter of TV5, as gleaned from some materials from the web. She married Marc Justin Tee in 2018. She also has an Instagram account set to private.
The local government of Oriental Mindoro, which is expected to be most affected by the oil spill, plans to sue RDC for damage to the environment and loss of livelihood.
The company has put up a website with information about the incident as well as the steps RDC is taking in response to the oil spill: http://princessempressinformationcentre.com. – with Jodesz Gavilan/Rappler.com