Parlade had previously accused Locsin and her sister of having ties to the rebel New People's Army
Angel Locsin met with Lieutenant General Antonio Parlade Jr on Saturday, November 14, to talk about military official's accusing her and her sister Ella Colmenares of having ties with the rebel group New People's Army.
On Instagram on November 14, lawyer Joji Alonso said that Parlade and Locsin "discussed, threshed out and cleared" the issues that he brought up against the actress in recent weeks.
"Miss Locsin expressly denounces violence and terrorism in any form and supports all efforts of the government to maintain the safety and protection of its citizens," Alonso said in her post, which included photos of Locsin and Parlade's meeting.
Parlade is chief of the Southern Luzon Command (SoLCom) and a member of the government's National Task Force to End Local Communist Armed Conflict (NTF-ELCAC).
Alonso also said that Parlade "conveyed to Ms. Locsin his appreciation for her contribution to the AFP and her continuing advocacy to help the poor, impoverished and the helpless."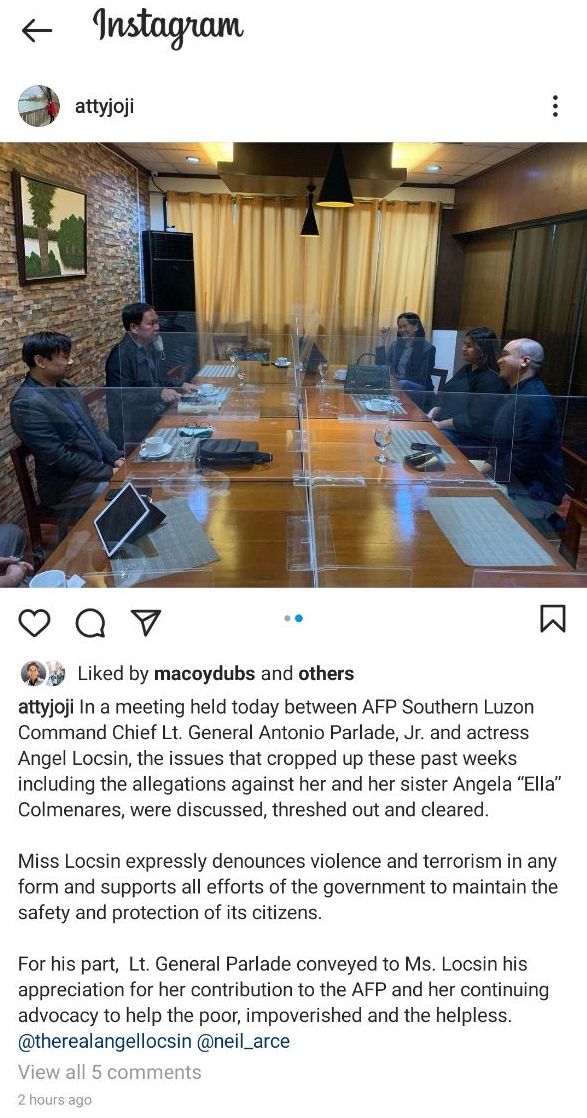 Parlade had previously claimed in a now-deleted Facebook post that Colmenares had joined the NPA in 2005 and was deployed for 18 months in Poliliop Island. He also said that Locsin had supported her sister throughout.
Locsin denied the claims, and responded by posting her sister's transcript of records as a student at the Philippine Christian University in the same year she was accused of going underground.
The actress said that the red-tagging had endangered her and her family.
Locsin had also been mentioned by Parlade when he "warned" actress Liza Soberano against supporting women's group Gabriela, saying that if Soberano continued to do so, she would end up like activist Jo Lapira. Lapira was a UP Manila student who killed in a clash between government troups and suspected NPA members in Nasugbu, Batangas in November 2017.
Locsin defended Soberano, saying of Parlade's actions: "how 1920s." – Rappler.com