The 'Drag Race Philippines' season 1 winner takes a long, circuitous journey to the crown
MANILA, Philippines – When Precious Paula Nicole was named the first ever winner of Drag Race Philippines last October 12, it took a while for her victory to sink in.
"Kahit nung inaannounce na, sabi ko, hindi ito para sakin. Kung makikita niyo dun sa video, parang five seconds bago ko narealize na pangalan ko talaga yung natawag…. Four days ata bago ko siya narealize," she says in a Rappler Talk interview.
(Even when they were announcing it, I said, this isn't for me. If you watch the video, it was like five seconds before I realized that it was really my name that was called…. I think it took me four days before I realized it.)
The 12-year drag veteran came into the competition with only one goal: to not be eliminated first. Winning the competition was not something she allowed herself to expect, especially since she was still smarting from her loss in another drag competition that she thought she would win.
Still, even if she didn't anticipate a win, Precious managed to sail through the show's challenges week after week – even winning one challenge, and managing to sidestep being in the bottom two throughout the competition.
She may have found her victory shocking, but the show's dedicated audience didn't seem to. For many, the Drag Race crown belonged squarely on Precious' head.
Before Precious
Becoming the Philippines' first drag superstar seems to be a moment Precious' life has been hurtling toward ever since. Born Rodolfo Gabriel II in Daet, Camarines Norte, Precious has been performing for as long as she can remember.
"Simple boy lang ako na bida-bida sa mga school programs. Mahilig talaga ako mag-perform. Gusto ko lagi akong nasa harap," she said. "Ever since talaga yun na yung nagpapasaya sa kin eh…. Sobrang saya ko kasi pag nagpeperform, sobrang saya ko pag may naiinspire ako at pag may natutuwa sa mga ginagawa ko, kahit ano man yun," she said.
(I was a simple boy who was always the star in school programs. I really loved to perform. I wanted to be in front all the time. That's always been what made me happy…. I'm always happy when I perform. I'm very happy when I inspire people and when I make them happy with what I do, whatever that is.)
As a young performer, Rodolfo was lucky enough to have the support of his family members, with an aunt even teaching him how to sing and dance.
"Sabi naman ng mama ko, kung saan ako masaya, yun daw yung susundin ko eh (My mom said, whatever makes me happy, I should follow it)," she shared.
A supportive family seems to be the backbone of Precious' story. On Drag Race Philippines, much of her screentime was dedicated to her remembering her late mother, who died just a couple of years prior to the show.
On one of the show's more poignant episodes, Precious' youngest brother John-John joins her in the Werk Room for the makeover challenge – and the love between the siblings is so palpable, it reduces the show's cattiest judge, Rajo Laurel, to tears.
Her family has always been her safe space, even as a teenager who had only just realized that he was bisexual.
"Hindi ako nagout sa family ko. Sobrang lucky ko nga kasi hindi ako dumaan sa ganung stage. Ang nakakatawa lang kasi, imbis na mag-out ako, dinala ko yung first boyfriend ko sa bahay, and si mama okay na okay lang sa kanya at sa mga kapatid ko. Understood na yun, I have a boyfriend now, so ayun, pinapakilala ko siya sa inyo, at wala naman masyadong tanong… .Wala nang explanations pagdating sa kanila," she said.
(I didn't come out to my family. I'm so lucky because I didn't go through that stage. It's funny because instead of coming out, I brought my first boyfriend home, and mama was super okay with it, and so were my siblings. It was understood that I have a boyfriend now, and I'm introducing him to you, and there weren't many questions…. There were no explanations needed when it came to them.)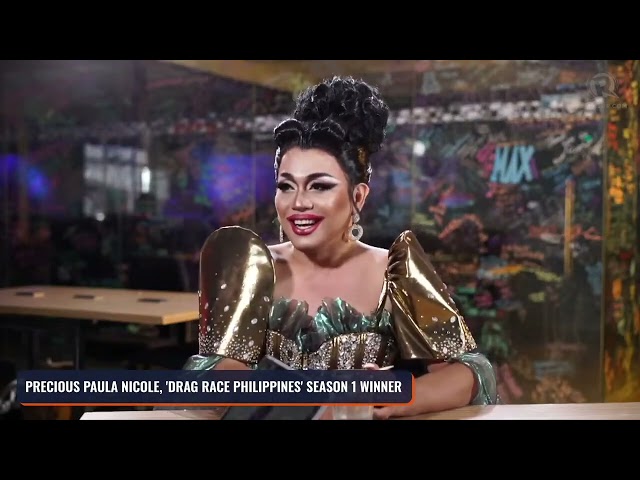 Outside of her family though, Precious was not spared from the struggles of being discriminated against as an LGBTQ+ person.
"Growing up, wala naman kasi akong napagkwekwentuhan at nakakausap tungkol sa gender ko. Nagkakaroon ako ng mga time na feeling ko naiiba ako. Dumadating kasi ako dun sa time na yun, pag naiisip ko lang siya, natatakot ako na ma-discriminate, natatakot ako ma-bully, so tinago ko nalang din siya. Siyempre, that time kasi, pag nakitang lalambot-lambot ka sa school, ibubully ka talaga eh, kaya mas pinili ko nalang na wag ipakita talaga," she shared.
(Growing up, I didn't have anyone to talk to about my gender. I would at times feel that I was different. When I would feel that way, when I would think that, I would get scared of being discriminated and bullied, so I hid it. Of course, at that time, when you are seen acting soft in school, you'd get bullied, so I just chose not to show it at all.)
To avoid getting hurt, the young Rodolfo leaned into conventionally masculine activities like billiards and basketball, drowning out any feelings of being different.
And then, when he was 15 years old, he began to feel things for his best friend that he previously felt for his ex-girlfriends.
"Surprisingly, yung attention tsaka yung nafefeel ko sa mga naging ex-girlfriends ko, nafefeel ko rin sa kanya, na parang gusto ko lagi siyang nakikita, gusto ko lagi siyang katabi sa school, kinikilig ako talaga. Siya talaga yung nagcheck sa akin na oo, bisexual ka," Precious shared.
(Surprisingly, the attention and what I felt with my ex-girlfriends, I felt with him, too. I always wanted to see him, I always wanted to be next to him at school. I'd feel butterflies. He was the one that made me realize that yes, you are bisexual.)
When Rodolfo introduced his first boyfriend to his family, he was in fourth year high school. But he felt that he couldn't come out to his schoolmates then, especially since he had a reputation for being one of the tough ones in school.
"Nung nagkaboyfriend ako, nagtransfer nalang ako ng ibang school (When I had a boyfriend, I just transferred to another school)," Precious shared.
That year would turn out to be an eventful one for Rodolfo. His first boyfriend was a professional dancer, and he brought Rodolfo to Manila so he could be one too, fulfilling his childhood dreams of being a performer.
It was while working as a dancer that Rodolfo first learned about drag – again, through a succeeding boyfriend, who invited him to watch a drag show at a bar in Cubao. This boyfriend told Rodolfo then that he wanted to be a drag queen, and as a supportive partner, Rodolfo bought him wigs and costumes the very next day.
When his boyfriend got a gig at a bar, they also hired Rodolfo to be a backup dancer, and being in such close proximity to drag queens only fueled his curiousity and love for the craft.
Rodolfo's first time in drag would happen in Tarlac, where he had a gig as a backup dancer for Lady Gagita – another veteran drag queen known for her Lady Gaga impersonations. 
"Hindi pa nila alam na gusto kong magdrag. Tapos sa kanya ko unang in-open. Pwede ba ako magbackup sayo pero naka-girl ako? Ayusan mo akong nakapambabae,'" Precious shared.
(They didn't know that I wanted to do drag. I first brought it up to her. 'Can I dance backup for you but in girl clothes? Fix me up in girl clothes.)
Lady Gagita not only approved, but told Rodolfo to perform solo right away.
"It's a dream come true nung nakita ko yung sarili ko sa salamin. Feeling ko dito talaga ako makikilala," Precious shared.
(When I saw myself in the mirror, it was a dream come true. I felt like this was what I would become known for.)
After that first drag experience, Rodolfo went to audition at drag hotspot O Bar, and was promptly told by the manager that while he was good, he looked like he was pretending to be gay.
"Andun daw yung confidence, pero pagdating sa performance, para daw akong nagjojoke. Parang ganun. Kasi sobrang tigas daw nung galaw ko," Precious said.
(I was told the confidence was there, but when it came to my performance, they said I looked like I was just kidding around. They said I moved too stiffly.)
He was given six months to improve his moves, and so he went to work, while also practicing his make-up skills and learning how to pad and put on a wig. Eventually, he got the gig, and later became a regular.
From Rodolfo to Precious Paula Nicole
Switching from dance to drag unlocked something in Rodolfo, giving him an opportunity to let another side of himself shine.
Out of drag, Rodolfo is a quiet, unassuming presence with a relaxed smile and a tendency to bow when he introduces himself. But after a couple of hours in the makeup chair, Rodolfo becomes the beaming, sardonic Precious, who commands attention without having to lift a perfectly-manicured finger.
This very transformation that she experiences is what drew Precious to drag in the first place.
"Ang tingin ko kasi dati sa mga drag queens, para silang mga superheroes. Pag naka-drag na sila, para silang nagttransform. Diba si Superman, di mo marerecognize. So parang ang magical niya isipin," she said.
(I saw drag queens as superheroes. When they're in drag, they transform. Like Superman, you can't recognize them. It's magical to think about.)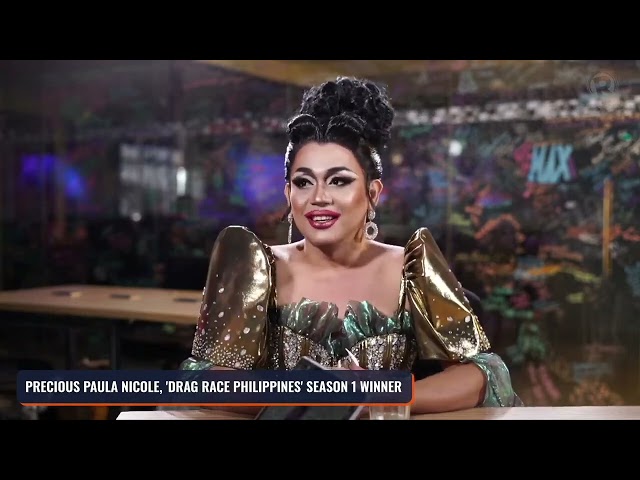 Like a true superhero, Precious hid her real job at first, borrowing her then-boyfriend's costumes and wigs in secret and telling her family she was working at a call center to explain all the late nights. They only found out when she appeared on a segment on noontime show Eat Bulaga, where she had to reveal what she looked like out of drag.
When she called her mom after the show, her mom simply asked her why she didn't tell her about it so she could've asked the rest of their family to tune in. While her mom was worried for Precious' health, she was still supportive.
Taking a gamble
Eleven years into working as a drag queen and making a name for herself in the industry, a new opportunity presented itself to Precious.
An announcement came that the wildly popular RuPaul's Drag Race – the so-called "Olympics of drag" – would be getting a Philippine adaptation. Local queens were invited by RuPaul himself to audition via a video casting call.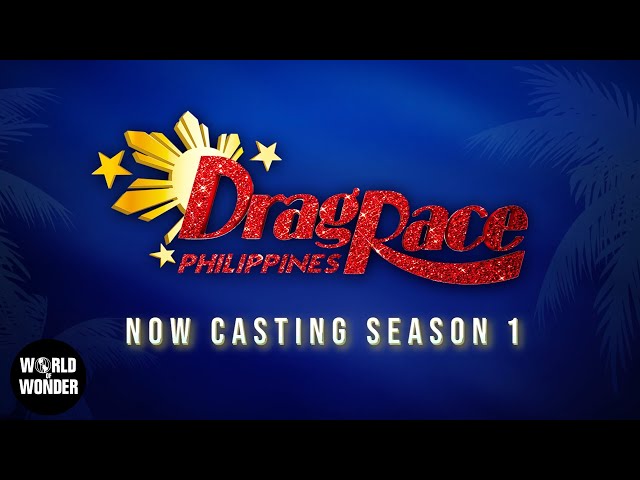 At the time, Precious was performing as part of a trio called the Divine Divas, alongside fellow queens Brigiding and Viñas Deluxe. The three of them had been manifesting a Drag Race Philippines since they started performing together in the early days of the COVID-19 pandemic, and while Brigiding and Viñas readily auditioned for the show, Precious was more hesitant.
She had just come from another drag contest at the time, and she lost sorely when she expected to win. She wasn't sure if she was ready to take on a new challenge. But her Divine sisters continued to encourage her to join.
"Sabi nila, sige subukan mong hindi sumali. Mapagiiwanan ka namin…. Isipin mo, magtotour kami abroad, wala ka, hindi ka namin kasama, sabi ni Viñas…. Sa loob loob ko, shet oonga no, eh magkakasama natin tong pinapangarap, minamanifest…. Sabi ko hindi pwede, magsisign up na ko, ngayon na!" Precious shared.
(They said, 'Go ahead try not to join. You'll get left behind, think about it, we're going to tour abroad and you won't be there,' Viñas said. Deep inside, I thought, oh shit, she's right. We've been dreaming of this and manifesting this together. I said that can't be, I'm going to sign up right now!)
As it turned out, signing up and auditioning was the easy part. Once she got on the show, Precious had to prepare ten episodes' worth of looks – all on her dime, as is standard practice on Drag Race.
Preparing for the show cost her over P100,000, leaving her with just P2,500 in her bank account. It was a huge gamble, but Precious was more than willing to take it.
"Sabi ko, gusto ko lang maging part ng history. First 'to eh. Kahit anong mangyari, yung first yung hindi nakakalimutan. Kaya sabi ko sa best friend ko, bahala na, basta ayoko lang matanggal sa unang round, sa unang episode. Ilalaban ko 'to dahil feeling ko para sakin 'to," she said.
(I said, I just want to be part of history. This is the first. Whatever happens, you never forget the first. I told my best friend, whatever happens I just don't want to be eliminated in the first round, the first episode. I will fight for this, because I believe this is for me.)
At the time of the show's filming, Precious was already 11 years a drag queen, which became significant to her after she read about RuPaul's own drag journey.
"Before top four, si Brigiding may binigay siya sa aking libro na libro ni RuPaul. Binasa ko siya habang wala akong ginagawa, and ang nabasa ko kasi dun, si RuPaul, it took 11 years bago siya nabigyan ng break sa drag. And that time, last year, 11 years na ako sa drag industry," Precious shared.
(Before the top four, Brigiding gave me a book by RuPaul. I read it while I had nothing to do, and there I learned that it took 11 years before RuPaul got his break in drag. That time last year, I had been in the drag industry for 11 years.)
"Alam mo nung nabasa ko yun, talagang parang nagliwanag yung kwarto ko, parang may mga angels na kumakanta. Somehow, nakarelate talaga ako," she said.
(You know when I read that, it was like my room lit up, like angels were singing. Somehow, I was able to relate.)
That detail gives Precious' drag journey a fated twist – almost as if she had always been headed for the Drag Race crown. Now that she has it, her days have never been more busy.
For one, she is set to appear at DragCon UK, a gathering of the who's who in the Drag Race universe, from RuPaul to fan-favorite queens like Jinkx Monsoon, Yvie Oddly, and Jaida Essence Hall.
The event is happening in January 2023, and Precious is planning a performance that takes elements from Filipino cultural dances and pop music, to be able to show the world more of what Filipino drag is. Aside from her performance, she is also looking forward to meeting her fellow Ru Girls, in particular Jinkx, as well as Sasha Velour, Bianca del Rio, and Valentina.
Aside from DragCon, Precious says she plans on continuing her support for the Golden Gays, a non-profit that provides support for elderly LGBTQ+ persons. With her Divine Divas sisters, she is thinking of opening a "Divine Bar" to create more space for drag artists and enthusiasts.
And then of course there's the influx of gigs and work opportunities that she and her other Drag Race sisters are now getting as drag enters the mainstream. For Precious, this is just the beginning.
"I'm hoping na ito na yung simula. Actually I'm not hoping, I'm sure na ito na yung simula. Ang daming fans ng Drag Race ngayon na hindi naman talaga fans before ng ibang franchise. Simula na talaga siya na ma-mainstream na kami, and I really believe na deserve naman namin lahat ng atensyon ngayon," she said.
(I'm hoping that this is the start. Actually I'm not hoping, I'm sure that this is the start. There are so many Drag Race fans now who weren't really fans of the other franchises. This is the start of us going mainstream, and I really believe we deserve all the attention.)
As she looks forward to seeing more queens get their break – especially queens from outside Manila – Precious has this to say to future Drag Race queens: "Hope for the best and expect the for the worst."
Somehow, it's a piece of advice that sums up her own road to the crown – from child performer, to backup dancer, to clandestine drag artist, to almost-broke Drag Race contestant, and finally to the Philippines' historic first drag superstar. – Rappler.com