'I find myself auditioning for things but rooting in my head for someone else who looks more Asian or Filipino than I do,' confesses Filipino-Canadian actress Zenia Marshall
Two young actors of Asian heritage – one a Filipino-Canadian, the other a Chinese-Laotian-American – talked about diversity and casting in Hollywood and their struggles and hopes in separate interviews.
Zenia Marshall, the Vancouver-born daughter of my University of Santo Tomas (Manila) classmate, Luisa Mendez Marshall, and Steve Marshall (a Canadian), played the granddaughter of Raquel Welch, no less, in the TV series, Date My Dad.
From her movie debut as a music student of Debbie Gibson's character in Summer of Dreams and the subsequent Wedding of Dreams, Zenia went on to rack TV credits, including Peacock's new series, One of Us Is Lying, which was filmed in New Zealand.
Izaac Wang, born in Minnesota to a Laotian mom and a Chinese dad, currently stars as Owen Yu in the movie, Clifford the Big Red Dog. Since landing his first role in TV's Teachers, Izaac bagged parts in the movies Good Boys, Think Like a Dog, Raya and the Last Dragon, and the coming series, Gremlins: Secrets of the Mogwai.
Zenia, who describes herself as a halfie (one who is composed of two different racial backgrounds), reflected on her experience so far as a young Fil-Canadian actor in the entertainment industry.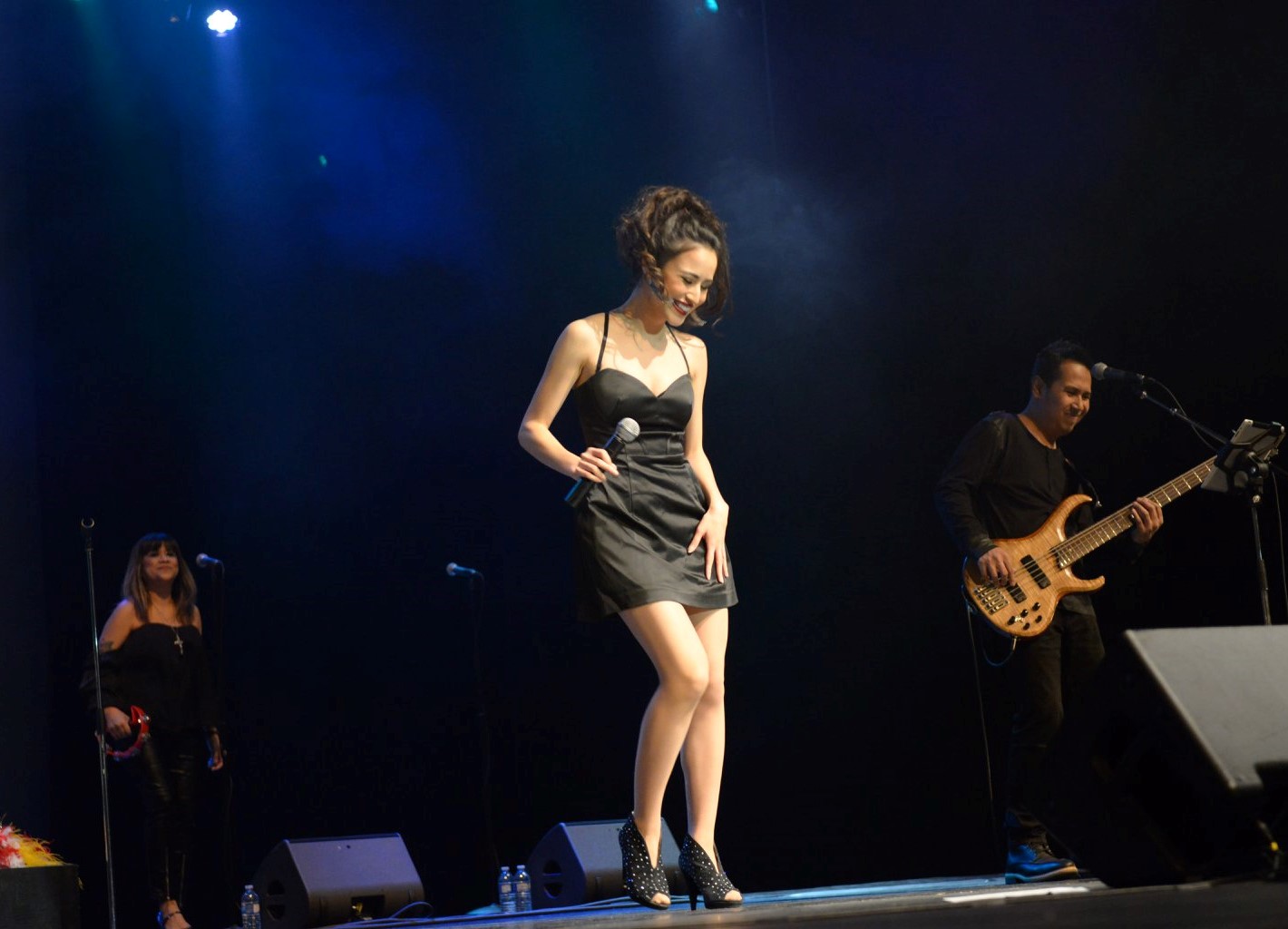 "My experience as a halfie is definitely a bit in a different zone than the experiences of full Asian-American/Canadian actors and non-Asian actors," she began. "To many people, I look very ambiguous."
"At first, that can be seen as good and easier to be cast in things. But in reality, from my own experience, I often feel a bit stuck in the gray zone where it's hard to completely pass for either, which puts me often at an awkward middle in casting."
"More than often, even though I'm half-Filipino and half-white (with Native American, Native Canadian, and Spanish mix), casting directors, for the longest time, practically only saw me mainly for open ethnicity and Spanish. It's funny how genetics work on different halfies."
"Sometimes we look more like one parent than the other. It's a bit hard when I don't exactly pass for what I am yet pass easier in a visible way to ethnicities that I'm not as much of, which is definitely an increasingly sensitive area in misrepresentation in casting today."
"Then from another angle, another struggle of being a mixed actor is sometimes you feel like a bit of an impostor trying to represent simply what you are because you're not fully anything."
"One of my own biggest fears is whitewashing a BIPOC (black, indigenous and people of color) role because even though I'm just as Asian as I am white, I am hyper aware of whitewashing habits in the industry."
"So I find myself auditioning for things but rooting in my head for someone else who looks more Asian or Filipino than I do."
"Or other times, I get sent in for Caucasian American and European characters as well due to my European heritage but then when I later see who got cast for those projects, they usually look even more traditionally Caucasian/European than I do in a blonde hair and blue eyes kind of way."
"So it's hard to fit there too when you have more of what people describe to be an 'ambiguous look.'"
The actress, whose other TV credits include Supernatural, In the Key of Love, Van Helsing, and A Godwink Christmas: Second Chance, First Love, stressed, "But that is also the blessing. To represent those who are multicultural – byproducts of love between people from different countries and backgrounds."
"Another reward for BIPOC actors in general is definitely being able to be a part of the change in Hollywood's history and habits. Other BIPOC actors paved the way when space was even more limiting for them."
"But things have been getting better and every person who continues to pursue his dreams in this industry who does not fit the old Hollywood mold, has been making it a better place. It's so rewarding for everyone to be brave despite not seeing many examples who look like you."
"There were people who grew up with fewer role models that looked like them than we did. In the future, there will be more kids who grow up with more role models than those of the present."
"You can be a part of that. You are the idol and role model for other people and little ones who can grow up believing that there's a place for them on the screen and on television. That they do matter."
Looking forward, Zenia added, "I do hope for the sake of everyone in the industry, from everyone, especially those who are full BIPOC in their background to others who are part or half like me, that there are more and more representation and diversity."
"And that soon, the casting won't have to function by checkboxes anymore but diversity in casting becomes second nature. When we're trying to switch habits, we have to be very cautious and conscientious about it at the beginning which is where I feel we are at."
"I just hope that soon it won't even be a second thought anymore but simply second nature to cast worlds diversely in all sizes of roles and projects in all shades of the spectrum."
I then asked her for the most important tips and values that she, as an artist and a person, learned from her parents who are also performers. Luisa, who headed to her band gigs after our college classes, is now a Tina Turner tribute artist with quite a following in Canada.
Luisa also has a family band with Steve (who plays the drums), in which Zenia and her aunt Tota croon as well, and her sister Kimi is a guitarist.
"I've learned everything I know from them," gushed Zenia about her parents. She herself is an Ariana Grande tribute artist and an indie singer-songwriter. "Something they have always taught me is that you can be happy as long as you do what you love."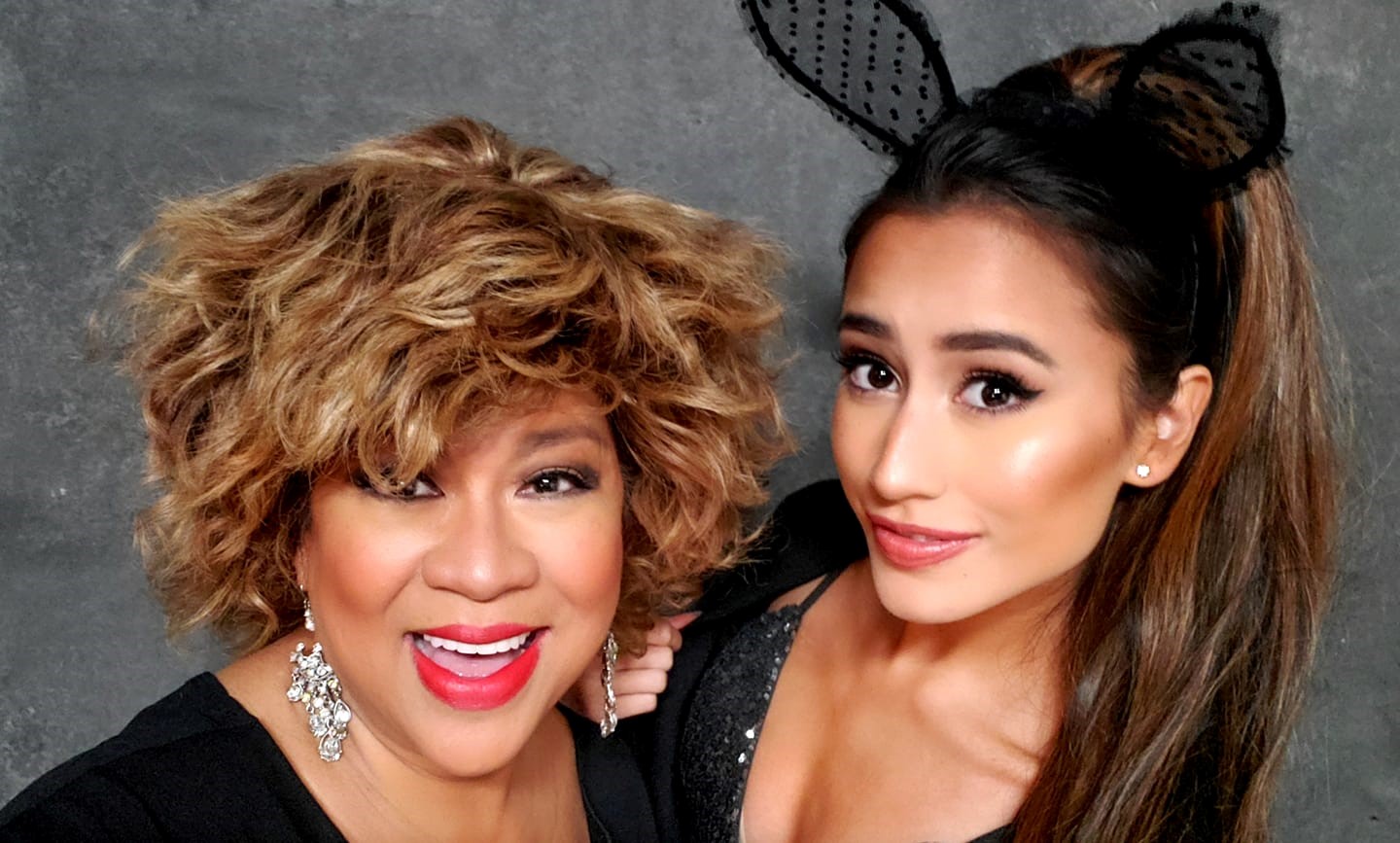 "Neither of them believe in having a dream and not pursuing it – no matter what your situation is. They're both go-getters. No matter how things will pan out, they are happy as long as they do what they love with the people that they love."
"That's one of the most important lessons I've learned as an artist and person. Additionally, my mom has really taught me a lot about generosity. She's given so much to others from audience to family or the community."
"She is so generous and she never hesitates to give to those she can. She uses her voice to raise money for PTSD, Canadian Veterans, AIDS Vancouver, typhoon victims, etc."
"And my dad has taught me a lot about sticking up for others and also seeing the positive side to everything. He's very logical yet finds positivity in everywhere – even when less than ideal situations happen which he never dwells in."
"He always keeps swimming immediately. That's why he's been so successful in everything he puts his mind to."
"And as much as he's been so busy, he really finds the time to carve out moments that really matter and that means a lot to me. It's definitely hard to do both. I hope to be able to somehow continue practicing even a portion of what my parents have taught me."
When Zenia landed the Keely Moore part in One of Us Is Lying, which stars Annalisa Cochrane, Chibuikem Uche, Marianly Tejada, and Cooper van Grootel, she left her family for a long time for the first time.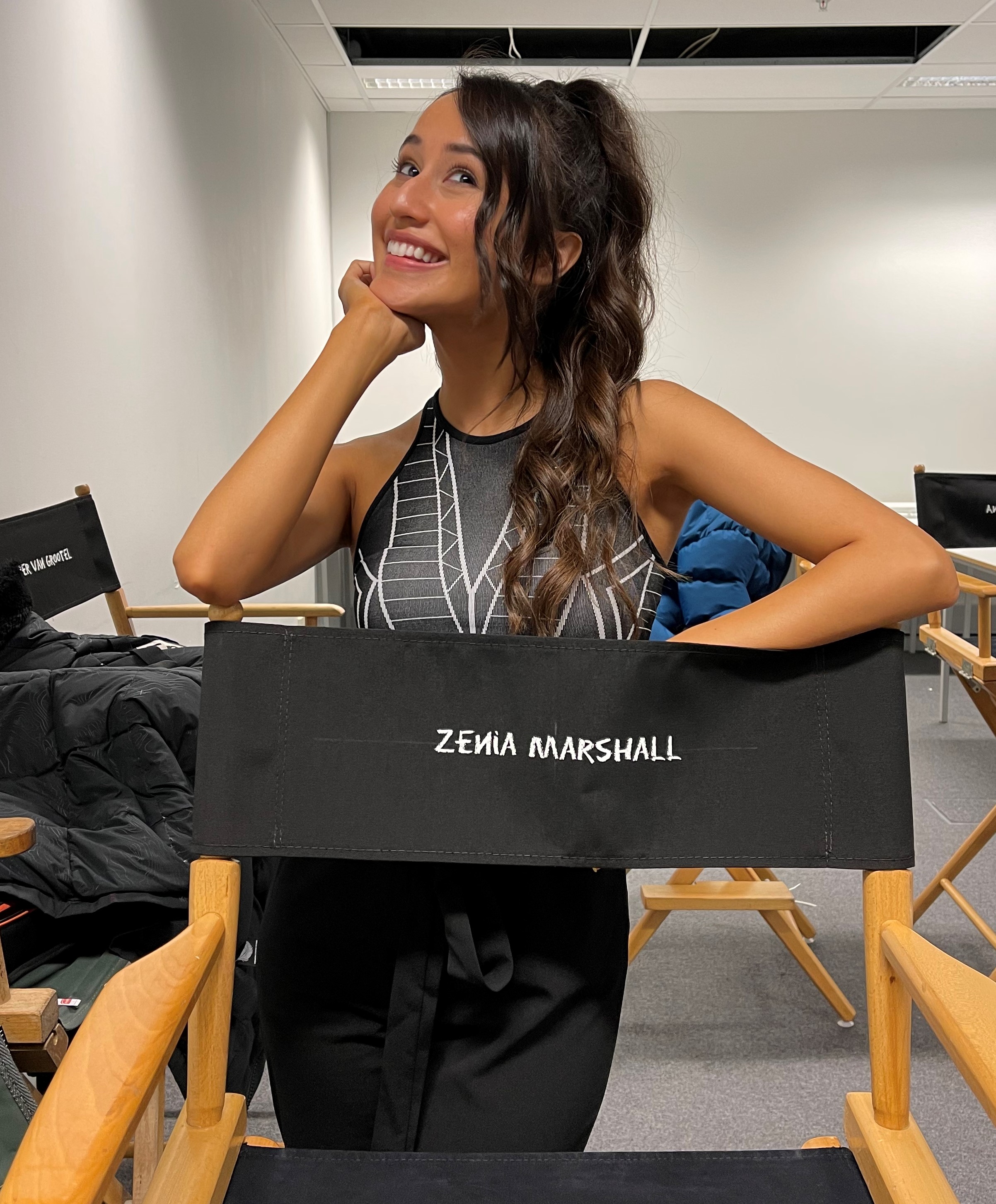 "We were in New Zealand for five months and in Toronto for one week!" said Zenia, whose love for acting also led her to stage musicals, including playing Belle in Beauty and the Beast.
"One of the most important things I learned was how to focus on the things that make life beautiful, the positives when I'm homesick or going through difficult slumps," Zenia said, sharing the insights she gained from working and living in Auckland for the first time.
"Even though the time on set was faster paced, the trip itself really did help me slow down in between all of that because of the beauty of the country and friendships."
The multi-talented Fil-Canadian who has been performing since she was four, with two singles so far ("Ain't Like You" and "Heaven and Hell"), said, in parting, "I really hope to see myself recording and touring my latest album in 10 years and in between tours, being able to do a movie here and there that I feel very passionate about."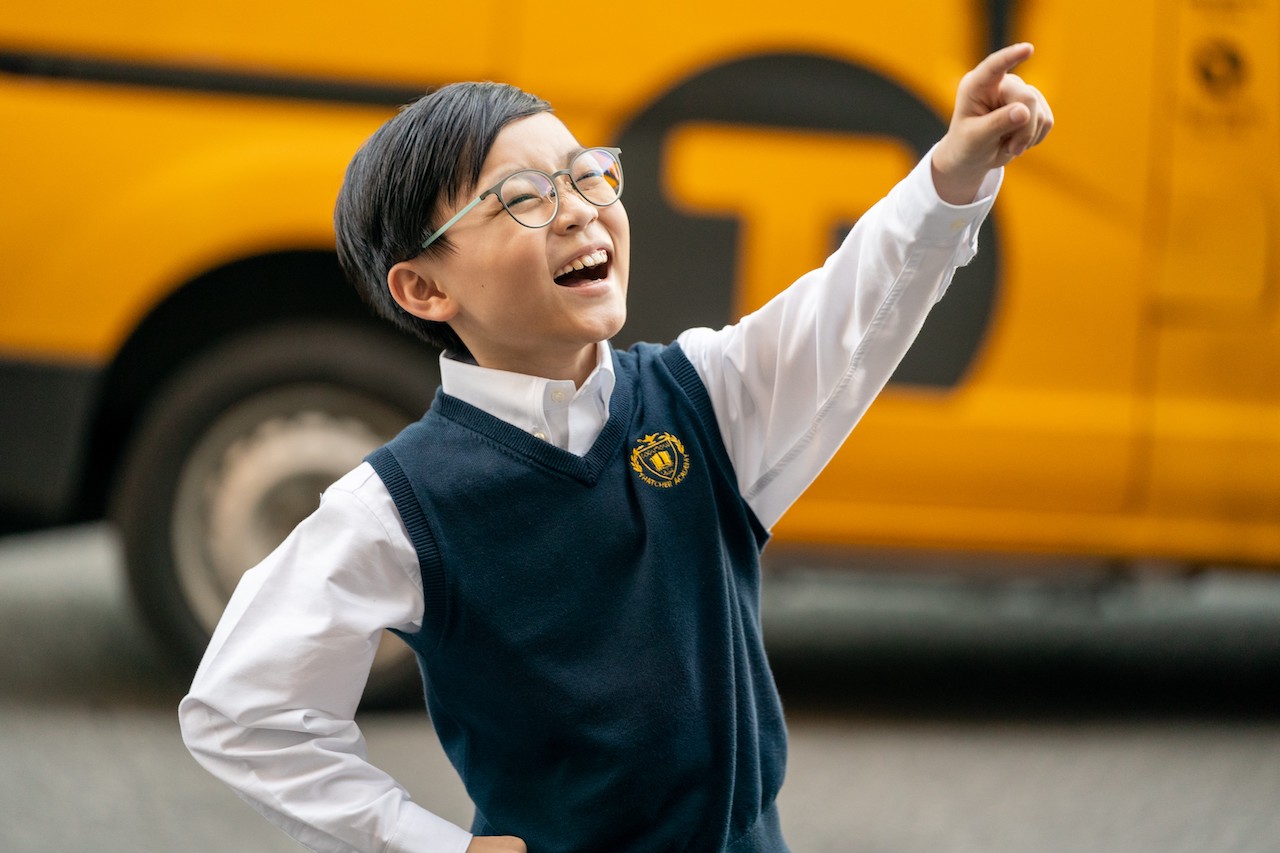 Izaac Wang
As early as when he was five years old, Izaac was already reading on his own the beloved Clifford the Big Red Dog children's book series by Norman Birdwell. By serendipity, Izaac stars in director Walt Becker's live action/CGI hybrid adaptation of the tale, about a lovable giant dog that came to life.
"It started with my parents," Izaac recalled. "They always read the Clifford the Big Red Dog book series to me when I was little. My very first experience reading on my own was when I was five years old."
"I remember briefly that most of the books I read about Clifford are when he's out exploring with Emily Elizabeth. Clifford is a much beloved and thoroughly entertaining character."
"He is a good dog, always cheerful and ready to play and help anyone who needs him."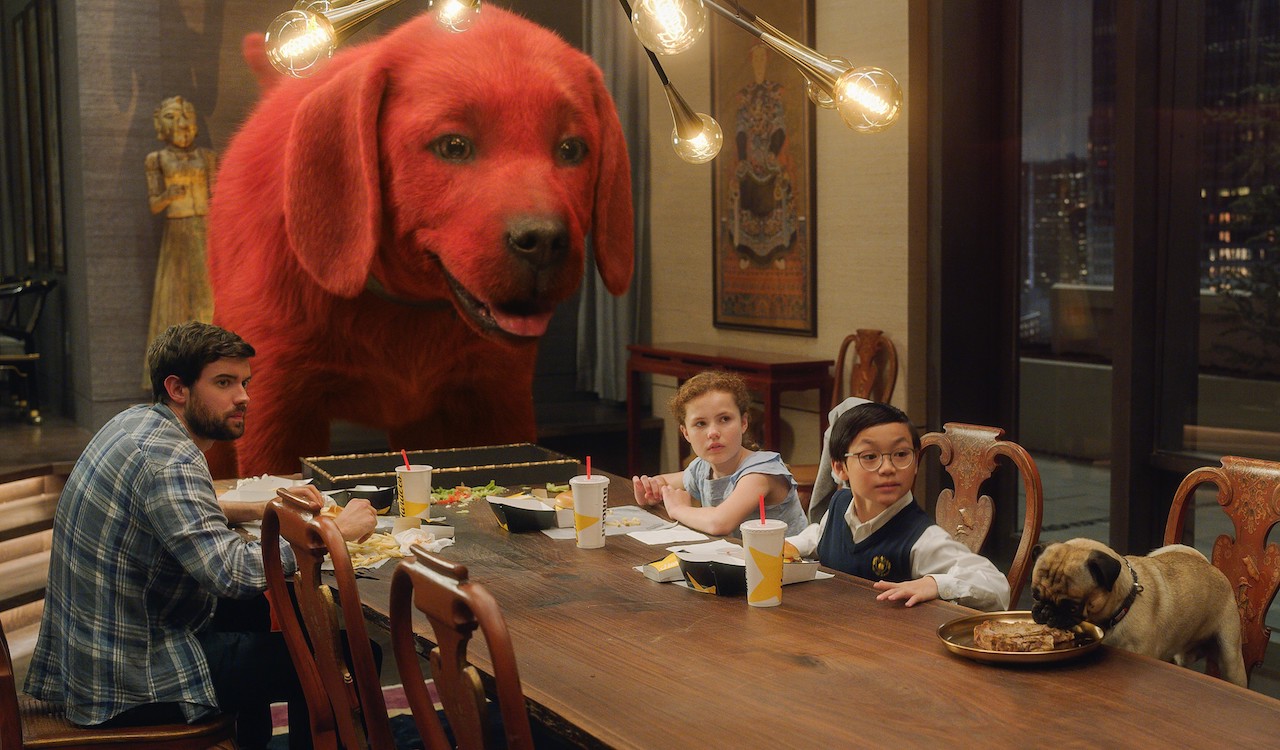 In the first big screen appearance of Clifford, whose adventures have been told in a TV series and videos, Darby Camp plays Emily Elizabeth, the girl who owns the puppy that grows into a huge red canine.
Also in the movie, which should come as a welcome treat for those looking for family fare, are Jack Whitehall (Uncle Casey), John Cleese, Paul Rodriguez, and Russell Wong.
Izaac relished playing Owen Yu, the next-door neighbor. "What I love about the Owen character is that he gets to go on an adventure with Clifford and Emily throughout the movie."
"Owen is Emily's classmate and faithful friend who has a crush on her. Clifford and Emily's adventures later teach Owen to overcome his own fears and make him braver toward the end of the movie."
The young actor revealed that in real life, "I don't have a dog but I have two cats. They are Highland Lynx cats named Charlie and Cooper but they act like dogs."
"They naturally have short tails, curled ears, and have extra (polydactyl) toes. They may look like wild cats but they're the sweetest. Charlie is older and he loves to be outdoors. Cooper loves to sleep, cuddle, and just chill."
"It would be quite terrifying and also very hard to handle a giant dog," Izaac answered when I asked if he ever imagined having a pet like Clifford.
"On the other hand, it would also be very fun to have a big red dog in my neighborhood. I would take him mountain biking with me so I don't have to pedal up the mountain. He can carry me up and I will just enjoy going downhill!"
By coincidence, Izaac has appeared in another film with the word "dog" in its title – Think Like a Dog.
"Quite funny," Izaac replied about the titles. "I never thought that I would be in two dog movies in the beginning of my career."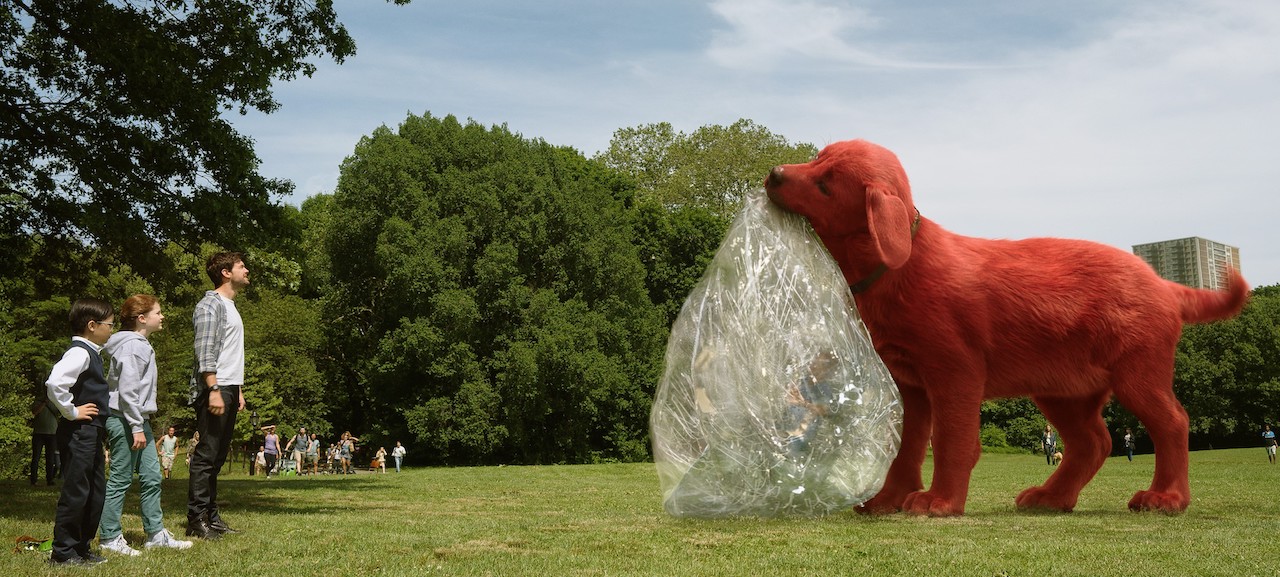 "The big difference is, Clifford is big! And he was a puppet. I was acting with real dogs in Think Like a Dog."
On providing the voice of Boun in the animated hit, Raya and the Last Dragon, Izaac enthused, "Very fun! Disney was amazing to work for."
"Even though it was all done remotely and during the pandemic, it was still super fun. I recorded the whole thing in my closet!"
Coming up next year for Izaac is Gremlins: Secrets of the Mogwai, an HBO Max animation fantasy series that's a sequel to the movies Gremlins and The New Batch.
Izaac voices the lead part, Sam Wing, in the 10-episode series written and executive produced by Tze Chun. The voice cast includes BD Wong, Ming-Na Wen, Matthew Rhys, and James Hong,
"Sam Wing was definitely a fun role," Izaac said. "Although later in the season my voice started to change so it was quite funny trying to keep my voice 'young.'"
Izaac shared his own thoughts on diversity and casting in Hollywood: "Representation is important in our Asian-American community, especially for young actors like myself. I am thankful for movies like Crazy Rich Asians, Shang-Chi and the Legend of the Ten Rings, and now, Eternals, for paving the path for actors like myself."
"I am going to do my best to help pave the way for younger actors who hope to climb the ladder. But I know I myself have a long way to go and there's a lot more growth for myself."
With a promising future ahead of him, Izaac shared, "I love what I do. Acting is so much fun. I would continue to act as long as there are job opportunities for me."
"I'm most interested in a role where the character can drive a car. Like The Fast and the Furious! The faster the car, the better!" – Rappler.com