'Danny, Jim, and Boboy were three guys I turned to for guidance, for wisdom, and for catharsis as I traversed the highs and lows of my life's early journey'
Ours was a generation whose musical preferences were shaped by genres and influences that spanned multiple decades.
We knew all the greatest hits of the Beatles, Bee Gees, Bread, and Karen Carpenter. We jammed to Kurt Cobain and Nirvana and Axl Rose and Guns N' Roses. We even memorized the chartbusters of Jose Mari Chan, Gino Padilla, Smokey Mountain, and Ariel Rivera, which dominated the air waves at the advent of the 1990s.
Most of us are now in our early to late 40s, with probably a sprinkling of those who've spilled over to their early 50s.
In my case, there were two groups which provided the melody and tunes to the soundtrack of my youth. These were the Eraserheads and the APO Hiking Society. (My closest friends will probably insist that Sharon Cuneta was also part of my holy musical trinity. I will be lying if I do not admit this.)
Danny, Jim, and Boboy were three guys I turned to for guidance, for wisdom, and for catharsis as I traversed the highs and lows of my life's early journey.
It was in 1992 when I had the opportunity to see them perform live. They were in Zamboanga City for a concert which was going to be held at the back field of my school. Most of my classmates bought tickets. I had to be there.
It was a confusing time for my naïve but reckless young heart. A girl I liked was going to watch the concert with our barkada since one of my closest friends was her boyfriend. Everyone in our group knew how I felt about the girl. Well, everyone except the girl and her boyfriend.
My friends had it all planned out for me. I was going to lean over and whisper to the girl to listen intently to the lyrics of the song "Mahirap Talaga Magmahal ng Syota ng Iba," then spring the surprise and confess to her my feelings. It was bold. It was daring. I was determined to go for it. I had watched Dead Poets Society enough times to know what carpe diem meant.
On the night of the concert, I had a horrible toothache which forced me to stay home. My friends told me the following day that they all had a blast. I feigned a smile while they regaled me with their stories, even as deep inside I wished they all would eventually lose their teeth before they reached 40.
Three words from APO best described the stages of dating in my teens. "Ewan," the default response I got from someone I liked. "Panalangin," which expressed the depths of my longing which often went unrequited. "Paano," a last-ditch appeal to pity, bordering on nothing more than despair. I love those three songs.
"Blue Jeans" spoke of the times my friends and I felt we were ready to take on the establishment, to go against the grain, and to become rebels, with or without a cause. It was a theme that roused our awakening to the inanity and the novelty of non-conformity. But in reality, it really was a reflection of an even more rooted desire to be accepted for who we were evolving into and who we wanted to be. 
In my 20s, what APO stood for took on a more personal meaning to me.
Their voices echoed the struggles of the Filipinos. Their activism incited in me a responsibility to be involved in the social revolution.
When Pidro sang "American Junk," I started to understand who we were as a people if one peels away centuries of imperialist ascendancy. Their political satire of the "12 Days of Christmas" after another coup d'etat by the RAM was both hilarious and on point. They blasted Enrile and Honasan for the armed mutinies staged against the government, which sent our country reeling to the ground and seemed too difficult to recover from. Hearing it ignited in me the spark to fight for justice through non-violence.
In 2001, I attended the Kompil which was held at the Ateneo de Manila University. I represented the Adios Erap movement from Zamboanga City which joined various civil society groups in staging peaceful protests against the Estrada administration. As I was signing up to register for the event, I saw that Jim Paredes was among the participants. I knew then I was on the right side of history.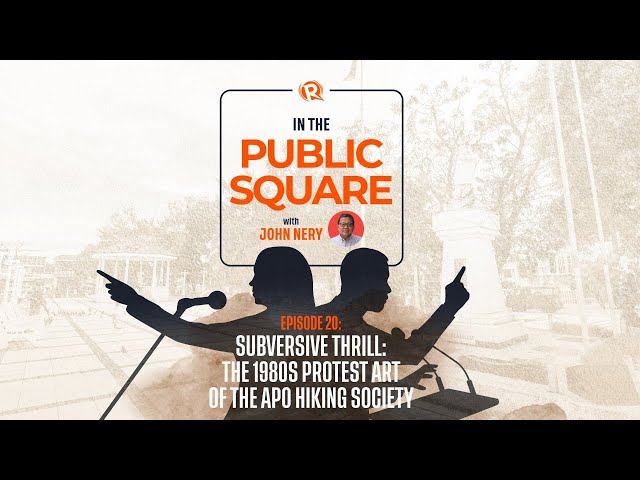 I finally got to watch the APO live when they had their first ever Araneta Coliseum concert in 2008. I was one of the so-called "APO Virgins," a term the trio coined for those watching their concerts for the first time. All those years of collecting APO tapes finally paid off. I sang along in my best Danny Javier imitation to almost all the songs they performed, to the chagrin of those who were seated close to me.
On May 29, 2010, my two best friends, Ian and Bobet, and I trooped to the Music Museum for the final concert of the APO. On our way to the venue, we were arguing who each one of us was among the APO. Bobet was the shortest so he had to be Boboy. Ian, the tallest, was Jim. I, the eldest, was Danny.
At the end of the show, the APO asked the members of their respective families and the families of their band to join them onstage. Little did I know then that one of those who went up to join them would become my wife. My soon-to-be father-in-law, it turned out, was APO's guitarist, although that evening, I was still a year and a half away from meeting my wife Paola.
I got married two years later. A director friend prepared a video for the wedding reception where he had a number of his celebrity friends send us their well wishes. One of those who gave us a message was Boboy Garrovillo, who probably did not know who it was he was greeting.
Now that I am father to a nine-year-old daughter, the song "Batang Batang Ka Pa" resonates with me in a totally different way. I had always been Boboy whenever I sang it during karaoke nights of well-mannered frivolity. I have been playing the song multiple times these recent days. Because I am now a Daddy, I have become Danny.
Unlike the Eraserheads which will have a reunion concert this December, there will be no more encore for the Apo Hiking Society where all three members will be present.
But their songs will remain entrenched in the consciousness of Filipinos who were witness to their genius. They will be in mine. Their catalogue was like a jukebox from which I could select a song appropriate for different stages and emotions I went through. Their rhyme and words seemed always familiar, always soothing, always pertinent, like a friend that one could turn to, without fail, for comfort. Their messages of love, of laughter, of friendship, and of love for country are lessons that I will pass on to my daughter. Their greatest hymns will be indelibly printed in the pages of the Song Hits of my life. – Rappler.com
Ariel Ian Clarito has been working in the corporate world for close to two decades. On the side, he writes for Rappler Sports and is a columnist for the Tiebreaker Times.