K-pop acts, P-pop group, drag queens, Halloween costumes, and prizes – what more can we ask for?
Our dreams of attending a K-pop Halloween party are about to come true!
Presented by PULP Live World, HALLYUWEEN 2022 is set to bring in some of the biggest Korean acts for one night of partying on October 29 at the Mall of Asia Arena. Aside from its star-studded line-up, we've also listed down several reasons why this one-of-a-kind show will leave us screaming with excitement:
Scary OOTDs (and spectacular prizes!)
Halloween or not, K-pop fans always go all out with their OOTDs for concerts. And with the prizes at stake, we're sure that fans will up the ante for their HALLYUWEEN 2022 look. After all, the best in costume can win a golden ticket to any of their chosen shows presented by PULP.
No effort will go to waste as the event is also set to name several costume awardees – both for solo contestants and group ones. Based on their website, they even have specific awards for attendees who'll come as a zombie, a witch, a vampire, a prince/princess, a K-pop idol lookalike, and a Filipino horror creature.
Aside from a ticket to their future shows, winners can also get any of these prizesL signed posters and merchandise, next-category seat upgrade vouchers to any of PULP's upcoming concerts, gift certificates for an overnight stay at a five-star hotel, and more! Ready with your Halloween costume yet?
Party, concert, and more!
A mix of Hallyu and Halloween, we know that we're in for a treat. We were already promised a night of music and partying, but HALLYUWEEN 2022 still has more tricks up its sleeve!
Even before the actual show begins, concert-goers can already get a taste of the ultimate hallyuween experience by participating in several activities, such as the haunted tunnel and silent auction of K-pop memorabilia. Photo booths, game booths, and fan booths will also be available around the area!
The seat plan for HALLYUWEEN 2022 also sent fans abuzz as a dance floor area is designated in the venue. Guess that gives us an opportunity to do a random K-pop dance segment, hmm?
Even the ticketing tiers are different from other concerts! The "Gangnam" and "Apgujeong" districts, especially, are home to VIP tables that are situated on both sides of the stage. Aside from affording a much closer view of the performances, VIP tables also have benefits such as a photo opportunity, an invitation to a red carpet event, merchandise, and baskets of drinks and snacks with alcoholic or non-alcoholic beverage options. Sounds fancy!
Spotlight on P-pop and drag queens
While the Korean artists might be the event's main act, there's also no shortage of Filipino talent in HALLYUWEEN 2022.
P-pop boy group BGYO is also part of the lineup – their latest event that features both K-pop and P-pop acts. In 2022, the group headlined events with K-pop acts Red Velvet and the recently-concluded POPSTIVAL. And with HALLYUWEEN 2022, our Aces of P-pop are set to bring Pinoy pride to a whole new level.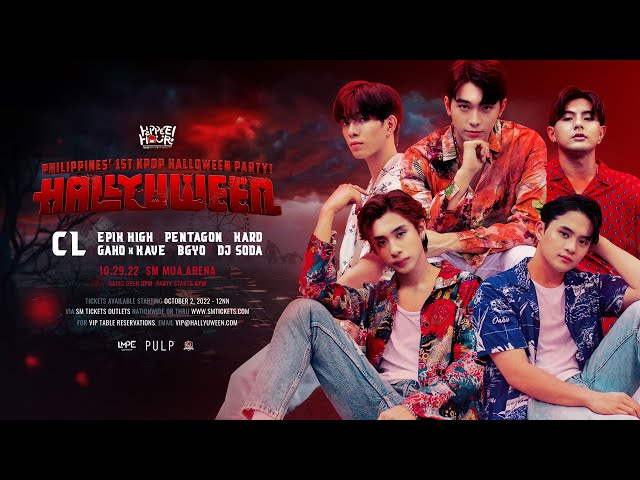 Another pleasant surprise for the attendees is the recent addition of Filipino drag queens Minty Fresh, Lady Morgana, and Lady Gagita in the lineup. Aside from their on-point lip sync performances, we're also looking forward to their looks for the night. Surely, these queens are ready to put on a show.
Star-studded K-pop lineup
Six of K-pop's hottest acts – CL, Epik High, KARD, PENTAGON, Gaho x KAVE, and DJ SODA – will headline HALLYUWEEN 2022. In a series of promotional videos, these artists have expressed their excitement in seeing Filipino fans again.
"It's been a while since I've been back to the Philippines, so I'm super super excited," says the baddest female CL.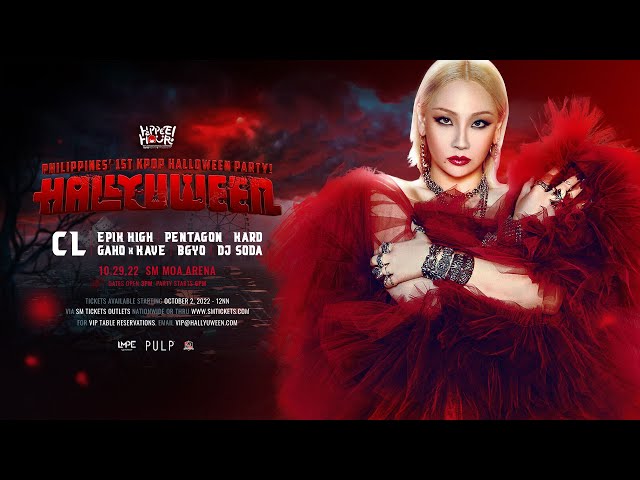 Hip-hop trio EPIK HIGH said they miss their Filipino fans "very very very very much."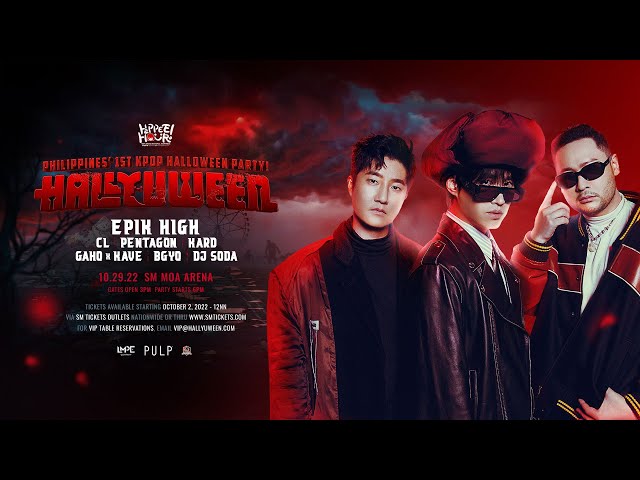 KARD also shared that they're anticipating seeing their fans in the "craziest costumes" they can come up with for the concert.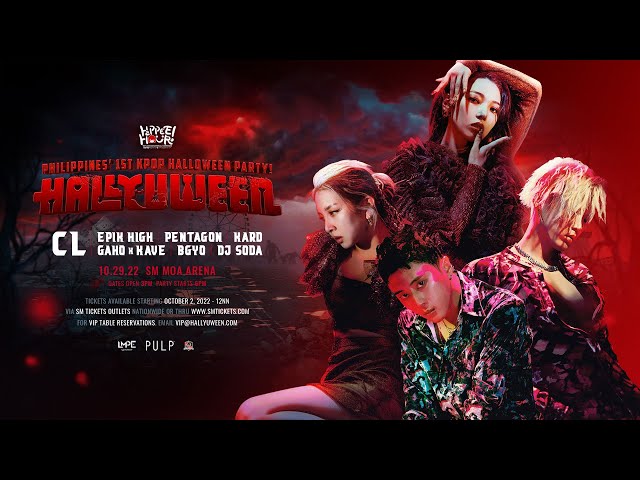 Boy group PENTAGON invited their fans to a "ghost tour" in Manila.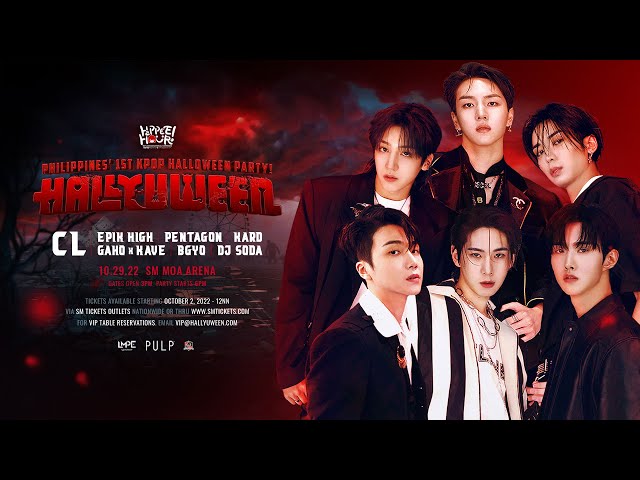 DJ SODA asked fans: "Are you ready to party all night long?"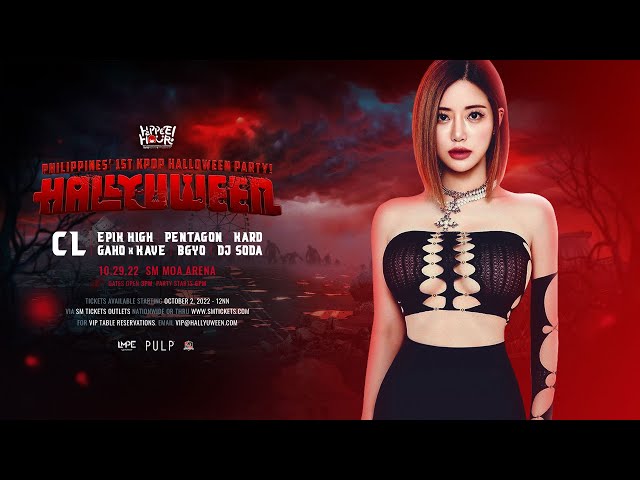 GAHO and KAVE are also looking forward to meeting their fans for the first time!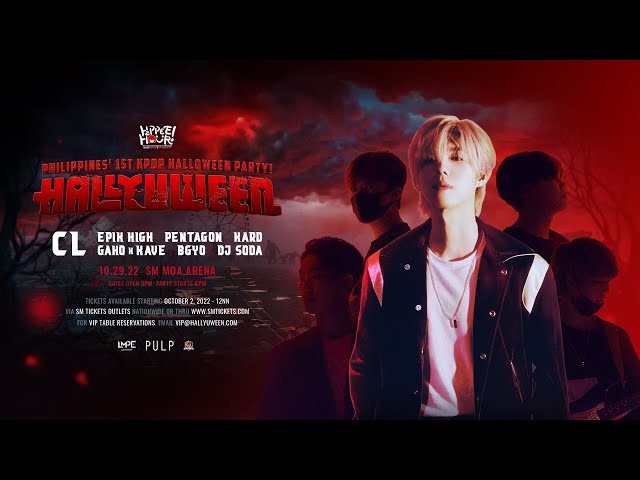 How about you, what are you looking forward to in HALLYUWEEN 2022? – Rappler.com