This is AI generated summarization, which may have errors. For context, always refer to the full article.
One thing's for sure though: this is not farewell for the veteran rock band
It was the era of CDs, radios, and physical demos.
When Mayonnaise — now composed of frontman Monty Macalino, drummer Shan Regalado, guitarist Carlo Servano, bassist Nikki Tirona, and guitarist Keano Swing — released their self-titled album in 2004, it was their first step into a booming and competitive OPM scene.
"Mas naka-base noon ang TV and radio, unlike ngayon, open cellphone lang, alam mo naman kung anong uso or sino nag-viviral. Or paano ippromote ang songs, parang dati, kukuha pa namin ng guy para kausapin ang mga radio stations to play yung mga songs namin," Regalado recounts.
(We used to be more dependent on TV and radio, unlike now – you just check your cellphone and you'd already know what's trending or who's going viral. Or when it comes to promoting your songs, back in the day you'd have to get a guy to convince the radio stations to play your songs.)
The band used to religiously look at the countdowns to see how their tracks were doing. Macalino would also go to the now-defunct Tower Records to check how their albums were charting.
The band would eventually be launched into the mainstream with "Jopay," a radio airplay hit at the time. 20 years later, it seems that the band has come full circle. "Jopay" made a Filipino pop culture resurgence with a new generation, thanks to social media platforms like TikTok and Facebook. Their newfound relationship with fans seems completely different than before. Imagine a sea of people — many of them Gen Z — with creative signs on their phones and witty comments singing along and making jokes about their love lives.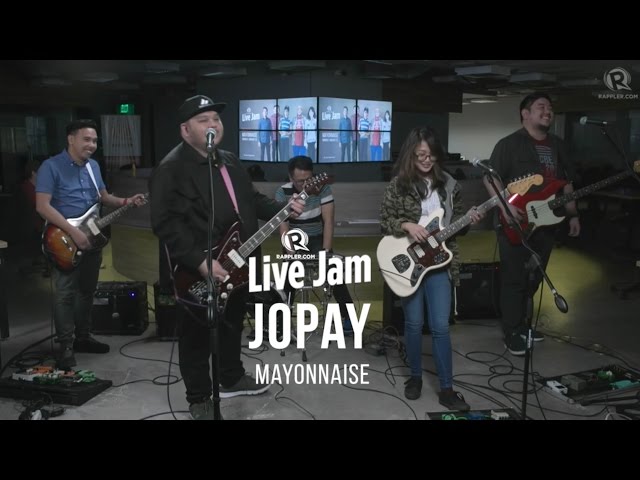 The band's 20th anniversary tour finale show, held last May 20 at the Quezon City Circle, served as a point of reflection for its members, who go on to talk about how different the OPM scene is now than it was 20 years ago, from the audiences themselves to how artists interact with people.
"That's why it's sweeter [looking back now]," Macalino continues. "We were able to experience both eras."
When the members of Mayonnaise revisit the 2000s, they look back on that time with nostalgia and pride. It was exciting for them — their musical contemporaries were OPM juggernauts like Sugarfree, Hale, and Spongecola, to name a few. It only further fueled their musical process as they merged elements from their inspirations with their own talents.
"To be honest, back in the day, I was just writing songs," shared Macalino, as he was talking about how the band started crafting their own sound. "Parang everything comes natural because of the albums or banda na pinapakinggan ko dati (or the bands we would listen to). When we were writing the first album back in 2004, medyo chopsuey siya in the sense na merong 'Jopay,' 'Bakit Pt. 2'…parang multi-genre siya (it was a bit of a mix in the sense that we have 'Jopay,' 'Bakit Pt. 2…it was like a mix of genres)."
He and his bandmates attribute this "chopsuey" collection to the previously mentioned artistic influences that come and go through time. Now, they lean into the digital era's new innovations, using Spotify to listen to the newest artists on the charts. Some of the acts the band members listen to now are from genres they never imagined themselves being fans of in the first place.
"Now, [ang] laman ng Spotify ko, BLACKPINK, TWICE (Now, my Spotify playlist has BLACKPINK, TWICE). I even listen to soundtracks of K-dramas like Reply 1998. So, definitely, every year or every album or every single nagpapalit ang tunog namin, pero ang dahilan is what you're currently listening to (our sound changes, and it's because of what we're currently listening to)," Macalino continues.
The band's affinity for K-pop showed during their finale show. The pre-show playlist included everything from Mayonnaise's discography to back-to-back-to-back BLACKPINK tracks.
Regardless of how their individual and collective music tastes have evolved over the years, Macalino, Regalado, and Tirona maintain that the "Mayonnaise sound" comes from the heart and is continuously shaped by time. Regalado mentions that it's always a balancing act of listening to what types of music are trending, what fans would like, and their integrity as a band. "Eventually as a band, kung two years old or four years old ka pa lang, 'di mo mahahanap [ang sound mo] (if you're only two years old or four years old, you have yet to find your sound). It will find you."
"Never siya naging conscious effort, never [kami] nag-conform," Tirona adds.
(It never became a conscious effort; we never conformed to anything.)
It's this dedication to creating music from the heart that has inspired the band to keep making music and performing over the past two decades, especially now that the band's popularity has resurged exponentially. It came at a point when the band was settling comfortably into their own lives, slightly shying away from the limelight that they've built over the decades. Then, the 2022 national and local elections season came around.
"In the middle of last year, wala namang nangyayari (nothing was really happening)…I just wanted to play," shares Macalino. "So I said, let's play for Leni [Robredo], and then when we were playing for Leni, parang bumalik yung reach namin sa masa (suddenly the masses' love for us came back)…later that year, nagppickup ulit yung mga (we started getting) gigs and shows…and then biglang nag-viral ulit ang 'Jopay' ('Jopay' suddenly went viral)."
Tracking the revival of "Jopay" comes in two parts, both originating from TikTok. The song's first wave can be credited to TikTok user itsgigiboi's "What if bumalik ang greatest 'what if' mo? (What if your greatest 'what if' came back?)" sound, which uses the iconic "Jopay" intro as the background music for his short monologue, following the use of the song in the 2022 film Ngayon Kaya. The original TikTok has over 800,000 views, and thousands of videos reusing the sound.
The second wave comes from TikTok personality Kosang Marlon's off-beat comedic rendition of "Jopay," which has him singing the pre-chorus differently from how it's originally sung, before eventually getting hit by someone off-screen for singing it wrong. The rendition went viral all over the Internet, with the band even inviting Kosang Marlon to sing his "cover" during a gig.
Macalino looks back at that time as a defining moment in their career. It served as their unexpected breath of fresh air, especially after the past three years. Tirona shares that they thought that the pandemic had marked the end of live music as they knew it. However, the unexpectedness of how people rediscovered music is what continues to inspire them to "stay the course," and stay true to themselves, that people will appreciate their music even after 20 years in the industry. "Andito pa rin kami ngayon (We're still here)."
However, there's a sense of bittersweet nostalgia as the band gets ready to perform. They'll be the first to admit the toll that 20 years in the music business does to a musician. "Stubborn kami…kasi kung kami lang, alam namin na dapat tapos na kami," Macalino jokes. "Pero gusto lang namin tumugtog."
(We're stubborn. To be honest, we knew our careers were done. But we just want to keep playing.)
That's why even if they refer to their May 20 show as their "finale," it never really stops. People still book them for tours and for gigs, but in their hearts they "know that this era has to end so that they can start a new one" exploring new projects and endeavors.
Tirona and Regalado add that they've been touring for almost a year now, and this show is both a culmination and a celebration of what has been. That's why they were adamant about keeping all their shows free — to give back to the fans and thank them for staying through all these years, and also for reviving their music.
One thing's for sure though: this is not farewell. 
"The finale is like, 'We've done our part, maghihintay nalang kami na may gumawa para sa amin (we're just waiting for someone else to do their part for us).' We're relaxed now…[Mayonnaise] will always be here, but we're looking to put our inspiration towards our family and personal life."
Macalino opens up about the side of being in a band for 20 years that many don't often see. "We missed a lot of important dates, celebrations, and even deaths…. We've been sacrificing our bodies for the last 20 years. [We call it a] finale because [after this], mamimili na kami ng isasakripisyo namin (we'll be pickier with how we sacrifice our time and energy). Our families are getting older, we're getting older, and we don't want to miss out on more aspects of our lives."
As the band looks forward into the future, there's an overwhelming feeling of contentment with what has been. "I can personally say na naabot [ko na] ang mga pangarap ko (that I've reached all my dreams)," Macalino says, to end. They've trudged through the phases of being called "one-hit wonders" and the times when they've fallen off the radar. But 20 years later, they're performing their songs in front of a jam-packed Quezon City Circle, with fans almost spilling out into the streets.
"Finally, we're happy. It doesn't feel like work…it's our passion." – Rappler.com