The 24-year-old beauty queen wows with a winged costume inspired by the Philippine flag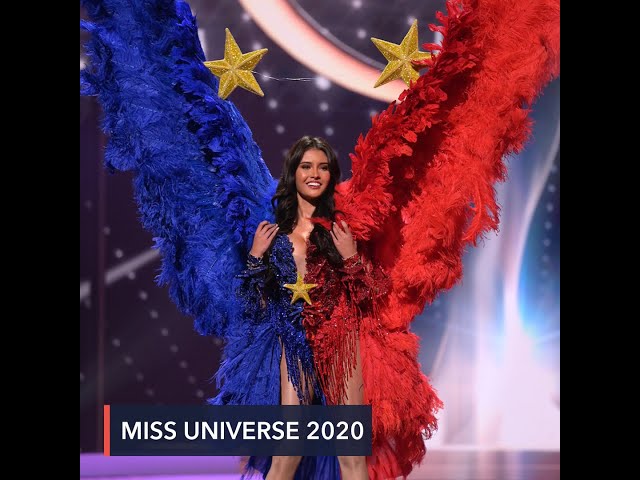 Miss Universe Philippines 2020 Rabiya Mateo wowed the crowd during the national costume segment of the 69th Miss Universe competition on Friday morning, May 14 (Philippine time), in Hollywood City, Florida.
The 24-year-old beauty queen from Iloilo donned a Philippine flag-inspired costume with large angel-like wings at the back. During her stage walk, the commentator described her blue wing as a symbol of royalty and the red symbolizing the "courage and strength of an independent woman."
Her costume also featured three stars that signified the "hope and freedom to choose whoever you want to be." The three stars in the Philippine flag represent the country's main island groups: Luzon, Visayas, and Mindanao.
"I feel like I'm a Victoria's Angel right now," the Miss Universe candidate said backstage.
According to an ABS-CBN report, Mateo's costume, which was also inspired by the Miss Universe logo, was designed by the late Filipino avant garde designer Rocky Gathercole, who died in March 2021. Mateo's accessories were designed by local jeweler Manny Halasan.
Halasan also designed a headdress inspired by the sun in the Philippine flag, but Mateo was not seen wearing it during the national costume segment.
The national costume show was aired for Philippine-based viewers via the Lazada Philippines app, which is where the preliminary competition on Saturday, May 15, will be streamed, too. It will also be available via Miss Universe's official YouTube channel.
The winner of the national costume competition will be announced during the 69th Miss Universe 2020 coronation night on May 17 (May 16 in the USA) at Seminole Hard Rock Hotel & Casino in Florida. Filipino pageant fans can watch the competition live on A2Z channel starting at 8 am. – Rappler.com