This is AI generated summarization, which may have errors. For context, always refer to the full article.
What began as an ordinary local dispute over how to alleviate traffic in Oxford, UK, has become the subject of campaigns that have reached the United States, Canada, and Australia
At some point in 2024, six streets at the entrance to Oxford city center will restrict private car traffic during the central hours of the day. The measure will have a trial period of a few months to promote the use of public transport, cycling, and walking.
Its announcement has led to death threats to local representatives, burning of street poles, and shouting town hall meetings, while fake news about "climate confinement" circulated by anti-vaccinationists, an anti-feminist Canadian psychologist, 1990s British pop idols, and a former Trump adviser and ringleader of the climate change denialist movement.
The debate over "traffic filters" – restrictions on private cars on certain streets at specific times – began as an ordinary public dispute between shopkeepers, councilors, and transport experts over how to ease traffic and limit carbon emissions in a university city of 150,000 people, with almost no pedestrian crossings and narrow streets built before cars existed. But in recent months the tone and scope of the controversy have turned Oxford into an unexpectedly dark battlefront that shows how climate change misinformation travels.
"Hello, guinea pig," reads a leaflet handed out a few days ago through Oxford's letterboxes, with a coat of arms like the city's but with a guinea pig in the center instead of an ox. A three-page text claims that because of a "United Nations" plan in Oxford, it will be very difficult to "visit your mother in residence" or "take your children to a nice park on the other side of the city on a sunny day." "Say goodbye to meals on the go at the pub by the river or to spontaneous surprise visits to a sick friend to walk their dog," says the climate change denial letter, which is signed by a group called Not Our Future.
The leaflets have been distributed by local musicians and reality TV stars Fred and Richard Fairbrass, among others. The denialist group is made up of activists who started out protesting against pandemic health measures, moved on to anti-vaccine messages, and are now focused on what they call "climate lock-in." Some also often repeat the Kremlin's arguments "against Western domination" to justify Russia's invasion of Ukraine. The distribution of the guinea pig shield leaflets was filmed by Rebel News, a Canadian streaming channel that was born in 2015.
The plan
Oxford's traffic filters will mean that – in the middle of the day on key roads into and out of the city center – only a few private cars will be allowed to circulate. The plan is to install cameras that can read number plates, detect if cars without exceptions are breaking the rules, and send them home with a £70 fine (about 80 euros).
The aim is to ease traffic congestion and make it easier for buses and other forms of transport to pass. In London, these restrictions have been tested in 46 zones and more than 400 streets. They have reduced traffic and have not increased congestion in adjacent streets, according to a study, but some restrictions have been lifted because of complaints from neighbors and shops. In Oxford, some shopkeepers complain that fewer customers will come from the suburbs or other locations and that there has not been enough public consultation or reinforcement of services.
It is not yet clear when the scheme will be launched: it was planned for January 2024, but some works on a bridge near the railway station mean it is likely to be postponed. In any case, it is a pilot test for about six months before a more conclusive decision is made.
Across the Atlantic
Jordan Peterson, a Canadian psychologist, professor, and far-right "hero" for his crusades against feminism and vaccines, has called the plan a "fascist madness" that will stop the UK from being "a free country." A few weeks ago, Peterson tweeted on his account of more than 3.7 million followers that the Oxford project was "a well-documented plot" whereby "tyrannical idiot bureaucrats can decide by decree where you are allowed to drive." He described it as a plot by the United Nations and the World Economic Forum.
A few weeks earlier, Steve Milloy, an American lawyer and activist, spread the fake news that in Oxford "residents will be locked into their neighborhoods with no traffic allowed in or out" with a link to an article in the local Oxford Mail newspaper. He used the term "climate lock-in," which he has helped to spread with negative connotations since 2021.
Milloy was part of Donald Trump's transition team in 2016, has served as a commentator against "junk science" on Fox News, and is a board member of the Heartland Institute, a Chicago-based far-right think-tank that worked for the tobacco company Philip Morris to discredit scientific studies on the harm of tobacco, and now questions climate change.
Milloy is influential in a low-key fashion, according to Jennie King, an academic specialized in climate and vaccine disinformation at the Institute for Strategic Dialogue, an anti-polarisation research and activism organization based in London and Berlin.
"His own digital footprint has a fairly low impact – a few 'likes' and little else. But Milloy plays a very important role as a creator of content, which is then picked up by actors who have a much larger audience and the ability to attract a wider public. Milloy and the Heartland Institute originate part of the language that is then used by media outlets and other actors with verified accounts that can go viral.
King is surprised they got as far as the Oxford case. Still, she says these groups are disciplined in their pursuit of topical issues: "They seize the opportunity…. They're always looking for entry points into the news cycle to convey this world view and their position to the widest possible audience."
In the UK, the closest thing to the Heartland Institute is called the Global Warming Policy Foundation, a group founded by Nigel Lawson, a Tory and finance minister under Margaret Thatcher, UK prime minister from 1979-1990, and which lobbies against the climate policy of his own party's government.
"Both organizations play a central role in creating a semblance of credibility for climate denialism," King explains. "They have a very well-developed media network within the UK, in particular, to present these views to a mainstream audience," with outlets such as the Telegraph, the Daily Mail, and the GB News streaming channel. "You don't need to have a critical mass of MPs within the House of Commons who oppose the zero emissions agenda. All you need is a small cohort of actors who are very loquacious and skilled at getting press coverage. They will then dominate the news cycle and create the impression among the public that there is wider support for their position."
Astounding reach
Tim Schwanen, professor and director of Transport Studies in the Faculty of Geography and Environment at Oxford University, has been studying urban transport policy for a decade, so the fact that there is controversy in the city doesn't surprise him because "parking" is "one of the hot potatoes that quickly become explosive at a local level."
"What has surprised me is the wider traction the Oxford case has had beyond the local context with far-right groups," Schwanen tells elDiario.es. "A lot of right-wing movements in the US have been involved, where people are talking and sharing misinformation about what is happening in Oxford."
The professor has attended a couple of briefings organized by the county as an independent expert and has also witnessed shouting among the public, although he says he has not received threats like local officials and representatives, who have reported "more extreme" attacks to the police.
In fact, it all started with an idea from the government of Boris Johnson, the British prime minister who resigned in 2022, where green transition aid was approved at the start of the pandemic. Oxford decided to try limiting traffic on some streets, encouraged by the availability of public money.
Professor Schwanen says that councils across the country rushed to take advantage of the funding available in 2020 and 2021 after a decade of Tory government cuts, and also that this funding was a waiver that has not solved the shortage. "There is hardly any money to do more than the bare minimum in terms of road maintenance and some basic transport interventions", he says.
Traffic is Oxford's most immediate focus. "The road capacity simply cannot cope with the current traffic," explains the professor, who highlights the physical problem beyond pollutant emissions, as the typical family car is 40 centimeters wider than it was back in 1980 for streets that are the same. "Even if all cars became electric overnight and the carbon problems caused by traffic largely disappeared, all the other problems would remain. The city would be just as congested as it is now. Road safety, especially for pedestrians and cyclists, would not improve", says the professor.
But Schwanen also says retailers are correct that the city and county have not made enough of an effort to listen to their complaints or explain the incentives. "If you just reduce car use without providing people with adequate alternatives for travel, you make life more difficult for businesses," he says. He also points out that, from experience in other cities, businesses often overestimate the negative impacts of these measures and then "nine out of 10" are happy with changes that bring more customers when the streets are nicer.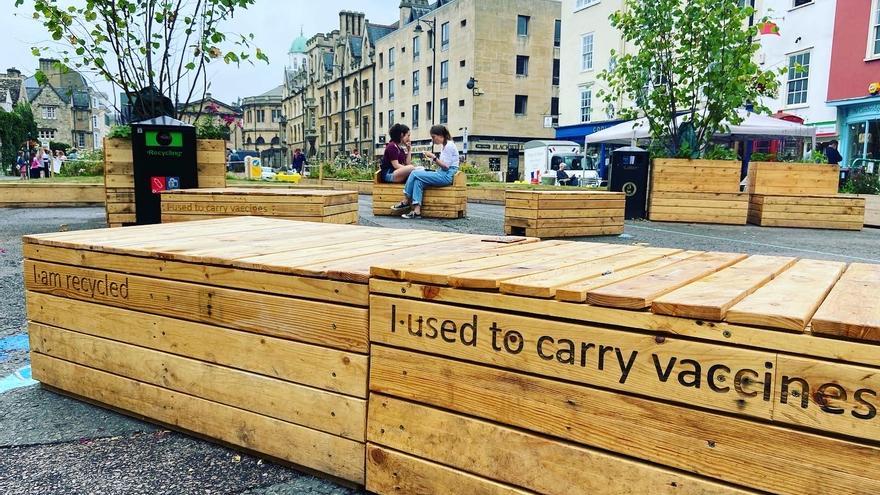 The reasoned complaints from shopkeepers have been mixed with misinformation about climate confinement, coming not only from distant campaigners but also from local deniers, such as Piers Corbyn, a 75-year-old meteorologist, brother of former Labour Party leader Jeremy Corbyn and organizer of protests against the pandemic and vaccine restrictions.
Corbyn's case is no exception, as many anti-vaccine campaigners have now turned to the fight against climate policies. King, the fake news expert, blames the growth of these groups on the pandemic: "It had the effect of boosting an already well-developed disinformation ecosystem. Disinformation thrives in times of public crisis. And the pandemic has had profound collateral effects, not just the economic downturn, but also changes in the workforce, in health, in people's relationships…. It acted as a crucible that caused a series of online harms, such as misinformation and the radicalization of people who believe in conspiracy theories."
The craziest meeting
Piers Corbyn was one of the speakers at the full council meeting that approved the plan in November 2022 after hectic sessions often punctuated by shouts from the attendants and fights for the microphone.
Zuhura Plummer, a graphic designer who lives in Oxford and is now campaigns director for Oxfordshire Liveable Streets, an organization that advocates for public spaces with fewer cars, recalls one such meeting that left her shocked in a city where Greens and Labour win elections by a landslide and there is not a single Conservative councilor.
"I thought I would arrive and find people asking for more traffic limits and more spaces for cyclists. Instead, it was full of people against it," she tells elDiario.es. "It was the craziest public meeting I've ever been to. People were shouting and screaming, taking off their microphones and shouting at the councilors, who had to be escorted out the back". Some of the attendees repeated messages about dystopia, totalitarianism, and globalism found on networks.
"This whole conspiracy theory to me clearly demonstrates that city councils have to change the way they communicate. When there is an emptiness of information, or people hear bits and pieces of things and don't hear it all, or don't understand it, that gives a lot of space for lies and conspiracy to grow. And once those lies and conspiracies are out there, it's very difficult to undo them," says Plummer.
Following the death threats against local representatives, the fake news campaign that has reached as far as Australia and the burning of poles in protest, Oxfordshire County has published a question-and-answer guide and an explanatory video focused on debunking the falsehoods about the "confinement" of Oxford into "six boroughs," which was a description that appeared in The Sunday Times newspaper and became popular because it was reminiscent of the sci-fi saga The Hunger Games. But many feel it has been too little too late.
Shopkeepers complaints
Among the small traders who have voiced their opposition is Fraser Lloyd Jones, owner of Barefoot, a cake shop with wooden seats, vases of tulips, and hand-written messages encouraging people to drink water on the walls.
"The filters will create chaos in the ring road and outlying areas, so the city center will become a 'no-go' zone. Many of our customers live in Oxford, but use the car to pick up cakes," Jones tells elDiario.es. One of his two cake shops is on a pedestrianized street since 2021, but he says that in this case it has had no discouraging effect on visitors because it is not an essential thoroughfare and there are places nearby to park and pick up cakes. Jones stresses that he is in favor of measures to promote cycling and public transport, and suggests making parking cheaper for drivers to leave their cars before entering the center.
"Bike, bus, and pedestrian routes have to be in place before any restrictions are implemented. Simply closing roads doesn't work," says Jones. He also says he is wary of "militant avenues," such as guinea pig leaflets, and prefers "intelligent arguments."
Burning poles
There are no physical barriers in the Oxford plan, but, since one of the fake news stories says there will be, one of the ways of protesting has focused on burning street poles or stealing them.
The burning of poles has occurred in Cowley Road, a neighborhood heavily populated by student flats, a destination for immigrants in the last century, and home to Oxford's largest mosque, which has complained that it has not been sufficiently consulted about plans that may affect its visitors.
Incidents in the streets with traffic restrictions are recurring. Recently, a group of mothers reported the theft of a plastic pole by a man in a van as students were leaving school.
Just at the beginning of Cowley, there is a giant banner on the building of the CoCo restaurant, which has a terrace on a pedestrian street and whose owner is protesting against the future restrictions, which he calls "the last nail in the coffin" of the neighborhood. Clinton Pugh, who owns three restaurants on the street, says his business is in crisis, and he has had to ask his daughter, actress Florence Pugh (star of Little Women), for money. According to him, fewer customers will come if there are limits on cars.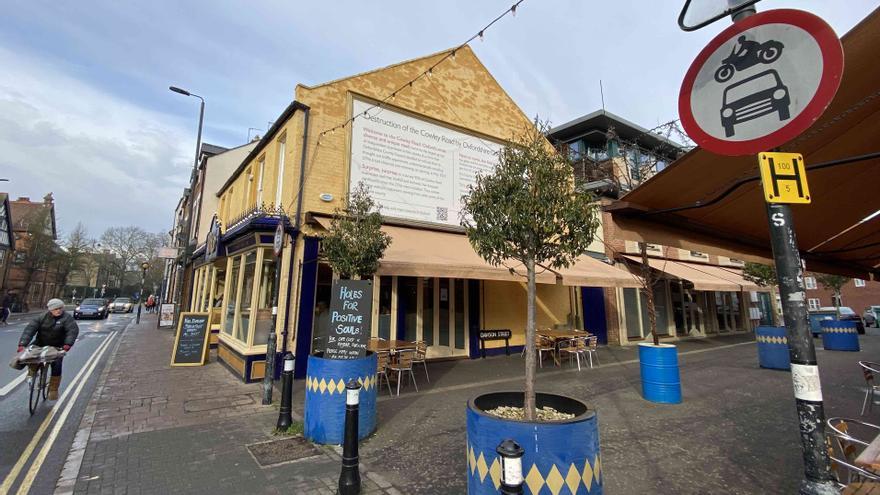 Two of the city's major employers, Oxford University and the Oxford Bus Company, have supported the plan. But some prominent businessmen are campaigning against it.
Jeremy Mogford, owner of two five-star hotels and three restaurants, is raising money to go to court. The bill at one of his restaurants comes with a poster inviting donations to the cause against traffic restrictions, which Mogford has likened to the Berlin Wall.
In a statement in November, he said he supports emission reduction measures and public transport, but asks for more time and help. He complains, for example, that tourists staying at his hotel in central Oxford and arriving by car from Heathrow Airport (the main London Airport, which is an hour and a half away by road and connected to the city by train and bus) will have to take an alternative route which he says will add traffic to another already congested street. Mogford did not respond to the questions from elDiario.es.
Zuhura Plummer, the Oxfordshire Livable Streets campaigner, says Mogford is quieter since the leafleting and transnational campaigning by far-right and anti-vaccine groups. "I think he doesn't want to be associated with these sorts of people. There may also be an element of class…. It's a problem for a well-established business," he says.
One of the effects of the more aggressive campaign is that neighbors who didn't have an opinion on the issue or Labour politicians who advocated the use of the car have moved to support the restrictions because they don't want to be associated with the more extreme. "It's become an identity thing. Like, 'If all these horrible people are against traffic filters, then I'm for it,'" says Plummer.
In the meantime, he says his organization has received more money from big donors as well: "They've realized what's in all this climate change denial, and they've seen Oxford as a place on the front line."
María Ramírez is deputy editor of elDiario.es and an international correspondent based in the UK. A co-founder of El Español and Politibot, she has collaborated with the Washington Post, Nieman Reports, and the Atlantic.
This story was originally published on elDiario.es and is republished within the Human Journalism Network program with support from the International Center for Journalists.