From reusable coffee cups to low carbon footprint cuisine, environmentally-friendly innovations are test-driven at the UN climate summit
The annual United Nations climate change conferences have typically become showcases of earth-friendly products and innovations.
COP26 (26th Conference of Parties) in Glasgow, United Kingdom is no different.
Here at the Scottish Events Campus, UN summit participants use recycled coffee cups and sit in recycled IKEA chairs. The whole conference is paperless. To find out the schedule of meetings, side events, and press conferences, you consult the United Nations Framework Convention on Climate Change app.
That app also stores all documents produced by the climate negotiations, accessible to anyone without wasting paper.
It's a no-brainer for a summit about climate change, the biggest environmental crisis facing the planet, to try to be eco-friendly.
But when you think of the 40,000 people registered for the two-week event – which includes government delegations, experts, civil society organizations, and journalists – it's not only logical, but an absolute necessity to be sustainable.
Here are 5 planet-friendly things you'll find at COP26:
1) Recycled coffee cups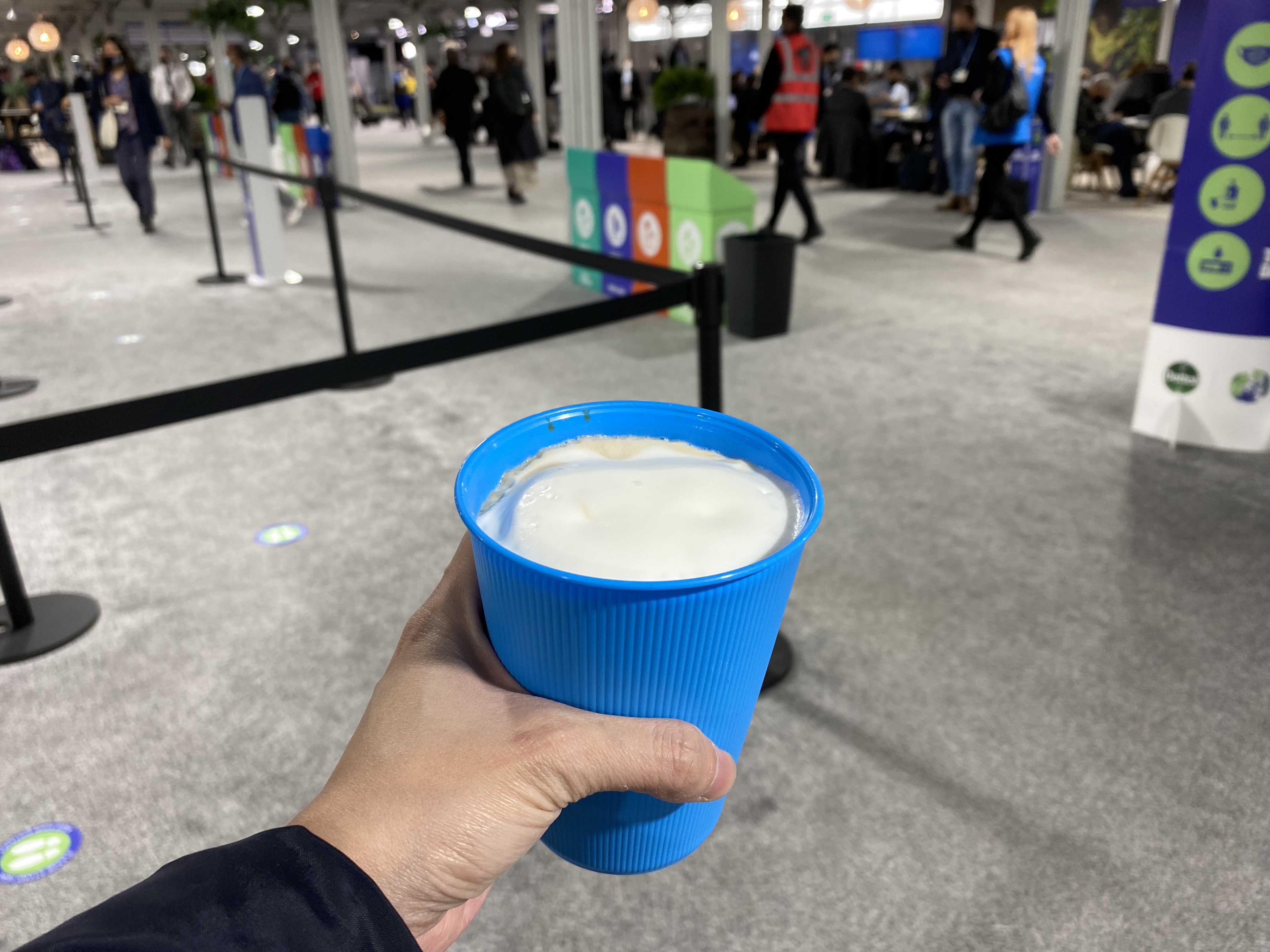 You'll find these light blue plastic cups everywhere at the summit – on work desks at the Media Center, in the hands of a sleep-deprived negotiator, under the tripod of a cameraman waiting for an interview to start.
These are the only cups used by the many grab-and-go cafes and food stops scattered around the COP venue. When done with the coffee, participants are supposed to deposit the cups in drop points so that they can be washed and reused again and again throughout the summit.
Called CORRETTO cups, these cups are themselves designed with a low carbon footprint in mind. According to the British Plastics Federation, the cups are also more recyclable than typical paper coffee cups because they don't use the wax or plastic lining most paper cups need to hold hot liquids. Plus, the type of polypropylene material used by the cup protects the hand holding the cup from heat without the usual cardboard sleeve.
2) Carbon footprint-concerned menus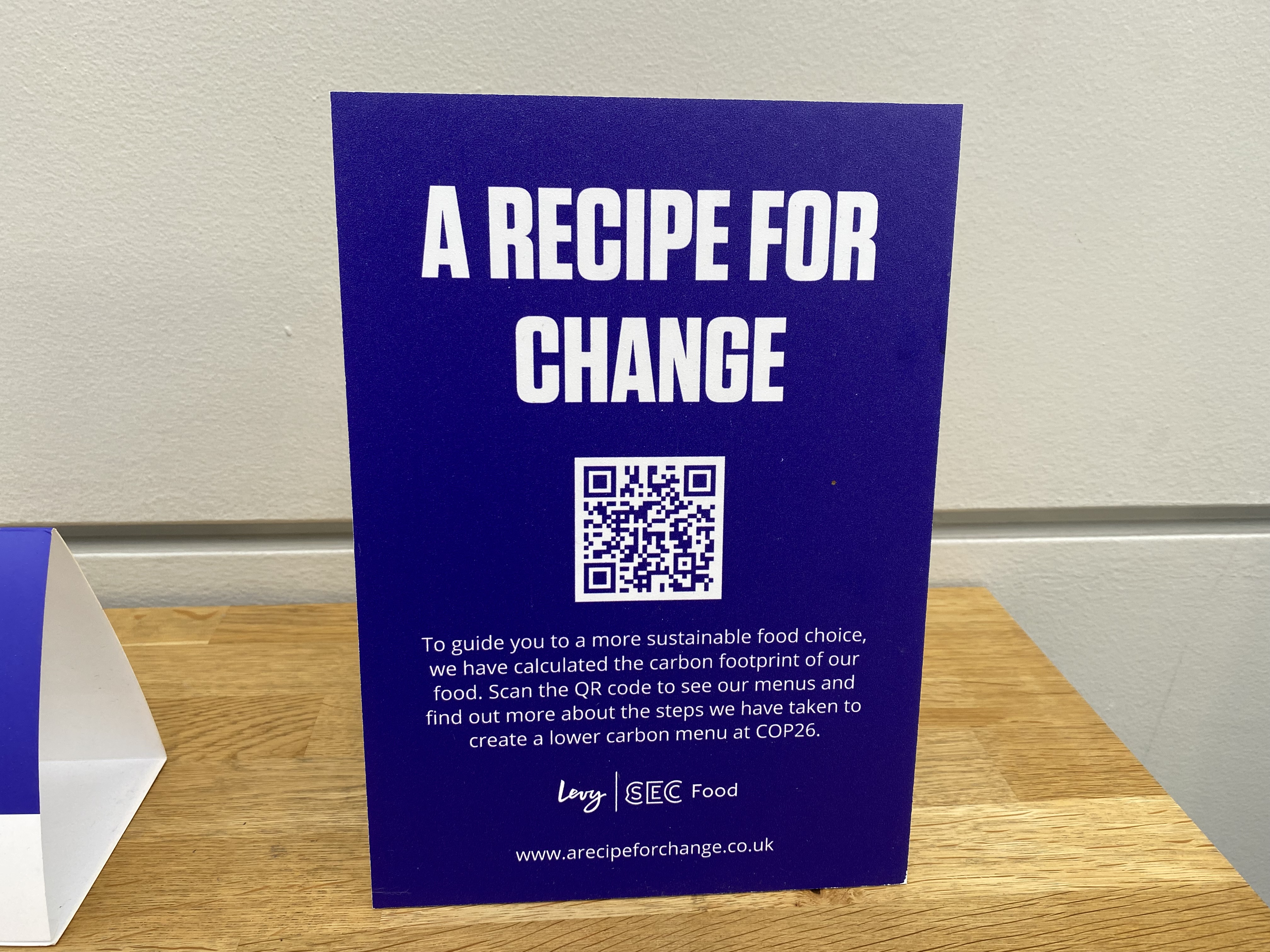 The menu of food served at COP26 wants you to know the carbon footprint of what you eat. The dishes are labeled "low," "medium," and "high" to enable attendees to choose food with the lowest carbon footprint.
Levy, the food provider at COP26, also assures participants that it's using locally-sourced and in-season produce and increased its proportion of plant-based dishes served at the summit.
3) IKEA chairs assured of a 'second life'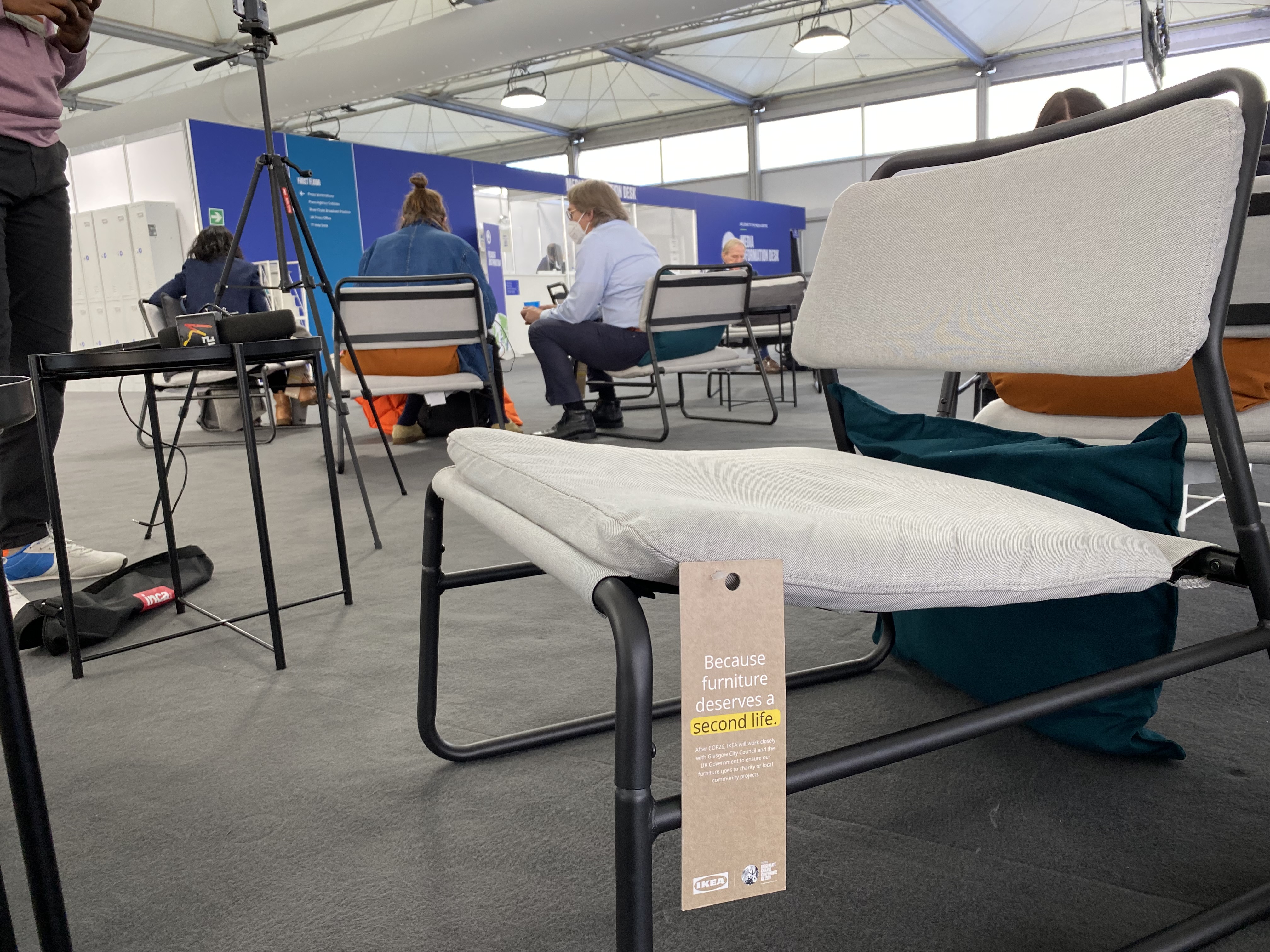 The stylish IKEA chairs free for attendees to use will not go to waste when the summit concludes. Each one comes with a label declaring that IKEA will work with the Glasgow City Council and United Kingdom government to find a new home for the chairs, whether to a charity or local community project.
4) 'Net zero' ambulances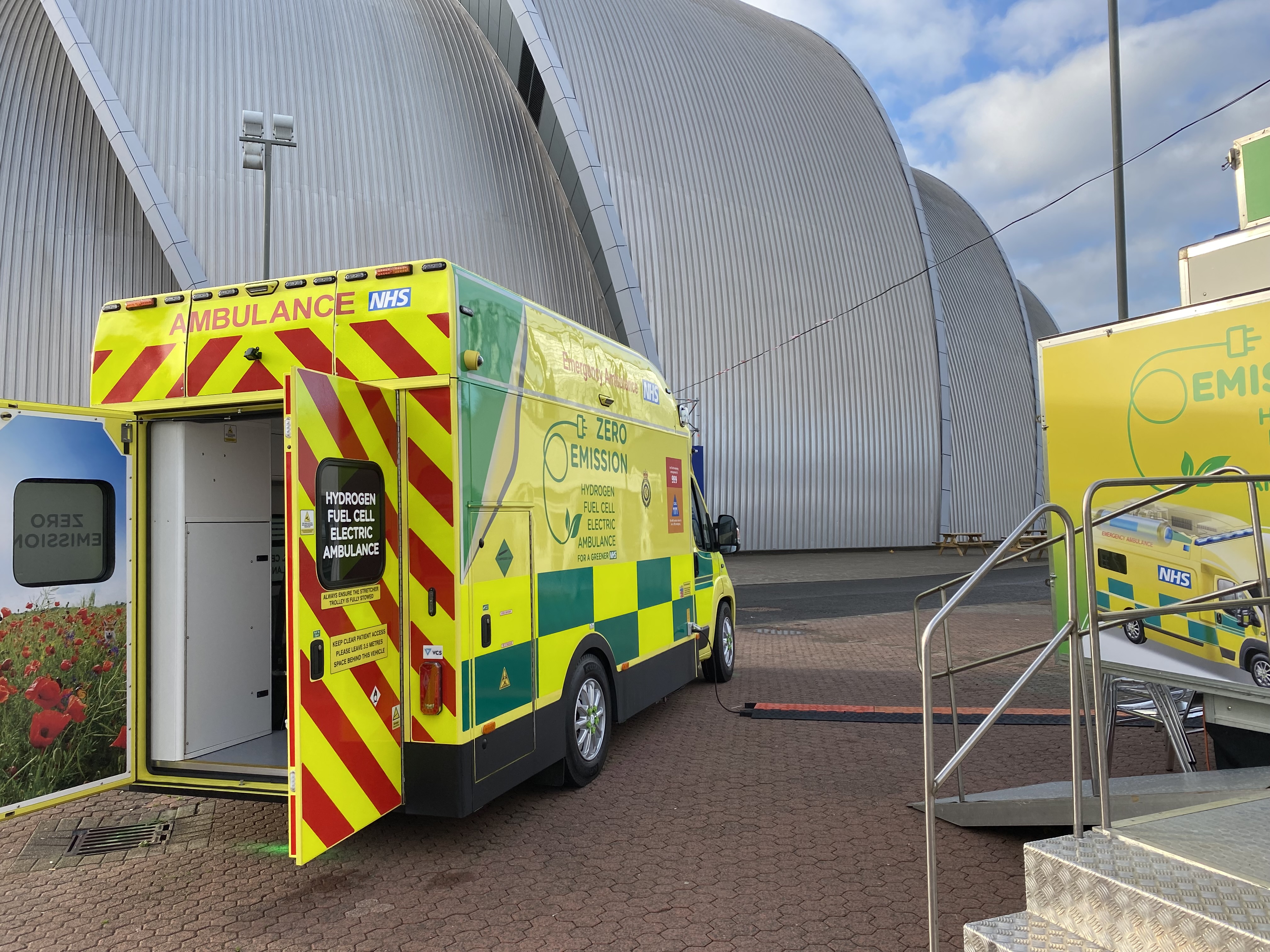 On standby at the COP venue is a prototype hydrogen electric ambulance, an ambulance designed not to produce any planet-warming emissions,
This green National Health Service ambulance is part of the NHS's goal to reach net zero emissions by 2040 for emissions it controls.
5) Carboard trashbins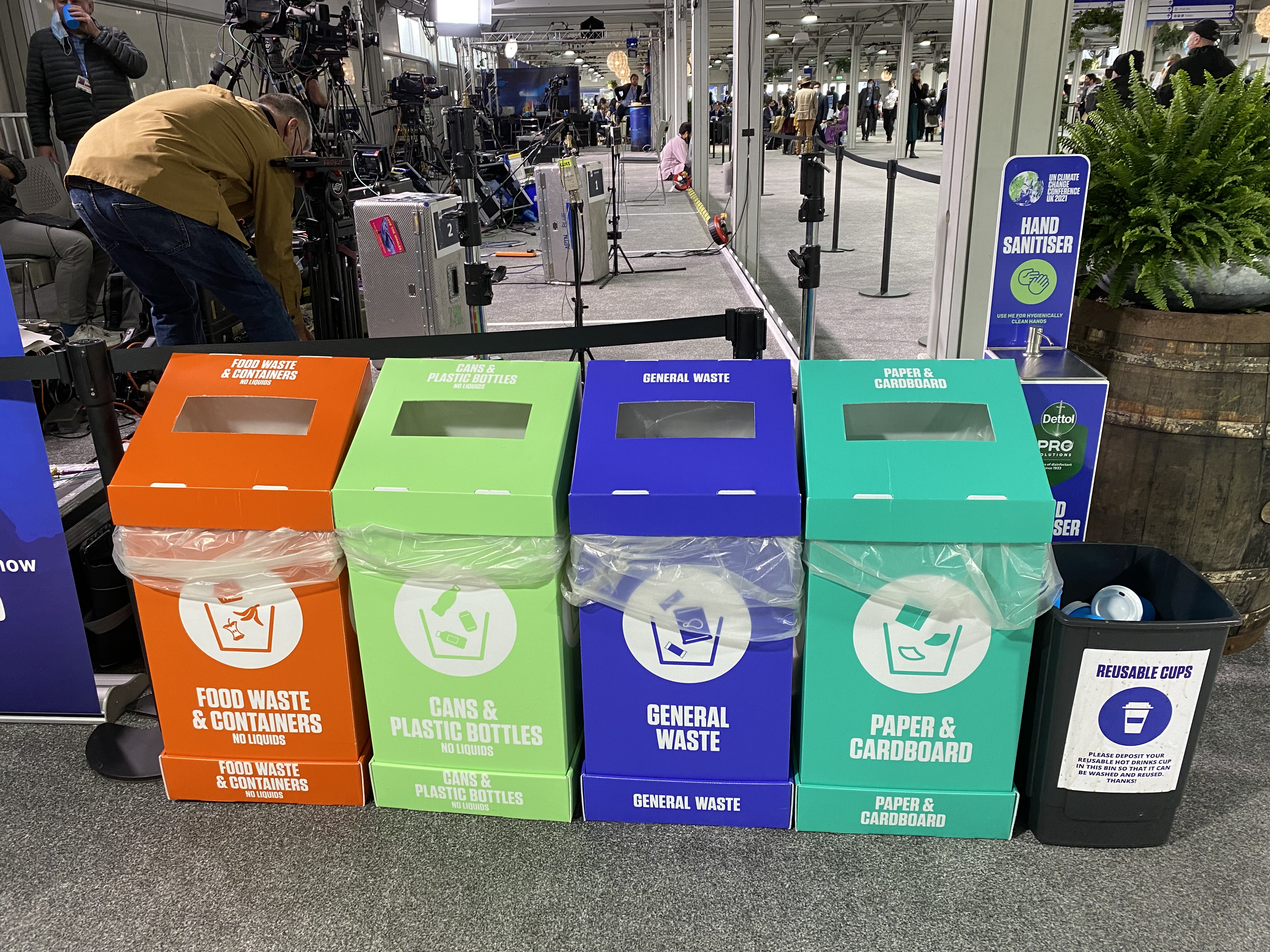 Colorful trashbins made of cardboard can be found all over the COP26 venue. Of course, they allow attendees to segregate. The bins for the reusable coffee cups are nearby. So is a hand sanitizer station.
– Rappler.com
This story was produced as part of the 2021 Climate Change Media Partnership, a journalism fellowship organized by Internews' Earth Journalism Network and the Stanley Center for Peace and Security.
Rappler is doing live updates and reporting on COP26 in Glasgow. Check this page for our coverage.