Sitio Mahaba is proof that women fishers have been doing invaluable labor in coastal areas in the country
For the past 40 years, Gemma Gades has worn many hats.
While she's been a teacher and a barangay health worker, her most prominent role to date is, in her words, the "engineering of fishing grounds." She's alluding to a college degree she wasn't able to finish due to health and financial hurdles in the late 1970s.
Gades traces her roots as a proud fisherwoman and fisherfolk leader to her coastal and organizing work. Her marine protection efforts started in Sitio Mahaba, a humble, multi-ecosystem islet within the municipality of Hinatuan in Surigao del Sur.
Due to Sitio Mahaba's rich biodiversity, the multigenerational local fishing community boasts of different resources, from niyog (coconut), alimango (crabs), samaral, to danggit (rabbitfish), among other types of fish. These resources entranced Gades to live there permanently in 1980, following her family who first migrated there to fish.
Soon, however, overfishing threatened the abundance of fish in the area. This led Gades and some Sitio Mahaba residents to work with the community and other organizations in implementing resource management efforts – work that started in the 1990s and has continued until today.
The most novel of these endeavors is the Women-Managed Area (WMA) for shellfish, which has translated into an increase in income and sustainable livelihood for Sitio Mahaba fisherfolk and nearby communities and a heightened awareness of the value of biodiversity protection.
Sitio Mahaba is proof that women fishers like Gades have been doing invaluable labor in coastal areas in the country long before they were formally recognized in the national fisheries policy.
Their invisible efforts have fed their families and many local communities and grown marine resources. Yet, all the while, livelihood and social support for women fishers have remained limited.
Still, women fishers and organizers have sought ways to reclaim their space in Philippine fisheries labor and marine conservation efforts – a traditionally male-dominated arena – by using a women-centered resource management tool like the WMA.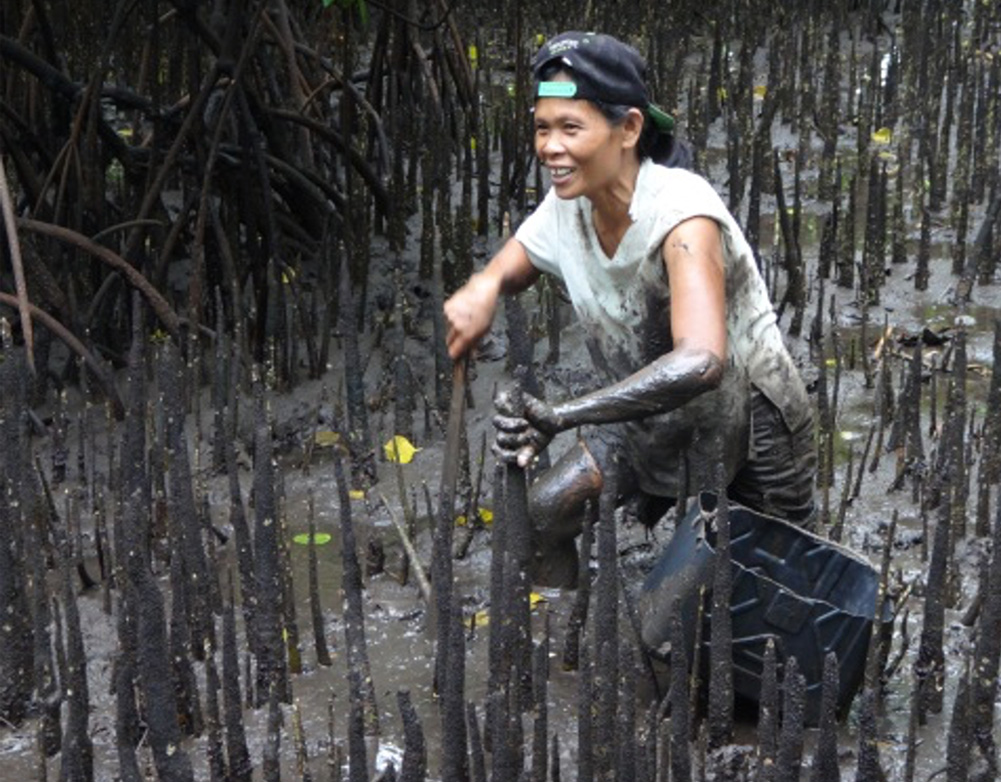 Women-managed areas
Even before the developmental organization Center for Empowerment and Resource Development (CERD) entered Sitio Mahaba in 1996, women in the community were already organized through the Mahaba Women's Organization.
Gades, a former president of the group, said they would actively participate in conversations with the local government and in efforts that addressed women's issues, such as reproductive health and childcare.
"Nakita namin na kami na mga babae, kung hindi rin kami kikilos, pabayaan lang namin 'yung mga asawa namin [mangisda lang nang mangisda]…walang magagawa 'yung resources. Talagang mauubos 'yun," she said, recalling the consultation dialogue with CERD that prompted the years of partnership there.
(We saw that if we, the women, didn't act on managing the coastal resources and just let our husbands fish nonstop, these resources would soon be depleted.)
The partnership's beginnings led to the creation in 1998 of the all-women fishers group Ladies United Movement Onwards to Development, presently known as Ladies in Unity with Men Onward to Development (LUMOT Dev't).
At the time, they established a fish sanctuary and reforested mangroves – areas critical for seafood and fish nurseries, the income and livelihood of the fisherfolk, and the food of the families on the island.
Former CERD executive director Jovelyn Cleofe, who started organizing women fishers in 1991, said studies had shown that women in coastal communities had been engaged mostly in gleaning or collecting shells in nearshore or mangrove areas.
"Hindi pa siya…popular na [kaisipan na] 'yung kababaihan ay mangingisda…. [Ang] mga kababaihan [ay] tindera – tindera ng isda, involved sila sa fish drying. Pero sabihin mong mangingisda, lalaki lang 'yun," Cleofe recounted.
(Back then, the notion of women as fishers wasn't popular. Women were seen as fish vendors or involved in fish drying. But when you say "fisher," that used to pertain only to men.)
Despite the contributions of women fishers and the national policies that officially recognized them (such as the 1998 Philippine Fisheries Code and 2009 Magna Carta for Women), coastal and marine resources are still perceived to be mostly used and benefited from by men.
Throughout the years, management tools weren't developed to address growing gender needs in fisheries. Cleofe said, in marine protected area work, women, while usually included, could not fully decide on matters and resources that affected them, especially if they were unorganized and had no space and capacity to assert themselves.
All these paved the way for the ideation of the women's coastal zone (WCZ), described in CERD's historical documents as "the area or areas within the coastal zone (seaward and inland) where women derive subsistence and other livelihoods, and which also serve other purposes, thereby bestowing upon women the equal right over the resources."
The WCZ aims to recognize women's roles in fisheries production and reproduction, and advance policies, programs, and institutional reforms that will empower women in decision-making and the management of resources.
According to Cleofe, labeling an area as a WCZ means claiming that women are part of and work in coastal areas, a notion that is less known and often neglected due to traditional views on fishing as only the harvesting of catch and as a labor by men.
To make this concept a reality, the WMA resource management tool was developed in the early 2000s. This mechanism envisions women having the deciding power over the management, allocation, and use of coastal resources that affect their everyday lives. Through the use of the WMA, women are recognized as co-equals, get support, and reap the benefits in fisheries work.
The Philippine government has yet to recognize the WCZ idea and the WMA tool, but its use has been continuously promoted in nongovernmental organization circles and coastal communities. This resulted in the establishment of at least nine WMAs in different parts of the country, with women mostly managing mangrove areas, according to Cleofe.
One of the pilot WMAs was established in Sitio Mahaba in 2007, when the community wanted to experiment with the resource management tool for its shellfish resource, renowned as a main part of the world's aquatic food supply.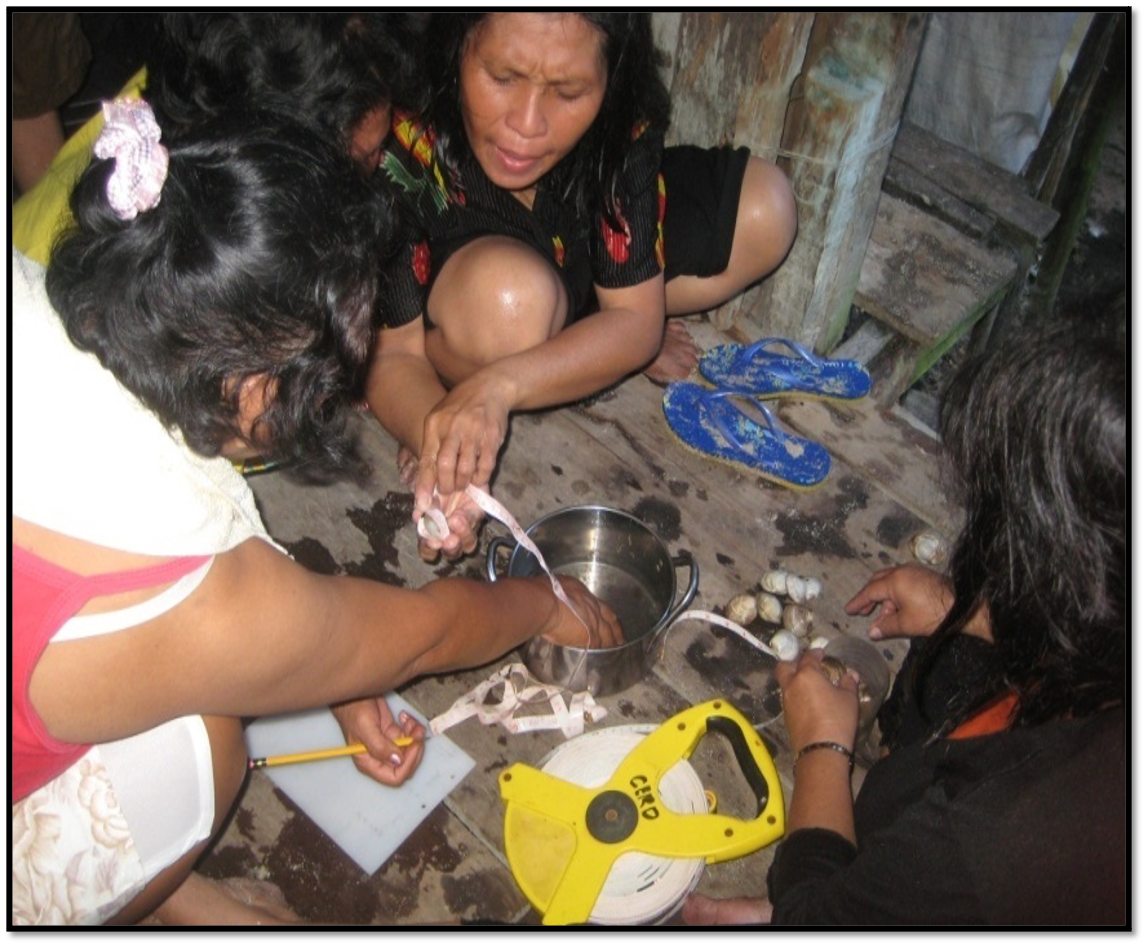 Women's worth
Sitio Mahaba, home to 296 people with a relatively equal ratio of males to females, boasts of a rich biodiversity that includes mangrove trees, seagrass beds, and coral reefs, according to Gades and Cleofe.
Across the mangrove area is a fish sanctuary managed by LUMOT Dev't. This group, which originally consisted of 35 women fishers, became a mixed organization after the men asked to be included.
Gades explained that this unique dynamic in their community was shaped by the women's continuous participation in various training and meetings, as they were the ones usually left at home while their husbands were out fishing.
The women eventually engaged their husbands and encouraged them to participate despite their initial hesitation. The fishermen were convinced of the women's efforts after they witnessed how effective fish sanctuary management resulted in an abundance of fish and an increase in income.
This led to several more resource management endeavors in Sitio Mahaba, including the WMA for shellfish. Among the protected resources is the liboo, one of the most popular shellfish species in the area that the island and surrounding communities rely on for subsistence and livelihood.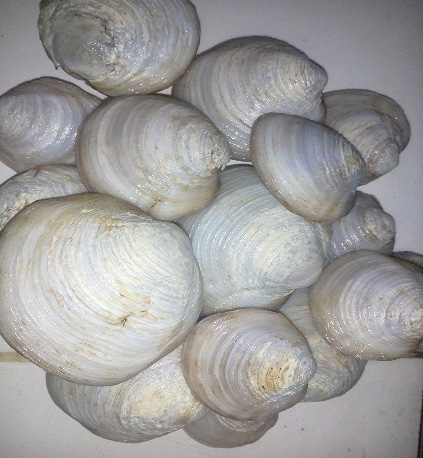 While managing this WMA, the women of Sitio Mahaba determined and crafted their own policies, even lobbying for a barangay ordinance that was passed in 2008. Since then, the area has observed seasonal closures and selective harvesting of shellfish species to allow them to grow. It also prohibited the cutting of mangroves.
​​Gades recalled that this management effort – which now affects an average of 117 households – was met with much resistance in its early years in the form of smear campaigns and even an altercation with a barangay official because people didn't understand its purpose and practices, and the community doubted CERD. It also took a long time before they could work with the local government to approve the proposed policies.
"Hindi na namin pinakinggan 'yung mga taong ayaw doon [sa efforts], ayaw sa amin. Pinabayaan namin. Kami, tuloy lang kami kung ano ginagawa namin," Gades said, adding that they still gave out educational materials and public talks, which eventually appealed to their critics.
(We didn't listen to our critics. We just let them be and continued with our efforts.)
Partnership
For Gades, the WMA experience shows that fisheries work should be a partnership between men and women, especially with the many financial costs within households. Women's gleaning work, she said, is an additional source of income that complements the fishermen's labor.
After more than two decades of doing this work, Gades said what's most rewarding is seeing an increase in people's income, the growth and protection of Sitio Mahaba's mangroves, and a community that realizes the value of managing resources.
Before the WMA was established, the fisherfolk there could catch only two to three kilos of shellfish during a seven-hour low tide. As the area became more managed, their catch increased to four to five kilos in a shorter period.
CERD's report in recent years recorded that the women's income from gleaning increased from P80 to P250 for two hours worth of work – a success story that helped convince people of the value of the WMA.
In addition, CERD and LUMOT Dev't's monitoring documents showed that the diversity of shellfish species within and outside the WMA increased from approximately 7 species in 2010 to 18 species in 2017.
"Talagang hindi kami huminto sa pakikibaka doon sa management sa dagat, kasi doon kami kumuha ng livelihood namin. Mangingisda kami talaga, so hindi namin gusto na hindi mag-prosper 'yung kinikilusan namin," she said.
(We never stopped rallying for the management of marine resources because that's where our livelihood depends on. Ultimately, as fisherfolk, we want our environment to prosper.)
Equal recognition
Both Gades and Cleofe noted that most of the time, women's contributions to the community, particularly to fisheries and marine conservation, are "invisible."
"Women do so much work in fisheries and resource management, but if you look at the benefits for them, it's so hard to get because they're always seen as a sidekick. Women are always seen in a supportive role, especially for household-based fishing activities," Cleofe, who now works at NGOs for Fisheries Reform, said in a mix of English and Filipino.
She surmised that there's still much work to be done in valuing women's labor in this field, given the lack of gendered data gathering, records, and sustainable interventions on the ground. This is most critical for a maritime country with more than 7,000 islands and around 800 of over 1,400 municipalities situated on the coasts.
Sitio Mahaba's WMA for shellfish is only one of the growing number of WMAs across the country, proving women's skills and stake in marine conservation, Cleofe said.
She noted, however, that equal recognition of men and women in fisheries work and increased support for women to organize and build their capacities – especially at the local level – are still needed.
Cleofe said addressing these needs could help legitimize women fishers' access to development programs and empower them to claim and lobby for government support as economic contributors.
This is why Gades, who is also the current chairwoman of the Nagkahiusang Mangingisda sa Hinatuan, stressed that it is important for women to speak out and take space in the sector.
"Sa intindi namin ay hindi nabubuhay 'yung mga lalaki 'pag walang babae, 'di ba?" she said. (As we understand it, men cannot live without women, right?) – Rappler.com