Pockets of communities are rising to the challenge posed by the global plastic crisis and aggravated by the pandemic – one household at a time
Much has been said about the global consequences of plastic pollution affecting marine species, the quality of oceans, livelihood, and tourism. But what does the problem look like in communities inundated by plastic waste?
Half of the world's population live in cities. In the Philippines alone, around 12 million people are living in Metro Manila, the country's capital.
Because cities house bigger populations, they are also responsible for 50% of the global waste. But in the Philippines, waste is generally not properly sorted, collected, and treated by local governments due to lack of working facilities, financial constraints, and the perfunctory compliance to the solid waste management law.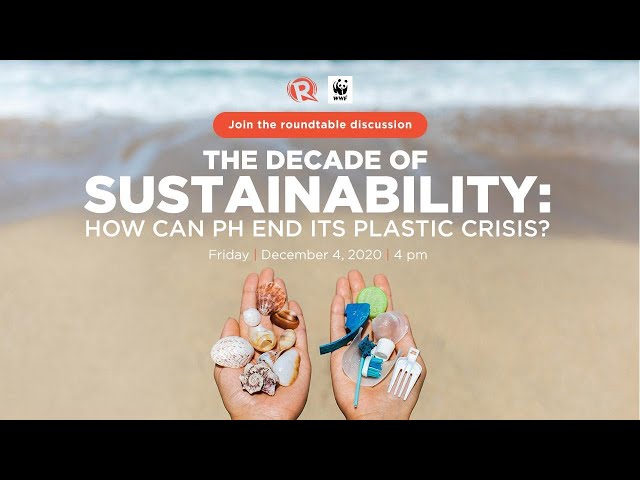 For UP Institute of Civil Engineering director Tonette Tanchuling, changing the game in community waste management would entail more than just good infrastructure and having clean streets and rivers. There should be a grassroots movement that adapts beyond mere compliance with the law, especially now with the pandemic influencing Filipinos' consumption habits.
"There should be a strong community organization. It shouldn't be merely awareness raising na binababa lang sa'yo 'yung information. Maganda na kayu-kayo 'yung nagplano, you come up with this campaign. They own the campaign, kumbaga," she said.
(There should be a strong community organization. It shouldn't be merely awareness raising, where information and campaigns are merely cascaded to residents. The locals should be part of the planning. They should come up with their own campaigns. They should own the campaign.)
Tanchuling currently teaches environmental engineering and solid waste management courses at the graduate level.
Today, Tanchuling and her colleagues are working on several waste-related projects in coordination with different barangays, cities, and the national government, through the Department of Science and Technology. Their work focuses on microplastics and the "entire story of waste," with the aim of bringing this knowledge to communities such as the barangays within the Manila Bay watershed.
Effective waste collection
Cities are built for convenient living, defined by their proximity and accessibility to instant goods and services. But with the development of cities and towns, in the name of convenience, comes huge amounts of waste – a by-product of mass production. And where does all the waste go?
People's lack of awareness of where their waste goes is one problem, but it's the ineffective and nontransparent collection system that's also largely at fault. It's no secret that if you don't know where your city's waste is going, it's probably being washed up in our oceans, with the rest of the world's garbage.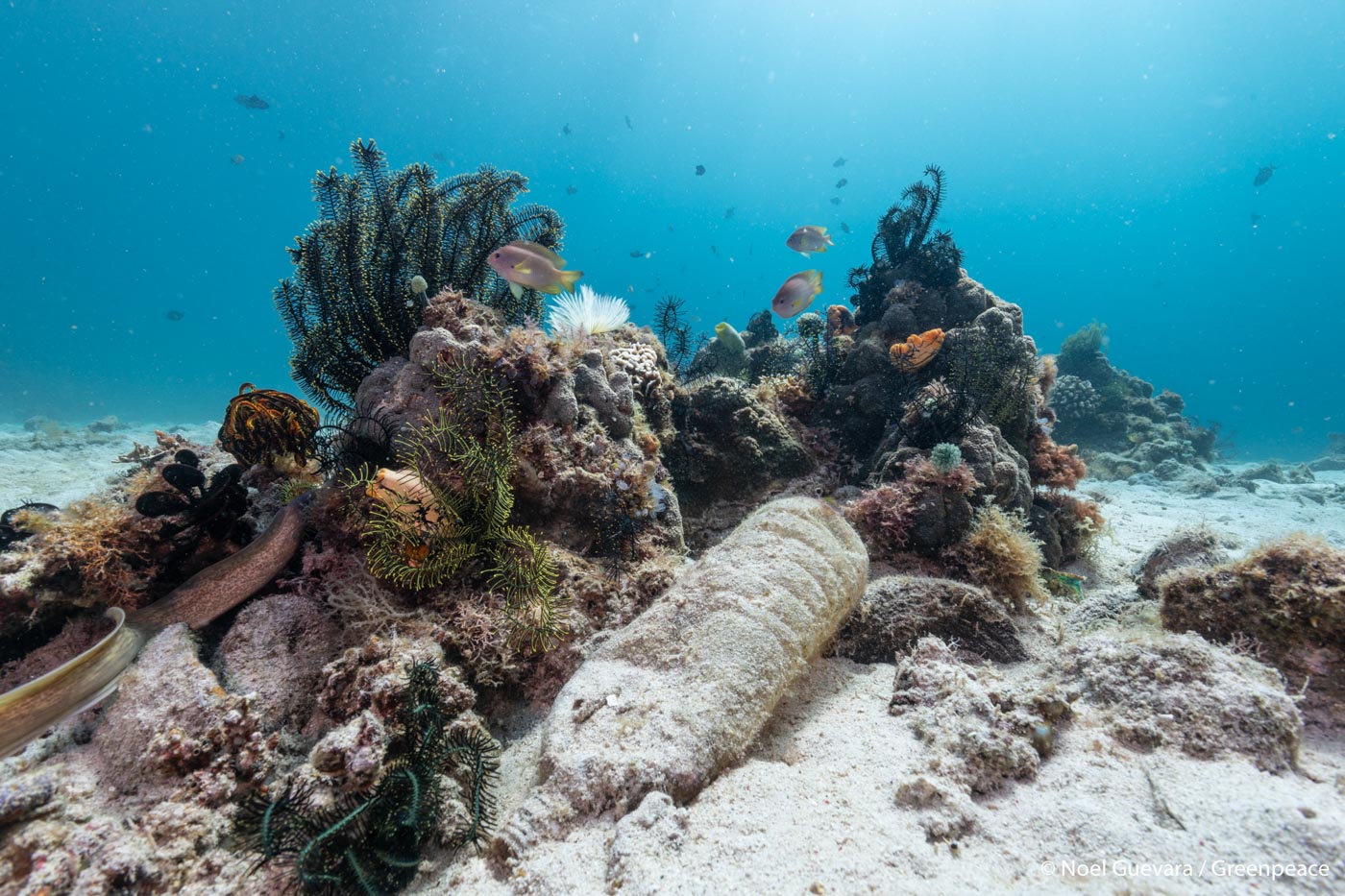 A community's implementation of its local waste management system should start with effective waste collection. With effective waste collection in communities, half the battle is already won.
The first step in waste management is usually waste segregation and collection, where trash is collected from the household level and transported to the materials recovery facility or other treatment sites serving the barangay.
According to a 2020 study of the World Wide Fund for Nature (WWF) Philippines, at the national level, only 40% of packaging waste in the Philippines is collected, and only 9% of the plastic waste is recycled. WWF found that most local government units have not yet institutionalized recycling practices at the ground level.
One of the main issues with waste collection is that it's using the old, linear model which operates with a "we dump-they collect" mentality. It removes any semblance of responsibility from households who consume and leave the "dumping" to local collectors.
In a circular economy, products are reused when possible before being recycled or composted. Reusing products is an indispensable step to counter the harmful dump-collect behavior.
Composting, segregation
Still, a simple practice and technology that communities can adopt is composting.
"We want to contain it to the community. You have a collection within the community…and utilize waste utilization technology like composting," Tanchuling explained.
Composting is the degradation of organic waste which can be practiced in households by storing vegetable and fruit peelings in the soil to improve its quality for gardening. When done at a community level, composting is an example of circular economy principles in action, where trash is repurposed and does not leak into the environment.
According to WWF's No Plastics in Nature initiative national lead Czarina Constantino, a perfect example of a circular product with compostable packaging is the Filipino delicacy suman. This famous kakanin is usually wrapped in coconut or banana leaves.
Once consumed, the packaging can be composted in one's backyard, and nothing is disposed of in the environment. This simple example of sustainable packaging is something that even companies with the latest technology still lack.
The Philippines' Department of Environment and Natural Resources encourages composting, as well as segregating at source, which the department described in their field book on community-based ecological solid waste management as "the secret to solid waste management."
The department emphasized that this act of participation is a crucial component in the overall implementation of waste management in the country.
"When practiced in every household and establishment, segregating at source will simplify the barangay's work in managing waste, and lead to substantial cost savings," the field book reads.
But why don't people do this?
"Why don't households segregate? They noticed 'pag kinuha ng basurero, pinagsasama-sama din lang lahat (They noticed that when garbage collectors collect, waste still does not end up segregated). It's really not the households that are responsible for this, but the enforcement," Tanchuling said.
It boils down to transparency and awareness. Tanchuling is confident that if people are made aware of the processes of their local waste management, they are bound to segregate their waste at the household level, and collection will improve tremendously.
"When people are informed, hopefully they will act on it and demand more from their leaders," she said.
Communities at work
According to UP Los Baños professor Agnes Rola, beyond engaging individual households, an active community-based waste management must be initiated by entrepreneurs, schools, and the local government.
This is something a favorite tourist destination in Sorsogon is already practicing.
A haven for free divers and tourists, the municipality of Donsol boasts of incomparable marine biodiversity. Its waters are home to the world's largest fish. It is also where spectators can spot the swelling of water when the whale shark nears the surface, exposing its iconic spotted pattern.
Since 1998, WWF Philippines has been working in the town to improve its marine conservation efforts. But the town is starting to shift its focus to a problem littering their shores: plastic packaging. Since 2019, Donsol has become more active in coming up with initiatives to raise awareness about proper waste disposal.
Because it is a tourist site, Donsol generates more waste and plastic during peak season from February to June, when whale sharks migrate and pass by the area. Their plastic reduction efforts are largely done to conserve the quality of the whale sharks' habitats.
"Ang Donsol mataas na ang awareness nila sa marine conservation. Ngayon naman it-try namin na itaas [ang awareness nila] sa waste management," said WWF Philippines' Donsol project manager Manuel Narvadez.
(Donsol already has great awareness of marine conversation. Now we're trying to raise their awareness of waste management.)
Currently, only 20 barangays in Donsol are being serviced by the municipal garbage collection trucks. The trucks cannot access the remaining 31 barangays due to narrow, uphill roads and rough terrain.
Since 2019, Narvadez said their group has been coordinating with the local government to conduct training and house-to-house orientations on waste segregation and composting to make Donsol a plastic pollution-free coastal town. If not for the pandemic, they would have already made good progress on the training, Narvadez told Rappler.
One of their main partnership projects is tying up with a women's enterprise, the Kalipunan ng Liping Pilipina or KALIPI. The group recently launched souvenir items made from recycled materials, such as whale shark plushies made from spandex fabric and recycled plastic labo (thin packaging films).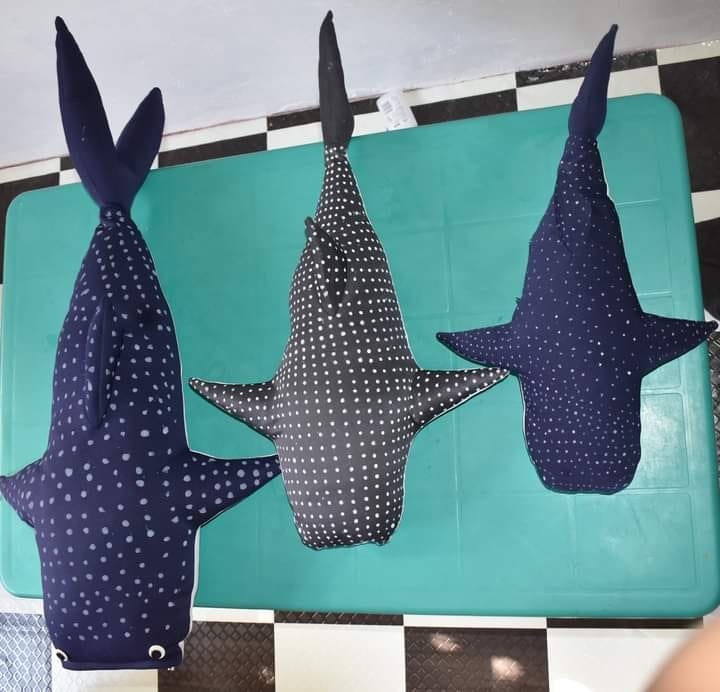 The plushies cost around P200 to P450, depending on the size. The women workers split the profit among themselves to augment their household budget.
The organization is in talks with resorts and souvenir shops to distribute the plushies. Their other products include turtle and stingray plushies, key chains, weaved bags, and reused fabrics-turned-pot holders.
The town is also looking to implement a ban on single-use plastics in establishments, according to Narvadez.
But what happens when these initiatives are supported by local authorities at a policy level? In San Fernando City, Pampanga, local officials were able to cut down the capital's annual residual waste from 255,000 tons to 60,000 tons in 2019.
San Fernando City is the center of commerce and activity in the province, with over 8,000 business establishments, 120 academic institutions, and at least 70 healthcare facilities.
To increase waste collection, the city employed informal waste pickers and distributed pushcarts and tri-bikes to barangays. Waste pickers are workers who collect trash in dumpsites and neighborhoods using carts or other small modes of transport.
In San Fernando, these workers receive a regular salary and are officially integrated in the city's waste management program. Conventionally, waste pickers are often neglected in communities even if they have the capacity to augment the gaps in waste collection.
Environmental group Mother Earth Foundation (MEF) assisted the city to improve its waste management programs. With the help of MEF, the city conducted awareness campaigns on the concept of segregation and composting at home. The city then implemented a "no-segregation, no-collection" policy to support this.
At present, the city is gradually phasing out single-use plastics, imposing fines on establishments that are not gradually eliminating plastic utensils.
San Fernando's experience shows that community participation, when reinforced by policies in place, can outlast constant leadership changes and lead to a consistent implementation of a more effective and engaging waste management.
"Citizens felt more empowered to take part in the city's solid waste management program, and they came to appreciate how the program would be beneficial for all, especially for the environment, when they saw how much cleaner their surroundings became," MEF observed.
The bigger picture
But the goal remains the same: Plastic waste should be kept out of the environment by cutting it at its source. The familiar brands you see in plastic packaging washed ashore, whether along Manila Bay, the shores of Donsol, or the sands of pristine beach destinations in the country, must be held responsible.
All efforts – even the smallest ones – in waste collection, composting, and segregation should go hand in hand with these companies' commitment to recycle and reduce the waste they put out into the market.
Right now, the Extended Producer Responsibility or EPR proposes a framework where companies and manufacturers would be incentivized to recycle products, reduce waste, and improve collection and treatment facilities.
The scheme makes companies responsible for the full life cycle of their products, all while reducing waste and changing harmful business practices.
Under the scheme, companies are also expected to change their business models, innovate packaging, and be transparent about the amount of plastic packaging they manufacture as part of data collection.
In the Philippines, at least two bills on the EPR are currently pending in both houses of Congress. If passed into law, both the government and manufacturers would be given 3 years to transition to a nationwide, mandatory implementation of the EPR.
Constantino said this scheme, if implemented nationwide, would complement on-the-ground efforts of communities.
"At the national level, there's the EPR, and the Producer Responsibility Organization will work with the local governments. [This should] increase the recycling capacity in the Philippines," Constantino said, adding that "the PRO will contract waste management operators that will work hand in hand with what LGUs are implementing on the ground."
She explained that while advocating for EPR means focusing on legislating it at the national level, the goal is to support local governments in implementing their waste management system.
For now, she said communities should focus on improving their waste collection and facilities, and make their waste management systems holistic, in preparation for a more sustainable way of living. This should be complemented with community information campaigns on EPR and effective material sorting of trash at source.
But what would an ideal, cooperative world with less waste look like?
Rola said in that scenario, every household would segregate their waste, to be collected by garbage trucks right on schedule. The products people buy from nearby stores would be made from recycled plastics. Every community would have a working materials recovery facility where the collected segregated waste would be processed. Members of the community would adjust their purchases the best they could under the financial constraints the pandemic has imposed. Finally, the streets would be clean, and the waterways clear and healthy.
"In summary, we need a circular economy," Rola told Rappler. A social scientist, Rola has worked with farming households and studies community development from the economic and environmental standpoint.
According to Jennifer Lenhart of WWF Cities and Marcus Mayr of UN-Habitat, "cities are drivers of the transition from a linear to a more circular economy."
Towns and cities working under a nationwide framework like the EPR and implementing a slew of recycling and reduction initiatives are bound to create physical spaces where a healthier environment and community can thrive.
In summary, we need a circular economy.
UP Los Baños professor Agnes Rola
But as Tanchuling often told her students, Filipinos need to consume less to cut off the problem at the source. This behavioral change will only happen if communities make proactive policies, and if companies take responsibility for the life cycle of their products.
"Solid waste management is not merely having a clean environment or good infrastructure. To be really sustainable, we have to consume less," she said.
A community willing to go the extra mile to make their waste management work will not only influence individual households but also set an example that the rest of the country can follow.
But individual lifestyle changes and community efforts will only work if governments and producers are willing to change the system. – Rappler.com
This story is produced in partnership with WWF Philippines.