This is AI generated summarization, which may have errors. For context, always refer to the full article.
Up for some tapas and sangria at Station 1? Check out Barcino's new beach venture on your next Boracay trip!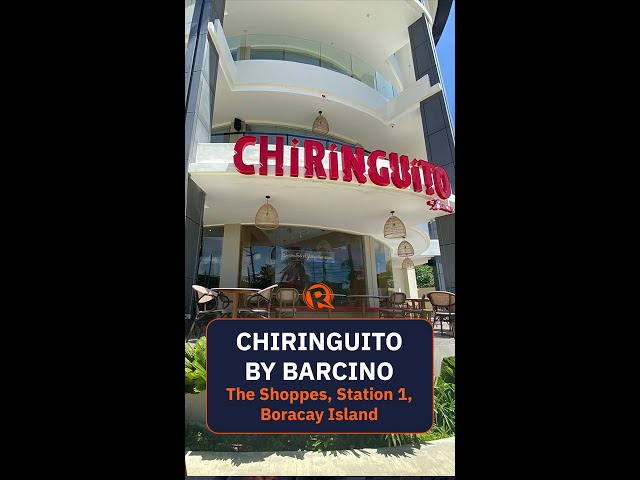 MANILA, Philippines – Aside from its stellar sunset views and beachfront resorts, Boracay has always been known for its bustling foodie scene, a mix of institutional favorites and new names slowly being added to the mix.
As the tropical paradise expands, Metro Manila favorites have been making their way to the island, with one of the latest being Barcino, the well-known Spanish spot for tapas and free-flowing sangria. However, Barcino has taken on a different name and a younger, beach-centric branding with the new Chiringuito by Barcino, located at The Shoppes at Station B in Station 1, which is a newly-opened shopping complex by the main road.
Chiringuito, which just opened in February, serves traditional Spanish breakfast, lunch, and dinner daily from 7 am to 11 pm on weekdays and until 12 midnight on weekends. It's got a cooler vibe than its predecessor, with a laid-back yet festive ambiance fit for the island nightlife. It's targeted towards the happy-hour loving beach crowd, and couples looking for a nightcap over tapas, sangria, and live music.
The circular restaurant is casual yet upscale, with a cozy first floor and a second floor that boasts a beautifully lit bar at the center beside an IG-worthy wall of wines and spirits.
It's very bright in the morning, with a nice view of the grassy golf course across, some trees, and the main road. No beachfront or sunset views here, though – what you're getting instead is some silence and privacy away from the hustle and bustle of the main beach.
Adios to your diet
Chiringuito's more streamlined menu brings a fresher take to Barcino, carrying fewer offerings than home but keeping a handful of the mainstays, some with a slight twist. Prices are just as or slightly more expensive here, mainly because of shipping fees, but the serving sizes remain adequate for two. Spanish restaurants aren't exactly the most wallet-friendly, but if you're splurging anyway, just prepare a budget of at least P2,000 for two.
Celebrating Labor Day weekend at Chiringuito, we rung in the night's festivities with two of their signature handcrafted cocktails. We tried the Verde Fresca (P370), a refreshing mojito dupe of lemon juice, cucumber, mint, and gin. If you love the fresh taste of cucumber, this drink is all about it. My favorite was the El Consuelo (P340), reminiscent of a creamy and sweet piña colada made with Luisita rum, pineapple and orange juices, and smooth coconut cream.
For appetizers, we got the Ostras Frescas (P450), fresh oysters marinated Spanish-style in a refreshing, tangy vinaigrette, served with diced cucumbers on top and a squeeze of lemon. I liked that they were easy to slurp out of their shells. They were HUGE too, and not like your typical Aklan oysters – they were bigger than my hand!
We also got a small, reliable plate of sliced Chorizo Iberico (P450) – cured Iberian native black pig – served with bread, and the Patatas Chips con Bravas (P410), a snack-ier but still delicious spin on the signature patatas bravas. It's thinly-sliced potato chips fried until airy and crisp, dipped in the original and addictive bravas sauce.
A favorite would be Croquetas de Callos (P510), crispy and golden-brown homemade croquettes stuffed with the best-selling Callos a la Madrilena – a meaty, thick tripe stew that provides a burst of flavor upon every bite. The initial crunch is followed by the creamy callos, and then an extra oomph is added by the chorizo slice on top and the tangy marinara sauce at the bottom. One croqueta is not enough!
Chiringuito also has the Paella Negra Sushi (P440), a novelty dish that mimics "sushi" but uses Paella Negra, topped with garlic aioli and crispy baby squid. It was fun to try out, especially if your appetite can't take a whole order of paella. Taste-wise, though, if you're looking for that quality paella hit, this may not be the best choice – the bite of rice was a bit drier and less flavorful than the regular paella; perhaps there could've been more aioli on top, too. The idea is cute, though.
Under the "traditional" menu, we tried the Solomillitos con Salsa de Setas y Foie (P1,390), described as beef tenderloin wrapped with bacon, served with mushroom sauce, patatas paja, and foie gras.
The size of the steak wasn't what I expected from the photo; the medallions were a bit smaller, so this dish would probably suffice for just one diner. For its price, the steaks could've been a bit more tender and seasoned with a bit more salt for my taste, but stacking a cut of steak with some bacon and a chunk of the indulgent foie gras made for a good forkful.
I was glad that the Barcino favorite – the Gambas al Ajillo (P990) – was still on the menu and very much still enjoyable. Six hefty, well-cooked prawns were heavily doused in a ton of fried garlic and slightly spicy olive oil, making this a good dish to share and pair with bread, especially if you love super garlicky (and oversized) gambas. I honestly could've finished all if I had more room.
Breakfast of champions
Chiringuito's breakfast menu (which lasts until 11 am) packs several options to fill you up for a full day ahead at the beach (and is worth coming back for)!
As an arroz advocate, my favorite had to be the Arroz Caldo con Jamón Serrano (P370), a warm, comforting bowl of soft arroz topped with chicken, crispy jamon, and egg. I usually squeeze a lot of calamansi (and sometimes patis) on my arroz caldo, but this didn't need any extra seasoning at all. The rice was savory and hearty, with an additional umami kick (and bite of texture) from the salty jamon.
The Huevos Escalfados con Txorizo (P540) is a filling dish of poached eggs served on sourdough with tomatoes, manchego cheese, olive, and chorizo. The combination of ingredients already sounds like a powerhouse of salty and tangy flavors, which I personally love. Everything is tempered by the bread beneath and the perfectly poached and runny eggs on top.
The Desayuno International (P620) is just like your typical continental breakfast served in hotels – a breakfast platter of favorites like crispy bacon, sweet pork and beans (sans the pork), two sunny-side-up eggs, crispy hash browns, chorizo, and toasted bread. For American breakfast enthusiasts, this would be a satisfying start to your day (although I wished there was more bacon).
I paired my heavy breakfast with a sweet and creamy Cafe Con Leche (P180), a Spain and Latin America favorite of coffee mixed with sweetened scalded milk and a foamy top. I had mine hot, but this was also good as an iced beverage (P190).
Making the most of its location
The only downside to Chiringuito's location is that it's quite far from the main beach and most of the island's daily foot traffic. From Station 1's resorts, you'll need to take a three-minute trike ride from the main road to get to The Shoppes, which isn't so bad if you don't mind the ride.
You may be missing out on the usual sights and beachfront view, but if you want some distance and quiet, and a complex that has it all, this is ideal. The Shoppes is still in development, so more outlets are expected to open soon, but as of May, it houses a Robinsons Department Store, Mercury Drug, Robinsons Supermarket, and other stores.
If you're looking for a budget-friendly hotel to stay in at Station 1, check out Canyon Hotels and Resorts, which is conveniently right beside Chiringuito. It's fairly new and offers affordable room rates at P2,000-P3,000 per night for premium deluxe double and twin deluxe rooms.
The four-level hotel is not too luxurious, but for its price and service, this minimalist spot delivers. The spacious room is a steal – it has two cozy double beds and fluffy pillows, an electric kettle with instant coffee, a mini ref, safe, television, and a modern comfort room with basic amenities.
Since our room was situated by the patio, all we could see from our ceiling-to-floor windows was the walkway and the rooms across, so don't expect a wow-worthy view. Maybe a poolside room would be better.
On the third level there's a shallow pool that's good for chilling and wading (there are two lounge chairs under the sun), a pool bar, and a simple breakfast buffet on the same floor.
Next time you're heading to Boracay, consider adding Chiringuito to your next food or wine night itinerary, and why not conveniently spend a night at Canyon Hotels while you're at it? The resto-bar hosts live DJ sets and musical performances from time to time, so keep posted on Chiringuito's Instagram page for future updates. – Rappler.com