Celebrating at home? Here are a few local businesses serve quality food trays for delivery – from seafood boils, pasta, chicken, and more
When it comes to celebrations at home, less isn't always more. Even if grand gatherings are not longer a thing, food can always be as grand as one wants – that's why family-sized platters, which cater to different preferences and palates – are a god-send.
Whether it's for the holiday season, a birthday, or any other special occasion at home, these food platter options won't fail you.
Bankusinero
Who can't resist seafood boils? Local business Bankusinero offers bang-for-your-buck platters of meaty, well-cooked seafood, bathed in Bankusinero's homemade spicy cajun garlic sauce (hello, extra rice), with baby potatoes, corn, and lemon wedges.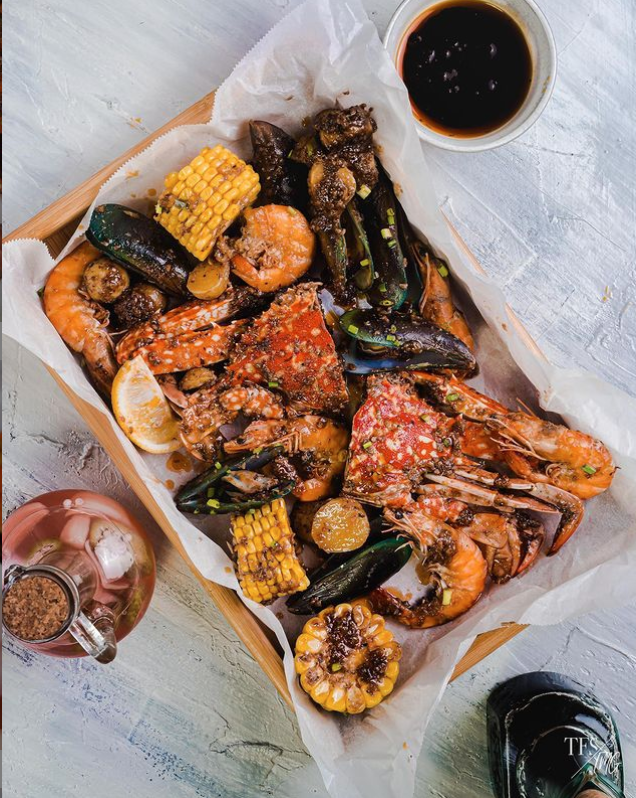 They have an all-shrimp platter (P500) that's good for 2-3 persons; a mixed seafood platter (P550) with alimasag, shrimp, mussels; and an alimango platter (P1,500) with shrimp and mussels, good for 4-6. You can even get a bottle of their cajun sauce for P220.
You can order via Instagram.
The Villamaria Kitchen
Fans of Asian-inspired spicy dishes might want to check out The Villamaria Kitchen – they specialize in Sichuan-style spicy stir fry ma la, a chili-garlic-ginger platter of pork, chicken, beef, or seafood, mixed with broccoli, potatoes, mushrooms, and street food faves like squid, lobster, and chicken balls. You can choose from mild, medium, or spicy (FYI: the mild is already packed with lots of heat)! Their filling platters range from P550 to P600.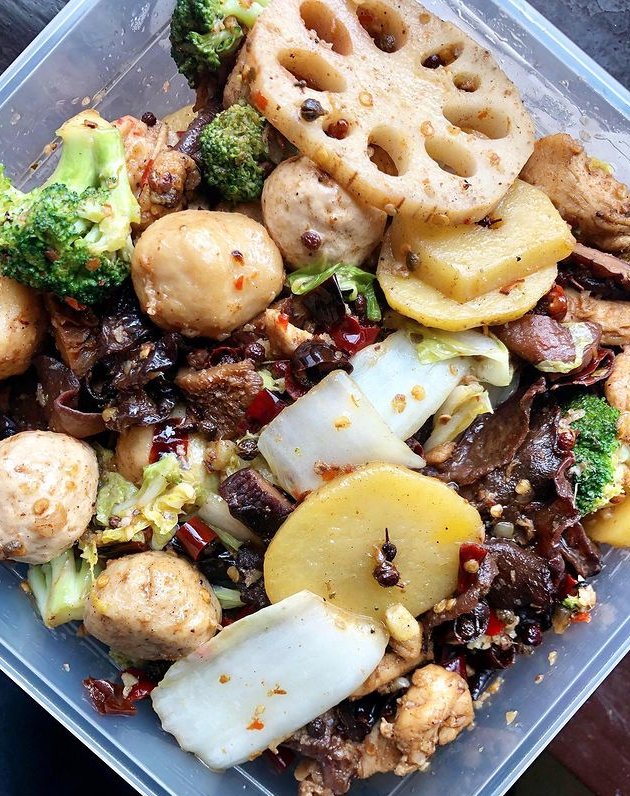 You can also add other ingredients to your customizable platters, like fish tofu, Japanese sausage, enoki, and breakfast sausage. They also have a pata tim version. To order, message their Instagram page.
Ginza Gyu
For premium Japanese beef bowls (or rather, platters) at home, Ginza Gyu offers a wagyu skirt tray (P2,280) good for 5-6 hungry carnivores.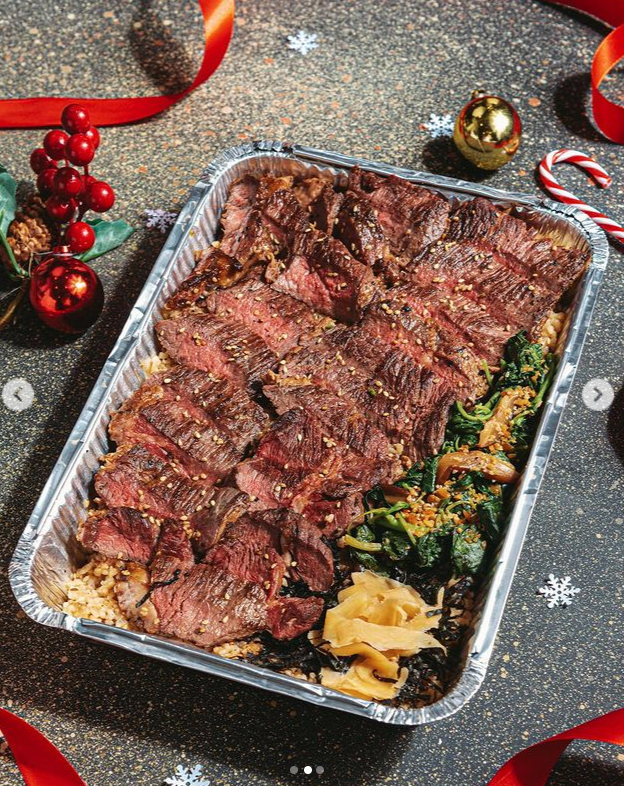 Ginza Gyu's tender beef strips are served on a bed of flavorful wagyu steak rice, with sides like garlic spinach and wasabi salt. You can place your orders via Instagram.
Four Bowls
Quezon City-based home kitchen Four Bowls serves freshly-made "party bowls" of select Japanese rice bowl favorites, like katsudon, gyudon, ebi tempura, and tori teriyaki, best enjoyed with a cup (or two) of steaming rice.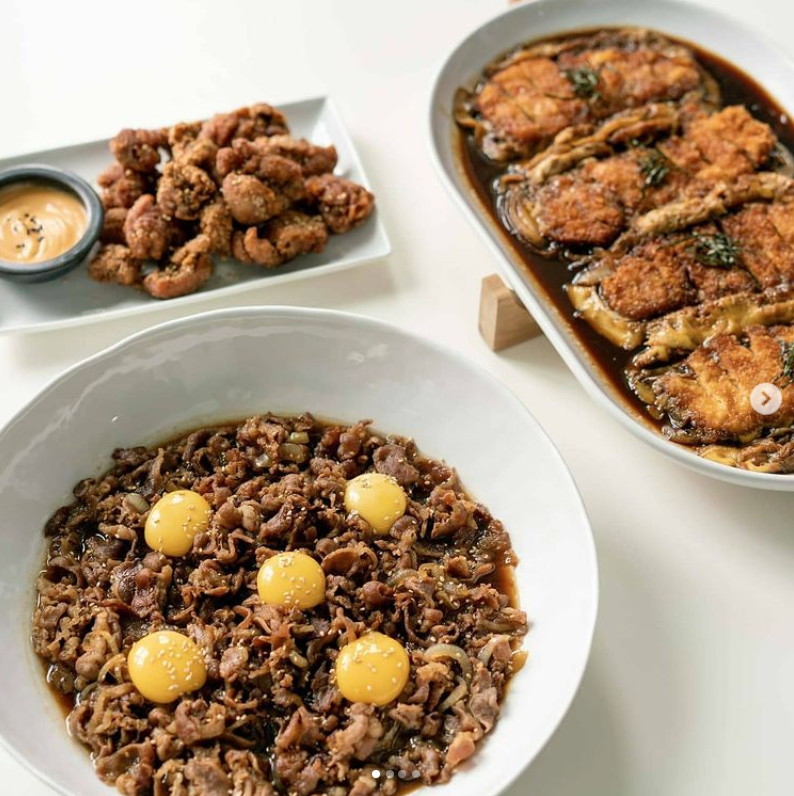 Their sharing sizes are good for either 6 or 10 people, ranging from P900 to P,1450. You can also get them with a side of chicken karrage for just P150! To place your orders, check out their Instagram.
Saigon Corner
Fresh Vietnamese fare is available from Saigon Corner, which serves traditional favorites in party trays, like their stuffed banh mi, crispy spring rolls, and comforting special pho. The trays are good for 8-10 or 18-20, ranging from P555 to P3,950, with vegetarian and vegan options.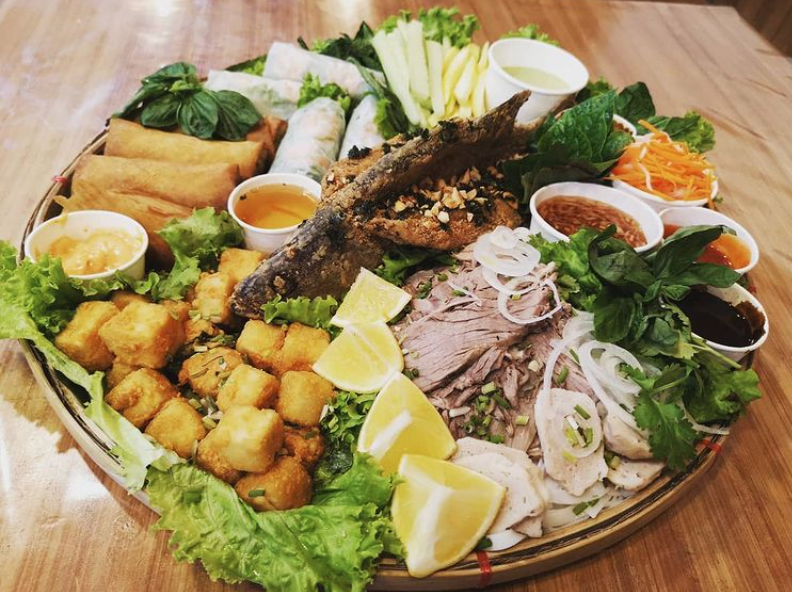 They even have a special flying sea bass charcuterie platter (P2,300) perfect for parties of 4, featuring their new fried fish dish, summer rolls, spring rolls, two kinds of beef pho, and their tasty salted egg tofu (that even meat-eaters would enjoy), complete with fresh veggies, herbs, side dishes, and dipping sauces.
You can place your orders via Instagram.
The Murang Seafood Platter
For high-quality seafood options cooked in an addictive butter-garlic sauce, The Murang Seafood Platter delivers. They serve platters good for 2, 4, or 6, ranging from P999 to P3,799.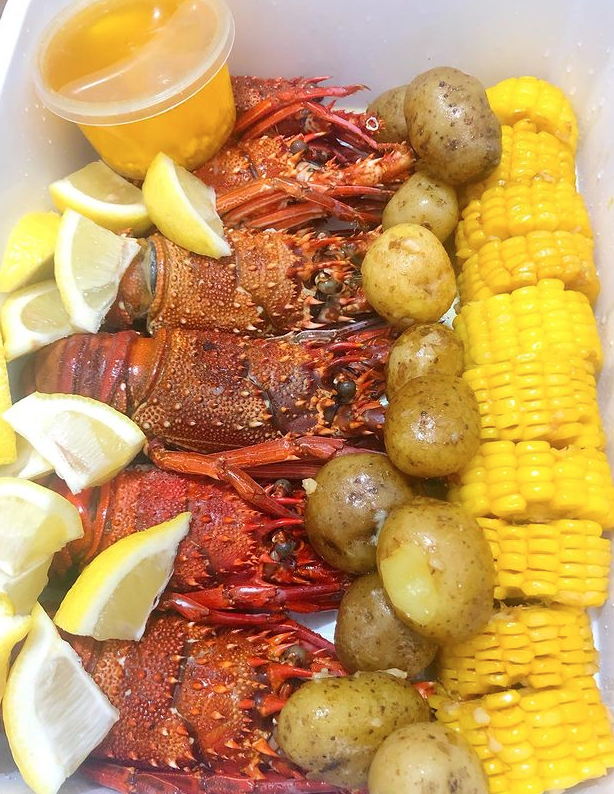 They have the classic platter, filled with the seafood boil works: shrimps, mussels, alimasag, corn, and potato. They also have all shrimps, crab claws, baby lobster, and alimango, as well as a surf and turf with slow-cooked ribs. You can even add taba ng talangka (P499) and a big lobster for P3,999.
Place your orders via Instagram.
Slow Burn MNL
For premium surf and turf platters, Burn Manila makes a mean one – every element on their platter is well-cooked and well-flavored, from the grilled shrimps, fork-tender barbecue baby back ribs, to the moist seared salmon fillet. They taste even better paired with Slow Burn's truffled umami rice – and umami is right!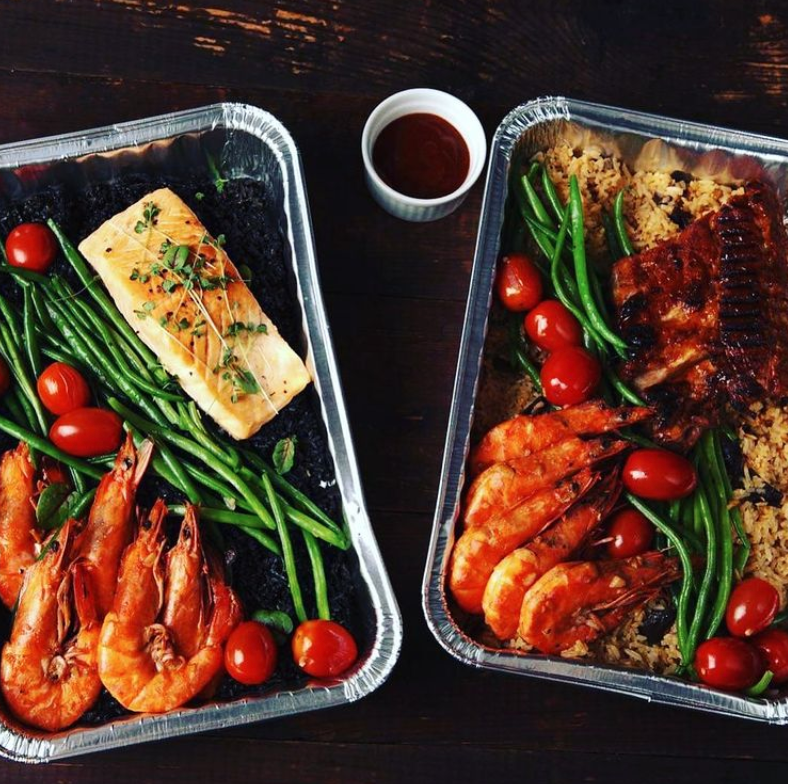 They're available in half tray (P899) and whole tray (P1,499), complete with roasted cherry tomatoes, crisp French beans, and sauces. You can also opt to have just seafood, or squid ink rice instead. To order, you can message their Instagram page.
Gianetto Pizza
If it's simple, thin-crust, homemade pizza the gang wants, Gianetto makes 12″ pies in various flavors. For cheese-lovers, try their Quattro Formaggi (P380), made with tomato sauce, mozzarella, gorgonzola, blue cheese, and parmesan (you'll really taste the blue), best with the honey they serve.
They also have roll up pizzas, like their Wasapeneen Buddy (P480), lightly coated with a savory basil-oregano-taba ng talangka pesto sauce, topped with shrimp, garlic, arugula, and alfalfa sprouts. You can place your orders on Instagram (they're only open on Saturdays).
Lasagna MNL
Craving Filipino-style melted lasagna? Makati-based Lasagna MNL's decades-old family recipe makes for a silky, cheesy, creamy, saucy, meaty, and sweet-savory all-beef lasagna, sure to be a hit for kids, too.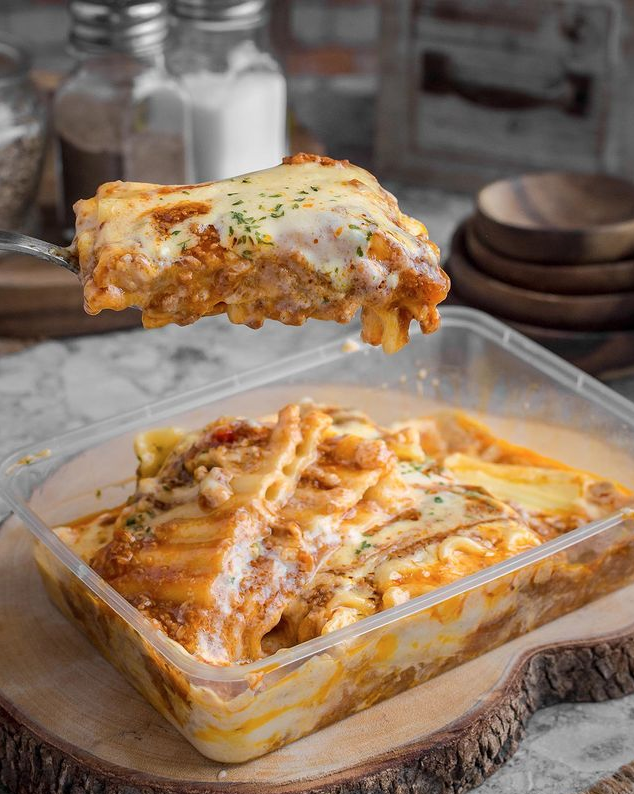 Laden with béchamel sauce, tomato sauce, and melted cheese, Lasagna MNL's dish is available in solo (P200) and family (P800) size, good for 6-8. You can place your orders via Instagram.
Carlito's Catering
For creamy dish options, Carlito's Catering offers a luxurious tray of truffle cream pasta with prosciutto (it's practically bathed in the mushroom cream sauce), with truffle oil already added to the noodles. It's available in small, medium, and large trays (P1,250; P2,500; P3,500).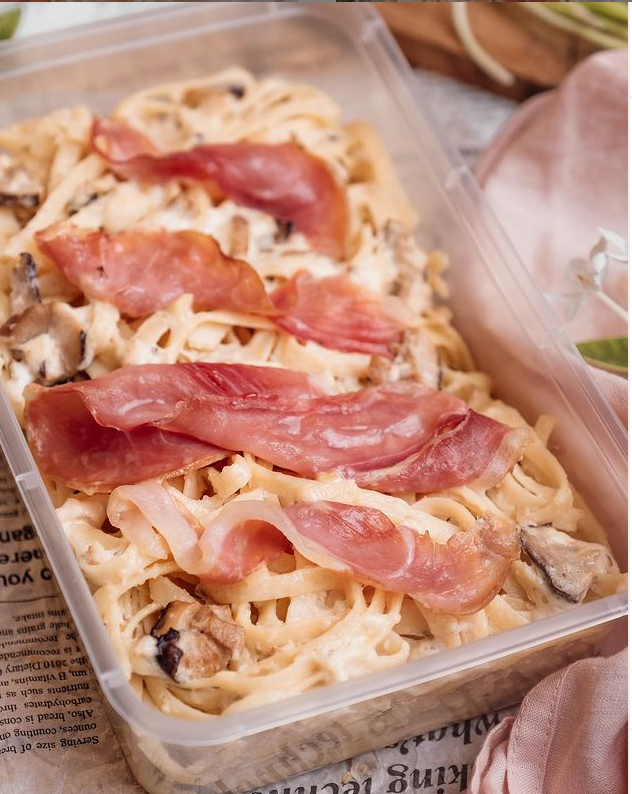 Why not add Carlito's huge baked salmon with spinach cream to your feast? The moist and tender salmon fillet is cooked in a savory spinach cream, and is available for P1,000, P2,000 and P3,200. You can place your orders on Instagram.
Taste Good Co.
Muntinlupa-based Taste Good Co. makes generously-sized homemade sushi and maki rolls in different sets, perfect for sharing. Their Tsuyoi Set (P500) has 24 pieces of their yami roll (cucumber, crunchy onion, crab stick, sesame seeds), their spicy and creamy kakkoi roll (crunchy prawn tempura, red dynamite sauce, sesame seeds), and a creamy-savory yabai roll (baked crabstick, fish roe, cucumber, red dynamite).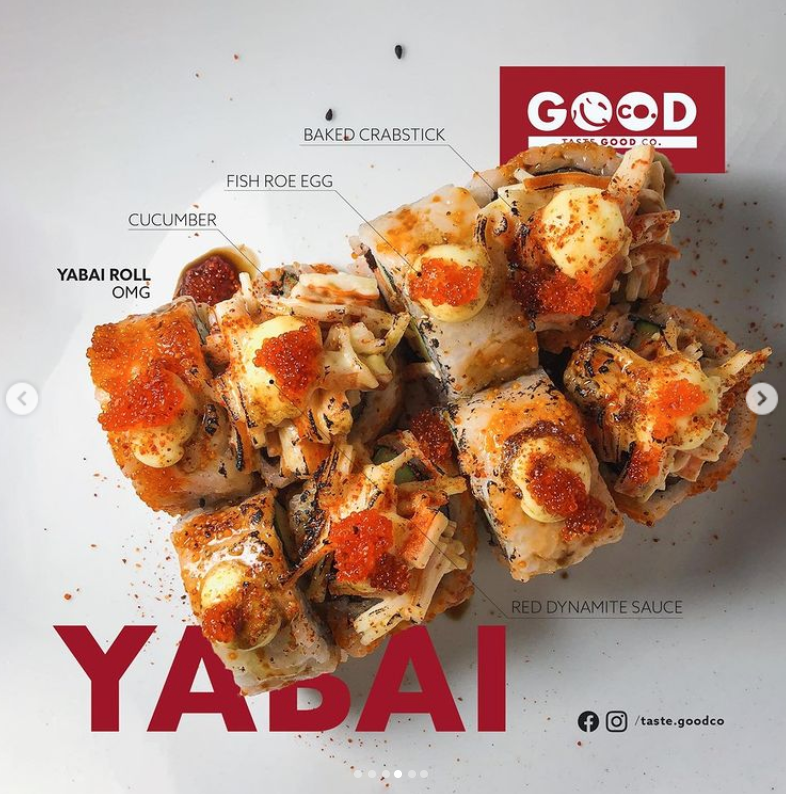 They can deliver within and outside Metro Manila. You can place your orders via Instagram.
The Good Palate
For your sushi bake fix, check out The Good Palate – they serve unique, premium takes on the popular quarantine trend, packed with toppings, sauces, and Japanese rice.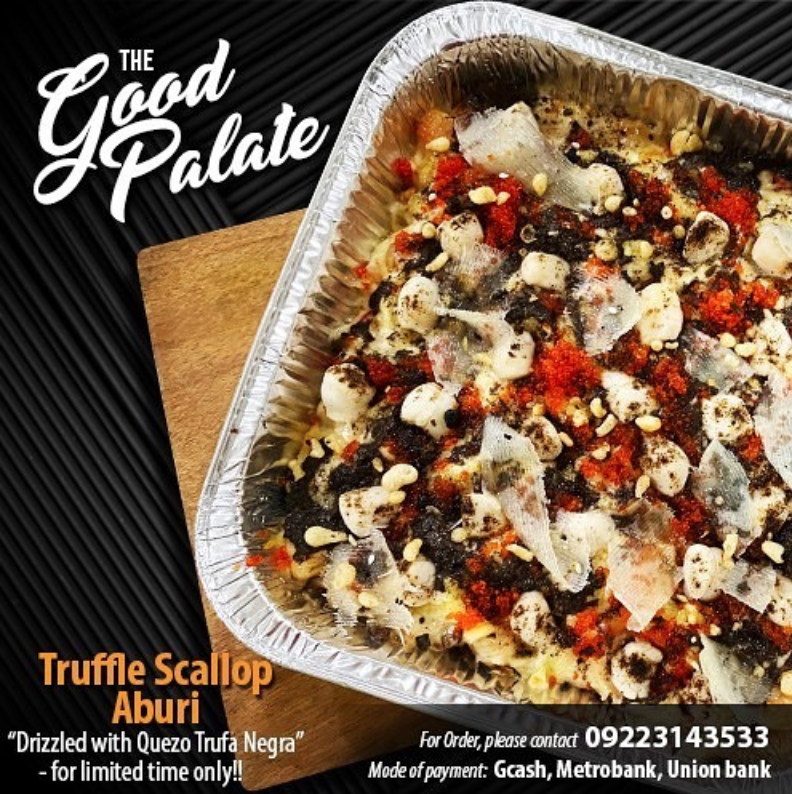 Their best-sellers include the classic California Aburi (P750), topped with apple slices for some sweetness, and the very fragrant and flavorful Truffle Scallop Aburi (P1,000) drizzled with a cheese black truffle sauce and topped with tender baby scallops.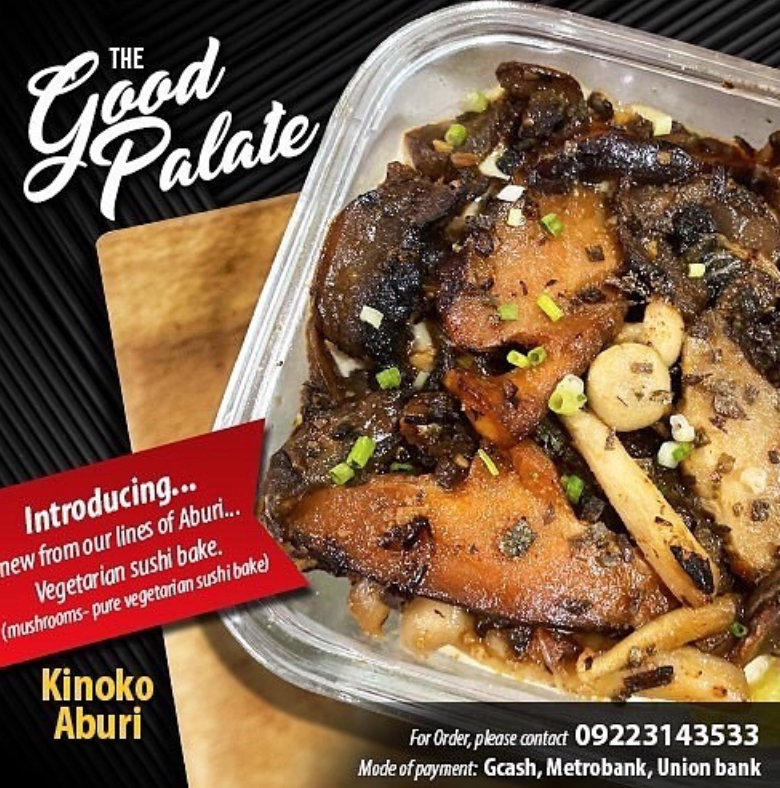 They also have a vegetarian-friendly variant, the Kinoko Mushroom Aburi (P750), filled with multiple kinds of mushroom and a soy-teriyaki sauce. For something a bit saltier, they also have the Salmon Caviar Aburi (P1,300).
To place your orders, check out The Good Palate on Instagram.
J n Thai
For your dose of home-cooked Thai cuisine goodness, check out J n Thai – their pad thai is flavored just right: savory, tangy, and herby, with just a hint of sweetness.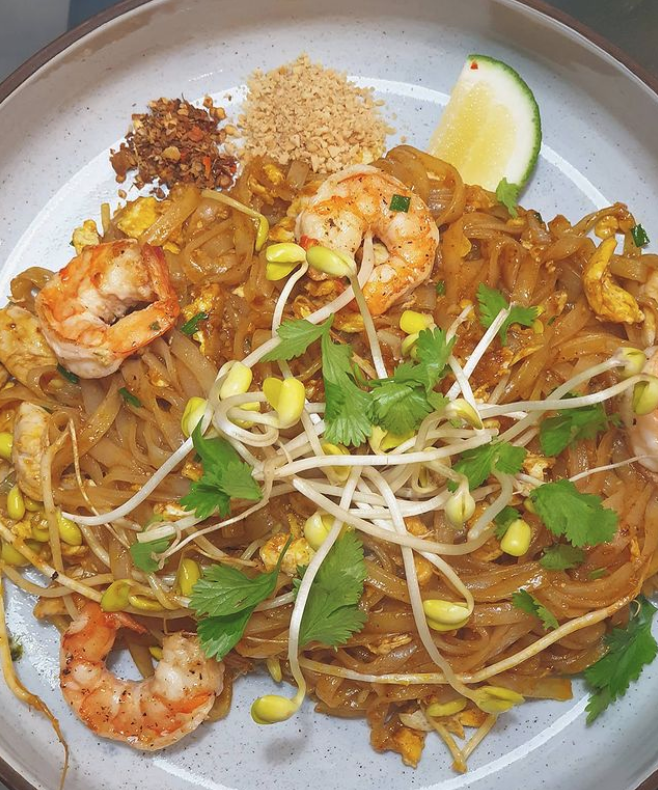 The thick stir-fried rice noodles come with eggs, fresh vegetables, tofu, chicken and shrimp, with a side of lime, crushed peanuts, and chili flakes. It's available in half tray (P625), good for 2-4, and a whole (P1,250), good for 6. You can place your orders on Instagram.
Miscuzi
One of home kitchen Miscuzi's best-selling dishes (for good reason) is their baked salmon, a creamy and savory entree of moist salmon fillet, encrusted in a rich, baked topping of cheese, bread crumbs, mayo, and herbs, served with buttered veggies.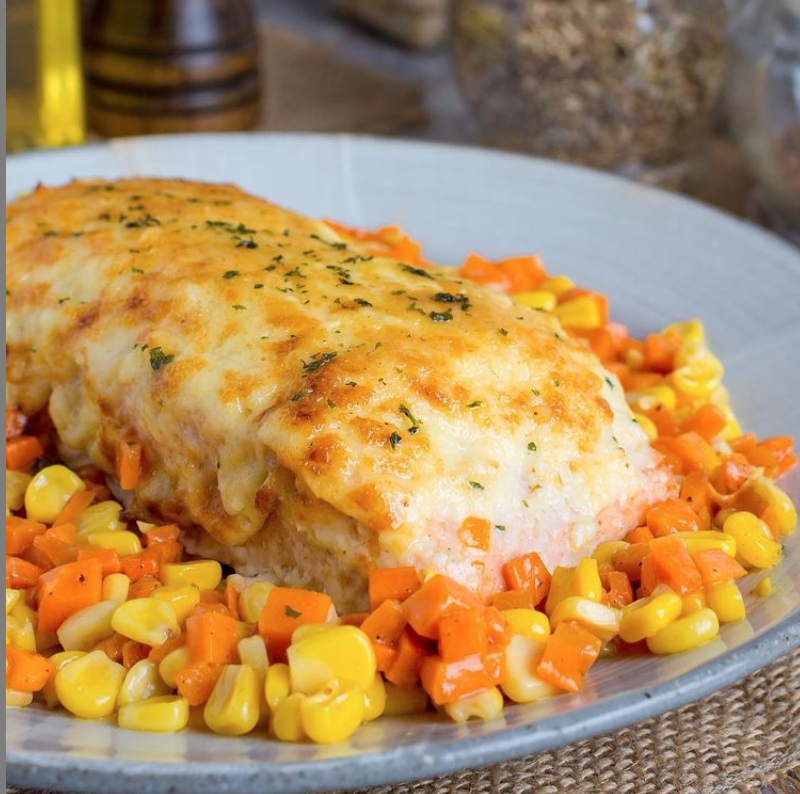 Miscuzi's baked salmon can be ordered in piccolo (P775), medio (P1,450), and grande (P2,100) sizes. They're based in Cainta and Tandang Sora. You can order via Instagram.
Chikin Town
How about some super crispy Korean fried chicken? Home business Chikin Town serves their homemade version of Sijan Tongdak (P599), a South Korean whole chicken staple featuring moist, juicy meat and spicy, crispy chicken skin that leaves a spice-tingling sensation in your mouth. No need for condiments; all you need is extra rice!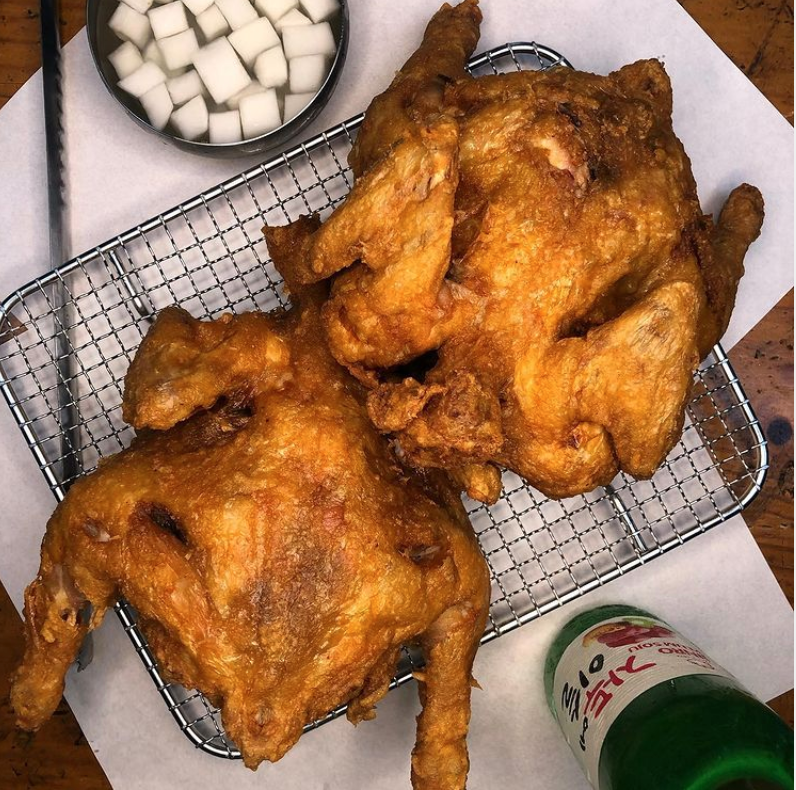 It's served with a side of pickled Korean radish. Quezon City-based Chikin Town is only open on weekends for now, but you can already place your orders via Instagram.
The Grid Food Market
Powerplant Mall's upscale food court The Grid Food Market is open for delivery orders, with some of their stalls selling platters for sharing. Stall no. 4 Tsukemen is offering a "luxuriously cheesy" Quezo de Bola Aburi Kakuni Tray, featuring soy-flavored, moist Japanese rice below braised, tender pork belly and a creamy quezo de bola sauce, torched ala aburi.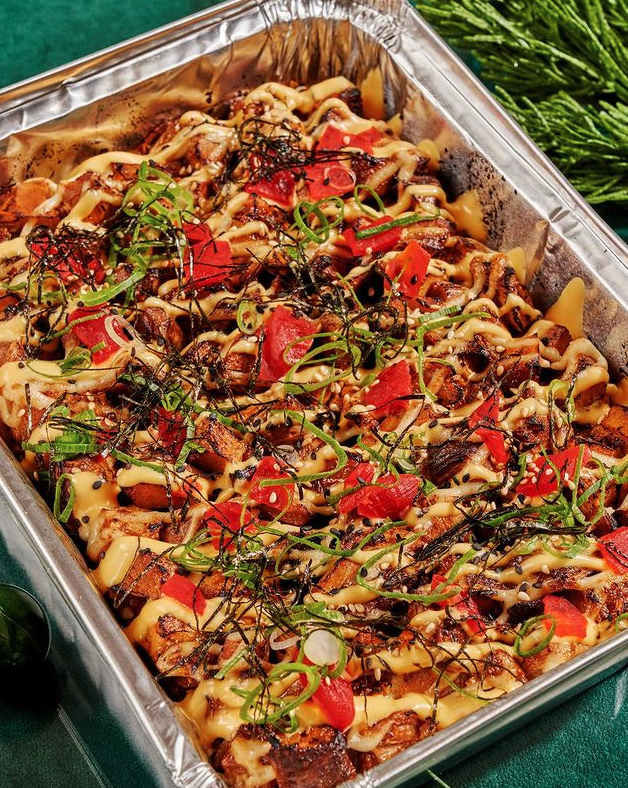 The smoky and savory rice dish can be enjoyed like a sushi bake, but it's actually good to eat on its own. You can place your orders via Instagram or The Grid's website. – Rappler.com