Treat the fathers in your life with sweet treats, savory feasts, and nifty gift ideas from these local businesses
Father's Day is approaching – how are you planning to surprise the most important fathers and father figures in your life?
Whether it be through sweet treats, a new gadget, or handy gifts, here are some ideas to consider from several local businesses:
If your Dad is a sweet tooth
There's nothing like gifting your Dad a sweet treat as a sweet gesture. If he's a chocoholic who's into indulgent, fudge-y cakes, check out local bakery Butternut MNL's limited edition Luscious Chocolate Cherry cake (P2,200).
The dad-edition cake really packs on the chocolate and the sweetness – the soft chocolate sponge is is layered with a rich chocolate ganache, and then topped with fresh New Zealand cherries and pretty edible gold foil flakes. You can order yours with a two-day lead time through Butternut's website, available for pick-up at SM North EDSA, SM Megamall, and Rockwell.
If your Dad prefers a sugar-free chocolate cake that's less sweet, has varying textures, includes a hazelnut flavor and nuts, try out Bizu's King Louis Cake (P1,650). It's a moist, decadent chocolate cake with crunchy Feuilletine flakes and hazelnut praline, encased in smooth, sugar-free chocolate and crisp almonds, topped with a gorgeous chocolate crown.
You can pre-order the 6″ midi King Louis Cake via Bizu's website.
Maybe your Dad appreciates a box of confections instead. Check out Nono's Father's Day Gift Bundle Set, which includes the cafe's Discovery Blend whole bean coffee, best-selling sweet Almond Crunch, and their rich Chocolate Covered Cornflakes, plus a gift certificate for a free coffee for dine-in and take-out orders. You can place your orders via Nono's Instagram page.
If he's into the sweet-and-salty flavor combo, treat Dad to a bag of 360 Degrees' chocolate-covered potato chips – salty, crunchy potato chips are dipped into smooth, rich dark chocolate or earthy, matcha-flavored white chocolate. It costs P180 for a 100g bag of this homemade, addictive snack.
360 Degrees offers same-day delivery in Metro Manila, Cavite, and Laguna areas until 7 pm. You can place your orders through Instagram.
If your Dad likes tiramisu, check out Theo and Brom's Tableyamisu A La Ragazzon, which combines the Italian tiramisu with Tableya Filipina, made from cacao beans. It is layered with mascarpone cheese, Sardinian ladyfingers, and topped with 24k gold shavings.
Both of its flavors, the Caffè with local barako coffee notes and the Cioccolato, are available for pre-order as a pack on their website.
If you're surprising Dad with breakfast in bed, an order of freshly-baked, buttery, stuffed French croissants from Eric Kayser may help. They're available in 4 filling variants: Crabstick Mayo, Chicken Apple, Ham & Cheese, and Tuna Mayo for P195 each. You can order via their website.
For breakfast or merienda, add some sweet bread or Milo munchies from Bobba Donuts MNL. The local bakery offers chewy, doughy, sweet Milo-infused donut balls that even kids will love, as well as soft Garlic Herb Cheese Rolls served with melted cheese in the middle.
They also have Queso Donuts for a sweet-savory treat, and iced cold brew and iced coffee to pair everything with. You can order via Instagram.
Treat him to a feast
Any celebration isn't complete without a delicious spread at home. For Spanish and Italian comfort food made with fresh ingredients, check out Alabang-based home business Cocina Tre Sorelle's menu.
Their soft Paella de Andaluz with chicken and chorizo is available in 3 sizes, ranging from P420 to P1,800. They also offer the refreshing chilled soup Gazpacho for P300 and P150, as well as a warm, hearty, filling Ribollita (P400) soup, made with parmigiano cheese, aged ciabatta, kale, cannelini beans, and fresh veggies. You can place your orders on Instagram.
How about adding some pizza to the mix? Try out the Roman-style Pizza Al Taglio of Tyler Cafe, the sister brand of Gino's. The chewy crust is made using high hydration dough, making it thicker and heartier than the usual.
Their tasty flavors include the tart Pomodoro with Fresh Mozzarella, Meatball, Mozzarella and Prosciutto, Bacon and Egg, and Mushroom and Ricotta, each one generously topped with fresh ingredients. You can order from the Katipunan restaurant via Instagram or Viber at 0927-3378417.
Another worthy Italian cuisine option for pizza, pasta, and baked rice dishes is Nonnas Pizza Napoletana, the sister brand of Mama Lou's Italian Kitchen. Get their bang-for-your-buck Padre's Day Bundle (P3,200), good for 6-8 people.
It includes Margherita Pizza, Pepperoni Pizza, and half trays of tender, flavorful Chicken Parmigiana; cheesy and tart Three-Cheese Ravioli; and Mama Lou's best-selling Baked Truffle Salpicao with creamy mushroom risotto. You can order via Nonna's website.
Why not add a baked salmon to your feast? Quezon City's Affordable Gourmet offers a tangy, savory, and moist slab of baked salmon as part of their Father's Day bundle, which also includes a light and tasty whole roasted herb chicken, crisp salad with edible flowers, and other comfort food items. You can order via Facebook or SMS at 0919-099-8809.
Add some high-quality fresh Rock lobsters to amp your home spread with Lobster Mobster's tray of lemon butter lobsters (P2,800), prepared by Chef Kerri Guico.
Get the Daddy Lobsters, which are six big pieces of half-shelled lobsters, the Mama Lobsters of eight-ten pieces, or the Monsta Lobsters of four pieces. You can also choose from garlic butter, cajun, or baked garlic and cheese flavors. You can order this indulgent entree via Instagram.
Splurging? Bizu's Father's Day 24-Hour Sous Vide Bone-In Ribeye Set (P,9885) is a feast fit for a king and is good for 3-5 hungry people.
Aside from the tender steak and gravy, you also get Bizu's premium side dishes like truffle mac and cheese with bacon; cherry tomato caprese with mozzarella; French beans with smashed potatoes; and wild mushrooms with garlic and pecorino cheese. You can place your orders via their website.
Maybe a cheesy hamburger and fried finger food are all Dad needs to make him happy. Check out the sulit and tasty LowBrow's Beefy Daddy Set B by Beefier (P1,999), which includes two cheeseburgers, side of onion rings, French fries, a choice of rigatoni (basil, mushroom, bolognese), arugula salad with hanger steak, and freshly-baked cookies. You can place your orders via LowBrow's website.
For your Dad's specific interests
If your Dad is more a tech geek, don't worry! PC Central is your next go-to online shop for any laptop, gaming, monitor, keyboard, and accessory needs, sold at reasonable prices with bang-for-your-buck deals and good customer service.
Several laptop brands are available at their store in Quezon City, but you can also order yours via Instagram for safe Metro Manila next-day delivery. They're also available on Lazada and Shopee.
Next to new gadgets, your Dad might also appreciate locally-made, plant leather goods by Jacinto and Lirio (Hyacinth and Lily). They have eco-ethical, classy vegan leather goods like the multipurpose travel checkbook wallet, a handy travel neck wallet, and a leather vision board that acts as a mood board, desk planner, and organizer.
Jacinto and Lirio can also personalize their handmade leather goods and ship worldwide. You can place your orders via their online channels.
If your Dad is into sweet dessert wine and is game to try something new and proudly local, check out family-run business Nectar Wine and their sustainably-made, small batch honey wine (P550).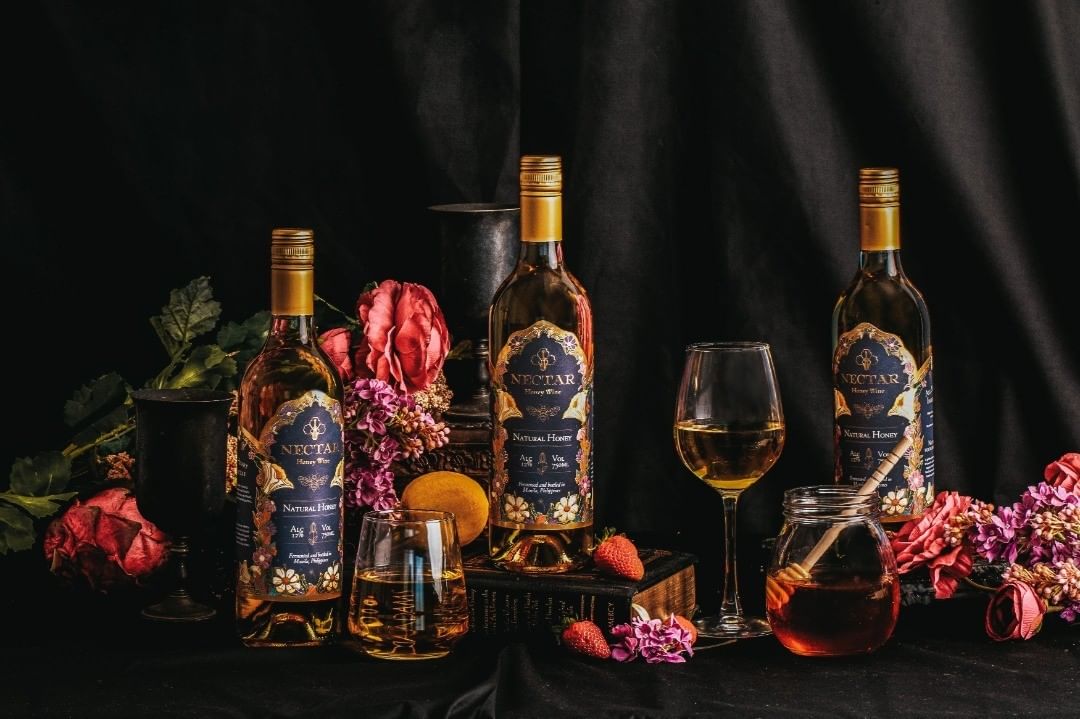 Also known as mead, this crisp and light alcoholic beverage is made of 100% raw and organic honey, water, and yeast. It's similar to a sweet white wine or bright Moscato, with the taste of native honey prominent in every sip.
Each Nectar Honey wine comes in a gorgeous 750ml bottle with 12% alcohol content. It's best enjoyed chilled, paired with your favorite appetizers, snacks, or dessert. You can place your pre-orders via Instagram. – Rappler.com