A book lover shares her favorite places to find inexpensive, yet priceless books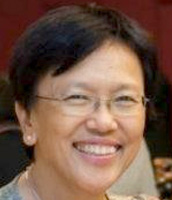 MANILA, Philippines – The first 3 places I go to when I visit a place are the bookstores, the food stalls, and the wine shops. One nourishes the mind and elevates the soul; the other feeds the body; and the third distills the emotions and inspires the spirit.
For now, however, I write about books and bookstores.
For the past years, I have been a constant visitor in bookstores such as Booksale, Books for Less, Fully Booked, Powerbooks, and National Book Store. There are university bookstores, such as the Ateneo de Manila University Press, the University of the Philippines Press, and the University of Santo Tomas Publishing House.
At one time, I went to the Ateneo University Press. I found it inconvenient to drive all the way to Katipunan and go through the bureaucratic processes of being asked what the purpose of my visit is and of requiring me to leave an ID. And considering the nerve-wracking traffic jams in the city, I feel the same about the two university presses. But I enjoy my virtual trips to their bookstores because their websites are such a pleasure and delight. Their collection of books, mostly written by Filipino authors, covers an extraordinary range of themes.
And so, I walk to the malls where the commercial bookstores are.
The National Book Store close to the place where I live offers a wider range of crayons, erasers, glue, and other office and school supplies than its poetry, science, history, and economics books. The used books that Books for Less sell are relatively more expensive than the used books in Booksale. Fully Booked is impressively organized – Dawkins is in Science and not in Religion – and its non-fiction collection is quite extensive, from physics to politics, from philosophy to economics, and from psychology to history.
Booksale remains to be a favorite. It does not make any pretense of arranging books according to authors, categories, and types. Its books are on the shelves, often double shelved, and I have to remove the books in front so I could see the books behind. Sometimes, their books are piled high on the floor and I have to retrieve a book at the lower end without toppling the rest of the books.
Booksale's main attraction is its books – they are priced relatively lower than other bookstores in the city, all year 'round. Not all its books are to my liking, though, just like not all the books in Fully Booked or National Book Store make me want to take them home. And also, some of its books have yellowed and dog-eared pages, which I actually find quaint, while others have pages that are underlined and starred, adding character to these books.
But just the same, when I look at the books – and this happens to me all the time in other bookstores too – and as I slowly move my fingers on their spines and covers, I think about the authors and what made them write the way they did; I think about how they chose their words among a thousand other words and how these words turned into phrases and sentences that flowed with such easy grace or pulsated with rhythmic force and energy. And I think about their stories contained in these very pages and how they have the potential of transporting me to a place and time beyond the here and now.
And as I go through the shelves and piles of books, whether in Booksale, Fully Booked, or National Book Store, I am always amazed at the sparkling discoveries I find – the diamonds and the pearls.
Here are some of them. I put down how much I had to pay for these books. But, really, they are priceless.
From Booksale:
Sea of Poppies by Amitav Ghosh – P145 
People of the Book by Geraldine Brooks – P50
Arthur & George by Julian Barnes – P127 pesos
The Colony of Unrequited Dreams by Wayne Johnston – P127 
The Death of Artemio Cruz by Carlos Fuentes – P145
Beloved by Toni Morrison – P75
The Spanish Bow by Andromeda Romano-Lax – P115
Unless by Carol Shields – P60
Guests of the Ayatollah: The Iran Hostage Crisis: The First Battle in America's War with Militant Islam by Mark Bowden – P115
Mountains Beyond Mountains by Tracy Kidder – P125
A Woman in Charge by Carl Bernstein – P150
From National Book Store:
Justice: What's the Right Thing to Do? by Michael J. Sandel – P99
Suite Francaise by Irene Nemirovsky – P99
Rope Burns by F.X. Toole – P30
– Rappler.com
Marilen J. Danguilan, MD, is a health policy consultant. She has no pecuniary interest in Booksale, Fully Booked, National Book Store, and Books for Less.