This is AI generated summarization, which may have errors. For context, always refer to the full article.
'Tis the season for stickers! Starbucks planners are back – now in Rose Gold and Abalone Gray.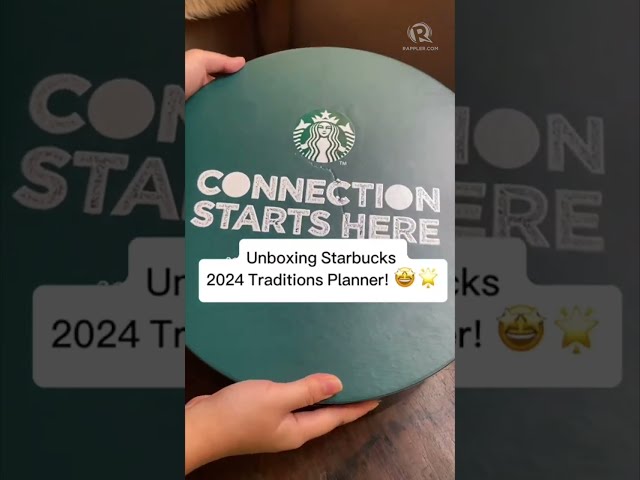 MANILA, Philippines – Eyes here, seasoned sticker collectors and avid Starbucks fans! The holidays are right around the corner, and that only means one thing: it's planner season once again.
On Thursday, October 26, Starbucks Philippines launched the Starbucks 2024 Holiday Collection, which includes new merch, treats, and of course, this year's coveted Starbucks 2024 Traditions Planner with Organizer. Here's what you can expect during the most wonderful time of year!
Holiday plans, sorted
Building on 21 years of Starbucks Traditions, the coffee company is bringing back its annual sticker collection starting November 2, 2023 until January 2, 2024. Customers can earn a sticker for every purchase of a Tall, Grande, or Venti handcrafted beverage. Once they've collected 19 stickers, any of these rewards are up for grabs.
The Starbucks 2024 Traditions Planner with Organizer comes in two chic, modern colors: Rose Gold and Abalone Gray.
Sophisticated and stunning looks aside, the bulky but solid planner is shaping up to be a personal, office, and travel-friendly companion thanks to its binder format and sleeve inclusions.
A bit larger than previous iterations, both versions of the leather covers are embossed and designed with intricately dotted siren illustrations, as well as other striking imagery of marine life.
To close and fasten the planner, its covers overlap and are secured with a sign pen tucked in its loop.
Inside the leather cover is a pocket as well as a detachable leather card holder and ruler bookmark. Like last year's planner, the 2024 edition also comes in a ring binder format – this time matching its cover's color scheme.
Pages consist of your standard monthly calendars and weekly grids, both pre-filled with international and local holidays. 
The planner also includes quite a number of blank dotted pages – ideal for to-do lists, reflections, trackers, and other journaling needs. It also comes with an adorable sticker sheet for a more personalized touch, as well as three large postcards that pick up on the dotted aquatic theme.
Charged with vibrant colors and fun polka-dots are the filler pages between each month, comprising lively illustrations inspired by Starbucks' ongoing initiatives and promotions.
Adding to the holiday spirit
Joining the planners are three other sleek, everyday essentials like the 22oz Pearl Cold Cup with a star-adorned straw stopper, the 12oz Warm Gray Mug and Polka Tote, and the 18oz Ebony Stainless Steel Tumbler.
What better way to get into the festive spirit than by treating yourself to a variety of seasonal goodies, too! Making a comeback are fan-favorites Toffee Nut Crunch and Peppermint, as well as a new addition: Gingerbread. All three drinks are available in latte and frappuccino form.
Twelve food items also await customers for this year's holiday menu. On the sweet side of things, Starbucks is offering four indulgent cakes: Mango Tiramisu Cheesecake, Mont Blanc Cheesecake, Chocolate Crepe Cake, and Pistachio Cake.
For quick bites, there's also the Chocolate Toffee Nut Roulade, Chocolate Chip Overload Cookie, and the Red Velvet Whoopie Pie.
Collectors can also look forward to two new colors of the handmade Bling Cups and mini ornaments.
What are you taking home this holiday season? – Rappler.com