Tips for your Paris vacation. Repeat after me: Paris is possible!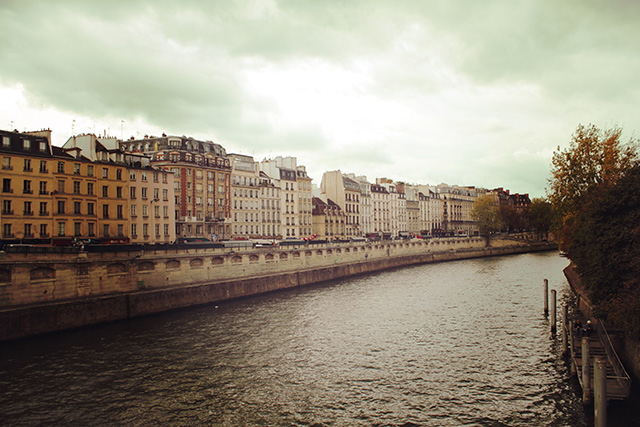 Many people dream of going to Paris but are intimidated by the cost and complexity of turning this dream into reality. However, with a bit of luck and a whole lot of stinginess, it's entirely possible to go on a 7-day Paris trip for only P50,000. (More on that later!) (READ: A taste of Paris)
In this do-it-yourself Paris planning guide, I'll show you how to book your own flights and accommodations, list my top picks for what to see and do for free in the City of Light, go through the basic steps in getting a Schengen visa, and give you budget travel tips. (READ: 15 destinations around the world for Filipino travelers)
Paris is possible! 
HOW TO GET THERE
There are many ways to get to Paris, with various options for airlines, routes, and layover times.
If you have a specific date in mind for your trip, you can use Google Flights to search for the cheapest route. Just enter your departure city (ex. Manila), your arrival city (Paris), your planned date of departure (ex. October 27, 2015), and your planned date of return (ex. November 2, 2015). 
Google Flights will give you a list of possible flights you can take, arranged by default from cheapest to most expensive (round-trip). The list will also show you the airlines involved, the total flight duration, and the number of layovers. (There are currently no direct flights from the Philippines to France.)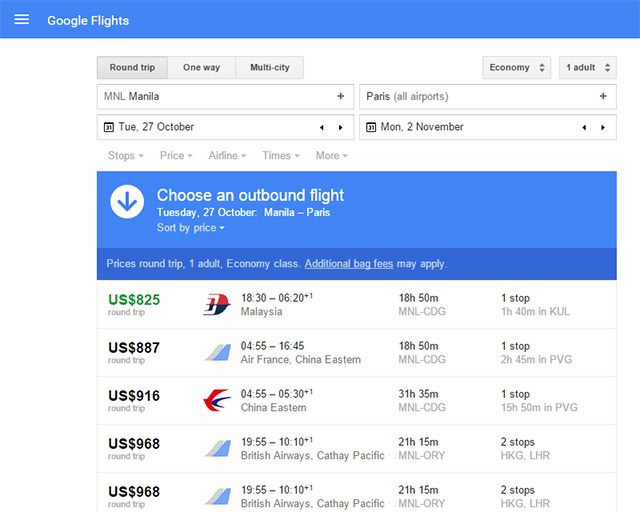 Once you've chosen your outbound flight and your return flight, you will find at the bottom of the screen a link that will take you to the website of the airline you chose. 
There might be a little difference between the Google Flights price and the price in the airline's website, but this usually amounts to only a few dollars.
If your travel dates are flexible, you can use the left and right arrows of the drop-down calendar in Google Flights to scan for the cheapest prices.
Alternatively, you can use Skyscanner to search for the cheapest flights within the next year. Just enter your city of departure and your desired destination, and choose "Cheapest Month" or "Whole Year" for the dates.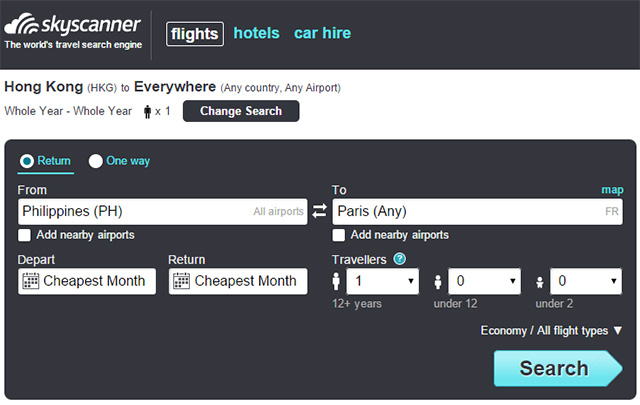 Click Search. From the results – which will show you departure, airline, and price options – click the one you like best.
Skyscanner will then show you the dates with the cheapest prices. You can then go to the airline's website and book the flights shown. Again, the actual price might differ from the Skyscanner price but usually only by a small difference. 
The cheapest Manila-Paris flights I've seen so far from Skyscanner cost P26,000, which is already very good deal considering the usual price of P40,000 up. If you're a budget traveler, airfare will be your biggest expense, so be patient in scouting for the best prices. 
WHERE TO STAY 
Looking for accommodations in Paris can be overwhelming due to the huge number of choices. If you want straight-up recommendations, we were satisfied with our stays in the Grand Hotel du Loiret (central location, near train station, can walk to Notre Dame and the Seine River) and the Hotel Terminus Lyon (cheaper, right across the train station).
However, you might want to try doing your own searching so that you can find lodgings that are just right for you. (For advice on the best Parisian neighborhoods to stay in, check out Adventurous Kate's guide here.)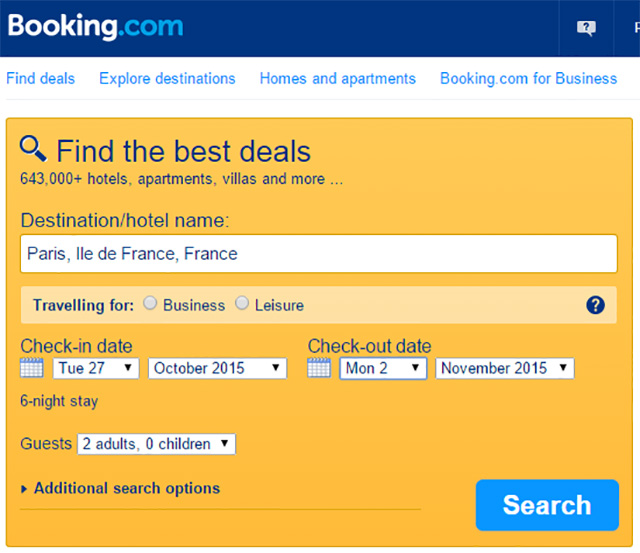 My go-to hotel booking website is Booking.com because I can sort the search results by price (lowest to highest, if I'm looking for the cheapest rooms) and then filter them by price range (ex. P4,900 and below per night), meals (ex. with breakfast), review score (ex. nothing below 7), and facility (ex. the all-important WiFi). 
Hostels are a good, cheaper option, especially if you're traveling alone.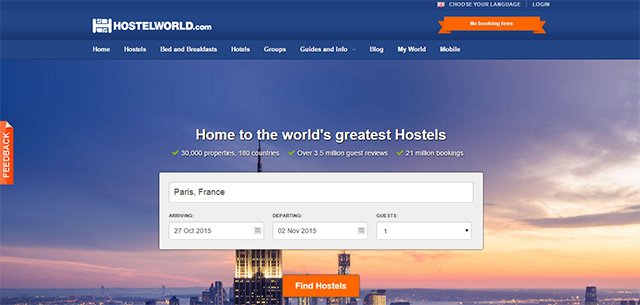 I usually book through HostelWorld.com, which also lets me filter search results by price range, rating, property type, facilities, etc., and sort results by price from cheapest to most expensive.
Finally, you can also rent an apartment through Airbnb. (READ: 6 tips: Beginner's guide to Airbnb, an alternative to hotels)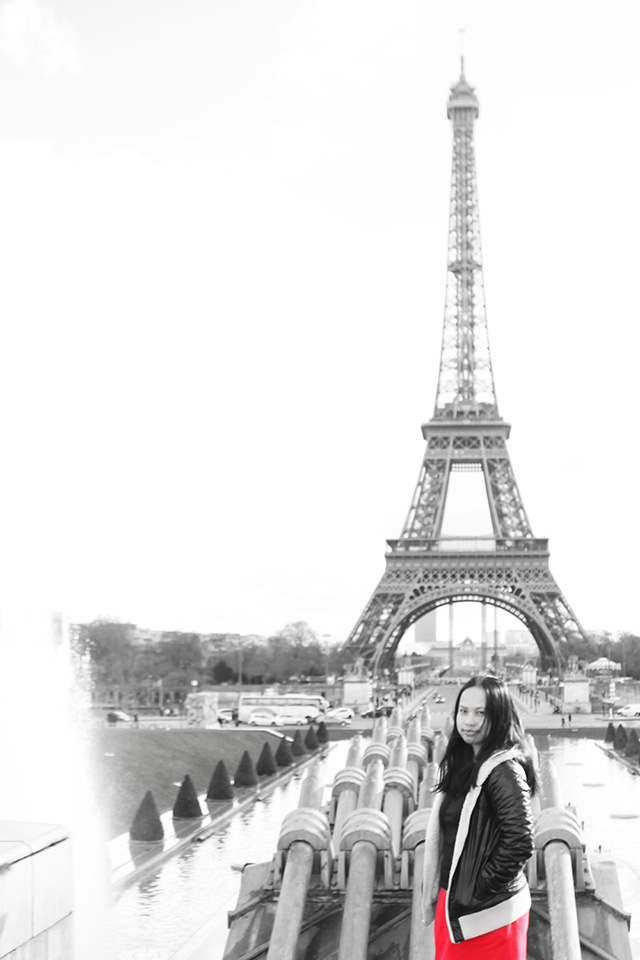 WHAT TO SEE AND DO 
There are many, many, many – and did I say many? – things you can see and do in Paris, depending on your interests and (of course) your budget. The following activities are free:
See the Eiffel Tower. You have to pay to go up the Eiffel Tower but it's perfectly free to admire from below. 
Explore charming Montmartre and enjoy the views of the Parisian skyline from the Basilique du Sacré Coeur.
Hear Mass or, if you're non-Catholic, just walk through the Cathédrale Notre Dame de Paris. Entrance to the church is free, though you'll have to pony up 8.50 euros to go up the towers. 
Have a picnic at any of Paris' admission-free parks and gardens, such as the Jardin du Luxembourg, the Place des Vosges, and the Jardin des Tuileries.
Take a walk along the Seine River. (Singing "On My Own" is optional!)
HOW TO GET A VISA
Admittedly, getting a Schengen visa via the French embassy is not going to be a walk in the park. You have to prove that you can afford your trip and that you're coming back to the Philippines. That said, you can increase your chances of getting a visa by making sure that your documents are complete. (READ: Applying for a visa? Keep these 5 tips in mind) 
Steps:
Prepare the requirements.
Set an appointment – at the earliest, 3 months prior to your intended date of departure. 
Go to the embassy and submit your documents at your appointed time. Personal appearance is necessary, even if you have a travel agency handling your application, as you will need to be fingerprinted.
Wait for the results. 
The processing fee for a short stay visa is €60. 
TIPS FOR BUDGET TRAVELERS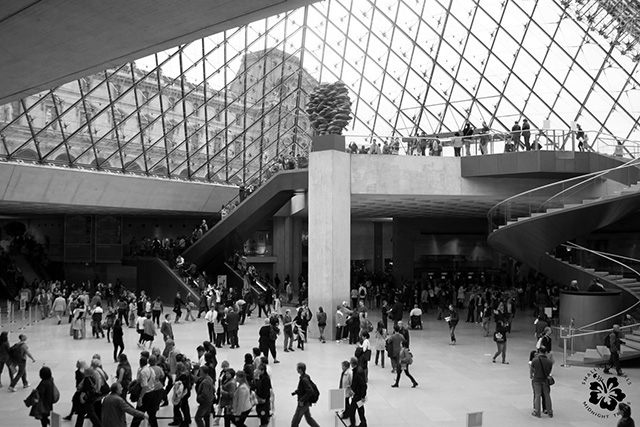 As mentioned above, it's possible to go on a 7-day trip to Paris for about P50,000. Here's how you can do that:
Wait for cheap plane tickets. With patience, you can score tickets to Paris for P30,000 or lower.
Stay at a cheap, central hostel with free breakfast. Cheap – self-explanatory. Central – so you won't have to spend too much on train tickets. Free breakfast – so you won't have to pay for it at a cafe. Depending on your hostel's breakfast hours, it can even double as your lunch.
Prix fixe (fixed price) meals cost around €15 and are generally cheaper than ordering ala carte. However, servings are usually big, and if there are two of you, you can split one prix fixe meal. Or if you aren't that hungry, a single pasta dish will usually be cheaper than the full meal. Don't be afraid to ask for service water. And the cheapest option: buy bread and cold cuts from the neighborhood grocery and have a picnic.
Walk whenever possible.
Do the math: depending on where you are and where you're going, you might be able to save by buying a carnet of 10 train tickets (at a discounted price) or a travel pass. Never take a taxi.
Most museums charge for admission, but if you really want to see such artworks as the Mona Lisa (at the Musée du Louvre) or Starry Night Over the Rhone (at the Musée d'Orsay), time your visit to coincide with free admission days (usually the first Sunday of each month). 
Instead of pre-purchasing euros with your pesos, notify your bank of your travel plans, and withdraw euros from an ATM in Paris – you'll get a much better exchange rate that way.
Start saving now! Repeat after me: Paris is possible. Paris is possible. Paris is possible. – Rappler.com
More budget trips:
Gaya is a travel blogger from Cebu whose background in psychology and medicine has taken a backseat to her passion for writing and traveling. Her main occupation is spamming her friends' Facebook feeds with travel articles she's published in her blog Small-Town Girls, Midnight Trains, but for bread and butter she takes on writing and healthcare-related projects from home. Her bucket list includes taking her family to Rome, seeing the northern lights from the Scottish highlands, and walking the Camino de Santiago.