Power supply woes and intermittent mobile signal in areas hit by Super Typhoon Rolly make online learning difficult for students in the Bicol region
Following the destruction left by Super Typhoon Rolly in Bicol, students in the region are left to pick up the pieces while having to juggle the demands of their online classes even as many areas still have no electricity and mobile phone signal.
Following Rolly, Ateneo de Naga University philosophy student John Ivan Añonuevo saw fallen trees and lampposts near his home in Barangay Tabuco in Naga City. Cell sites were also down for days in his area leading to little to no mobile signal.
He stressed that the devastation brought by Rolly greatly affected his studies. He had midterm requirements that he couldn't immediately turn in through Google Classroom because of the super typhoon. 
"Until now, I haven't worked on other tasks as there hasn't been electricity for a week already," Añonuevo explained in a mix of English and Filipino.
To fulfill his academic requirements, Añonuevo has to go to his older brother's home in Barangay Sta Cruz nearly two kilometers away, as his brother has a backup generator.
Fortunately, Ateneo de Naga suspended classes from November 3 to November 7 to allow students and teachers to rest and recover from the aftermath of Rolly. Añonuevo's professors also adjusted due dates for his requirements.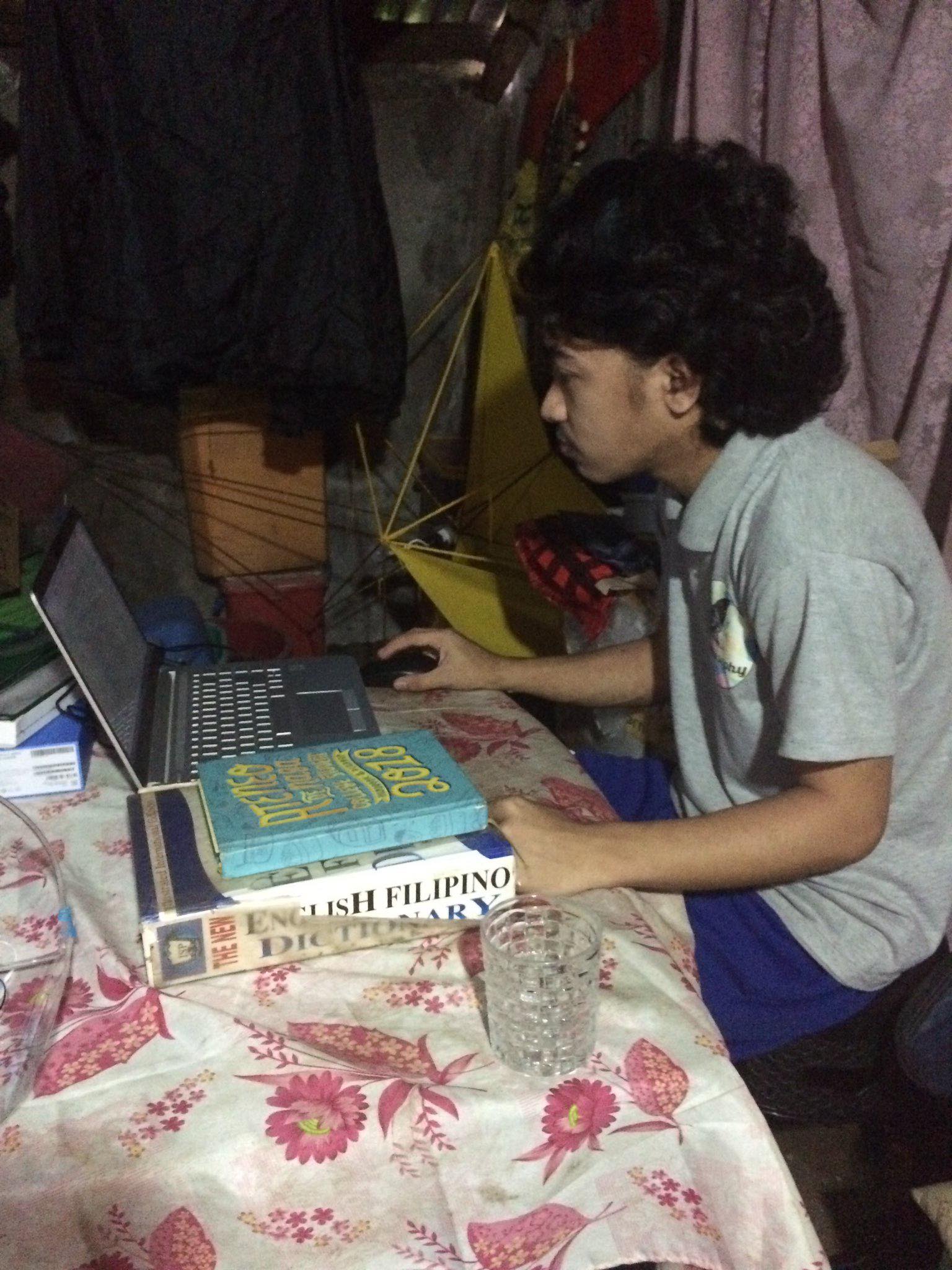 But not all students affected by Rolly are as lucky and privileged as Añonuevo.
While schools in Bicol are more understanding of their students' situation, Bicolanos studying in schools outside the region are facing an uphill battle in catching up with the rest of their class.
No electricity, no rest
Prior to Rolly's landfall, the University of the Philippines (UP) had implemented a system-wide reading break from November 2 to 6 to allow students and faculty members to hit pause after UP's academic community faced "unprecedented and multiple challenges" in its first month of remote learning.
Ely Rodriguez Trinidad, a UP Diliman student residing in Iriga City, Camarines Sur, planned to use the reading break to rest. Like many other students, he felt burnt out from the demands of the online classes.
"Wala pa nga kaming kuryente, pipilitin mo pa kaming umasa sa mag-adjust sa remote learning and it gets tiring real fast (We don't have electricity yet you're going to hope that we are going to adjust for online learning and it gets tiring real fast)," Trinidad said.
His apprehensions grew when Rolly flooded his home and downed power lines, causing a power outage. Trinidad shared that the earliest time that power could be restored would be by next week.
Although mobile signal has been restored in his area, Trinidad said that it remains inadequate for the demands of online learning.
In light of cases like this, several universities outside the region have been called to consider suspending classes in consideration of Rolly-affected areas.
Calls for class suspension
Acknowledging the plight of Bicolano students, the University of the Philippines-Diliman University Student Council (UPD USC) forwarded a petition to UPD chancellor Fidel Nemenzo to suspend synchronous classes and academic tasks and submissions until November 15. Several heads of regional organizations within the university backed the petition.
The UPD USC stressed that Rolly and Typhoon Quinta "affected several individuals and households which evidently suffered from varied home damages, signal interferences, electricity and power loss – components which are very vital in [the] current online setup."
"As the nation's premiere university, we must exude more empathetic and compassionate measures in our educational system and learning environment," the council added.
As of Tuesday, November 10, university officials have yet to address the petition. This forced students to bring their appeal for a compassionate and urgent response online through hashtag #DoBetterUP on Friday, November 6.
"A lot of students have been affected by the storm and are having difficulty recovering from the damage, yet they still chose to ignore our demands," said Mariano Niño Oliva, president of UP Harong, an organization of students from Camarines Sur.
"Strong 'yung calls of the UP community of extending the academic break we had last week especially since super affected nga kaming Bicolano students…. I don't know what my plan is going back to my classes since wala pa ngang power dito sa amin and [medyo] mahina pa [ang] signal for internet," Trinidad added.
(The calls of the UP community last week of extending the academic break are strong especially since we, Bicolano students, are super affected. I don't know what my plan is going back to my classes since there is no power in our place and our internet signal is weak.)
Student councils from other schools including the University of the East Manila and Adamson University have also called for a suspension of classes in a bid to help students from affected areas. However, their appeals were either neglected or rejected by their respective administration.
The aftermath of Super Typhoon Rolly had pushed students to revive calls for an academic freeze. The Samahan ng Progresibong Kabataan (SPARK) called out the government's refusal to suspend classes and other academic requirements on a national level.
"The education system, broken as it is with the haphazard shift to distance platforms, is left in an even worse state by the typhoon," John Lazaro, SPARK National Spokesperson, said in a statement.
SPARK urged the government to implement an academic freeze until January "to pave the way for a truly safe return to classes and an overall better normal for education through sweeping reforms." – Rappler.com