Under a unified call of #DuterteWakasanNa, groups urge the government to end what Karapatan described as 'Duterte's legacy' of human rights abuses and attacks on democracy
Ahead of President Rodrigo Duterte's final State of the Nation Address (SONA), groups nationwide took to the streets on Monday, July 26, to hold the administration accountable, accusing it of a flawed pandemic response and human rights violations. This is the second time protesters across the country staged SONA protests under the prevailing COVID-19 pandemic.
In a show of solidarity, students, journalists, lawyers, health workers, among other sectors, staged on-ground mobilizations around the country ranting about the state of the nation from what they said was the perspective of the people.
In Metro Manila, there were around 2,750 protesters present at the SONA rally held by different progressive groups along Commonwealth Avenue, Quezon City, according to the Philippine National Police. Many brought placards and protest art, some of which were inspired by Tarantadong Kalbo's Tumindig artwork.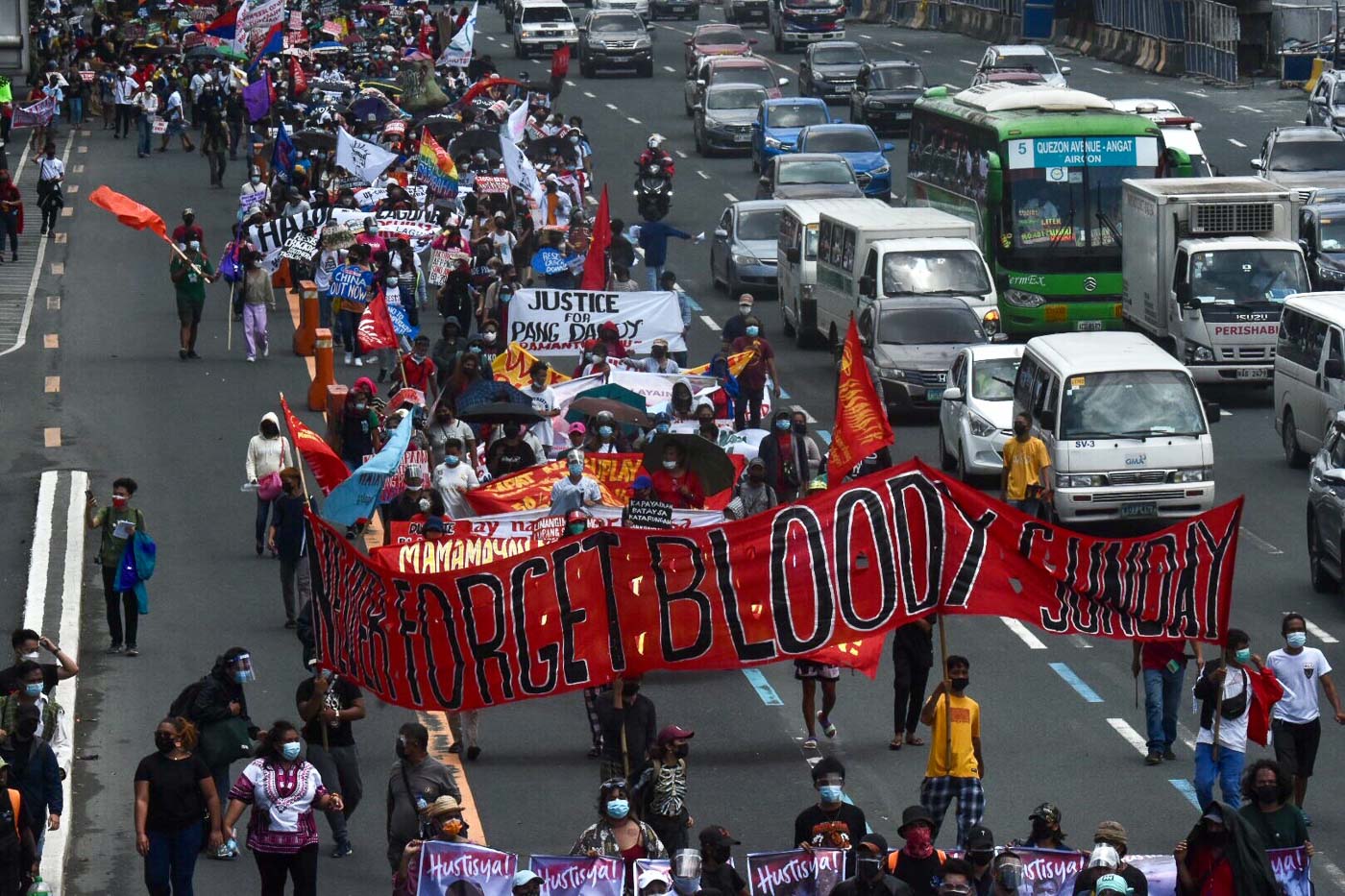 Under a unified call of  #DuterteWakasanNa, they urged the government to end what the group Karapatan described as "Duterte's legacy" of human rights abuses and attacks on democracy.
Data from Karapatan showed that from July 2016 to March 2021, or under President Rodrigo Duterte, 394 human rights defenders were killed while 493 others were attacked. A total of 1,090 were arrested and jailed, 2,700 arrested without being jailed, and 1,205 searched.
With one year left in Duterte's term, Akbayan said there was a need for better leaders, and a more engaged citizenry to undo the damage done by the current administration.
"If democracy is to survive and we are to win the fight against the pandemic, we must build better, broader and more principled yet grounded unities that will help our people band together and heed the call for truth, justice and accountability," Akbayan said.
"The strongest opposition must be built to expose and fight the relentless campaign of arrest and imprisonment of activists and leaders of targeted groups based on fabricated cases of murder, kidnapping, illegal possession of firearms and explosives, and on the expanded powers of detention, surveillance and freezing of bank accounts of political targets under the Anti-Terrorism Act," the group Kapatid added.
As elections near, the groups called on Filipinos to hold Duterte and government officials accountable, and to refuse to let the same kind of leadership continue in the next administration.
"We need to stop [Duterte's] plans to stay in power beyond 2022…We must end Duterte's reign of terror now once and for all and hold him to account for his crimes against the Filipino people," Karapatan Secretary General Christina Palabay said.
Filipinos in the United States also joined in expressing dissent and urged the US government to end Philippine police presence in the country and to stop international funding to the Philippines until the Duterte administration is made accountable. 
Here are the protests that were staged in different parts of the Philippines on the day of Duterte's final SONA:
Bicol
Two protests staged in the 2 major cities in the Bicol region allegedly faced complications with authorities as the groups called on the current administration to end human rights violations and improve its response to crises.
In Naga City, various groups marched along Magsaysay Avenue to Plaza Rizal. They were initially set to protest in front of Naga City Police Substation 2. According to The PILLARS Publication, however, the police barred the organizers from holding a protest at the station, leading the groups to stage their protest elsewhere.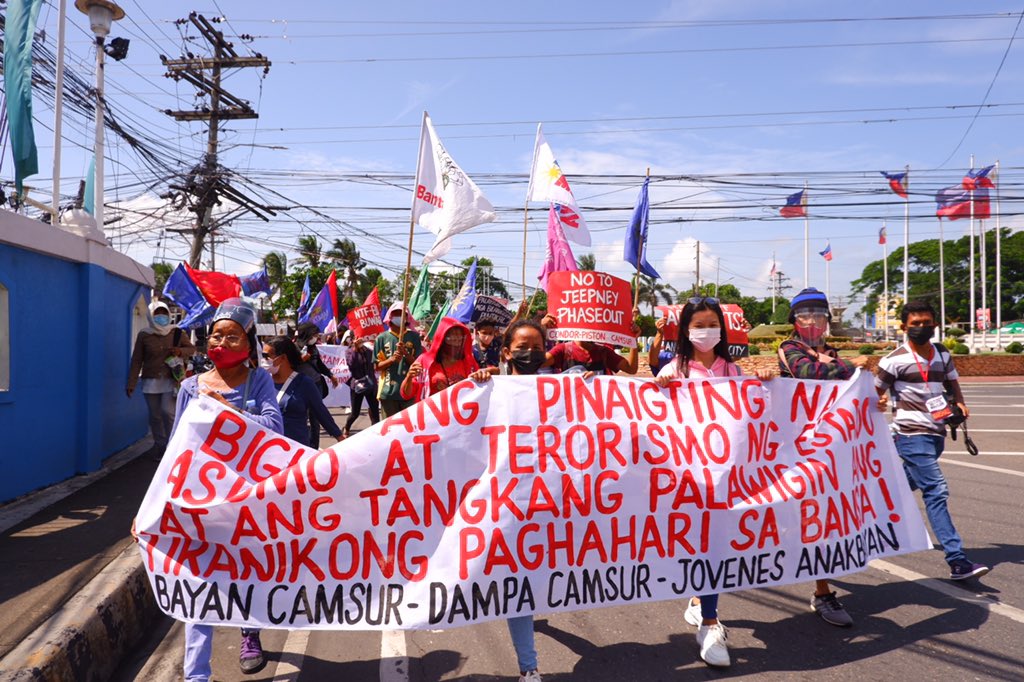 Meanwhile, in Legazpi City, Jovenes Akbayan, Youth Act Now Against Tyranny-Bicol (YANAT Bicol), and other progressive groups organized their "SONA ng Bayan" at the Bicol Regional Training and Teaching Hospital (BRTTH). 
The program highlighted the human rights violations in the Bicol region, including the arrest of a youth leader in Naga City due to alleged possession of firearms last May.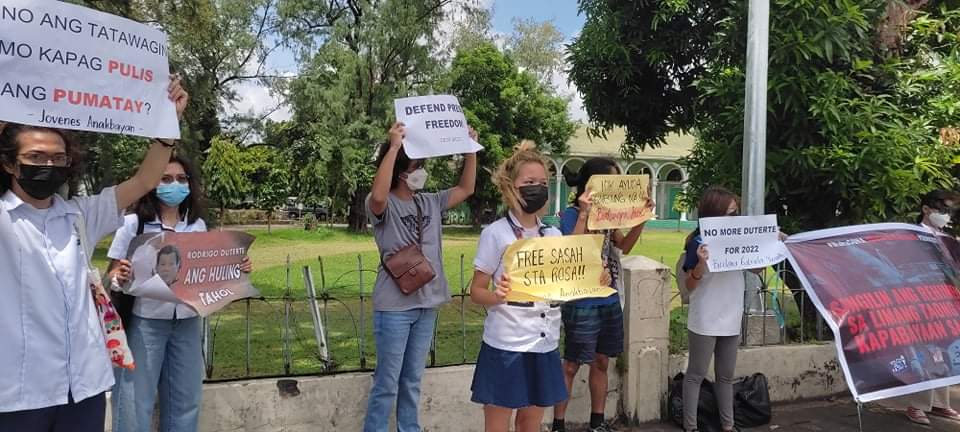 According to YANAT Bicol, officers from the Legazpi City Police Station arrived around 11 am to stop the protests, to which the groups agreed. Although the groups peacefully dispersed, YANAT Bicol claimed that the police continued to tail their vehicle even though they were far from BRTTH.
Citing the government's 'failure' to advance human rights, the College Editors Guild of the Philippines Camarines Sur spokesperson Edchie San Joaquin, said that  "Hangga't patuloy na may natatakot na mamamayan, hindi totoong matagumpay na naisusulong ng gobyerno ang nararapat na karapatan at pangangailangan ng malawak na hanay ng masa kabilang ang mga kabataan,"
(For as long as a Filipino still cowers in fear, the government will never be truly successful in advancing the rights and needs of the masses, including the youth.)
Bacolod City
Bagong Alyansang Makabayan (BAYAN)-Negros and Movement Against Tyranny led a protest-march attended by various local progressive groups in Bacolod City.
Youth members of League of Filipino Students-Bacolod, Kabataan Partylist-Negros, and Anakbayan-Negros wore their uniforms during the protest-march to express their opposition against mandatory Reserve Officer Training Corps training, as well as demand safe reopening of schools, and free education for all.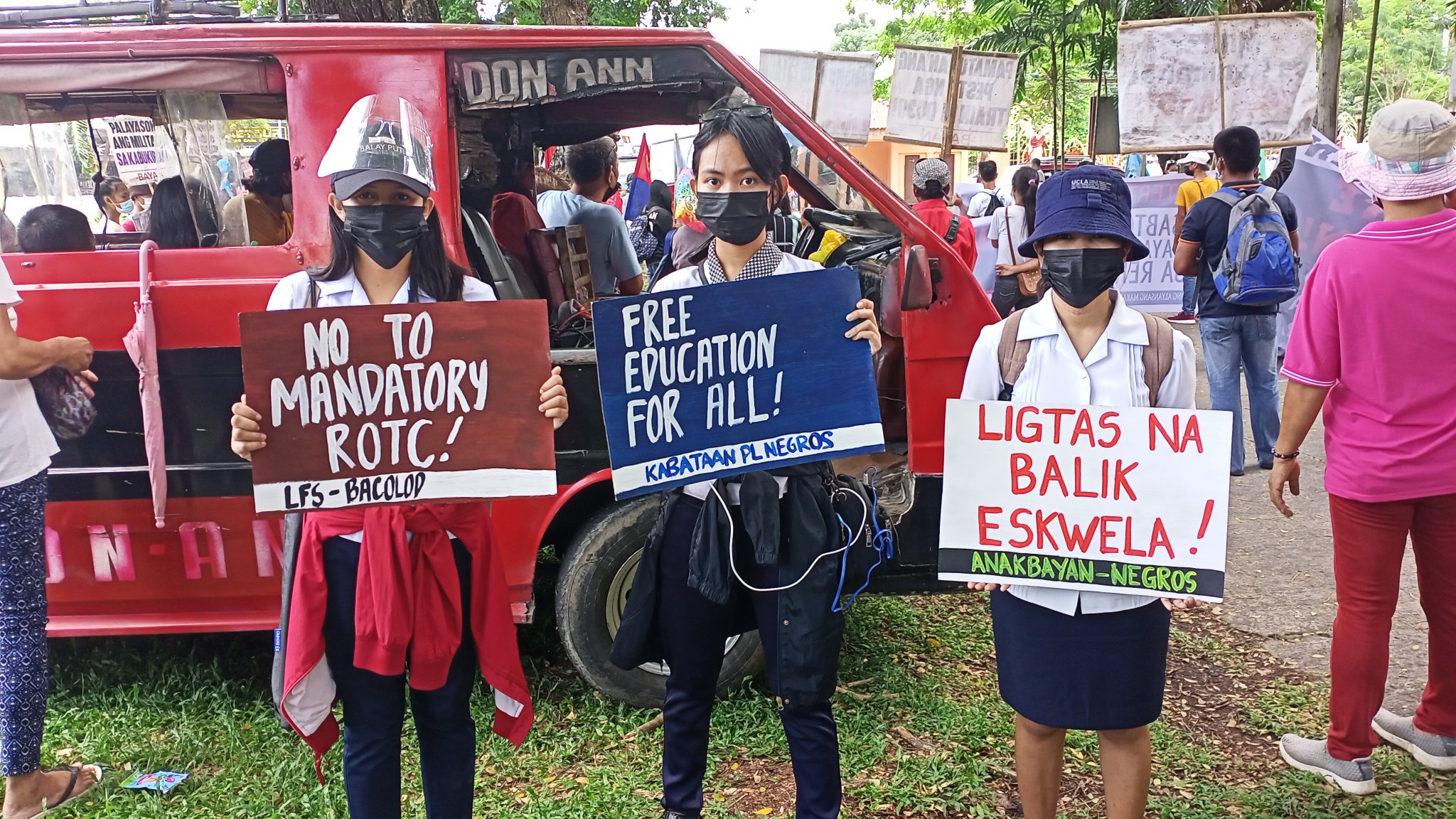 Milk Tea Alliance Philippines also joined the protest to call for an end to what they said were human rights violations and attacks on democracy and sovereignty in the Philippines. 
Iloilo
BAYAN-Panay together with various local progressive groups launched decentralized protest actions across various parts of Panay island.
Members of local peasant group Paghugpong sang mga Mangunguma sa Panay kag Guimaras (PAMANGGAS) in the northern part of Iloilo province demanded for government aid, such as vaccine supplies and livelihood opportunities. Other members also called on for proper land reform and the end of state terrorism.
Since the onset of the pandemic, a total of ​​20 activists, indigenous farmers, National Democratic Front (NDF) personalities, and human rights workers have been killed in Panay island, according to BAYAN-Panay's press statement.
Despite intermittent rain showers, protesters in Iloilo City pushed for additional government support for the city's health sector instead of further enhanced community quarantines after the city's quarantine reclassification.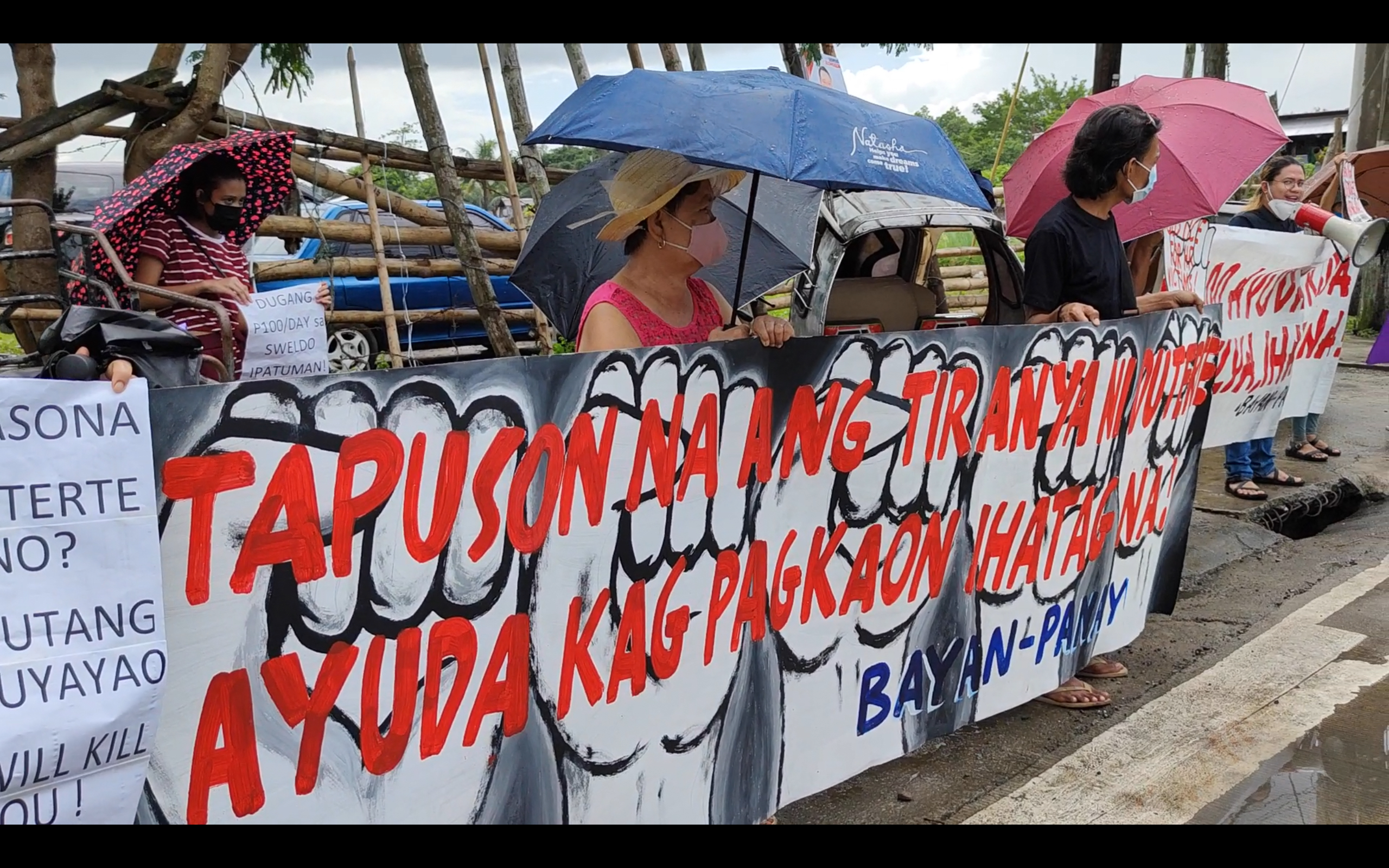 "We will exert all our efforts to frustrate the administration's maneuvers to hold on to power and hold them accountable for their crimes against the people," said BAYAN-Panay.
Aklan
BAYAN-Aklan also led the local protest in Kalibo. The group called for the junking of the proposed bill creating the Boracay Island Development Authority (BIDA) as a government-owned and controlled corporation.
It was during Duterte's 2020 SONA where he urged Congress to create BIDA. However, BIDA as a GOCC would result in the displacement of locals and workers, according to Kim-Sin Tugna, chairperson of BAYAN-Aklan.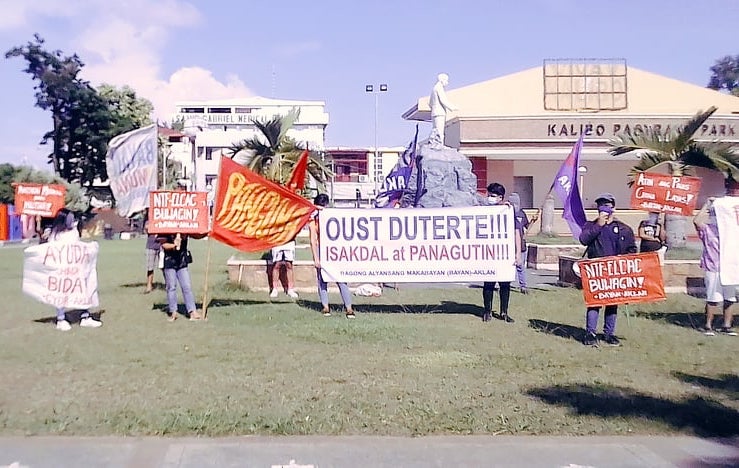 Other local groups together with BAYAN-Aklan also asserted the sovereignty of the country and called for the abolishing of the National Task Force to End Local Communist Armed Conflict during a protest in Pastrana Park.
Cebu
In Cebu, more than 300 individuals from different progressive groups joined the BAYAN-led SONA mobilization at Colon Street to condemn what they said was Duterte's failed COVID-19 response, red-tagging, and demolitions amid the pandemic. 
Protesters vowed that Duterte's last SONA does not mark the end of their fight in making the Duterte administration accountable for its human rights violations amid the International Criminal Court's probe on drug war.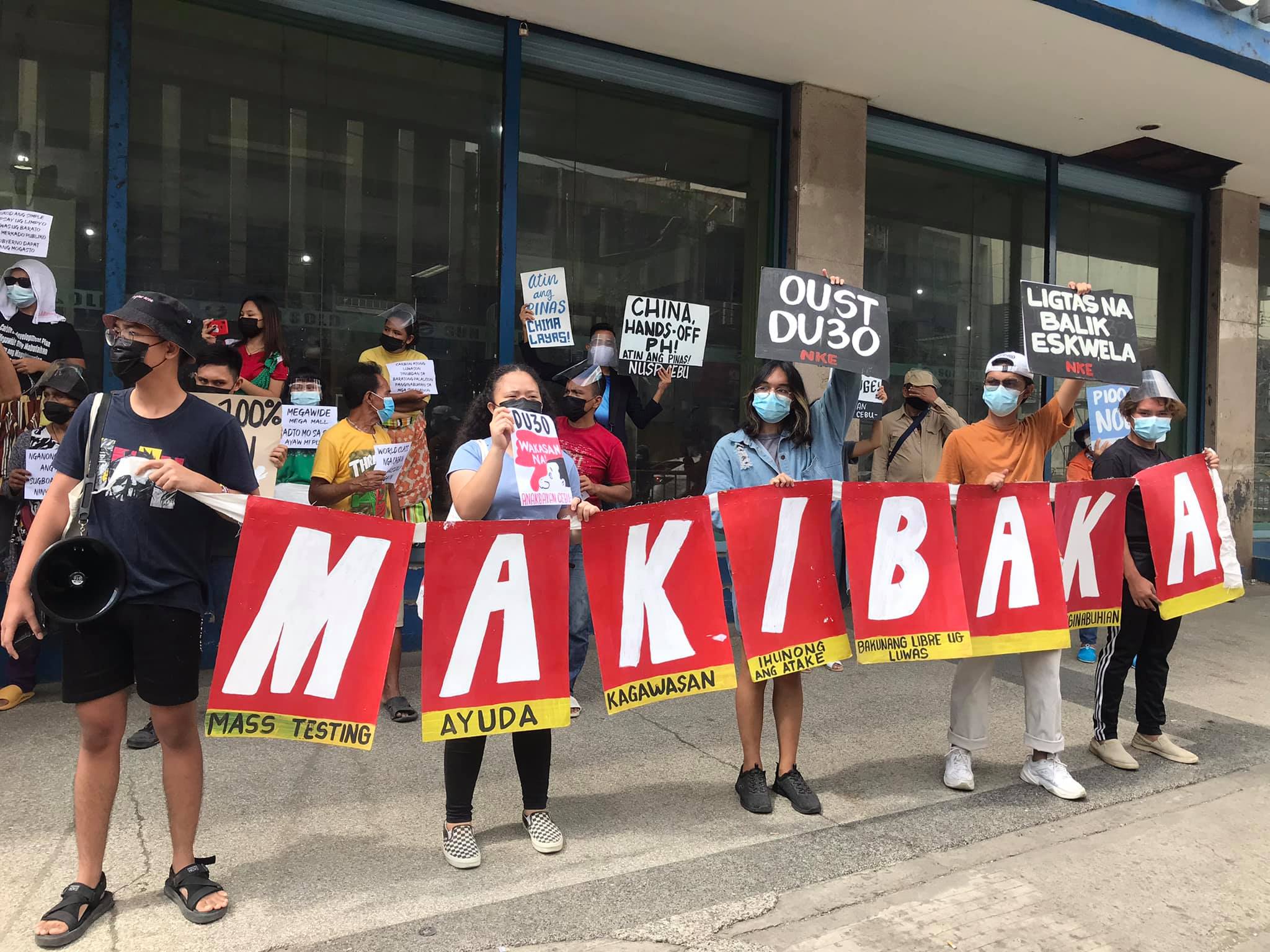 Davao
In Duterte's hometown, Davaoeños showed their resistance to the current administration. Several groups from Davao staged protests in four different areas: Bankerohan, Agdao, Quezon Boulevard, and Acacia Crossing. The activists called for an end to killings, corruption, sexism, and attacks on the Lumads and the Moros, among other issues that marred Duterte's term.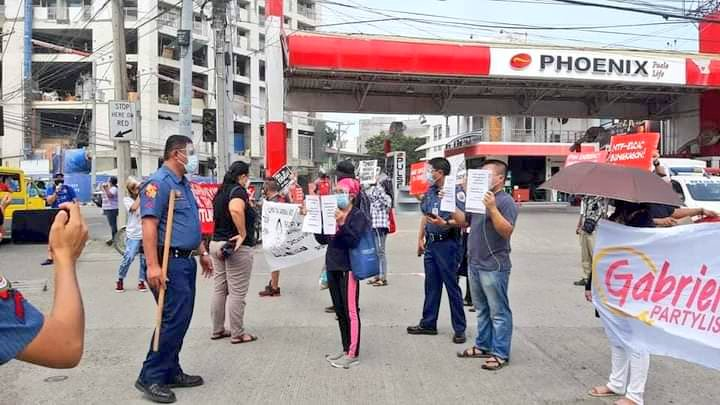 – Rappler.com
Joven Jacolbia is an organizational communication student at the University of the Philippines Manila, currently serving as editor-in-chief of Assortedge Media. Alec Templonuevo is an incoming freshman at the Ateneo de Manila University taking up AB Diplomacy and International Relations. Kristel Ogsimer is a Bachelor of Arts in Journalism student from the University of Santo Tomas.
All three are interns for MovePH, Rappler's community arm.