Although authorities have yet to release a complete narrative of what happened to Dacera, the victim-blaming that it had sparked was nonetheless real. Why is it a big deal?
Trigger warning: This article tackles and mentions the topic of rape.
Rape happens because of rapists.
Despite this fact, many have been quick to pin the blame on alleged rape-slay victim Christine Angelica Dacera, for spending her New Year's Day with a group of men.
The 23-year-old flight attendant was found dead in the bathtub of her hotel room at noon on January 1 . She was last spotted with at least 12 men, some of whom were her friends, at a New Year's Eve party in the hotel where she was staying. Police had deemed the case "solved" and alleged it to be a rape-slay case ahead of a full investigation.
As news of her alleged rape and murder spread on social media, several people had wrongfully victim-blamed and shamed Dacera, even going as far as calling her dumb and flirtatious for partying with men and for being the only woman there.
Squashing down this narrative, Filipinos online asserted that rape happens because of rapists, not because of people's clothing or level of intoxication. The hashtag #JusticeForChristineDacera went viral overnight, as many called on authorities to hold the alleged perpetrators accountable.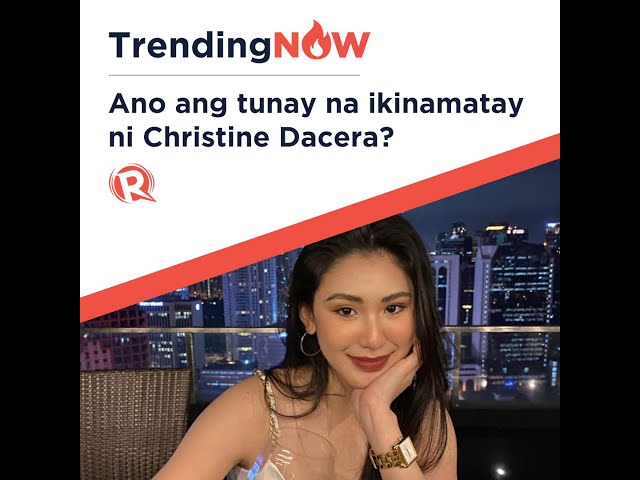 What does Dacera's case tell us about rape culture in the Philippines?
According to Dr Nathalie Africa-Verceles, director of the University of the Philippines Center for Women's and Gender Studies, people's knee-jerk reaction to blame victims of sexual violence, particularly in the case of Dacera, shows that the Philippines has a "long way to go" in dismantling rape culture and attaining gender equality.
The Philippines remains the top country in Asia in terms of gender equality, based on the Global Gender Gap Report of the World Economic Forum, even as it dropped to 16th place – an 8-notch plunge from its 2019 ranking – in 2020.
The Philippines also has several laws protecting women, such as the Safe Spaces Act, the Anti-Rape law, and Anti-Violence against Women and their Children Act.
In a country that's supposedly progressive in terms of gender equality relative to many other countries especially in Asia, why is rape culture so prevalent?
The Commission on Human Rights has emphasized how violence against women, such as rape, is "deeply rooted in patriarchal beliefs and unequal treatment of women in society." It does not help that women are further subjected to hardships when the crimes committed against them are refuted or shrugged off as their fault. This has made it especially difficult for survivors of sexual violence to come forward, as they are unjustly blamed and held responsible for what happened to them.
Verceles explained that victim-blaming is a manifestation of rape culture, which is a system of beliefs that normalizes, justifies, and trivializes sexual violence.
"Apart from the fact that you are silenced, you are not validated. Your experience is negated. That will affect your dignity as a human being; it can also affect women, especially those who are not critically aware. Victim-blaming might even lead to women questioning themselves. They might actually be internalizing those messages, rather than really confront the act that was wrong," Verceles said.
Survivors of sexual violence may even hesitate to come forward after seeing the deluge of comments on social media blaming Dacera for what happened to her. This makes it all the more important for Filipinos to understand and eradicate rape culture, so more people will feel safe to speak up.
"We should really empower victims to speak up; we should not make them afraid. For them to be able to do that, they should feel safe. They should feel confident enough that they will be taken seriously," Verceles said.
Implications of victim-blaming
While rape also happens to men, it happens to women more frequently. Verceles said it has become a "powerful means by which women and girls are kept in our subordinate position in society."
"All of us are afraid of rape, no matter how old or young you are…. It really poses a limitation to us because society will blame you…. We all limit our behavior because we live in the fear of rape. And men do not have that problem," Verceles said.
This fear seeps into the everyday decisions of women – from how they act and dress, and who they affiliate themselves with at certain times of the day – just to avoid sexual harassment and violence.
"We have to be careful about our behavior, our choices. If we are afraid of victim-blaming, it will affect the decisions that we make with respect to our lives and our bodies because we don't want to be raped or we don't want to be subjected to any gender-based violence, so we need to take precautions," Verceles said.
"The burden falls on the women themselves rather than society changing in order to make it a safe place for us; we are the ones who have to take preemptive measures to ensure that we are not victimized. That's unfair," Verceles added.
While there are many laws in place to protect women against gender-based violence, Verceles said laws alone are not enough in changing rape culture.
Dacera's case, which has raised discussions on rape culture and victim-blaming, has also shown how rape may still be trivialized. If people still think that rape only happens to certain women who don't adhere to norms that will protect her, Verceles said that people might not fully understand yet how rape is a violation of a person's body and an affront to one's dignity and rights.
Verceles added how the Philippine National Police's conclusion that Dacera's case is solved shows that rape is still not taken seriously.
"What the PNP is doing by hastily deciding on the case, inferring that a thorough investigation was made, is also trivializing rape…. If you see rape as a serious act, that means it has to undergo a thorough and a serious investigation. If you make a hasty judgment on it, isn't that a way of trivializing it?" Verceles said.
While speculations on Dacera's death continue to swirl on social media, Verceles pointed out that any reports of possible rape cases should not be downplayed.
"Every time there is a possible rape, whether or not it's been proven, I think we should take it seriously. That's another instance of trivializing rape if you think of it as a mere distraction…. Even if you're saying that the PNP might have acted hastily, that still does not detract from the reality that this is a possible rape case. It's okay to criticize the PNP but at the same time, we should not be trivializing rape," Verceles said.
What we can do
While Dacera's case has sparked discussions on victim-blaming, especially among the youth, more can be done to help end rape culture.
Here are some of Verceles' suggestions on how to do this:
Never use the word rape unless referring to an actual rape. It should never be used in the context of a joke.
When mentioning the word rape, it should come with a fair warning as it might be triggering to some people
Educate people by raising awareness and discussing the roots of sexual violence
Emphasize getting consent and teaching people not to rape
Institute sexual harassment policies in universities and workplaces
Validate voices of survivors
Verceles said that perpetrators must also be held accountable for their actions, so they will not be emboldened to prey on other women. From January 1 to October 30, 2020 the PNP has recorded 6,499 rape cases.
Dacera's family continues to seek for justice for the flight attendant, even speaking up on victim-blaming.
Although authorities have yet to release a complete narrative of what happened to Dacera, the victim-blaming that it had sparked was nonetheless real. This incident should make us pause and reflect on why many continue to side with perpetrators and enable rape culture. Advocates like Verceles say that we shouldn't have to wait for the next woman to be victim-blamed to realize what we should do next. – Rappler.com