Former Police Officer 3 Engelberto Durano, serving time for illegal drugs, claims he handed money to then justice secretary Leila de Lima upon orders of the late Jeffrey 'Jaguar' Diaz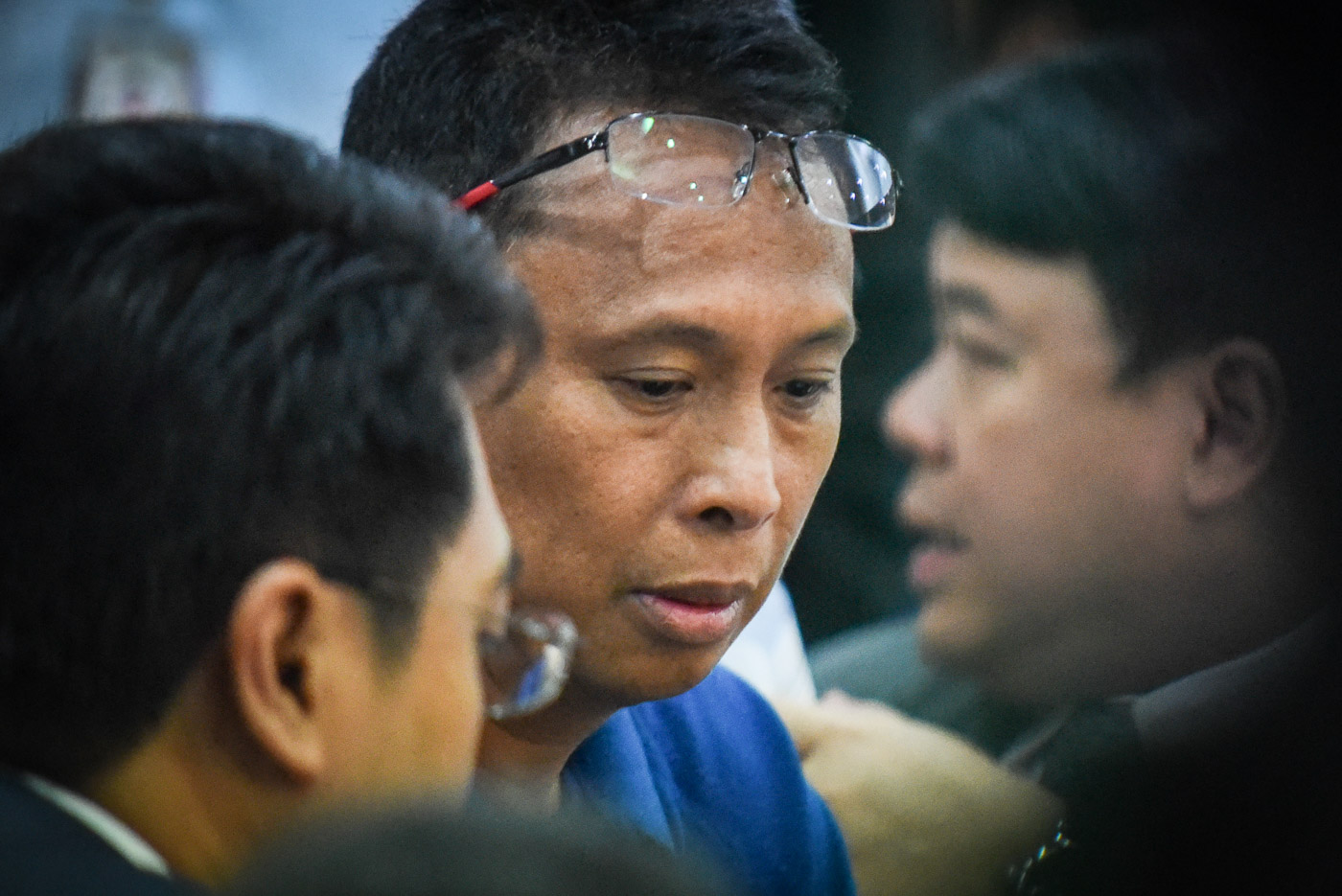 MANILA, Philippines – A convicted police official on Thursday, October 6, claimed Senator Leila de Lima received P1.5 million ($31,100) from the late Jeffrey Diaz alias "Jaguar,"  an alleged top drug lord in Cebu.
Former Police Officer 3 Engelberto Durano, serving time in the New Bilibid Prison for illegal drugs, claimed before a congressional hearing that he handed the amount to De Lima, former justice secretary, upon the orders of Diaz. 
Reading from a sworn affidavit before the House committee on justice, Durano claimed that in December 2014, Diaz allegedly contacted him to ask if he had cash on hand. Durano said he only had P500,000 ($10,367) but Diaz said he needed more because "may paghatiran ako (I need to deliver cash to someone)." 
Durano said he approached a certain Noel Martinez to borrow money reaching P1.5 million. 
"Nang makumpleto ko na ang nasabing halaga, tinawagan ko si Jaguar at tinanong ko kung pera saan ito (When the said amount was gathered, I called Jaguar and asked what the money was for)," said Durano. 
Diaz then supposedly told him: "Kadali lang, confirm ko muna kay Bay Ronnie (Hold on, I need to confirm with Ronnie)." 
Diaz, who allegedly headed illegal drugs operations in Cebu, was killed on June 18 in Las Piñas City. "Ronnie" refers to De Lima's former driver and security close-in Ronnie Dayan, who previous witnesses – also Bilibid convicts – claimed served as the former justice chief's bagman. 
Jaguar then supposedly called him back and told him to wrap the money, hide it inside a shoe box, and wrap it in giftwrapping paper.
"Noong maibalot ko na ng maayos ang pera ay inutusan ako ni Jaguar na pumunta sa Commando at sinabi niya na wala kang bibigyan na iba kung hindi si Secretary De Lima lamang (When I was done wrapping the cash Jaguar told me to go to Commando and said that I was to give the money to no one else but Secretary De Lima)," said Durano. 
Inside the building, claimed Durano, he was greeted by a man in a barong who confirmed his identity. The man, whom Durano did not identify, then supposedly led him to De Lima. 
Dayan's links? 
Durano, who was president of the KALASAG Organization, said he first met Dayan in 2011 when De Lima visited Bilibid following reports of drug use inside the prison. 
Durano said that each time De Lima would visit, he would talk to Dayan. "Madalas, kung kami ay nagkakausap ni [Dayan], palagi niyang nababanggit sa akin na siya ay sobrang malapit kay Secretary De Lima at kung ako umano ay may problema ay madali niya itong maipaparating kay Secretary De Lima at ito ay akin namang pinaniwalaan," he said. 
(Usually, when Dayan and I would talk, he would always mention that he is very close to Secretary De Lima and said that if I have a problem, he can easily relay this to Secretary De Lima. I believed his claims.) 
In their conversations, Durano said Dayan would allegedly always mention that he had "financial problems." Durano said he helped Dayan financially. 
In one phone call, Durano claimed Dayan offered "protection" for the former's "business" in exchange for helping De Lima's 2016 campaign. "Sinabi ko agad sa kanya na mayroon akong kaibigang nakalaya na sa pagkakulong at mayroon siyang malaking 'negosyo' ng pagbebenta ng shabu sa Cebu (I told him that I have a friend who left prison and is engaged in selling shabu in Cebu)," said Durano. 
He was referring to Diaz, whom he also met in prison. Diaz's links, said Durano, extended to two other supposed drug lords – Kerwin Espinosa, who is considered a wanted fugitive, and Peter Co, who was also injured during the same Bilibid "riot" that injured Sebastian. 
Durano claimed that by January and February 2014, the supposed transactions between Diaz and Dayan began. The transactions involved a certain Joenel Pederio, allegedly a shabu peddler in Zamboanga del Norte who was Dayan's "man."
Durano claimed Diaz also sent over P27.3 million to Dayan through several BDO bank accounts. 
Other witnesses had earlier claimed Dayan was raising funds in behalf of De Lima. Duterte himself has accused Dayan of collecting money from Bilibid drug operations.
Durano's claims are the latest in a string of testimonies issued by convicts, mostly from the Maximum Security Compound and later, Building 14, detailing De Lima's alleged involvement in the illegal drugs trade. Key personalities in the supposed Bilibid-De Lima web include Dayan and convict Jaybee Sebastian, who allegedly facilitated De Lima's transactions in the prison. 
Sebastian, De Lima later claimed, was a government asset. He is currently confined in a hospital following a supposed Bilibid riot that left him injured.  (READ: Jaybee Sebastian no-show at House probe into Bilibid drugs) 
The hearing, which began in September, was launched to probe the spread of illegal drugs inside the prison. De Lima's supposed involvement in the illegal drugs trade and her alleged links to drug personalities inside the maximum security prison – first revealed by President Rodrigo Duterte – have been the focus of the hearings. 
De Lima has strongly denied these allegations, tagging the House hearing as a "sham."  (READ: The public trial of Leila de Lima) – Rappler.com 
US$1 = P48.13