'Do we lock down a 40-story building over two cases? ....If we stick to the very stringent criteria, it may defeat the purpose,' Quezon City Mayor Joy Belmonte says
Instinctive knowledge of Quezon City's top doctors, not blind faith to written government guidelines, is what guides the Philippines' most populous city in enforcing small-scale lockdowns, Mayor Joy Belmonte asserted.
In a Rappler Talk interview on Sunday, September 19, Belmonte noted that on some occasions, the government's guidelines may not be practical to the realities on the ground.
For example, national government guidelines recommended that an entire residential building be identified as a critical zone and be placed under lockdown should there be "at least two cases of either a suspect, probable and/or confirmed COVID-19 cases…present [on] two different floors."
But Belmonte said strictly adhering to such a parameter could pose more challenges.
"In our city, we have residential buildings that are 40 stories high. Do we lock down a 40-story building over two cases? How do we fund the supplemental aid for families there? If we stick to the very stringent criteria, it may defeat the purpose," Belmonte told Rappler in a mix of English and Filipino.
"If we will be strict about criteria as they are written down, not really looking at outcomes we want to see, not being practical about certain things that need further thinking, and blindly following criteria, we might not be effective," she added.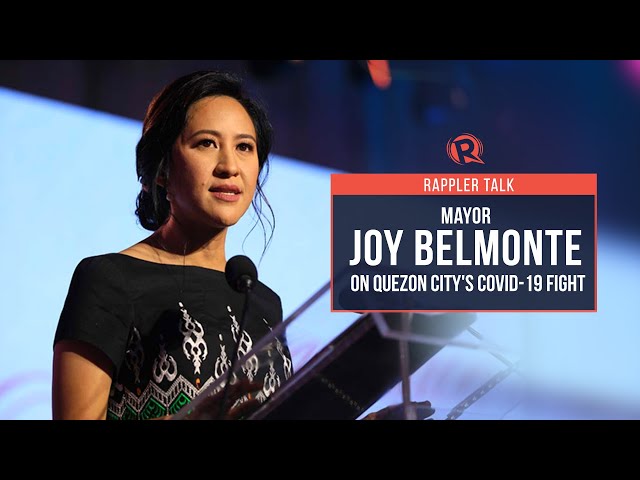 How QC utilizes granular lockdown powers
While Quezon City has released written guidelines on the enforcement of granular lockdowns, Belmonte said their epidemiology unit still determines whether the unique situation of a certain household or community makes it more vulnerable to COVID-19 spread.
"Ngayon kahit isa na lang ang case pero nakita natin na densely populated iyong lugar. Halimbawa, isang depressed community, tapos nakikita natin na maraming tao, at iyong mga tao ay hindi capable of of observing minimum health standards," Belmonte said.
(Now, we can lock down an area over a single case if it's densely populated. For example, a depressed community where the people are not capable of observing minimum health standards.)
She added that an area could be placed on granular lockdown if a super spreader event was held there.
"O kaya naman, nakita natin na wala pang positive case, pero nagkaroon ng superspreader event, katulad ng inuman, swimming party, at ng kung anu-ano pang mga mass gatherings, pwede na namin iyang ilagay under special concern lockdown, as we call it," Belmonte explained.
(Perhaps, an area does not have a positive case yet, but there was a super spreader event, like a swimming or drinking party. We could put that place under special concern lockdown.)
"And iyong nag-de-determine niyan, ay iyong City Epidemiology and Surveillance Unit, hindi po mga pulitiko, hindi po mga non-doctors. Iyong CESU talaga ang nag-de-decide, I am just informed about this," she said.
(CESU determines which places are put under lockdown, not politicians or non-doctors.)
As of Saturday, September 18, there were 48 areas in Quezon City which were under small-scale lockdowns. Aside from Quezon City, granular lockdowns have been imposed in various parts of Metro Manila, following the launch of a new lockdown scheme in the metropolis on Thursday, September 16.
That new lockdown scheme did away with wide-scale lockdowns, which were what the government used since the pandemic began in 2020.
As of Sunday, September 19, Quezon City was grappling with over 12,000 active COVID-19 cases, based on its data. – Rappler.com