During the hearing, senators ask former budget undersecretary Lloyd Lao if anyone told him to purchase overpriced supplies from a company owned by an ex-adviser of President Duterte
His name linked to an ex-budget executive who was being grilled for the purchase of overpriced pandemic supplies, Senator Bong Go on Friday, August 27, shifted attention away from issue, if only briefly, when he suddenly asked Health Secretary Francisco Duque III to resign from his post.
Go's name was brought up several times during the Senate blue ribbon committee hearing on the alleged irregularities in the purchases made by the Procurement Service-Department of Budget and Management (PS-DBM) for the Department of Health (DOH).
Resigned DBM undersecretary Lloyd Christopher Lao repeatedly denied his connection to Go. He said he did not directly work under Go when he was still with Malacañang, although he was assigned to the office specifically created by Duterte for Go: the Office of the Special Assistant to the President.
Minutes later, Senator Richard Gordon, Senate blue ribbon committee chair, said Go called him up to tell him not to drag his name into the investigation. "'Wag naman ako (Don't drag me there)," Go was quoted as saying.
Go then took his time to reiterate that Lao never worked for him.
"Kilala ko po siya. Taga-Davao din po siya. Pero 'di ko siya tauhan o aide. Kung may kasalanan siya, panagutin natin. Kung kailangang ikulong, ikulong natin. Kung kailangang i-contempt, i-contempt natin," said Go.
(I know him. He's also from Davao. But he was never under me nor my was aide. If he has done something wrong, then hold him accountable for it. If he needs to be jailed, then let him be jailed. If he has to be cited for contempt, then let him be cited for contempt.)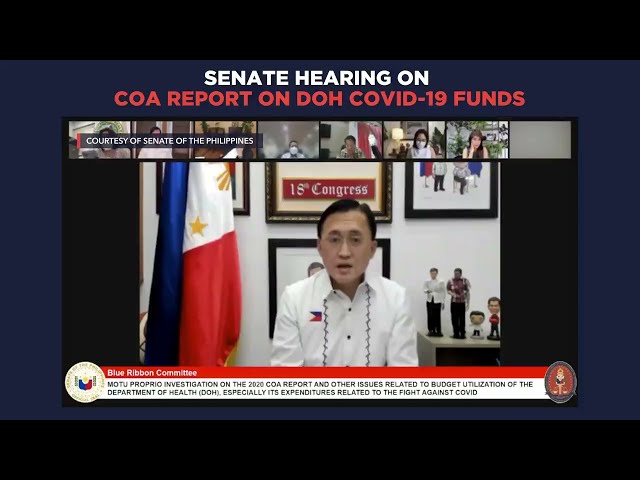 Then, before ending his manifestation, Go said Duque should "make the supreme sacrifice" when the time comes. The senator premised this call on what he claimed was the pity he felt for Duque, whose service was supposedly not being appreciated by the public.
"To Secretary Duque…make no mistake, President Rodrigo Duterte believes in you until the end. But it's still difficult. You have done so much already for Filipinos. We don't want that because of issues about you, your output will be compromised, especially now that we both know lives are at stake," Go said.
"My word of advice is, make the supreme sacrifice when the right time comes," Go added, clarifying that he was just giving a piece of advice to Duque.
In response, Duque said: "If the time comes that I need to resign, there's no problem with me. What is important is we clear all of these findings, purported deficiencies. We will address them squarely."
Go-Lao connection
Earlier during the hearing, Gordon tried to establish Lao's connection to Pharmally Pharmaceutical Corporation.
Pharmally bagged over P8 billion in contracts with the Philippine government, including purchases for personal protective equipment, test kits, and face masks.
Gordon on Friday showed the video of Chinese businessman Michael Yang and Pharmally International Holding chairman Huang Wenlie meeting with President Rodrigo Duterte in 2017, aired by RTVM. Go, who was still special assistant to the President at the time, was at that meeting.
Lao also said that he did not know Huang, even if a representative from Pharmally Pharmaceutical Corporation "went to his office."
"It seems, as you say, by association, ayan lahat (there it is). Michael Yang is in that meeting. The president of this corporation (Pharmally) was in that meeting with the President. Of course, that was three years before, May 2017, and now the pandemic, all of a sudden you give big contracts, P8 billion. How do you expect us to look at that?" asked Gordon.
"You better tell us the truth. The truth of the matter is you knew Mr. Huang. You were associated with Senator Go. You say you never worked for him, it might be true that you never worked for him. But he knew you and you knew him because you are all part of the campaign committee [of Duterte]," said Gordon.
Gordon even brought up Lao's application with the Office of the Ombudsman.
"Are you preparing for an escape plan? So [you are still protected] even after the President steps down and this issue blows over? Is that the truth? That's my conclusion. I'm sorry," Gordon said.
Make Lao liable
During the hearing, Lao also admitted to the "possibility" of negligence on his part that led to the purchase of overpriced face masks and shields in 2020.
He also told senators that he did not vet Pharmally, and merely did a cursory review of the requirements it submitted to his office.
"You're not even going to bother, 'Who is this?' 'Why is this company bidding for multibillion-peso contracts?'" said Gordon.
"If we do that, Mr. Chair, we will be held liable for association," said Lao.
Senate Minority Leader Franklin Drilon said that the findings of the committee should be referred to the Ombudsman and make Lao liable under the Anti-Graft and Corrupt Practices Act.
"Attorney Lao should be made liable for anti-graft for entering into contracts which are grossly prejudicial to the interest of the government and failed by his own admission to exercise the necessary prudence in order to prevent this totally unadvantageous contract," said Drilon.
Gordon said he usually forwards the committee findings to the justice department and the Ombudsman. – Rappler.com