This is AI generated summarization, which may have errors. For context, always refer to the full article.
(UPDATED) Lorraine Ecarma is not allowed to enter the police headquarters until a police officer intervenes. But once inside, one of the personnel takes a video of her, and she even gets red-tagged.
Rappler's Cebu correspondent Lorraine Ecarma was barred from entering the premises of the Central Visayas police headquarters in Cebu City on Friday, May 14, where she was supposed to cover the release of Lumad teacher and activist Chad Booc.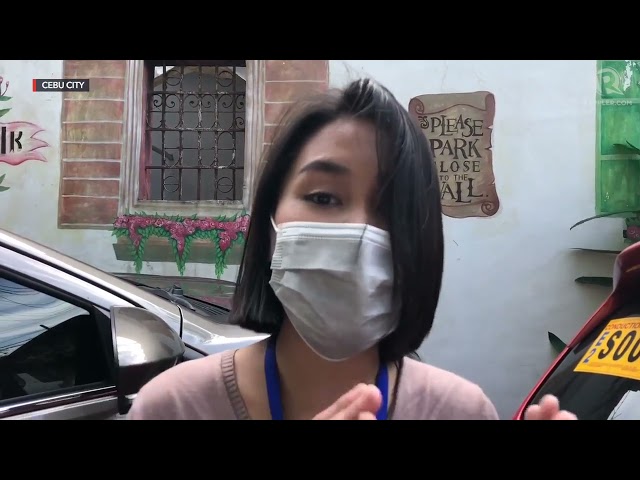 Ecarma was covering the release of Booc, a teacher at a Lumad school and one of seven individuals who were arrested at the University of San Carlos-Talamban Campus in February.
Ecarma arrived outside the police station at around 9 am, where there were activists, members of the clergy, and lawyers gathered to monitor the release of Booc.
"There were around 30 of us there," Ecarma said. "Every and then now non-uniformed individuals would leave and enter the gates. At around 10:24 [am], a personnel in green yelled and shoved me. He touched my arm and camera," she added.
Ecarma was told that she was not allowed to take photos or videos of the personnel for "privacy" reasons.
Reporters from all other media outlets – both local and national – were allowed to enter the compound except Rappler.
When Ecarma asked why she wasn't allowed in, the personnel at the gate said it was because Rappler was "fake news."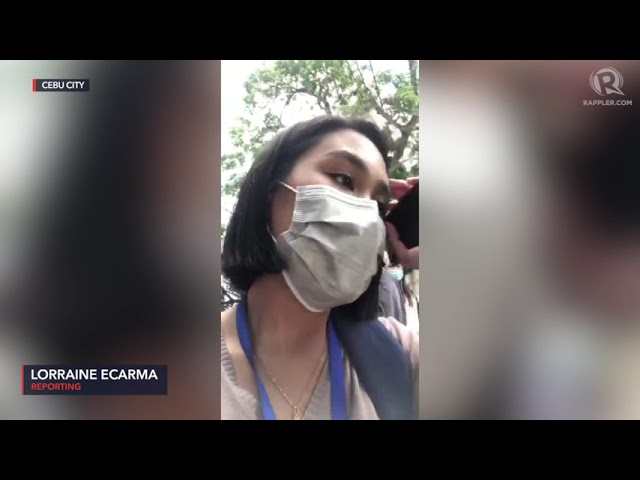 After waiting for about two hours, Ecarma was able to speak on the phone with Lieutenant Colonel Maria Aurora Rayos, Central Visayas police public information chief, who facilitated her entry into the compound.
Rayos told her that what happened was a case of "miscommunication" and "lack of coordination."
Rayos also said that the individuals who called Rappler "fake news" were not cops but just workers at the police headquarters.
Once Ecarma was inside the police facility, she said the men who were not in uniform taunted her and insinuated that she was involved in anti-government activities.
"Why are you so happy about Chad's release? You'll see him in the mountains," one of the men told Ecarma, effectively red-tagging her.
She said she was also filmed by one of the personnel. When she asked why he was taking a video of her, the plainclothes personnel said it was "protocol."
Yet, they scolded Ecarma when she attempted to take photos and videos of Booc and the area where he was being held.
Booc is accused of "kidnapping" Lumad children who, police alleged, were being trained as communist rebels. Lumad school advocates have maintained that they were only continuing the education of students whose communities have been affected by armed conflict in Mindanao.
The complaints against Booc and the others arrests in February had been dismissed by a Davao del Norte prosecutor. (READ: Prosecutor clears teachers, Lumads arrested in Cebu bakwit school raid)
"That is not our policy," PNP chief Guillermo Eleazar told Rappler in a text message. He said he spoke to Brigadier General Ronnie Montejo, the Central Visayas' regional police director, about the incident.
Exclusion violates constitutional right
In a statement, Rappler said it "deplores the arbitrary exclusion" of its correspondent from the coverage of Booc's release.
"We expect professional behavior from the policemen who have no basis for banning Ms. Ecarma," Rappler said.
The news outlet, which has been banned from covering the activities of President Rodrigo Duterte in and out of Malacañang since 2018, said the Philippine Constitution is explicit in protecting freedom of the press.
"The Constitution is explicit about the protection of freedom of the press. Whimsically preventing a journalist from documenting and reporting on the release of Booc, someone whom we had extensively reported on since February 2021, is a violation of that constitutional right," Rappler said.
"If other media organizations and journalists were allowed to cover, why not Rappler? Allow us to do our jobs!" it added.

The National Union of Journalists of the Philippines also called out authorities over the incident and reminded police that "interrogating the official narrative does not make a news organization or journalist 'fake news.'"
"NUJP also reminds state forces that filming and documenting are vital parts of the job of journalists as legitimate sources of information and that documenting public events is neither illegal nor a security risk," they added. – with reports from Lorraine Ecarma and Rambo Talabong/Rappler.com