This is AI generated summarization, which may have errors. For context, always refer to the full article.
These aspirants are now considered candidates, but they are not allowed to woo voters until the campaign period starts on October 19
MANILA, Philippines – The Commission on Elections (Comelec) said a total of 1,414,487 million people submitted their certificates of candidacy (COC) during the weeklong filing ahead of the 2023 barangay and Sangguniang Kabataan elections (BSKE) on October 30.
"This is definitely higher [than in 2018]," Comelec spokesman Rex Laudiangco said on Tuesday, September 5, when asked how the number compared to the COC filing for BSKE five years ago.
The breakdown is as follows:
96,962 COCs for barangay chairperson
731,682 COCs for Sangguniang Barangay member
92,774 COCs for Sangguniang Kabataan chairperson
493,069 COCs for Sangguniang Kabataan member
A total of 672,432 seats are up for grabs in October, including:
42,027 seats for barangay chairperson
294,189 seats for Sangguniang Barangay members
42,027 seats for Sangguniang Kabataan chairperson
294,189 seats for Sangguniang Kabataan members
The COC filing period last week was smooth-sailing in many parts of the country, but there had been hiccups in some areas.
The weeklong event was disrupted in Metro Manila, Abra, and Ilocos Norte due to bad weather, resulting in an extension of at least one day.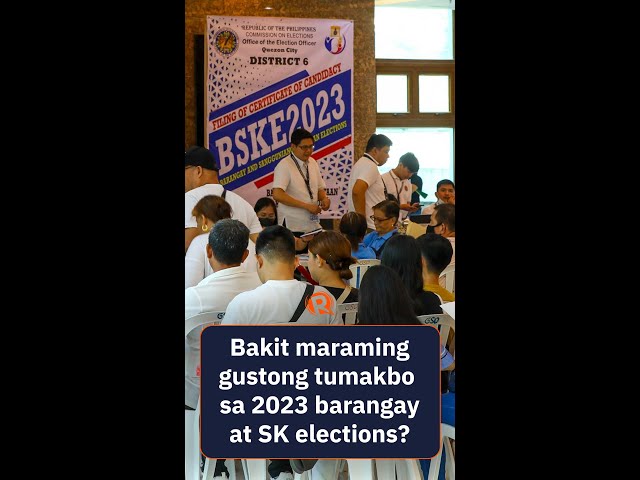 The influx of aspirants in Manila also left the Comelec no choice but to impose a cutoff on the first day of application.
The filers are now considered candidates, but they can only woo voters during the campaign period from October 19 to 28.
The Comelec has said premature campaigning is prohibited.
The long-delayed village-based elections were supposed to be held originally in May 2020 until two laws separately signed by then-president Rodrigo Duterte and President Ferdinand Marcos Jr. pushed the schedule to its current date of October 30.
The repeated delays frustrated advocates for clean elections, who said the deferment deprived the electorate of their right to regularly change their leaders. – Rappler.com