This is AI generated summarization, which may have errors. For context, always refer to the full article.
President Rodrigo Duterte fails to lay out a plan to stem rising coronavirus infections, instead vowing to run after 'lousy' telco firms for the remainder of his presidency
While words about the COVID-19 pandemic did materialize in his State of the Nation Address (SONA), Philippine President Rodrigo Duterte could not hide his ripened obsession with bringing down "oligarchs," leaving no doubt about what is occupying his mind.
His almost two-hour speech on Monday, July 27, began with a hint of promise as he first acknowledged "troubled times" and virus-spurned dreams of the country. But within 5 minutes, he veered away from the pandemic to fume over the owners of well-loved broadcasting network ABS-CBN and call them oligarchs.
"Media is a powerful tool in the hands of oligarchs like the Lopezes who use their media outlets in their battles with political figures," fulminated Duterte, calling himself a "casualty" of the Lopezes during the 2016 elections which he won by a landslide.
The shutdown of ABS-CBN and rejection of a new franchise for the network was one of the most unpopular decisions made by lawmakers, with Duterte's blessing, during the pandemic.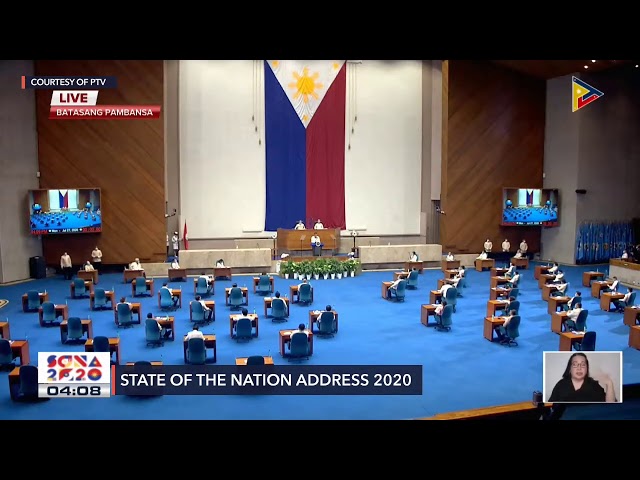 Without missing a beat, he segued into his favorite topic, his drug war.
"The dealers and purveyors of illegal drugs, hiding in the shadows of COVID-19 have stepped up their activities," said Duterte.
There were obvious efforts in other parts of his speech to connect the two issues, like when Duterte promised to fight the COVID-19 virus with the "same fervor" he demonstrated in his bloody anti-drugs campaign.
But he was at his most impassioned when talking about his campaign against the "Philippine oligarchy," as evidenced by his constant digressions from his written speech when this was the topic.
In between reading out remarks about the economy and his priority bills, Duterte went off-script to threaten expropriation of the two dominant telecommunication firms PLDT-Smart and Globe Telecom. They are owned, respectively, by tycoons Manny V Pangilinan and the Ayala family, whom Duterte has labeled as oligarchs before and repeatedly threatened.
A consummate populist, Duterte justified his threat by accusing the two companies of terrible service, specifically poor connection and slow internet speeds.
"If you are not ready to improve, I might just as well close all of you and we revert back to the line telephone and I will take it and expropriate it for government," said Duterte.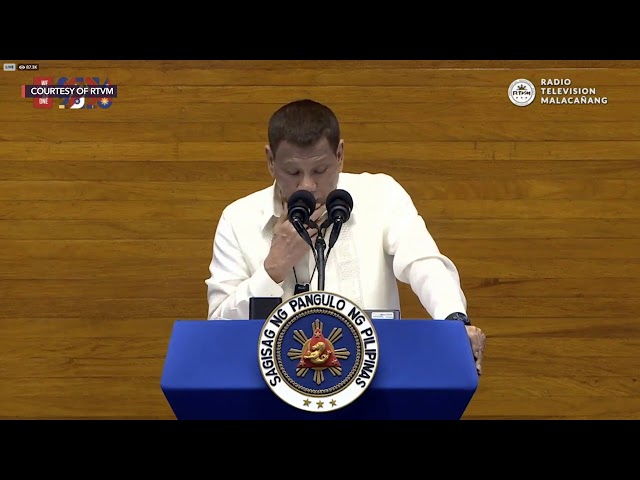 In a line that will likely appeal to any Filipino who has experienced dropped calls, the President challenged the two firms to improve their services by December.
"I want to call Jesus Christ [in] Bethlehem, better have that line cleared," said President.
He left no doubt in the minds of lawmakers that he expected their support in his new mission for the remainder of his term.
"The next two years will be spent improving the telecommunications of this country without you. I will find a way. I will talk to Congress to find a way how to do it," said Duterte.
Clearly, it's not the pandemic that will occupy Duterte's thoughts in the last years of his presidency despite its widespread impact on Filipinos.
He made no mention of the 3rd telco player, Dito Telecommunity. Still not operating commercially, the firm is owned by Duterte's friend and campaign contributor Dennis Uy.
What he said – and didn't – about COVID-19
The pandemic reality was impossible to ignore during Duterte's SONA. He arrived wearing a mask and traditional welcome ceremonies were skipped so he would not stay longer than necessary. He entered near-empty Batasang Pambansa plenary hall and stood before an audience of 50 officials while the rest tuned in through virtual meeting platform Zoom.
He appropriately acknowledged the grief of losing a loved one to COVID-19 and thanked front liners, members of his coronavirus task force, and local government leaders who "stepped up."
He recounted the billions-worth of assistance given to millions of low-income families and displaced workers and promised to help jeepney drivers who say they did not receive the aid promised them. He vowed to run after "opportunists" who pocketed government funds.
The most impactful directive he gave to Congress was to pass the Bayanihan to Recover As One Act, a law intended to provide more assistance to poor households and displaced workers, low-interest loans to small businesses, funds for schools and students in the shift to online learning, and funds for more COVID-19 testing.
He also asked Congress to pass the CREATE (Corporate Recovery and Tax Incentives for Enterprises) Act as a post-pandemic economic recovery measure. Known in the past by other names (Trabaho and CITIRA), the measure lowers corporate income tax and rationalizes financial incentives for investors, in a bid to attract more businesses and create more jobs.
But Duterte also made direct appeals to economic players themselves. He asked owners of commercial buildings to be "fair and compassionate" to floundering small businesses by giving them generous grace periods for paying their rent. He asked banks to allow penalty-free loan extensions for small businesses.
He vowed other adjustments to pandemic life, like ordering the government to "lead the way" in transitioning to online systems so that physical cuing becomes "a thing of the past." He also promised that before he steps down in 2022, a public education network (PEN) should be set up connecting schools nationwide to a Department of Education system that facilitates online learning.
Measures to improve the country's health care system in the longterm also figured in Duterte's speech. He asked Congress to pass a law creating the country's own centers for disease control and prevention. He called for the strengthening and expansion of rural and barangay health centers.
But largely missing from Duterte's COVID-19 remarks was a clear plan to address an immediate and urgent concern – the continued rise of coronavirus cases. On the day of his SONA, some 1,600 more people were confirmed as COVID-19 positive. More than a week of a thousand to 2,000 new cases has led to the total 82,040 infections so far. The Philippines has the second highest coronavirus case count in Southeast Asia and tops the region in the number of active cases.
The closest Duterte got to addressing this was a declaration that he would not fully reopen the country's economy anytime soon.
"To open up the economy to pre-COVID-19 levels at this time is not an option because whatever good it will produce will be outweighed by the bad it will generate," said Duterte.
Admitting lapses, calling for unity
Duterte was at his most presidential when he conceded lapses in his government's COVID-19 response.
"I admit our actions have been far from perfect, totoo 'yan (it's true), I admit it. There could be improvements here and there. But all of us in government, including myself, assure you that we will not stop until we get things right and better for you," said the Philippine leader.
He hoped Filipinos would "march in unison" to the drumbeat of "solidarity and unity."
"I appeal to each and every Filipino, let us take care of one another. This is the time to help each other, not get the better of the other," Duterte added.
But with no substantial plan for reining in the outbreak and his threats against big business, the words sounded hollow.
For the rest of his speech, Duterte reminded Congress of measures he wants passed – from the progressive National Land Use Act to the heavy-handed reinstatement of death penalty. He thanked Congress for passing many laws, and highlighted the measures championed by his longtime aide Senator Bong Go. But he did not mention the Anti-Terrorism Law which Congress passed amid widespread public opposition. Neither did he mention federalism or charter change, once an advocacy of his.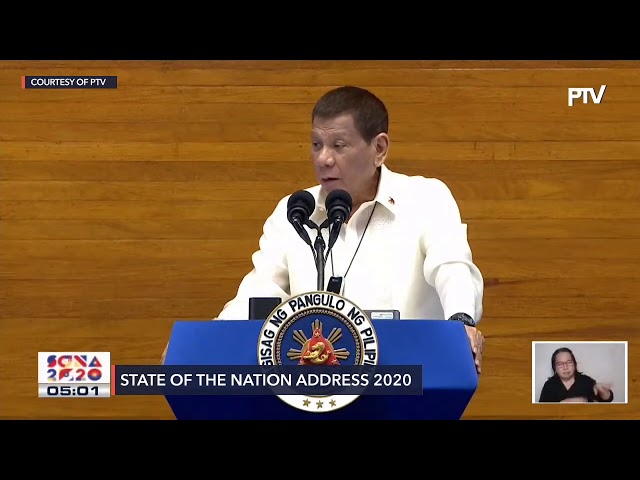 Though he notably toned down on insulting communists and human rights advocates, the SONA did not end without a reference to dead bodies.
"I am addressing myself to the criminals, you commit holdups, you commit rape, you commit all sorts of things and you harm the public, then I'm your enemy. If you go back to your ways, the bodies will pile up here. I'll look for you," said Duterte.
The coronavirus crisis may have forced Duterte to make adjustments to his SONA, but evidently, old habits die hard. – Rappler.com