(4th UPDATE) The appellate court says Ressa's US engagements – participating in documentary panels and receiving a press freedom award – are not necessary and urgent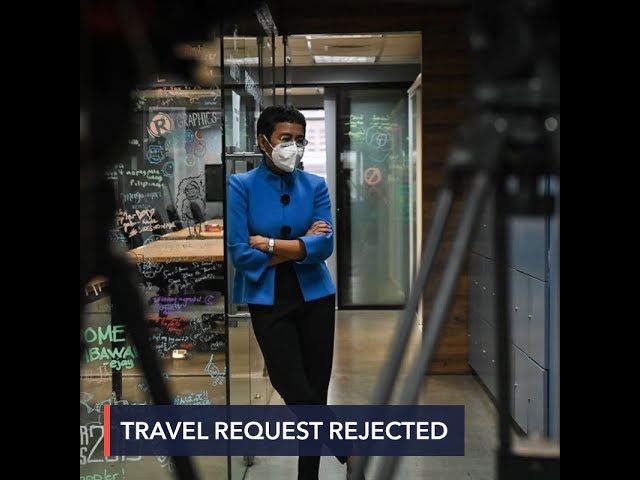 The Court of Appeals did not allow Rappler CEO and Executive Editor Maria Ressa to travel to the United States this August, saying that her engagements there are not considered urgent and necessary.
Ressa sought permission to go to the United States to attend panel discussions of the Ramona Diaz documentary, "A Thousand Cuts," which is about her and Rappler, as well as to receive the 2020 International Press Freedom Award from the National Press Club.
"In view of Ressa's failure to prove that her travel to the United States of America is necessary and urgent, there is no basis to grant her motion. Premises considered, Maria Ressa's very urgent motion for permission to travel abroad is denied, the Court of Appeals Special 14th Division said in a resolution promulgated Tuesday, August 18.
On August 20, the appellate court denied with finality Ressa's motion for reconsideration, which she filed also on August 18.
Ressa and former Rappler researcher-writer Reynaldo Santos Jr's convictions of cyber libel have been elevated to the CA for an appeal. This is why it now has jurisdiction over both Ressa and Santos for their motions to travel.
The defendants need the court's authority to travel abroad.
Courts usually grant motions to travel, but in Ressa's case, the Court of Appeals said that "conviction, although not yet final, warrants the exercise of greater caution in allowing a person admitted to bail from leaving the Philippines."
People convicted of generally bailable offenses can enjoy liberty on bail unless and until their convictions are made final by the Supreme Court.
The Court of Appeals said Ressa can very well participate in these engagements online. (LIST: Cases vs Maria Ressa, Rappler directors, staff since 2018)
Ressa said 6 courts where she's on trial for other charges had already approved her travel.
"The courts that filed 8 arrest warrants against me approved 35 travel itineraries. Every time, I came back. Now I have approval to travel from 6 of 8. I will face these charges and see them defeated," said Ressa.
OSG opposed
The Office of the Solicitor General (OSG) had opposed Ressa's travel request, saying among others, that the journalist's statements against the Philippine justice system make her a flight risk.
"Ressa had made public statements indicative of her lack of respect for the Philippine judicial system, as well as her belief that it is no longer capable of dispensing impartial justice," the CA quoted the OSG as saying.
The OSG also pointed out that Ressa is on trial for other charges, including 5 tax cases.
"According to the OSG, these circumstances, along with her views on the justice system, make her a flight risk," said the CA.
"I'm very careful in what I say: I've always stated that the Philippine justice system is on trial as much as I am – and continue to appeal to the judges to be guided by the spirit of the law," Ressa said.
"All the Court of Appeals said is that no necessity or urgency for the travel has been shown so we will file our Motion for Reconsideration to show both necessity and urgency for the travel," said Ressa's lawyer, former Supreme Court spokesperson Ted Te. – Rappler.com