(1st UPDATE) Former Philippine foreign secretary Albert del Rosario says this information comes from a 'highly trustworthy international institution'
Former Philippine foreign secretary Albert del Rosario bared on Monday, July 12, that senior Chinese officials had boasted about their influence over the 2016 Philippine elections where President Rodrigo Duterte won a landslide victory.
Del Rosario, who was Philippine ambassador to the US before becoming foreign secretary, said this information came from "a most reliable international entity" – an undisclosed source which he later described as a "highly trustworthy international institution."  
The former top diplomat made the statement in a forum marking the fifth anniversary of the 2016 Hague ruling on the South China Sea, as he blasted Duterte's betrayal of the Philippines' interests.
"On February 22, 2019, we received information from a most reliable international entity that high officials from China are bragging that they had been able to influence the 2016 Philippine elections so that Duterte would be president," Del Rosario said.
He had mentioned the finding in tackling Duterte's "failure of leadership" in the Philippines' dispute with China. Del Rosario said the President's early decision to set aside the arbitral award, along with statements and actions that followed it, "fit into a disturbing pattern of loyalty to a foreign power."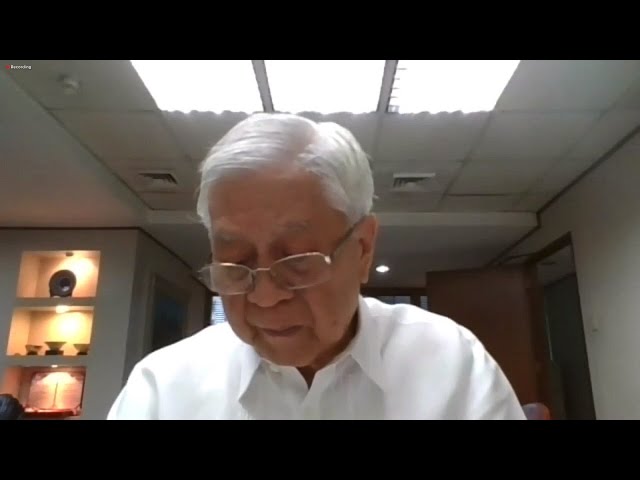 Del Rosario cited Duterte's pronouncement in 2018 that China President Xi Jinping had sworn to protect him from moves that could see the Philippine leader removed from office, as well as the Chief Executive's declaration of affinity for Xi in the same year.
Duterte, on his way to China for the 2018 Boao Forum for Asia, said in a press conference at the time: "I just simply love Xi Jinping. He understood, he understands my problem and he is willing to help."
Del Rosario hit Duterte's high support for XI, who represented an "aggressor that is openly and illegally occupying land and waters that belong to the Filipino people."
"It is certainly disturbing to see our President – who should be looking after his own people – relying on a foreign leader for his security of tenure as President," Del Rosario said.
Del Rosario called out Duterte for his "reckless statements" on the Hague ruling – considered the Philippines' "ace card" – and reneging on his constitutional duty to protect and assert Filipinos' rights in its exclusive economic zone in the West Philippine Sea.
"For the last five years, what we see is a betrayal of the Filipino people," he said. "Is it not about time for Filipinos to reject this man and what he represents?"
Like Del Rosario, retired Supreme Court justice Antonio Carpio encouraged the Filipinos to stand up against acts of the President that affect the country's sovereign rights in the West Philippine Sea. 
"The Filipino people must object, and object vigorously, to any act of the President that devalues or diminishes our sovereign rights in the West Philippine Sea. This is the final lesson – the Filipino people must remain ever vigilant to protect, preserve and defend their sovereign rights in the nation's exclusive economic zone in the West Philippines Sea," Carpio said in Monday's forum.
"The Filipino people must not allow any administration to just set aside the arbitral award in the vain hope that China will dole out investments and loans to the Philippines. Our sovereign rights are not for sale, mortgage or donation to China or to any other country," he added.
Chinese networks on social media
Del Rosario's statement comes after Facebook announced in September 2020, that it took down hundreds of coordinated fake accounts with links to China in the Philippines for violating the platform's policies on "foreign or government interference." Facebook defined this as "coordinated inauthentic behavior on behalf of a foreign or government entity."
In the case of networks from China, Facebook said activity "focused primarily on the Philippines and Southeast Asia more broadly, and also on the United States." It discussed a number of topics, which included the following:
Beijing's interests in the South China Sea
Hong Kong
content supportive of President Rodrigo Duterte and Sara Duterte's potential run in the 2022 presidential election
criticism of news website Rappler
issues relevant to the overseas Filipino workers
praise and some criticism of China
Facebook also said its investigation found links to individuals in the Fujian province of China and that accounts, pages, and groups on Facebook and Instagram were tracked by more than 130,000 followers in the Philippines.
Network analysis firm Graphika, meanwhile, found that messaging from the Chinese networks promoted China in its geopolitical rivalry with the United States, "especially in the South China Sea." It also used the network to "promote favored politicians – notably members of the Duterte family in the Philippines, and President Joko Widodo ("Jokowi") in Indonesia."
Military and diplomatic experts earlier urged Filipinos to be vigilant against China-backed candidates in the 2022 elections. They warned there may be several "Manchurian candidates" – or those who act in the interests of a country or political party other than their own – in the upcoming polls as China tries to tighten its grip on the Philippines. – with reports from Jairo Bolledo/Rappler.com