This is AI generated summarization, which may have errors. For context, always refer to the full article.
A maritime expert says the incident shows that China is becoming more aggressive in the contested waterway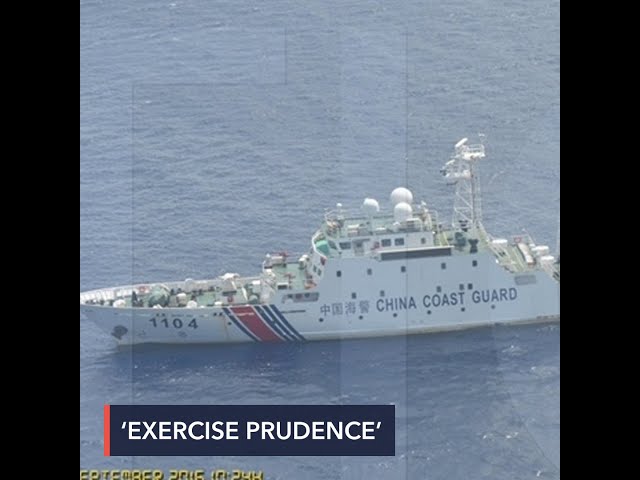 The Department of National Defense (DND) on Friday, April 9, ordered an investigation into the recent incident in the West Philippine Sea where heavily armed Chinese ships reportedly chased out a Filipino television crew.
DND spokesperson Arsenio Andolong said the Armed Forces of the Philippines (AFP) has been ordered to conduct a fact-finding into the incident involving ABS-CBN reporter Chiara Zambrano and her crew.
"The Defense Department has directed the AFP through its Western Command to investigate, gather, and validate all the relevant facts on the incident, the outcome of which will be used to coordinate any appropriate action through the NTF-WPS and engagement among the DFA, DND, DOTR, and other concerned agencies," Arsenio said in a statement.
On Thursday, April 8, Chinese ships armed with heavy weapons pursued Zambrano and her team in the West Philippine Sea. The media team rode a motor boat to check the latest movements of China in the disputed waterway.
Zambrano said that when they were about to reach Ayungin Shoal, a Chinese ship headed in their direction so they decided to return to Palawan. But the tension heightened when Chinese ships armed with missiles chased them.
The DND expressed concern over the incident.
"We are concerned for the safety of anyone – unarmed civilians – at sea. As such, we view the report with concern," Andolong said.
In a separate statement, the AFP said it already asked Zambrano's team for copies of raw footage for the investigation. The military also reminded journalists to be cautious in the course of their job.
"While we understand the journalists' insatiable desire to be ahead in reporting, we appeal to them to exercise prudence in the course of their job…. We have accommodated members of the media in our ships and aircraft to do their coverage so they can be protected while in the practice of their profession," AFP spokesperson Major General Edgard Arevalo said in a statement.
Zambrano's team was news gathering within the Philippines' exclusive economic zone. The country has sovereign rights over Ayungin Shoal, which is within its EEZ.
The fast attack crafts that chased Zambrano's team were earlier spotted at Panganiban Reef on April 1. The vessels were stealth missile fast attack ships used by the Chinese People's Liberation Army (PLA) Navy.
In an interview with Rappler, Greg Poling, a United States-based maritime expert from the Center for Strategic and International Studies, called the incident "unprecedented."
Poling said that it also showed that China is becoming more aggressive in the South China Sea.
"This shows that Beijing is becoming increasingly aggressive and reckless. Chinese naval and coast guard patrols have steadily grown over the last year despite the COVID-19 pandemic, and Chinese diplomats and officials have grown even more aggressive in their language amid the pandemic," Poling said. – Rappler.com