(UPDATED) Cash payments will also be accommodated starting Monday, October 5. Those already with Beep cards may still use them.
The Department of Transportation (DOTr) suspended the mandatory use of Beep cards in buses plying EDSA, Metro Manila's main thoroughfare, starting Monday, October 5.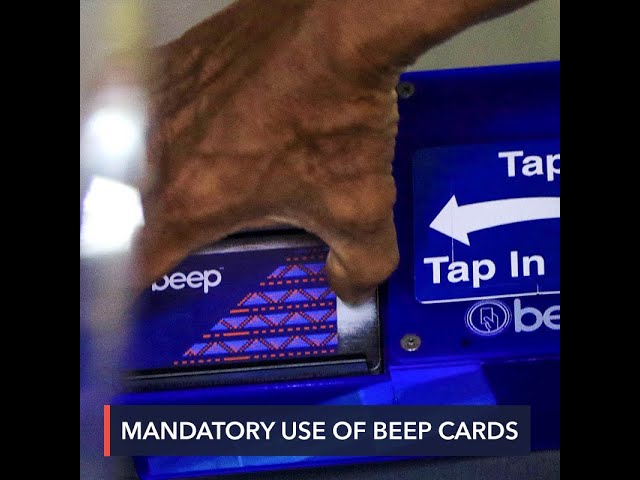 This is after Beep card service provider AF Payments refused to waive the P80 cost of the card for the EDSA Busway, which had been under the DOTr's "no Beep card, no ride" policy since October 1.
The P80 fee is on top of the P100 initial load upon purchase of a new Beep card. This pricing caught commuters by surprise.
In a joint statement with the Land Transportation Franchising and Regulatory Board (LTFRB) on Sunday, October 4, the DOTr said it was "saddened" by AF Payments' refusal to waive the P80 fee "despite consistent pleas made by the government."
It added that the removal of the fee "would have made a big difference to the commuters, mostly daily wage earners who are the most affected by the COVID-19 pandemic."
"Thus, starting Monday, October 5, 2020, we are suspending the mandatory use [of] beep cards at the EDSA Busway until the issue is resolved," said the DOTr.
The department earlier warned AF Payments that it would suspend the mandatory use of the Beep cards if the P80 fee would not be dropped.
In the meantime, a dual payment system will be implemented for the EDSA Busway. Those already with Beep cards may still use them, while cash payments will also be accommodated.
"Cash payments will be collected by personnel from the EDSA Bus Consortia at the stations. These personnel will be wearing appropriate face shields, face masks, and gloves to prevent the transmission of COVID-19," the DOTr said.
The department then said the EDSA Bus Consortia would be looking for another provider of the automatic fare collection system (AFCS) "who can offer a better solution to the existing problem." A meeting with other AFCS providers is slated for Tuesday, October 6.
'Lahat gulat'
Various camps slammed not only the pricing of the Beep cards, but also the DOTr's policy on cashless payments for the EDSA bus system.
Some senators and groups called the "no Beep card, no ride" policy "thoughtless" and an additional burden for commuters and workers in the middle of a pandemic.
On Sunday, Vice President Leni Robredo hit what she said was the lack of communication to the public regarding the P80 fee.
During her weekly radio show with co-host Ely Saludar, Robredo said that while she supports cashless payments during the pandemic, "Ang hindi ako agree, Ka Ely, na ito ay inenforce na walang maayos na communication. Parang iyong ini-interview sa balita, Ka Ely, lahat gulat. So bakit ito i-e-enforce nang wala man lang information drive? Para sana nakapag-react na iyong tao bago pa ito ginawa, bago inimplement."
(What I don't agree with is this was enforced without proper communication. Like the ones interviewed in the news, Ely, everyone was surprised. So why was this enforced without even conducting an information drive? That way, the public could have reacted before this was implemented.)
The information drive could have also put the spotlight on commuters who are unable to afford the P80 fee, the Vice President added. The government, she also said, could have shouldered the initial fees for these commuters. – Rappler.com