But Health Secretary Francisco Duque III says officials will respect whatever decision President Rodrigo Duterte makes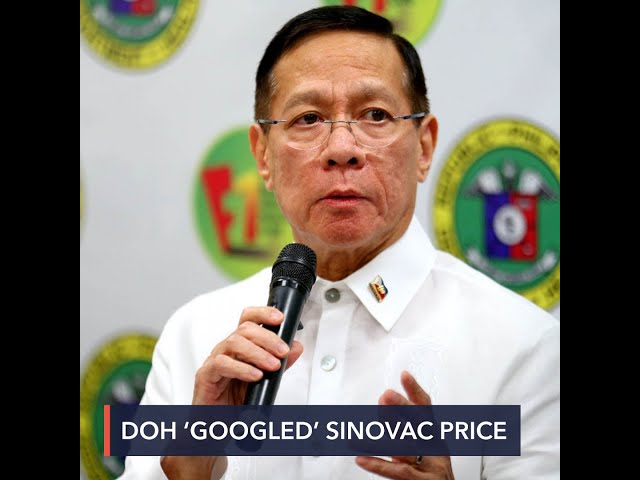 Health Secretary Francisco Duque III said on Friday, January 22, that he and the rest of the government's pandemic officials will try to convince President Rodrigo Duterte to receive a COVID-19 vaccine in public.
Duque made the statement when Senator Nancy Binay raised the issue during the Senate's third hearing into the Duterte government's COVID-19 vaccine program, saying the act could boost public confidence in vaccination.
"Yes, Ma'am, we will try our best to convince the President to perhaps allow himself to be publicly vaccinated but we will respect his decision," Duque said.
Presidential Spokesperson Harry Roque earlier said that Duterte was willing to get vaccinated with Sinovac's COVID-19 vaccine, but that he wanted this done away from the public eye.
Only months ago, Duterte said he was willing to get vaccinated in public with Russia's Sputnik V COVID-19 vaccine. But Roque said Duterte now believed that public inoculation was not necessary, likening it to how British Royalty were vaccinated in private and informed the public after.
"He said there's no need to make it public. He's taking the route of the British sovereign, because Queen Elizabeth and her husband decided to make their vaccination a private affair," said Roque in Filipino.
Duterte's preference is in contrast with Indonesian President Joko Widodo, who was vaccinated with Sinovac's CoronaVac on live television last January 14.
Boosting demand
Throughout several Congressional hearings, lawmakers have raised concern over increasing vaccine hesitancy in the Philippines.
A Pulse Asia survey conducted from November 23 to December 2, 2020 showed close to a majority of Filipinos or 47% are not willing to get the COVID-19 vaccine, while only 32% said they want to be immunized. The remaining 21% were still undecided.
The number of Filipinos willing to get vaccinated was lower than previous figures seen in a Social Weather Stations survey done in September 2020, where 66% said they were willing to receive a COVID-19 shot.
A separate survey by the Octa Research Group also showed that 47% of respondents in Metro Manila, the epicenter of the pandemic in the Philippines, were still undecided on getting a COVID-19 vaccine.
Duque earlier said the DOH was tapping the expertise of advertising agencies and other "champions" across different sectors to boost confidence and demand for a coronavirus vaccine. – Rappler.com