'It's not really a grave concern for us at this time,' says President Rodrigo Duterte a few hours after Taal Volcano was placed under Alert Level 3
A few hours after a Taal Volcano eruption threatening nearby communities, Philippine President Rodrigo Duterte blithely said there was no need for a command conference to discuss the situation and even joked he would merely put a cap on the spewing volcano.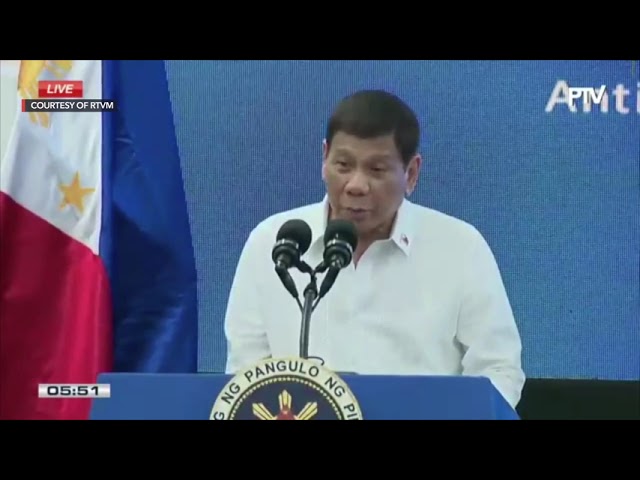 "Not necessarily," he said on Thursday, July 1, in response to a question from a reporter on whether or not he would hold a command conference with military, police, and other government officials.
"Hindi ko malaman kung – dumaan man kami kanina. Siguro lagyan ko lang ng cap, 'yung butas. Taal na 'yan," he continued.
(I don't know if – we passed by earlier. Maybe I will just put a cap on the hole. That Taal.)
Later on, he further downplayed the eruption, saying it's not a grave concern.
"We will raise the alert on the level that it should. Now, it's just a rumbling and it's spewing. I do not know if it's really the ashes. Apektado raw tayo (We're supposedly affected) but it's not really a grave concern for us at this time," said the Chief Executive.
By then, Philippine Institute of Volcanology and Seismology (Phivolcs) had already placed Taal Volcano under Alert Level 3. Phivolcs even recommended that communities on Taal Volcano Island and some villages in Batangas be evacuated due to the threat of pyroclastic density currents and volcanic tsunami.
Duterte: DSWD ready with aid
In the same speech, Duterte gave assurances that other government officials are on top of the situation. He mentioned specifically an "Atty. Abalos," likely referring to Metropolitan Manila Development Authority Chairman Benhur Abalos, who, ostensibly, would be in charge of monitoring the eruption's impact on Metro Manila.
He also mentioned Social Welfare Secretary Rolando Bautista, a former military man.
"He has placed advanced aid in warehouses – it's stationed there already. It could get worse, but I said there would be instant gratification because there are workers on the ground," he said in a mix of English and Filipino.
Duterte even joked that some officials he expected at the event he was attending, the inauguration of the LRT-2 East Extension Project, were not there likely because they had also "fallen into the crater" of Taal Volcano.
This is not the first time Duterte has spoken lightly in the context of an emergency situation. In November 2020, he and other officials had exchanged sex jokes during a situation briefing on Typhoon Ulysses (Vamco). – Rappler.com