'May suportang patalikod pero secret. Parang NoyBi,' says Vice President Jejomar Binay, referring to the group within the Aquino 2010 campaign that secretly supported an Aquino-Binay ticket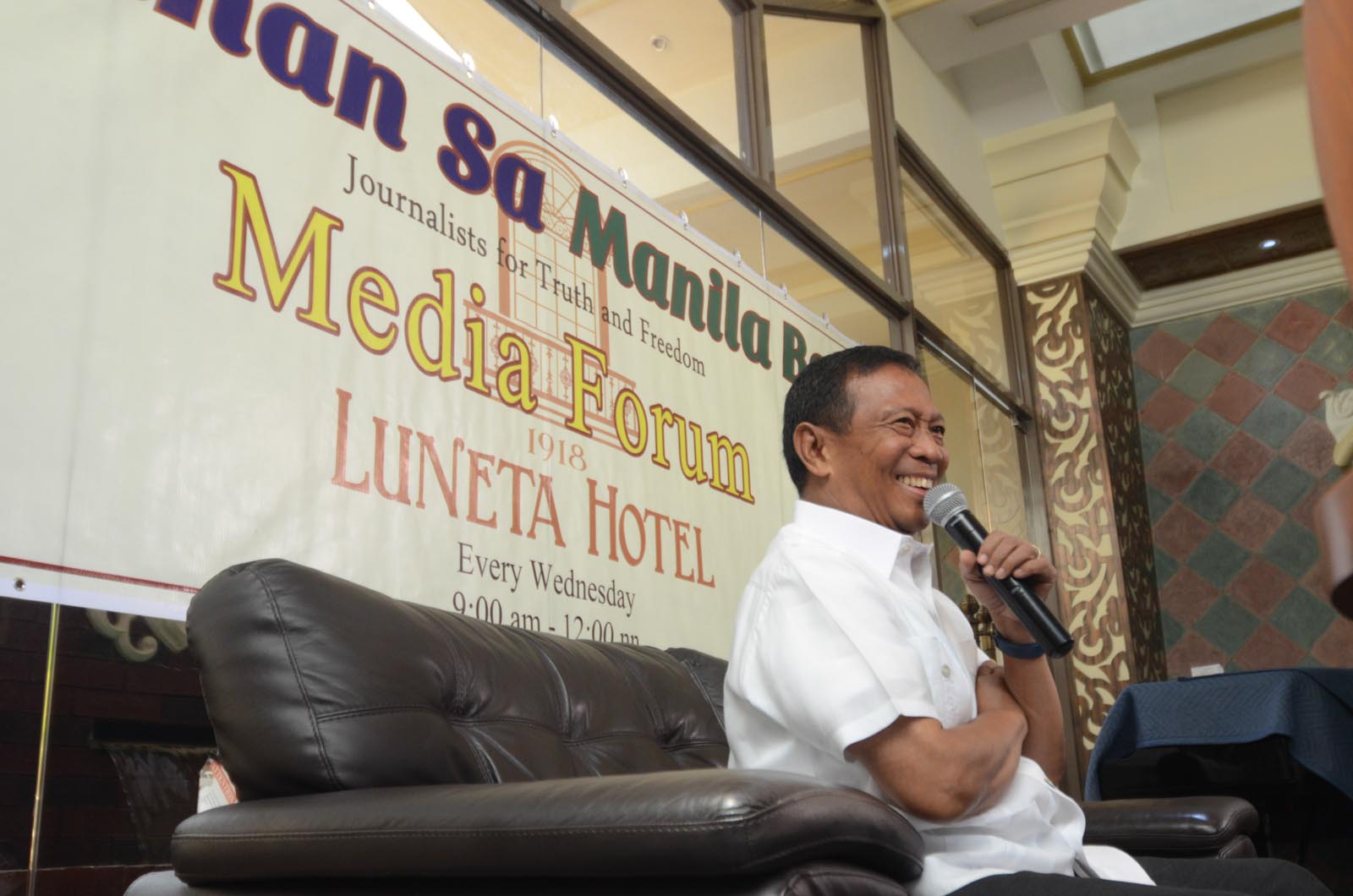 MANILA, Philippines – Will there be another "NoyBi" in 2016?
Vice President Jejomar Binay said he is hoping President Benigno Aquino III will support his presidential bid even if he is the opposition standard-bearer and routinely criticizes some policies of the administration.
The presidential bet of the opposition United Nationalist Alliance (UNA) said he is banking on his long personal ties with the President's family.
"May suportang patalikod pero secret. Parang NoyBi," Binay said in a press briefing on Wednesday, June 10. (There is support that is kept in secret. Like NoyBi.)
Binay was referring to the group within the Aquino 2010 campaign that secretly supported an Aquino-Binay ticket, instead of the official Liberal Party (LP) tandem of Aquino and Interior Secretary Manuel Roxas II.
The Vice President was responding to a question on the possibility that Aquino will endorse him. The President said he will announce his chosen successor after his State of the Nation Address on July 27. LP's president-on-leave Roxas is the presumptive presidential bet of the ruling party.
"Lahat ng dagdag-boto, inaasahan. Nandoon ang paniniwala ko na kokonsiderahin ako. Kokonsiderahin lang," Binay said. (Every additional vote is expected. There is my belief that I will be considered, just be considered.)
Binay refused to gauge his chances, but said Aquino can still support him even in the homestretch of the polls.
"Mahirap i-rate from 1 to 10 basta umaasa pa rin ako hanggang sa huling sandali. Pero kung sino i-endorse, prerogative niya." (It's hard to rate it from 1 to 10, but I am still hoping he will support me at the last minute. But who he endorses is his prerogative.)
The Vice President said he remains in touch with the Aquinos, particularly the president's eldest sister, Ballsy Aquino-Cruz, but they do not discuss politics.
Binay has deep personal ties with the Aquino family. As a human rights lawyer during martial law, he supported the President's late mother Corazon "Cory" Aquino in fighting the Marcos regime. When Cory became president, Binay was the first officer-in-charge mayor she appointed. At the height of coup attempts against Corazon, Binay made sure the Aquino children, including now President Benigno, were safe.
'We'll reach point of resignation'
Despite this relationship, Binay has no qualms about criticizing the younger Aquino's leadership.
In speeches, the Vice President often points out that economic gains under Aquino do not trickle down to the poor. He also differed from Aquino in his positions on issues like the reproductive health law, the impeachment trial of former Chief Justice Renato Corona, and the Philippines' maritime dispute with China.
Aquino's party mates in the LP brand Binay "two-faced" for his vague stance straddling both the Aquino Cabinet and the opposition.
Binay said he will eventually resign from the Aquino Cabinet.
The Vice President sits on the Cabinet as the housing czar, and the presidential adviser on Overseas Filipino Workers (OFW) concerns. Rappler earlier reported that the Binay camp is keen on having him resign ahead of the filing of certificates of candidacy in October.
"Darating tayo doon, pero sa ngayon, secret," Binay teased. (We will reach that point but for now, it's a secret.)
Binay admitted that he has difficulty relating with some of his fellow Cabinet members allied with the administration.
"I get support from the Cabinet, pero may pagkakataon na may kasama ako sa gobyernong sinisiraan ako." (But there are times when some of my colleagues in government criticize me.)
Hoping Erap will change mind
The intrigues and corruption scandals have not stopped Binay's political plans.
He took exception to media reports that the Nationalist People's Coalition (NPC) of businessman Eduardo "Danding" Cojuangco Jr was supporting the reported tandem of senators Grace Poe and Francis Escudero.
Binay said he checked with the NPC, and found that the report was not true.
"We want to have a coalition with the NPC. Congressman Cojuangco is the primary personality in NPC. Their plans for 2016 are not yet final," Binay said.
On his running mate, Binay said he is still after a person with business and executive experience, like Pag-IBIG Fund president Darlene Berberabe.
Last week, Binay mentioned former President now Manila Mayor Joseph Estrada as a potential vice presidential candidate, dubbing their team-up as "BEST" for Binay-Estrada. The mayor though said he is not interested in the vice presidency.
Binay said he hopes Estrada will change his mind. "There is nothing final yet until certificates of candidacy are filed." – Rappler.com