This is AI generated summarization, which may have errors. For context, always refer to the full article.
(1st UPDATE) Party-list group Bayan Muna says telco regulators should probe how the Marcos campaign was able to 'hijack the emergency alerts frequency'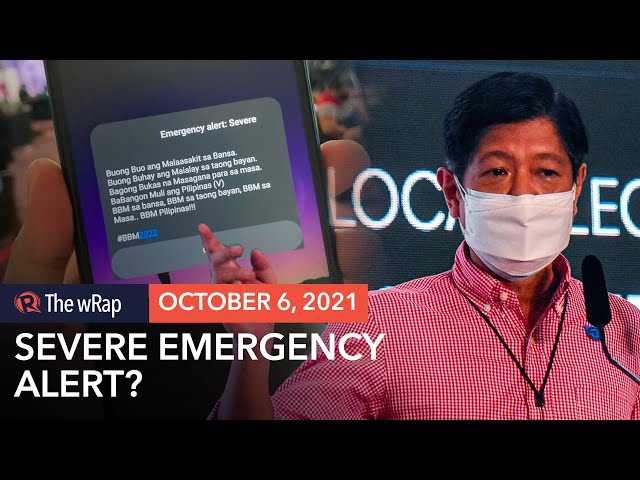 Some members of the media covering the filing of certificates of candidacy (COC) at Sofitel's Harbor Garden tent in Pasay were confused after their phones rang with a "severe emergency alert" on Wednesday morning, October 6.
No, there were no heavy rains, flood warning, a looming earthquake, or other natural disasters.
What they received on their phones was an advertisement about Ferdinand "Bongbong" Marcos Jr., who at that moment was in the venue to file his COC for president in the 2022 elections.
"Buong Buo ang Malasakit sa Bansa, Buong Buhay ang Maialay sa taong bayan," the alert read, which capitalized certain letters in reference to Marcos' initials – BBM.
(BBM's concern for the entire country is solid. He will fully devote his life for his countrymen.)
"BBM sa bansa, BBM sa taong bayan, BBM sa Masa, BBM sa Pilipinas!!!," the notification added.
(BBM for the country, for the people, for the masses.)
So what happened?
Filipinos usually receive loud emergency alerts when there are natural calamities, such as typhoons and earthquakes, so a distracting notification on an election-related matter is nothing short of unusual.
The National Disaster Risk Reduction and Management Council (NDRRMC) denied it had a hand in the "severe emergency alert."
"Big No! Ours go through the telcos. They will surely not accept that from us. We are allowed only by RA 10639 to send alert messages on impending hazards," said Undersecretary Ricardo Jalad, executive director of the NDRRMC.
Jalad was referring to the Free Mobile Disaster Alerts Act, which states that phone service providers are required to send out alerts at regular intervals "in the event of an impending tropical storm, typhoon, tsunami, or other calamities."
Rappler asked Jalad about possible factors that could have led to the delivery of ad-like alerts to phones within the Sofitel area.
"Private groups asking telcos to send alerts is possible. That's an arrangement between them if ever," Jalad told Rappler.
Party-list group Bayan Muna said the National Telecommunications Commission (NTC) and Department of Information and Communications Technology (DICT) should probe how the Marcos campaign was able to "hijack the emergency alerts frequency."
"This casts serious doubt on the integrity of the system, which people are supposed to rely on for life-saving information. Aside from the NTC and the DITC, Congress should also probe this underhanded style of campaigning," House Deputy Minority Leader Carlos Zarate asserted.
"When we authored the bill my intention was to help save lives. Not to be used for vested personal interest of politicians," said Bayan Muna chairman Neri Colmenares, principal author of RA 10639.
In a statement, the Marcos campaign disowned the emergency alerts.
"The illegal use of the emergency blast was done at a time when Bongbong Marcos was filing his COC and is viewed as among the many demolition jobs unleashed by those who obviously want to frustrate his candidacy," said Vic Rodriguez, Marcos's chief of staff.
'Ill-advised'
In a series of tweets, Comelec spokesperson James Jimenez said that while there isn't a penalty – at least not under electoral laws – specifically for the use of emergency channels for campaigning, it was ill-advised at best.
"Whether or not criminal liability will attach to those who are behind this move will have to be determined by the appropriate agencies of government," he added.
– with reports from Pia Ranada/Rappler.com